Lemon Rosemary Sugar Cookies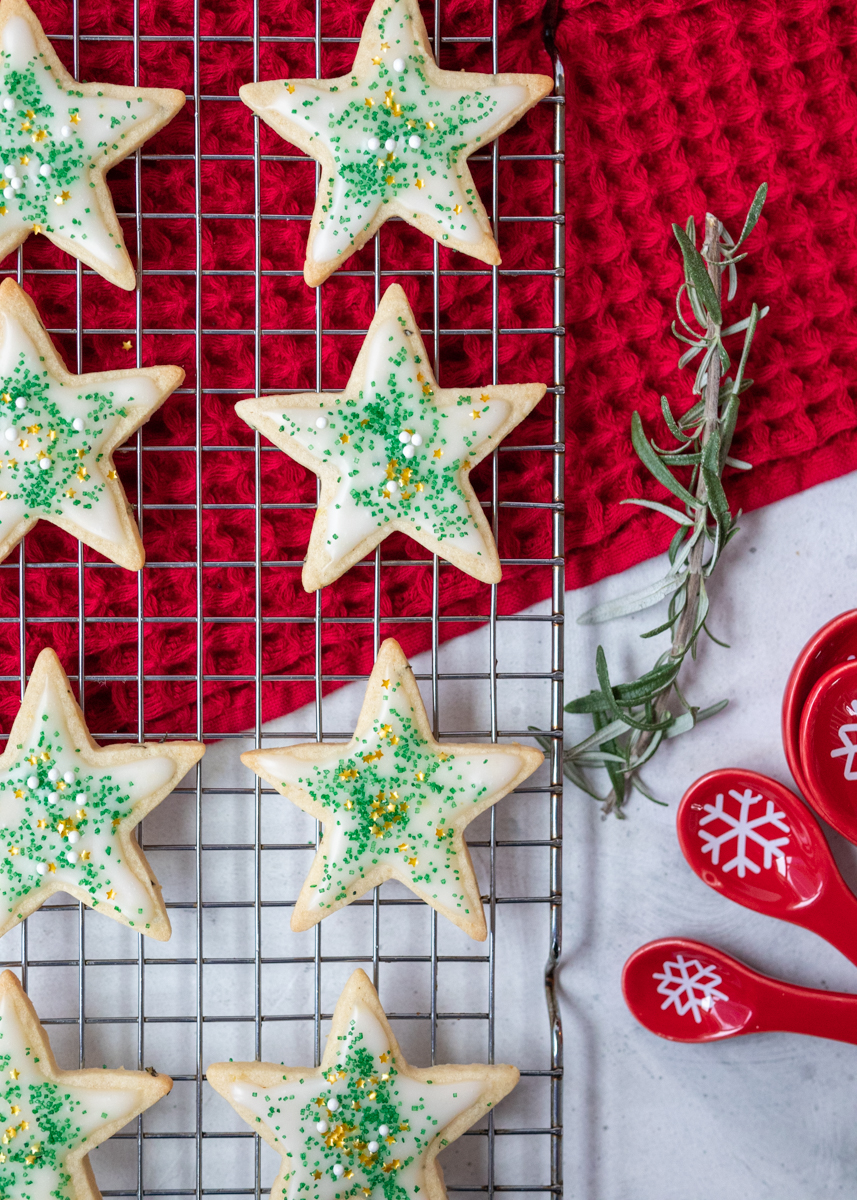 Yield:
about 24 medium cookies
12 tablespoons unsalted butter (1½ sticks), slightly softened
¾ cup granulated sugar
1 large egg, room temperature
1½ teaspoons vanilla extract
½ teaspoon lemon extract (or ¼ teaspoon lemon oil)
¼ teaspoon almond extract
2¼ cup all-purpose flour
½ teaspoon baking powder
¼ teaspoon salt
2 teaspoons chopped fresh rosemary
Zest from ½ large lemon
1½ cups powdered sugar
¼ teaspoon vanilla extract
¼ teaspoon lemon extract
1 teaspoon light corn syrup
2 - 2½ tablespoons room temperature water
Pinch of salt
Green sanding sugar and sprinkles, for decoration
Preheat oven to 350 degrees. Line 2 baking sheets with parchment paper and set aside.
In a medium bowl, whisk together the flour, baking powder, salt and rosemary. Set aside.
In the bowl of a stand mixer or in a large bowl with a hand mixer, beat the butter for 1 minute on medium-high speed. Add the sugar and beat on high speed until fluffy, about 3-4 minutes. Add the egg, vanilla extract, lemon extract, almond extract and lemon zest. Beat on high until fully combined.
Add half the flour mixture. Beat on low speed until just combined. Add the remaining half and beat until only a few streaks remain. If the dough feels too soft add an additional 1 tablespoon of flour.
Divide the dough in half. Roll out the first half onto a piece of parchment until you have a slab about ¼" to ⅛" thick. Repeat with the remaining half. If the dough is too sticky to roll out, put in the fridge for about 10 minutes before rolling. Stack the parchment slabs on top of one another on a baking sheet and place in the fridge for at least 1 hour.
Use a medium cookie cutter to cut out the dough. Place the cut cookies onto the prepared baking sheets. Bake each cookie sheet for 9-12 minutes, rotating the baking sheet halfway through the baking time. Cookies are done when they have lightly colored edges and tops. Let cool for 5 minutes on the baking sheet set on a wire cooling rack then move to the cooling rack to cool completely.
Whisk everything together, starting with the 2 tablespoons of water. When you hold up your whisk and let it drip, the icing should hold for just a few seconds before dripping. If it's too thick add the additional ½ tablespoon of water. If it's too thin, add a little more powdered sugar.
When the cookies are completely cooled, fill the icing in a pastry bag fit with a small tip to ice the cookies. Ice a few at a time before sprinkling with sanding sugar and sprinkles before they harden. I usually do this with the cookies set in a rimmed baking sheet lined with wax paper so sprinkles don't go all over the place. Let the cookies set at room temperature for 24 hours to give the icing time to completely harden before stacking in containers.
Recipe by
Lemon & Mocha
at http://www.lemonandmocha.com/2019/12/02/lemon-rosemary-sugar-cookies/