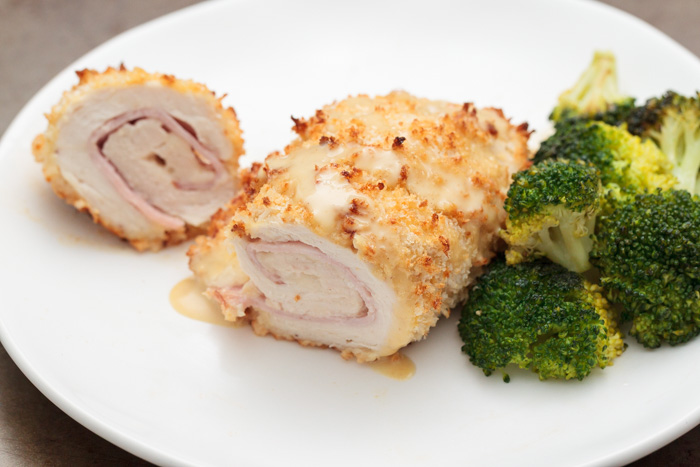 I have huge news to share with you today. Huge! Among my overflowing collection of cookbooks, this chicken cordon bleu recipe from Cook This, Not That! is my absolute favorite. There may certainly be recipes I have that I crave more or that are more awe-inducing (cue my large dessert cookbook category), but when you compare those to a delicious, healthy, looks-fancy-but-only-took-me-30-minutes dinner? Game over, chicken cordon bleu for the win.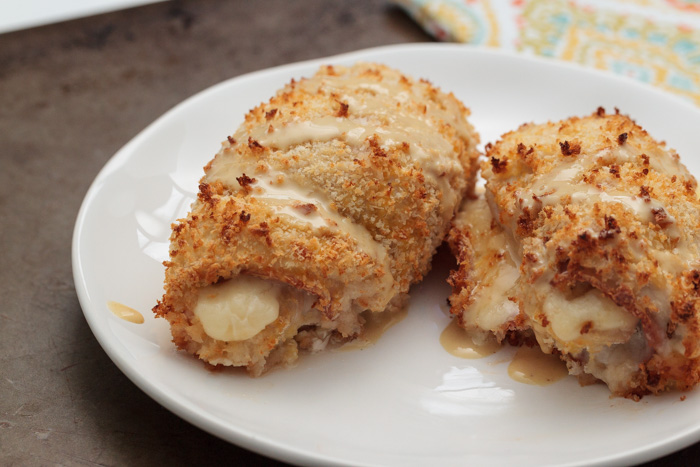 Gooey melted cheese, savory ham, moist chicken, crunchy breadcrumb coating, and creamy honey mustard sauce all work together to create weeknight meal perfection.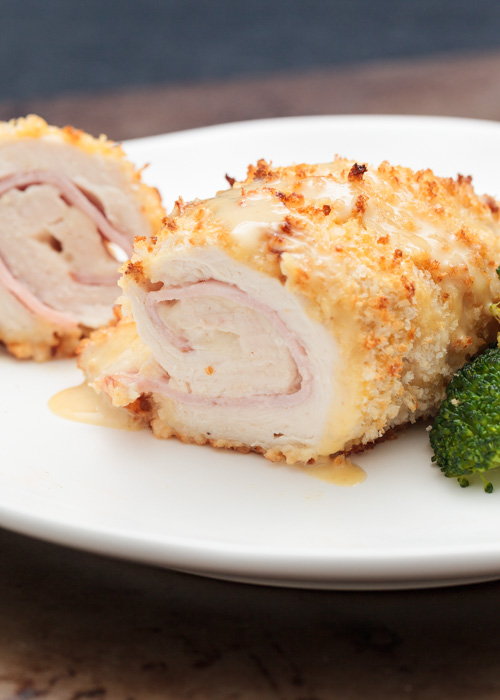 When you make this dish your family and friends will think, "Wow, such a fancy meal! Such technique! He/she really pulled out all the stops for me!" When what you actually did was secretly quite simple.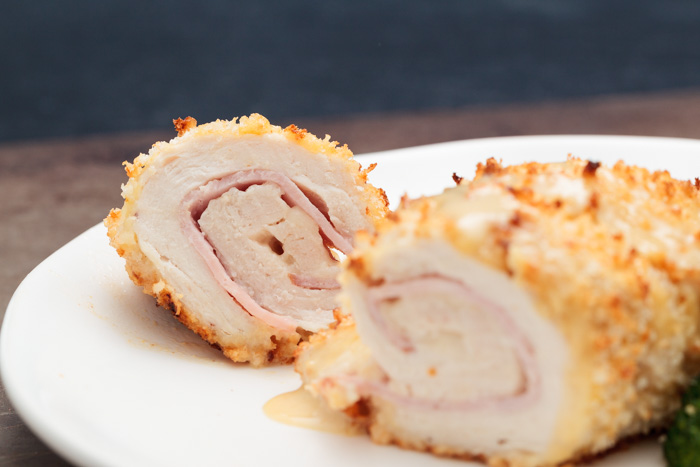 First, you pounded out the boneless skinless chicken breasts until they were about ¼ inch thick. Think about that aggravating e-mail you got at work or that jerk that cut you off right before the stoplight and whack away with your meat mallet! If you want to save a little bit of time this step could be done the night before. Then layer two slices of ham and one slice of Swiss cheese on the cutlet.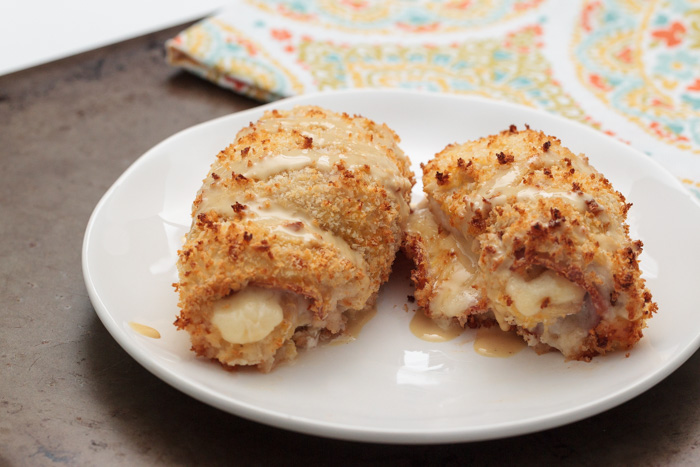 Completely roll up the chicken from the short end. It's okay if some cheese or ham is poking out. Then dredge the whole rolled chicken in flour, then beaten egg, then panko bread crumbs. This part sounds bizarre and complicated, but just make sure you hold the chicken roll tight and you'll be just fine. Bake the breaded chicken roll for 18 minutes and you're done!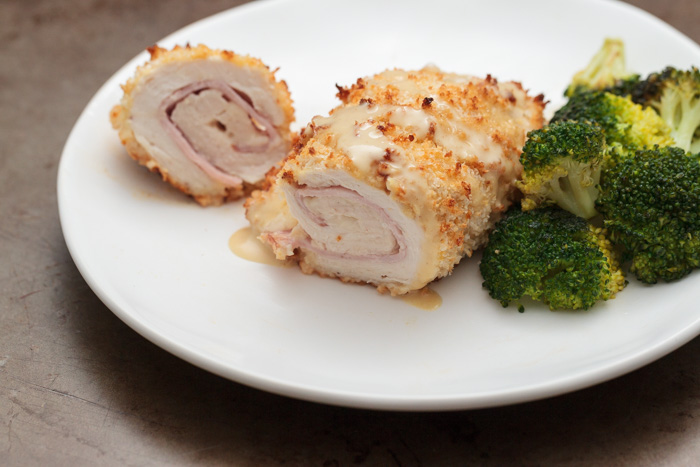 Well as soon as you smother it in easy homemade honey mustard sauce… jeez Louise, pass me a fork!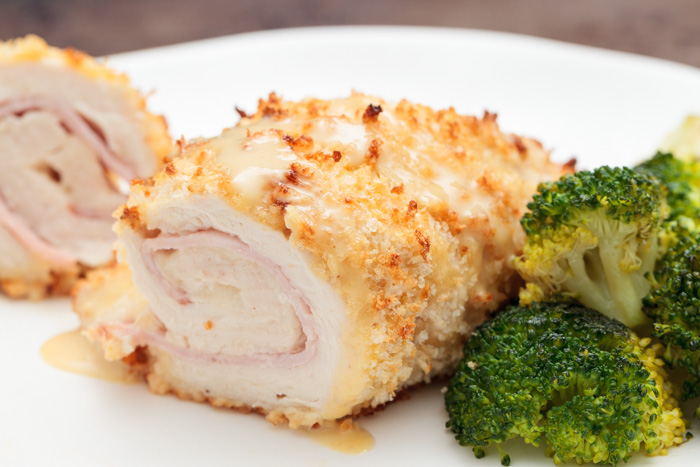 Chicken Cordon Bleu with Honey Mustard Sauce
Ingredients
for the chicken cordon bleu
3 tablespoons all-purpose flour
1 large egg, beaten
1 cup panko breadcrumbs
4 boneless skinless chicken breasts
8 thin slices deli ham
8 slices Swiss cheese
for the honey mustard
2 tablespoons mayonnaise
1 tablespoon honey
1 tablespoon lemon juice
2 teaspoons dijon mustard
Directions
for the chicken cordon bleu
Preheat the oven to 450 degrees F. Line a baking sheet with nonstick aluminum foil and set aside. Place the flour, egg and panko each in their own bowl and set aside.
Place 1 chicken breast on a cutting board and cover the chicken with plastic wrap. Pound the chicken until ¼" thick with a meat mallet or heavy skillet. Repeat for the remaining 3 chicken breasts.
Layer 2 slices of ham and 1 slice of cheese on each chicken cutlet. Working one at a time, carefully roll up the cutlet from short end to short end. It's okay if some of the ham and cheese is sticking out. Holding on tight to the rolled up cutlet, dip it in the flour bowl until completely coated, making sure to get the ends as well. Then dip in the egg mixture to completely coat, make sure the excess egg drips off. Finally, completely coat the rolled chicken in the panko bowl. I usually use my other hand to help coat and press the panko onto the chicken. Place the breaded chicken seam side down on the prepared baking sheet and repeat with the rest of the cutlets.
Bake for 15-18 minutes or until it reaches an internal temperature of 165 degrees F and the breading is golden. Serve hot with the honey mustard sauce.
for the honey mustard
Whisk together the mayonnaise, honey, lemon juice and dijon mustard then adjust according to personal taste.
Notes
If you want the bottom of your chicken cordon bleu to be crispy as well, you can spray a cooling rack with nonstick spray then place on top of the baking sheet. I normally don't do this, but I thought I would mention it.
Recipe slightly adapted from

Cook This, Not That! Easy & Awesome 350-Calorie Meals

.