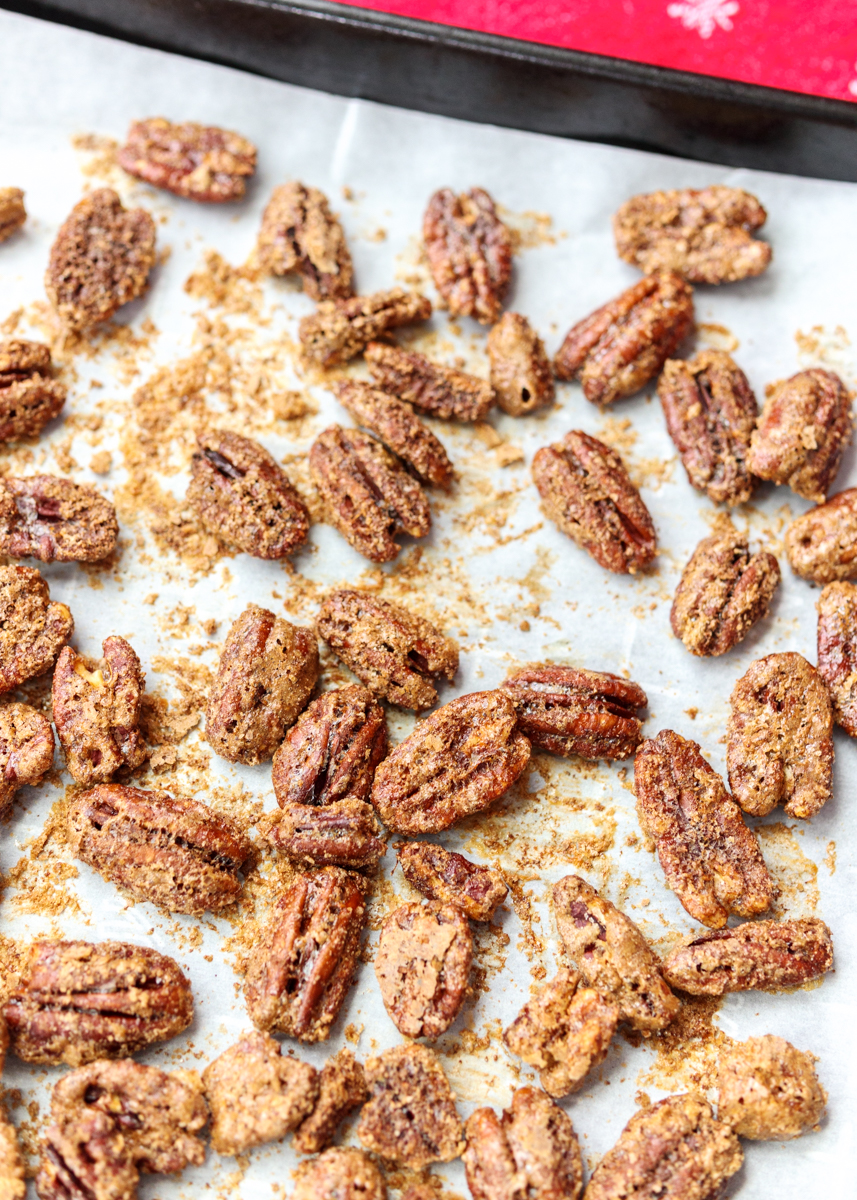 Hello, everyone! I hope you are all having a fun-filled weekend so far! I wanted to pop in this Sunday with a quick recipe before all my family Christmas festivities got started. I saved this recipe for the last minute because it's so easy, but I wanted to make sure I shared it because these Candied Pecans are seriously addictive.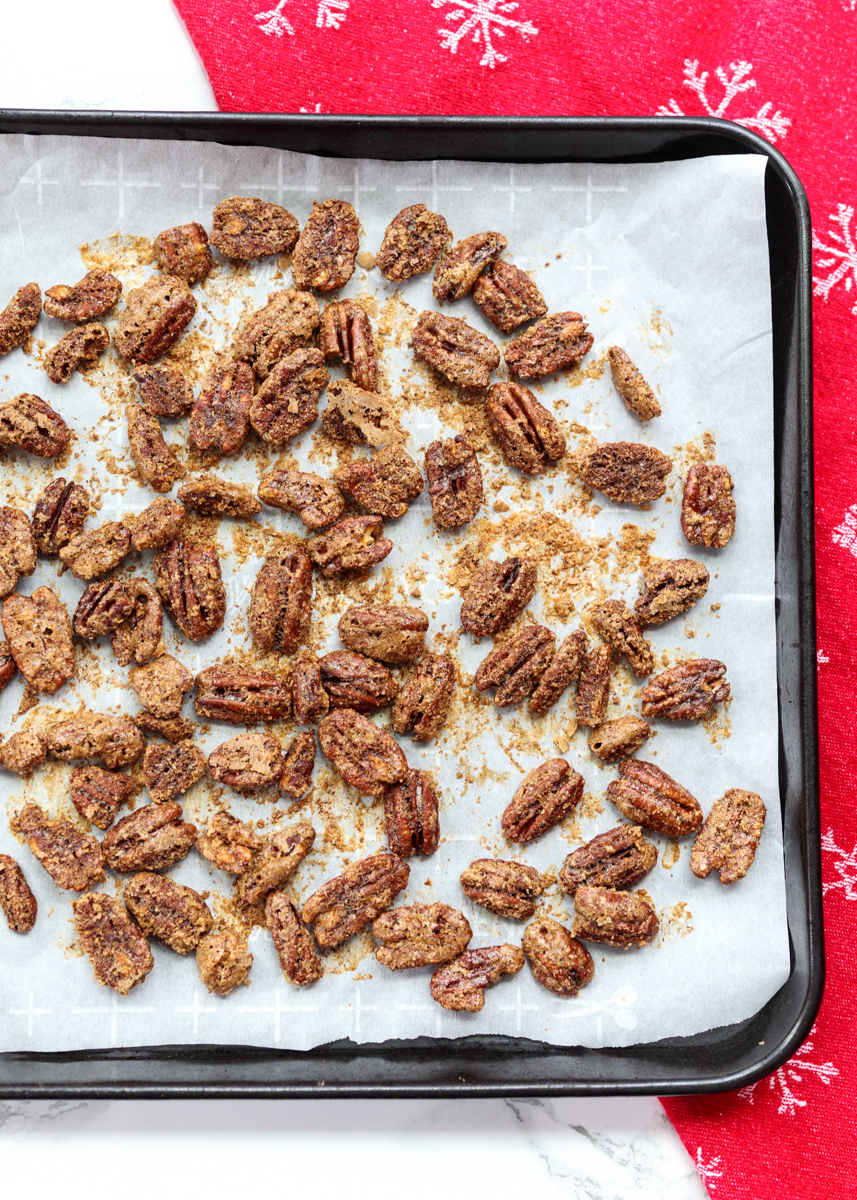 If they look familiar it's because I first made them to go on top of my Pumpkin Pecan Ice Cream Pie I shared before Thanksgiving. When I made them for the ice cream pie I was so excited by how tasty they were that I decided the pecans deserved their own post here on Lemon and Mocha.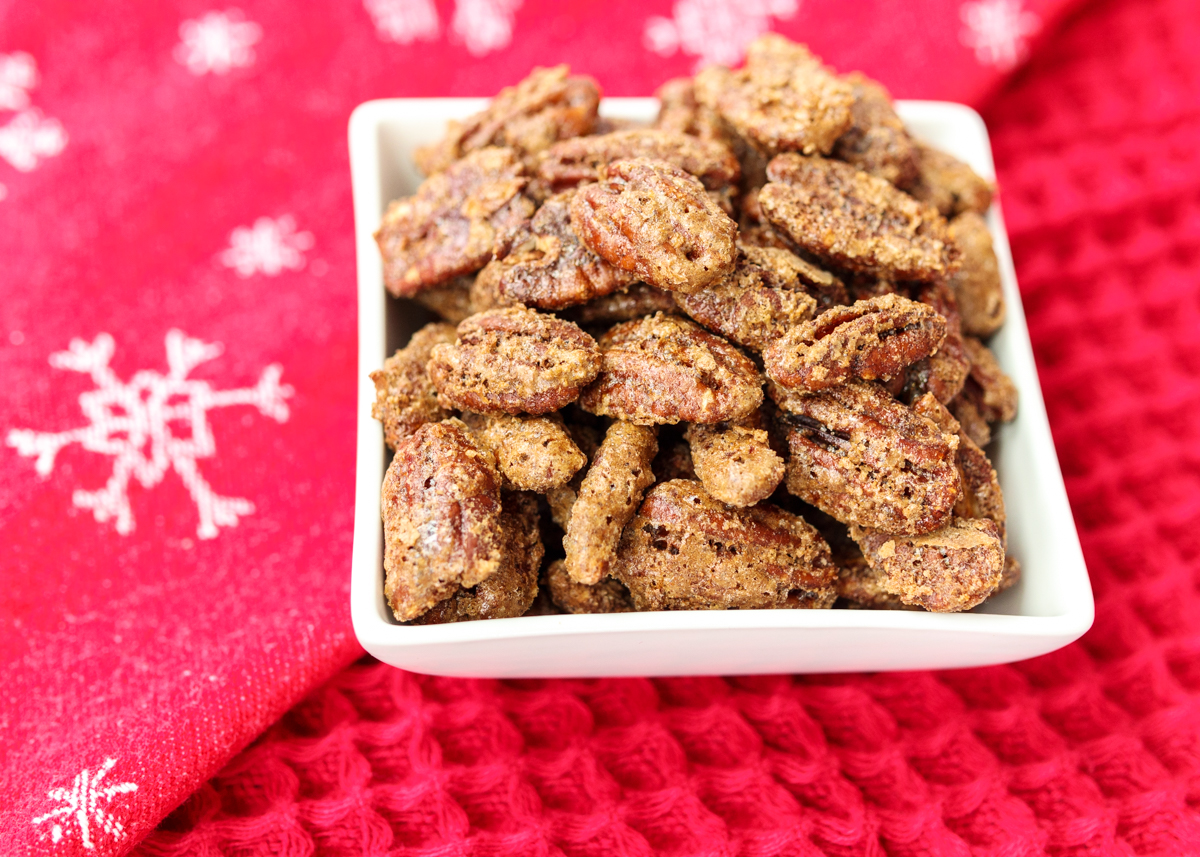 Most recipes I've seen online for candied pecans use butter, but this recipe actually uses a single egg white instead. The egg white and vanilla extract are beaten until frothy before tossing with the pecans, which then get coated with brown sugar, granulated sugar, cinnamon and ground cloves. The pecans get the best crispy and sugary spiced coating on the outside without any greasiness of butter. If you're like me and have been baking like crazy all holiday season then you probably have all these ingredients in your pantry right now to whip up a batch.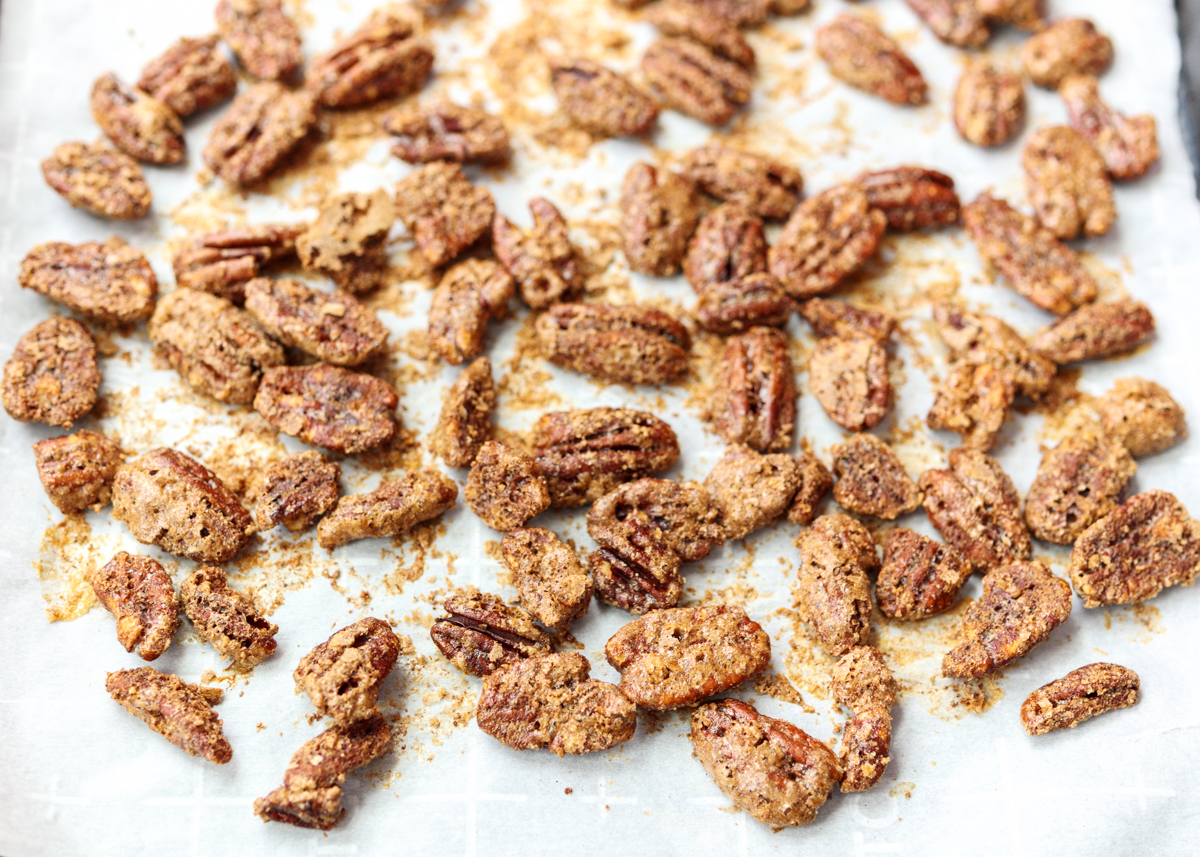 I just made a batch for putting on top of my browned butter pecan cheesecake for Christmas Eve at my aunt's house and I may have sneaked one or two (or ten) for myself. They are perfect for sprinkling on cakes, cheesecakes, trifles or ice cream, but they also taste crazy delicious just by themselves. Especially warm out of the oven – drooling over here! Simply put them in a bowl for snacking alongside dessert or use as part of a sweet and salty cheese and snack board.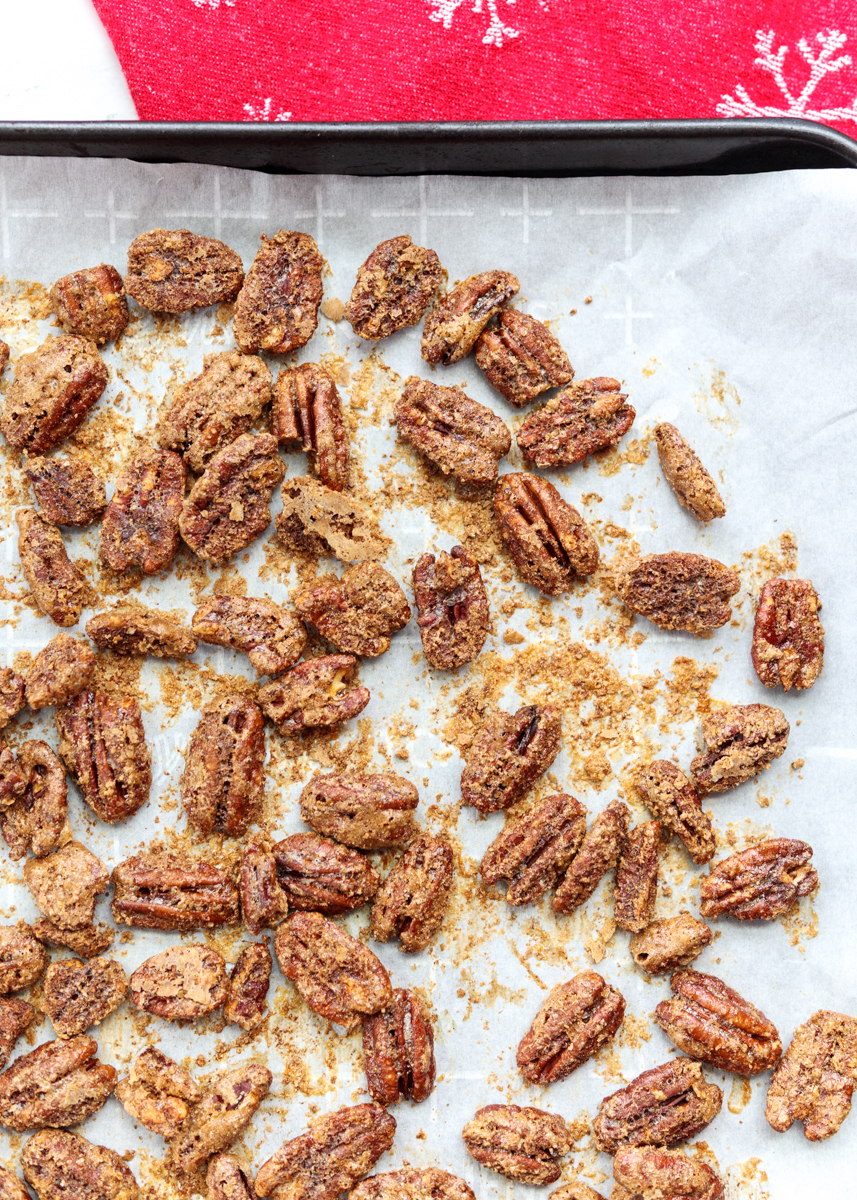 I hope you all have a wonderful holiday with your family and friends and I'll be back here with a fun post on Wednesday!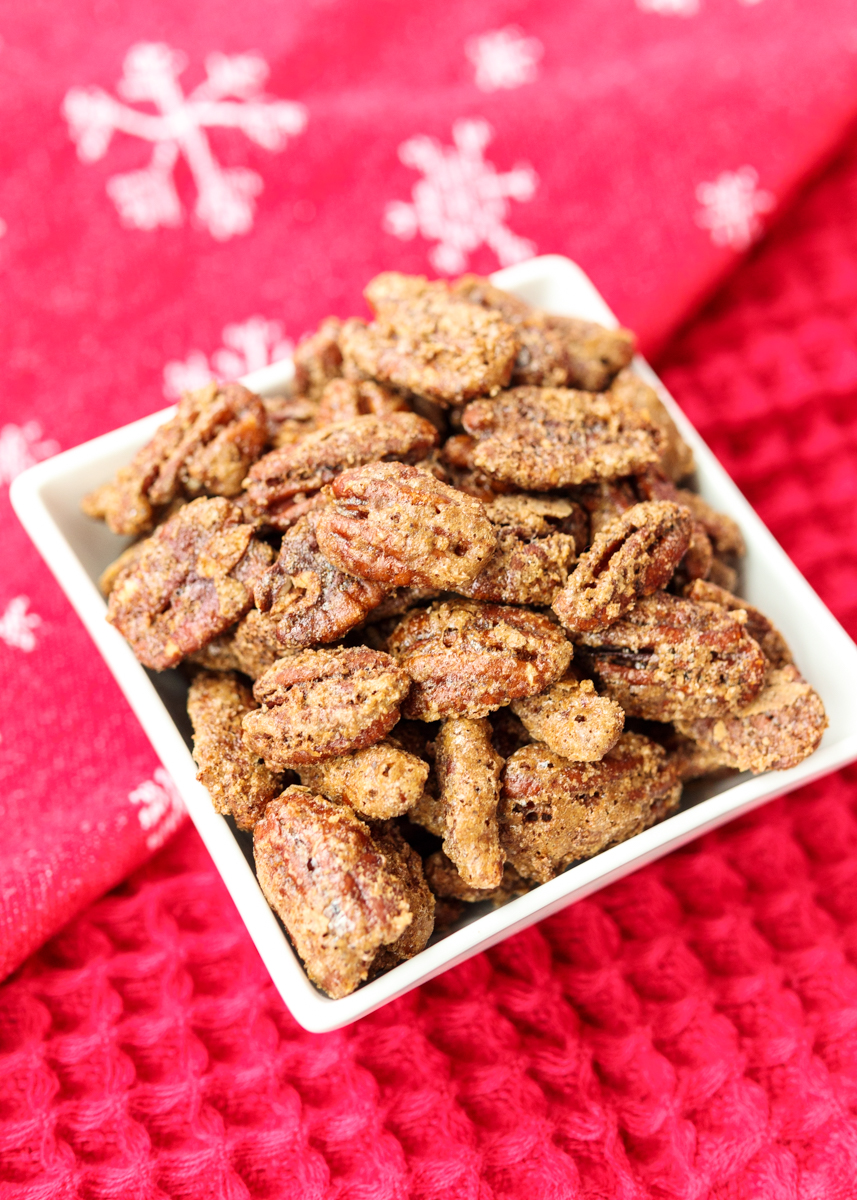 Candied Pecans
Yield:
A little more than 2 cups
Ingredients
2 tablespoons brown sugar
2 tablespoons granulated sugar
1 teaspoon ground cinnamon
¼ teaspoon ground cloves
1 egg white
1 teaspoon vanilla extract
8 ounces pecan halves
Directions
Preheat the oven to 250 degrees F. Line a baking sheet with parchment paper.
In a medium bowl, combine the brown sugar, granulated sugar, cinnamon and cloves.
In a small bowl, beat the egg white and vanilla until frothy. Add the pecan halves then toss to completely coat. Spoon the coated pecans into the bowl with the sugars, trying to leave any excess egg white behind. Place on the prepared baking sheet and spread out the pecans. Bake for 1 hour, tossing the pecans on the pan every 15 minutes. I use a spatula to separate the pecans from the parchment paper then spread them back out in an even layer before putting back in the oven.