Pumpkin Pecan Ice Cream Pie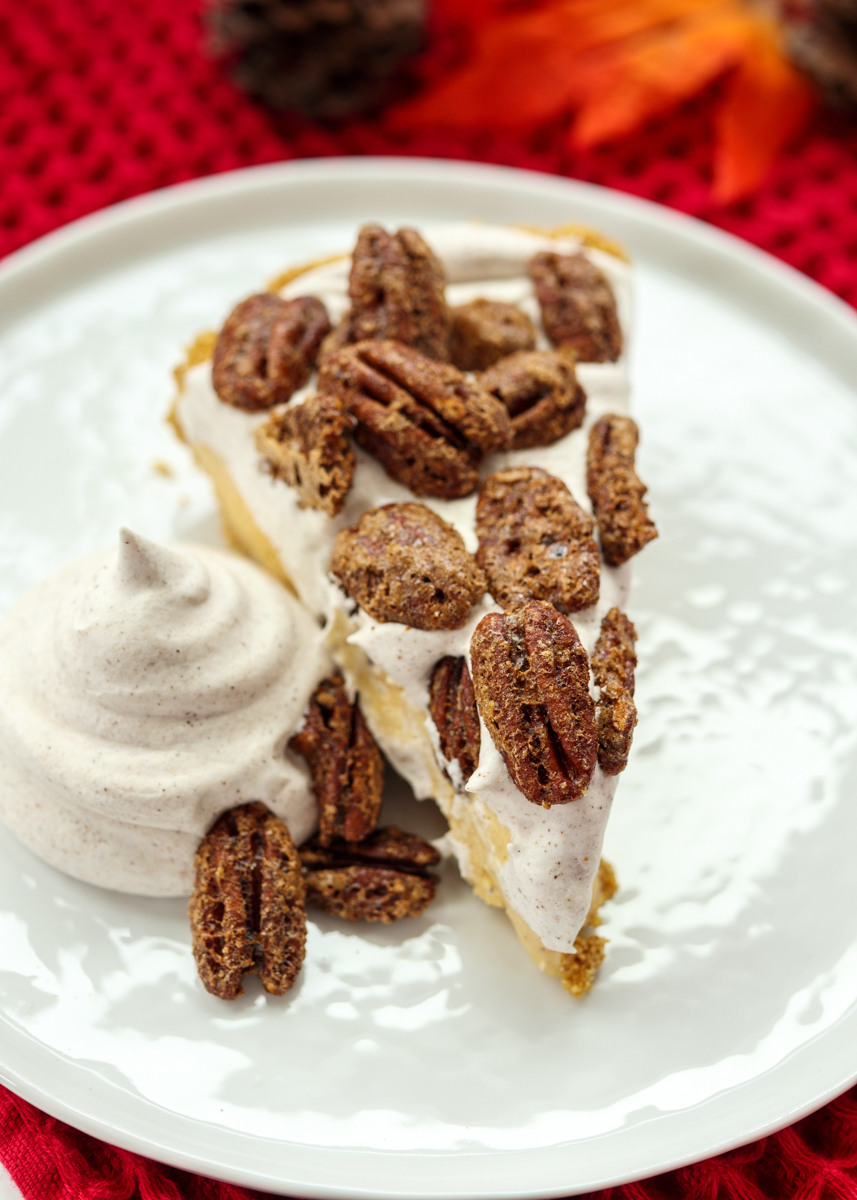 Pumpkin Pecan Ice Cream Pie went down in the Lemon & Mocha kitchen and it was as amazing as it sounds (and looks)! When I was brainstorming what desserts I wanted to share for Thanksgiving I knew I was going to make the Pumpkin Cheesecake Trifle, but I wasn't sure about my second dessert. Usually for Thanksgiving everyone immediately thinks of pie and my pie-loving husband has converted me into a pie fan over the years. I don't like to share recipes on Lemon & Mocha that I'm not 100% satisfied with and while I have made a bunch of really great tasting pies, I wouldn't say I've perfected them yet. However, there is one type of pie I have perfected, if I say so myself, and that is ice cream pie.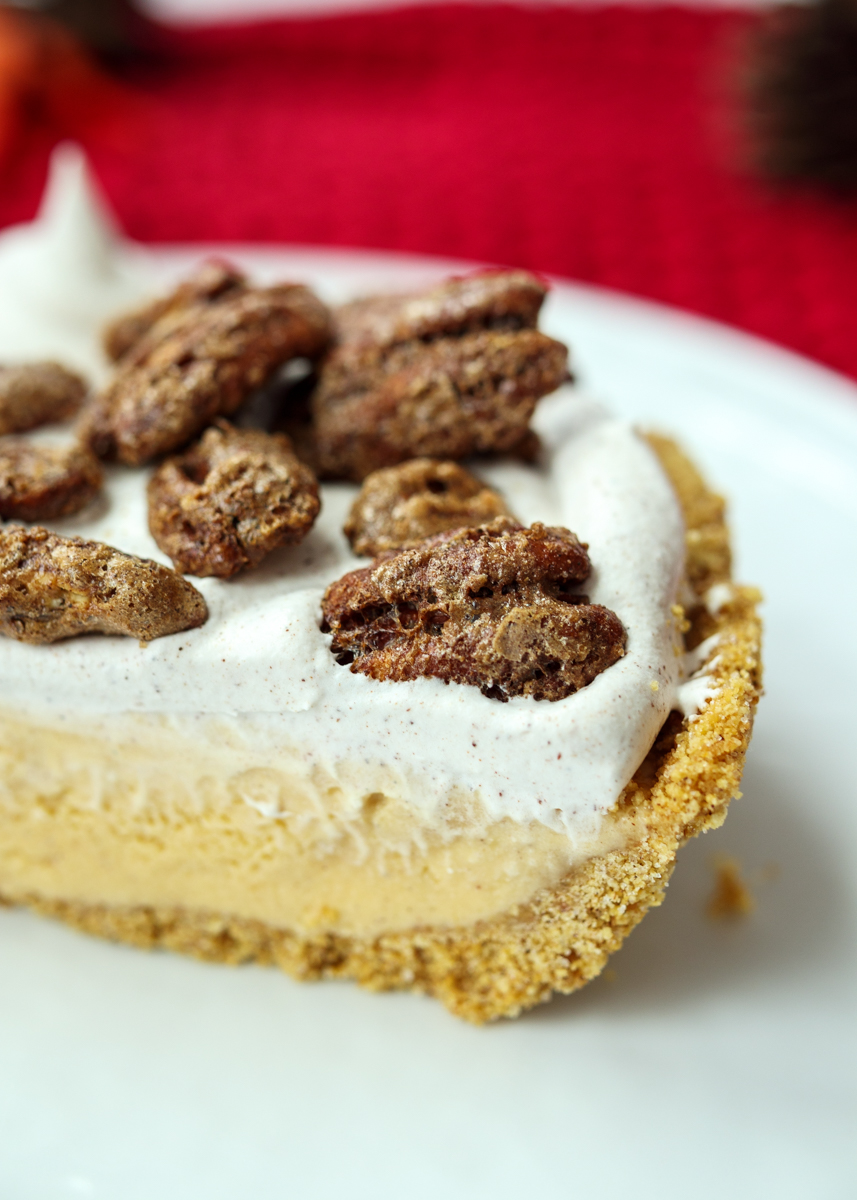 I have made many, many ice cream pies over the years and I've shared a few on here as well, although not nearly enough! I'll work that into the schedule for 2019. Graham crust, cookie crust, ganache-topped, candy filled, cake filled – you name it, I've whipped it up. I may have even eaten a slice or two. Clearly I'm kidding, many, many slices have been consumed, all in the pursuit of perfection though.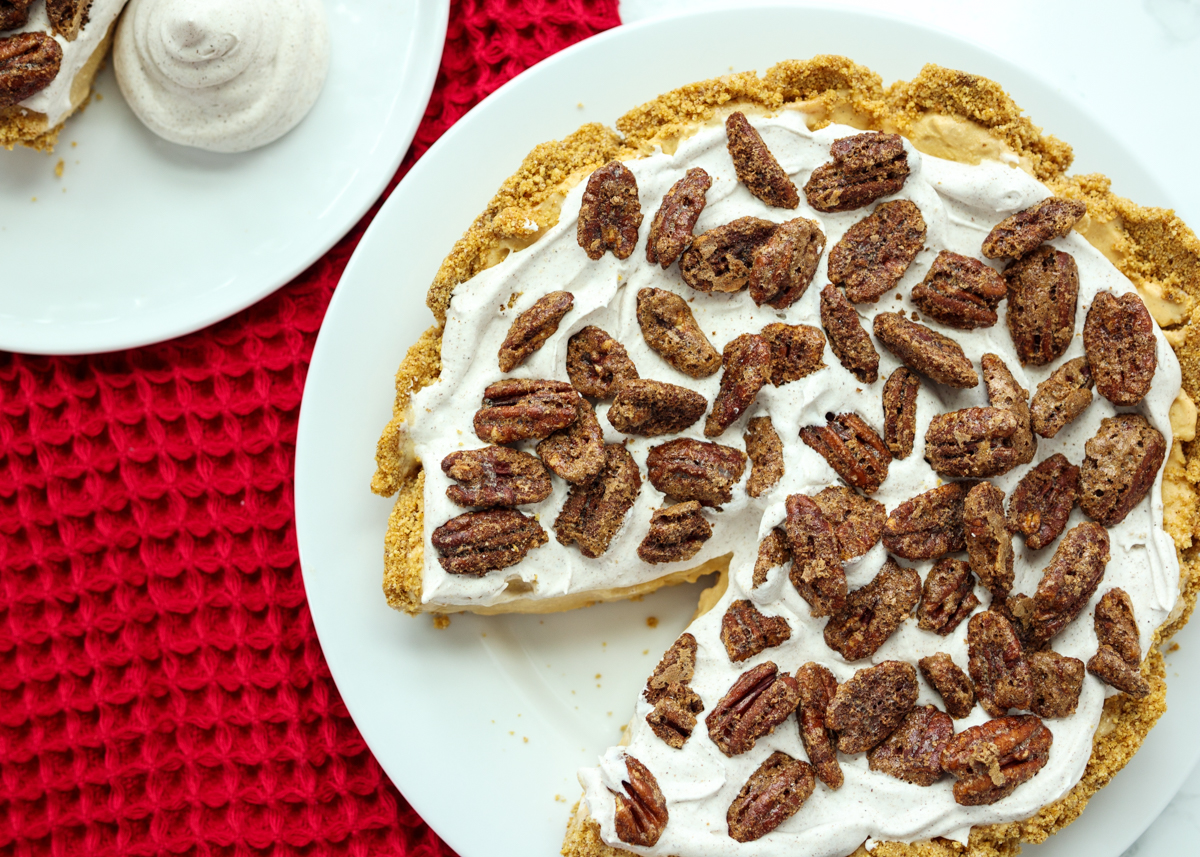 This Pumpkin Pecan Ice Cream Pie is a nice break from the traditional Thanksgiving dessert table and the big bonus is that it's so easy. Like so easy I even waited until the week of Thanksgiving to share it because you barely need any time to put it together. Although it is quick to make, it does require at least eight hours of freezing time so definitely read the instructions all the way through and plan accordingly.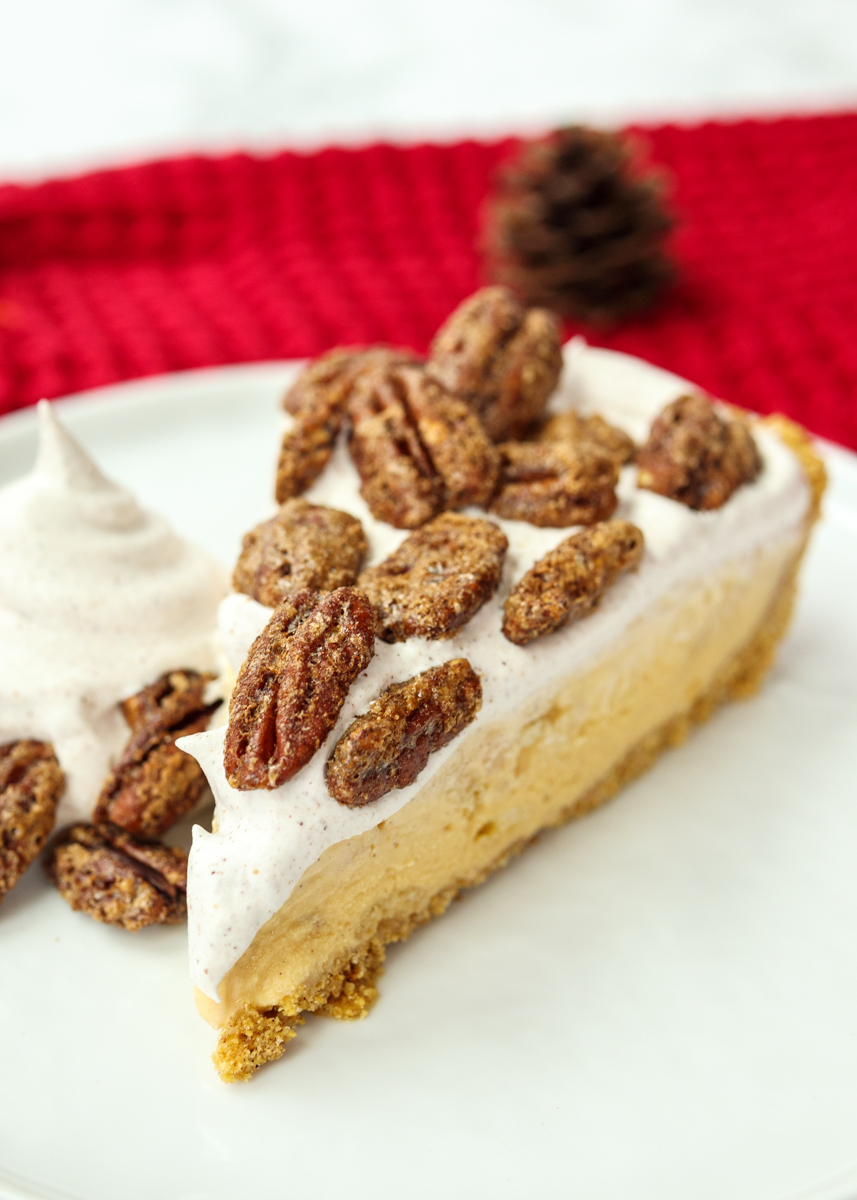 The base of this ice cream pie is a regular graham base with some cinnamon and ground ginger mixed in for that warm spiced holiday feel. Then we have pumpkin ice cream. You could certainly make your own and if you need a recipe I have had great success with all of David Lebovitz's recipes from The Perfect Scoop. I had just come back from my vacation last week so I went the easy store-bought route, especially since so many brands have delicious-sounding pumpkin flavors right now. I bought the Talenti pumpkin gelato; it was really creamy, packed with rich pumpkin flavor and even had pie pieces in it – bonus!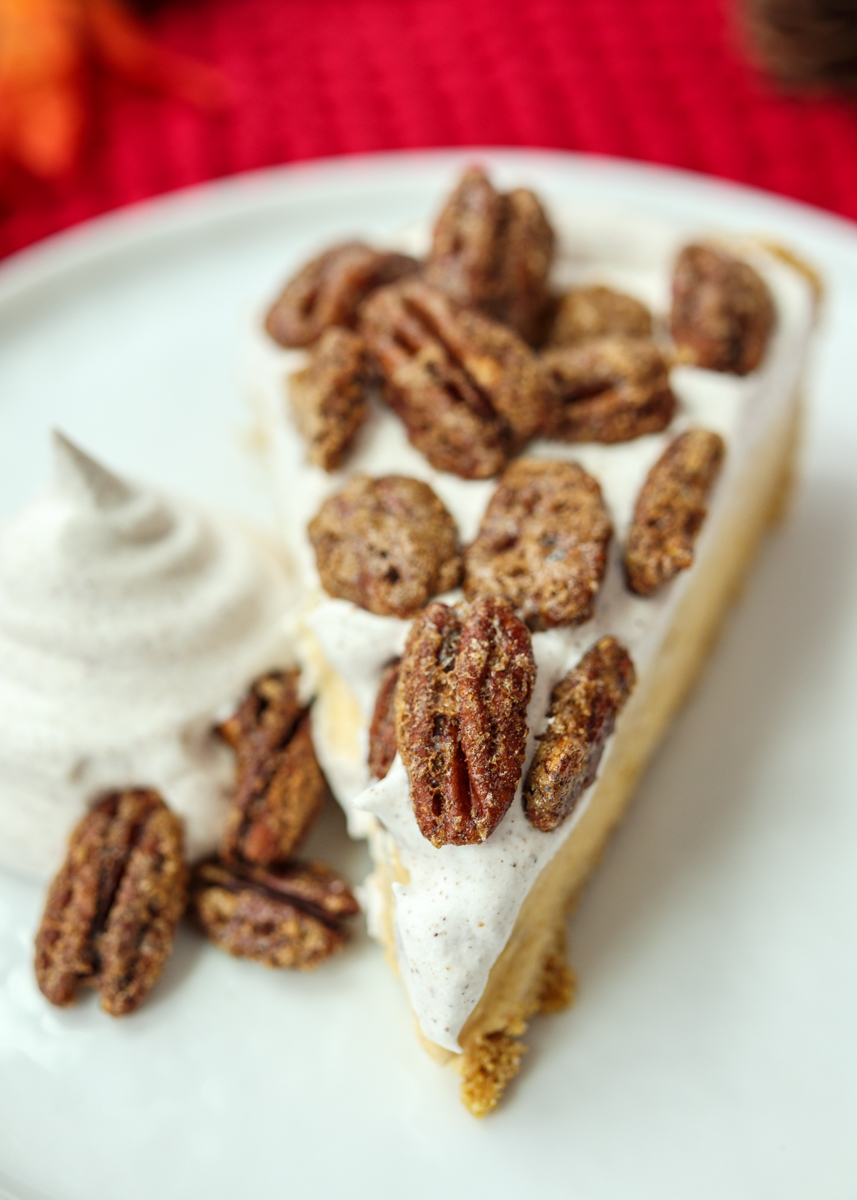 On top with have whipped cream and homemade sugared pecans. These pecans are tossed in egg whites and pumpkin pie spices then baked. They are so addictive, especially when they're warm, so it was really difficult saving them for this pie! I find that ice cream tends to be a universal crowd pleaser and I know from experience there's a lot of ice cream crazed families out there so this is the perfect Thanksgiving dessert. Although I highly recommend pumpkin ice cream you could certainly substitute a different ice cream flavor of your choice, just don't skip those candied pecans! Enjoy!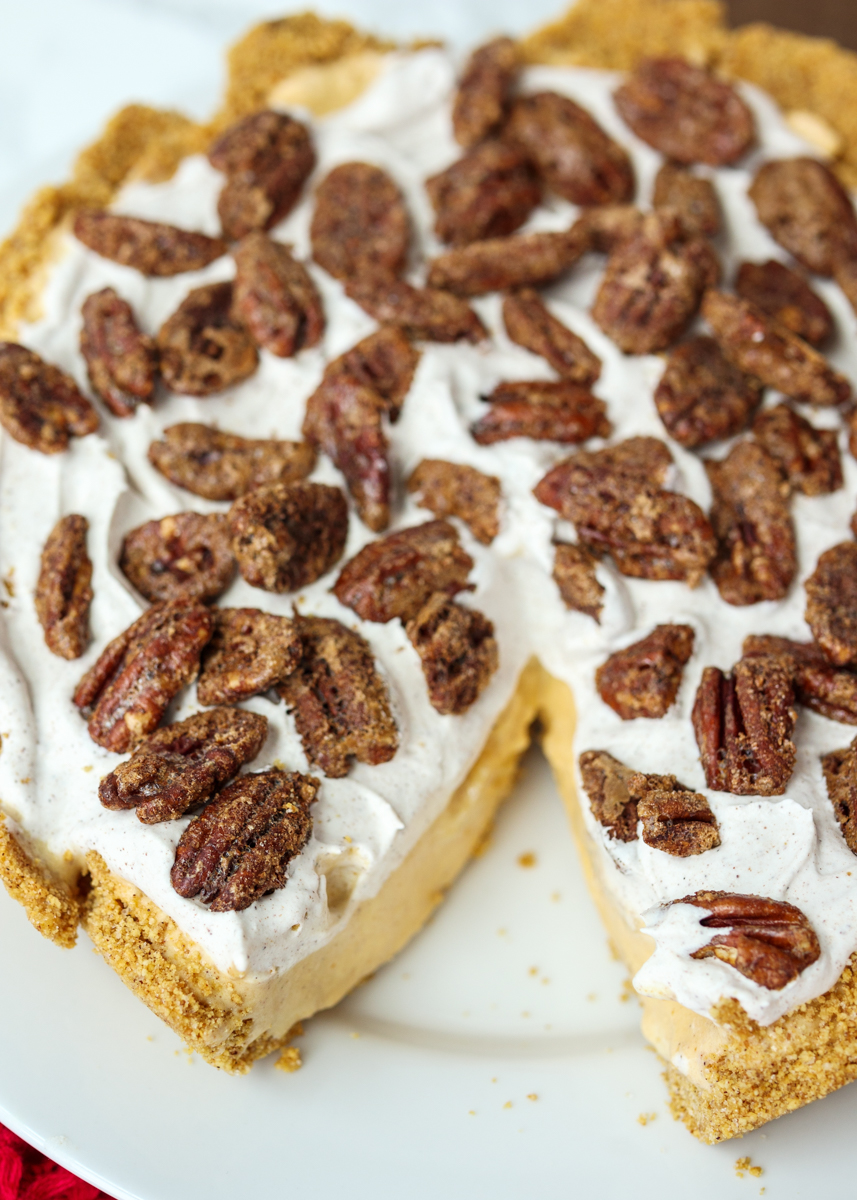 Pumpkin Pecan Ice Cream Pie
Ingredients
for the pie
1½ cups graham cracker crumbs
5 tablespoons butter, melted
3 tablespoons granulated sugar
1 teaspoon ground ginger
2 teaspoons ground cinnamon, divided
1 quart pumpkin ice cream or gelato
2 cups whipped topping, such as Cool Whip (see note)
for the pecan topping
1 tablespoon brown sugar
1 tablespoon granulated sugar
½ teaspoon ground cinnamon
⅛ teaspoon ground cloves
1 egg white
½ teaspoon vanilla extract
4 ounces pecan halves
Directions
for the pie
You have two pan options here. The first is a spring form pan lined with plastic wrap. Sometimes I like doing it this way so it's easy to pop it out and put the pie on a cutting board for a nice even cut or onto a platter. The second option is to make the pie directly in a glass pie pan. If you're doing option two (directly in the pie pan) and want a firmer crust bake the graham crust at 350 degrees F for 5 minutes then let cool completely before adding the ice cream.
In a medium mixing bowl, combine the graham cracker crumbs, melted butter, the granulated sugar, the ground ginger and 1 teaspoon of the cinnamon. Pour into the prepared pie dish and press down with your fingers or the bottom of a measuring cup to make an even crust layer, going slightly up the sides of the pie dish. Don't go too high up or the crust on the bottom won't be thick enough. Put in the fridge for 2 hours or the freezer for 1 hour before the next step.
Scoop the pumpkin ice cream or gelato into the graham crust. If you want to make the ice cream easier to spread, beat it with a stand mixer for a minute. Spread the ice cream into an even layer then let set in the freezer for 8 hours or overnight.
Combine the whipped topping with the remaining 1 teaspoon of ground cinnamon. Spread on the firm ice cream pie. When you're ready to serve, top with the pecan topping.
for the pecan topping
Preheat the oven to 250 degrees F. Line a baking sheet with parchment paper.
In a small bowl, combine the brown sugar, granulated sugar, cinnamon and cloves.
In a medium mixing bowl, beat the egg white and vanilla until frothy. Add the pecan halves then toss to coat. Add the sugar mixture and combine to coat. Place on the prepared baking sheet and spread out the pecans. Bake for 1 hour, tossing the pecans on the pan about every 15 minutes. Let cool before placing on top of the pie when ready to serve.
Notes
If you want to use homemade whipped cream, follow these instructions. In a cold metal bowl of a stand mixer or in a large cold metal mixing bowl with a hand mixer, use cold beaters to beat 1 cup cold heavy whipping cream, 2 tablespoons of granulated sugar and the remaining teaspoon of cinnamon until stiff peaks form. Do not top put on the ice cream pie until you're ready to serve it. You can make the whipped cream a day or two ahead, just store it in the fridge until you're ready to serve then lightly beat with a whisk before topping the pie.
Some of the links above are affiliate links, which means I may receive a small commission for my referral. This does not affect the retail cost of the item. Thank you for supporting Lemon & Mocha!