Leftover Turkey Pull-apart Sliders with a Maple Mayo and Cranberry Barbecue Sauce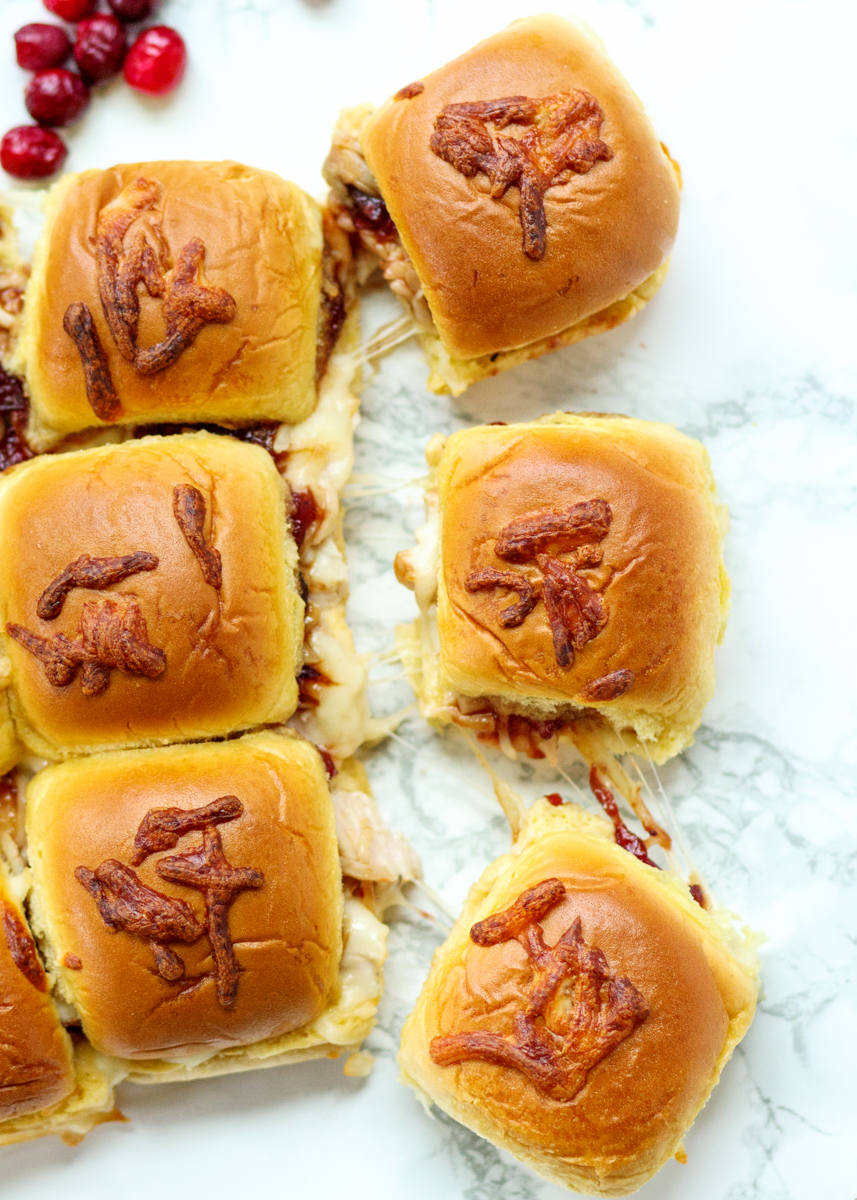 Hi everyone! Matt and I got back from our Japan vacation early Sunday morning. I'm a few days behind, but I'm finally checking in with you all! We had an amazing time – the sites were unreal and the food was beyond delicious! I am planning to eventually put together a food guide so I'm looking forward to sharing more of our trip with you all. In the meantime, I'm going to be posting a few pictures on Instagram over the next few weeks so make sure you're following me! Now, let's dive into today's recipe in preparation for the day after Thanksgiving.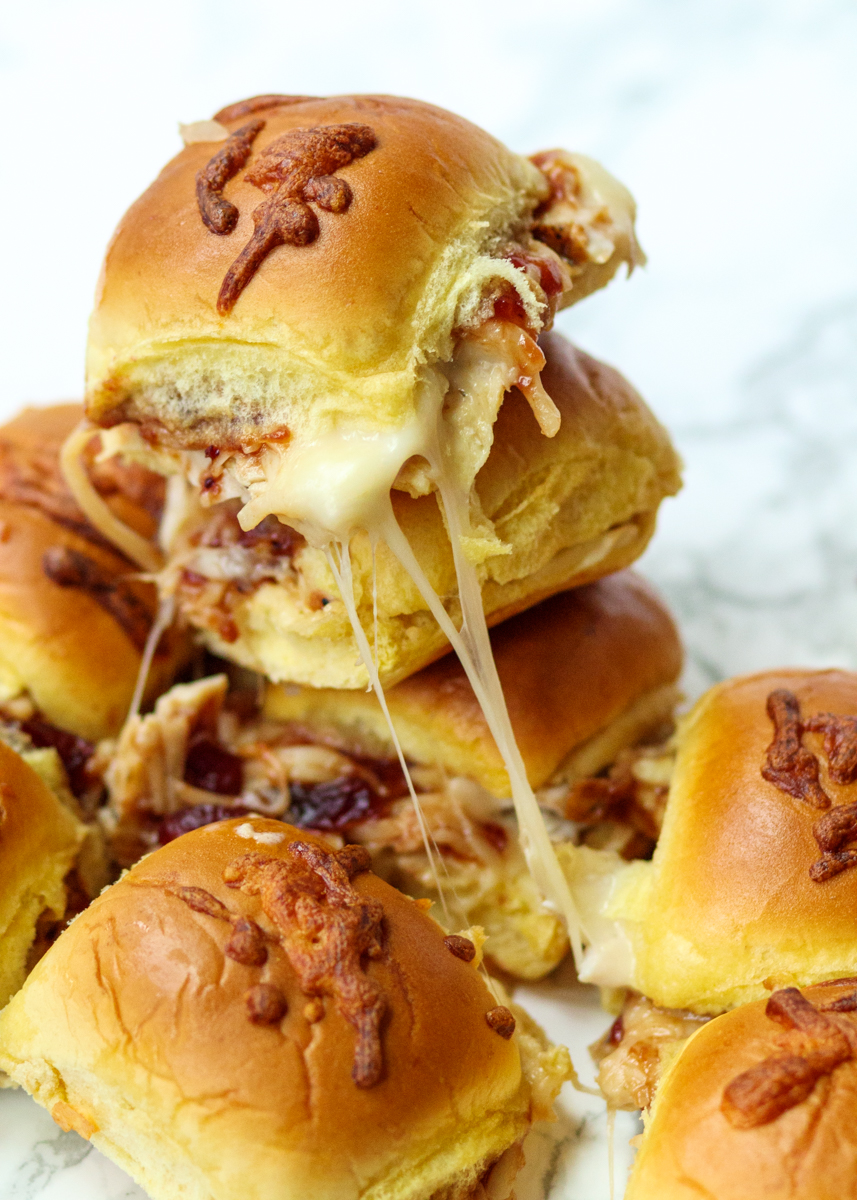 These, my friends, are Leftover Turkey Pull-apart Sliders with a Maple Mayo and Cranberry Barbecue Sauce. Fluffy potato rolls are stuffed with leftover turkey, tangy cranberry barbecue sauce, a quick maple mayo and gooey cheese. You bake them in the oven so the tops get golden with just a bit of crispy cheese on top. I may have made these sliders with Thanksgiving in mind, but they would also be perfect for tailgating, Super Bowl parties or an everyday Friday night.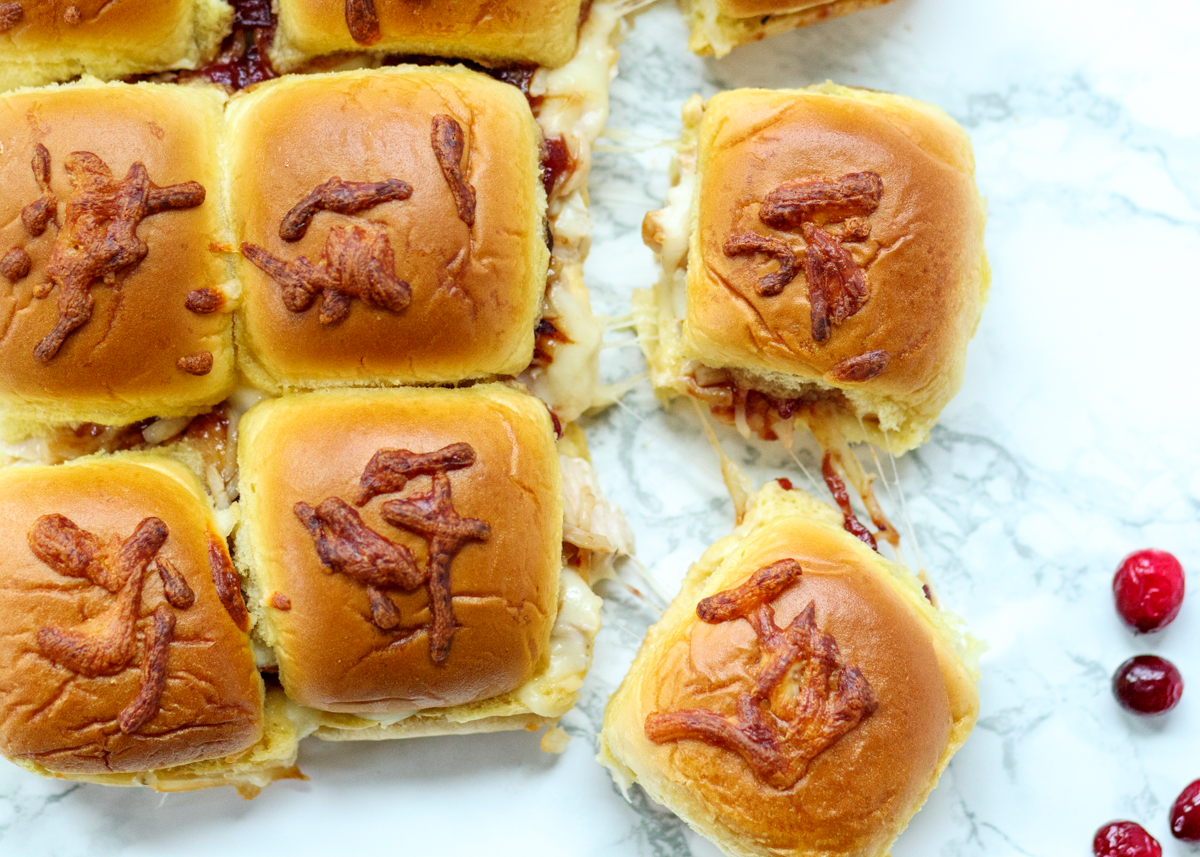 Have you made pull-apart sliders before? They are one of my favorite ways to serve an easy, casual meal. You cut a set of rolls open and lay them flat in a baking pan. Then you add your toppings like it is one big piece of bread before adding the top half of the roll set. They get baked away and then it's time to eat! I usually let them cool for a minute then cut them in the pan so the sliders are easier to actually pull-apart without the filling getting yanked out every time someone grabs one.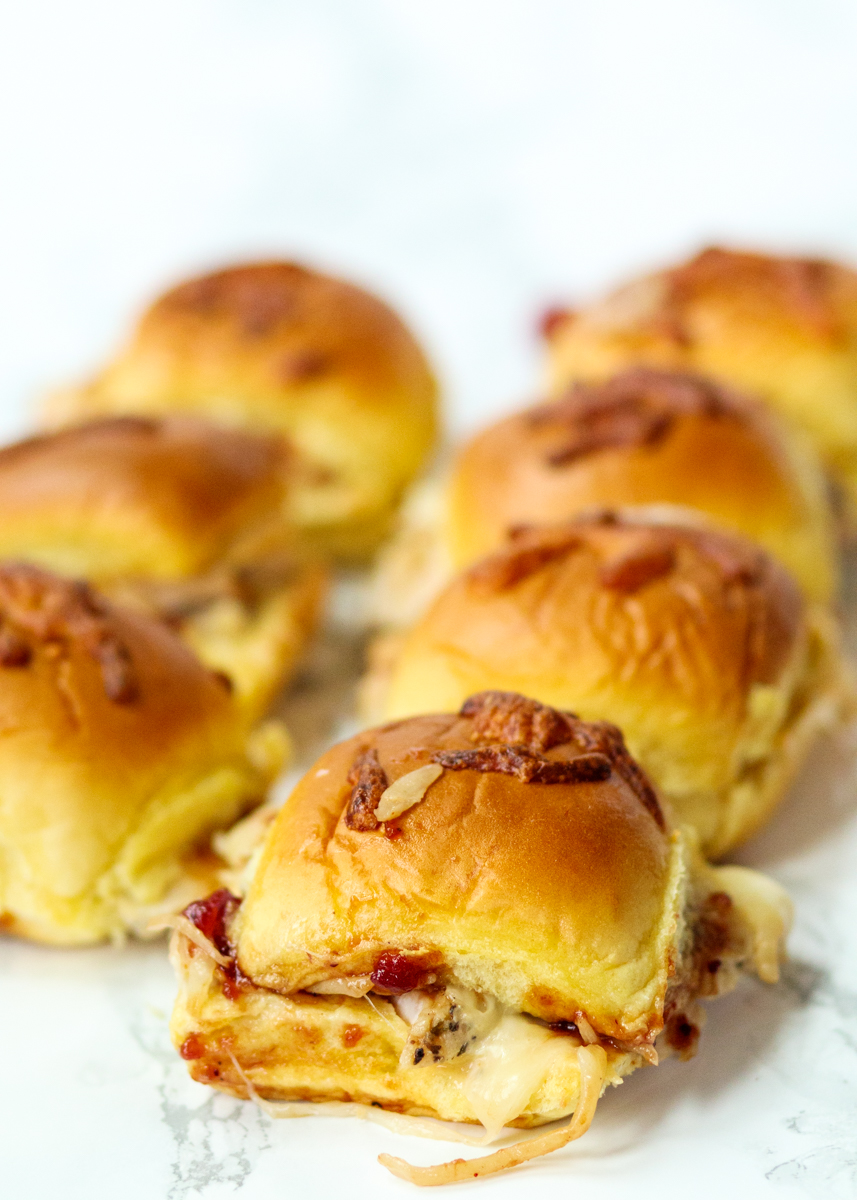 These are designed to use up you leftover Thanksgiving turkey and cranberry sauce since having those two dishes meal after meal can get a little boring. Gooey, cheesy sliders are definitely not boring and the sweetness of the maple mayo with the tanginess of the cranberry sauce balances perfectly. You can really use any kind of rolls for these, but I love potato rolls since they are so buttery and fluffy. I was only going to eat one or two of these sliders, but I couldn't help gobbling them up with Matt over the next couple days.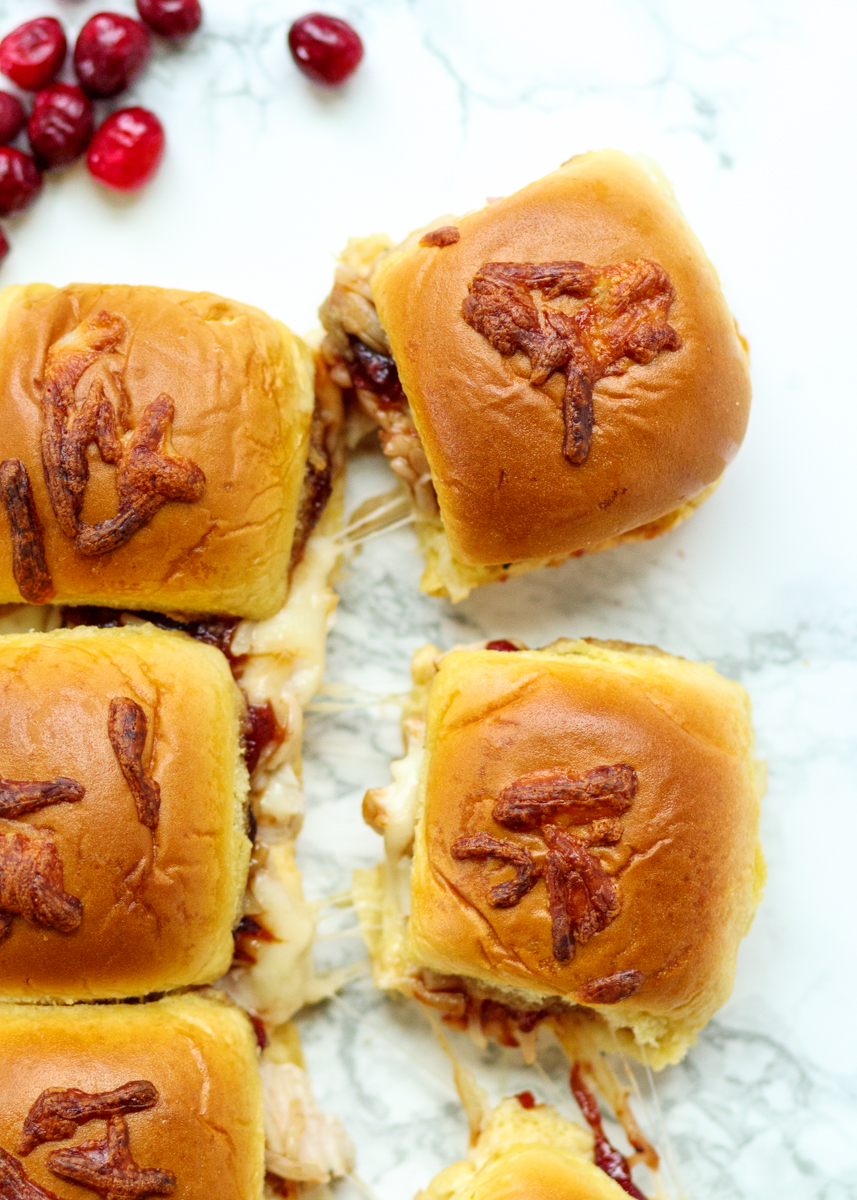 I hope you enjoy these sliders! What Thanksgiving leftovers are you looking forward to the most?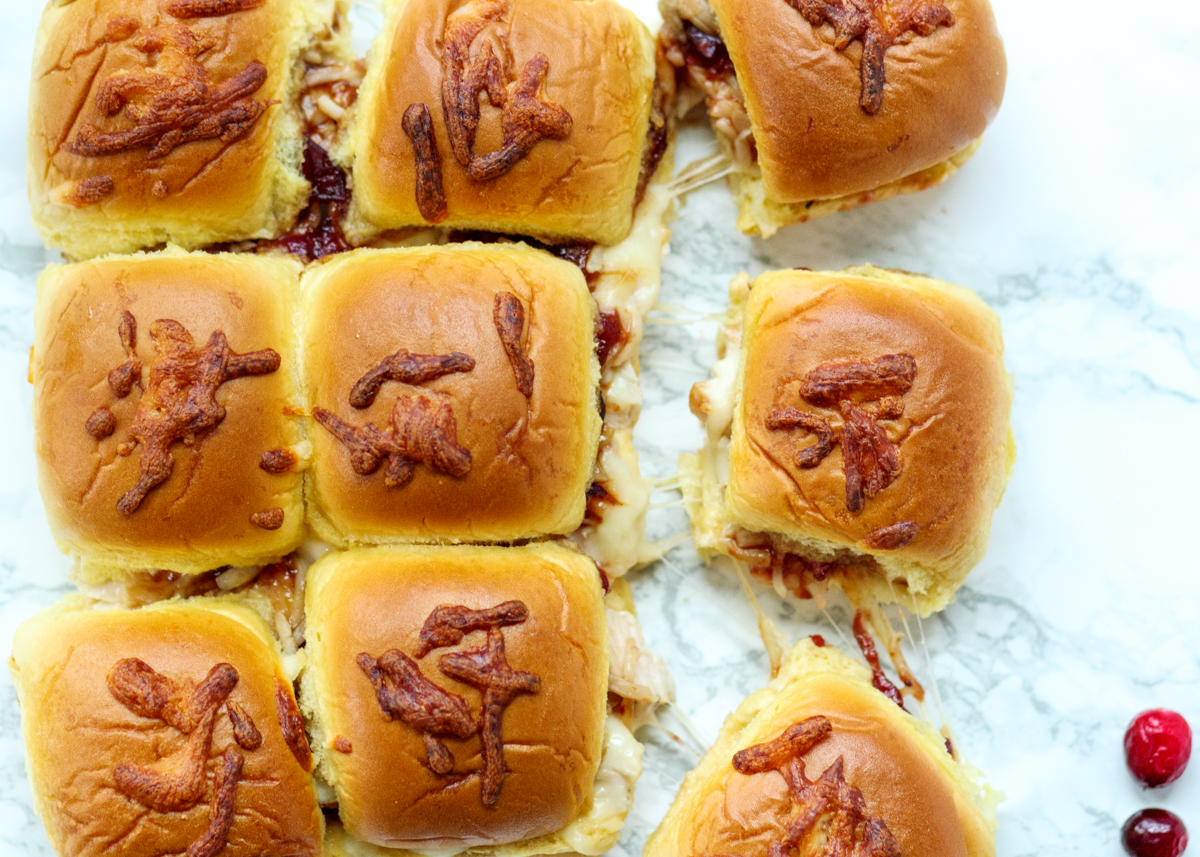 Leftover Turkey Pull-apart Sliders with a Maple Mayo and Cranberry Barbecue Sauce
Ingredients
2 tablespoons mayonnaise
1 teaspoon maple syrup
2 tablespoons barbecue sauce
2 tablespoons cranberry sauce
9 dinner rolls, cut in half
1½ cups roasted turkey pieces
¾ cup shredded mozzarella, plus more for topping
1 tablespoon butter
Directions
Preheat the oven to 350 degrees F.
In a small bowl, combine the mayonnaise and maple syrup. Set aside.
In another small bowl, combine the barbecue sauce and cranberry sauce. Set aside.
Place the bottom halves of the dinner rolls into an 8 x 8" square baking pan. Evenly spread on the maple mayo. Top with the turkey pieces, then the shredded mozzarella. Spoon the cranberry barbecue sauce over top. Put the top half of the rolls on.
Melt the butter. Spread the butter over the tops of the rolls then sprinkle some extra shredded mozzarella on top. Bake in the oven for 15 minutes, or until the tops are golden brown and the cheese is melted.