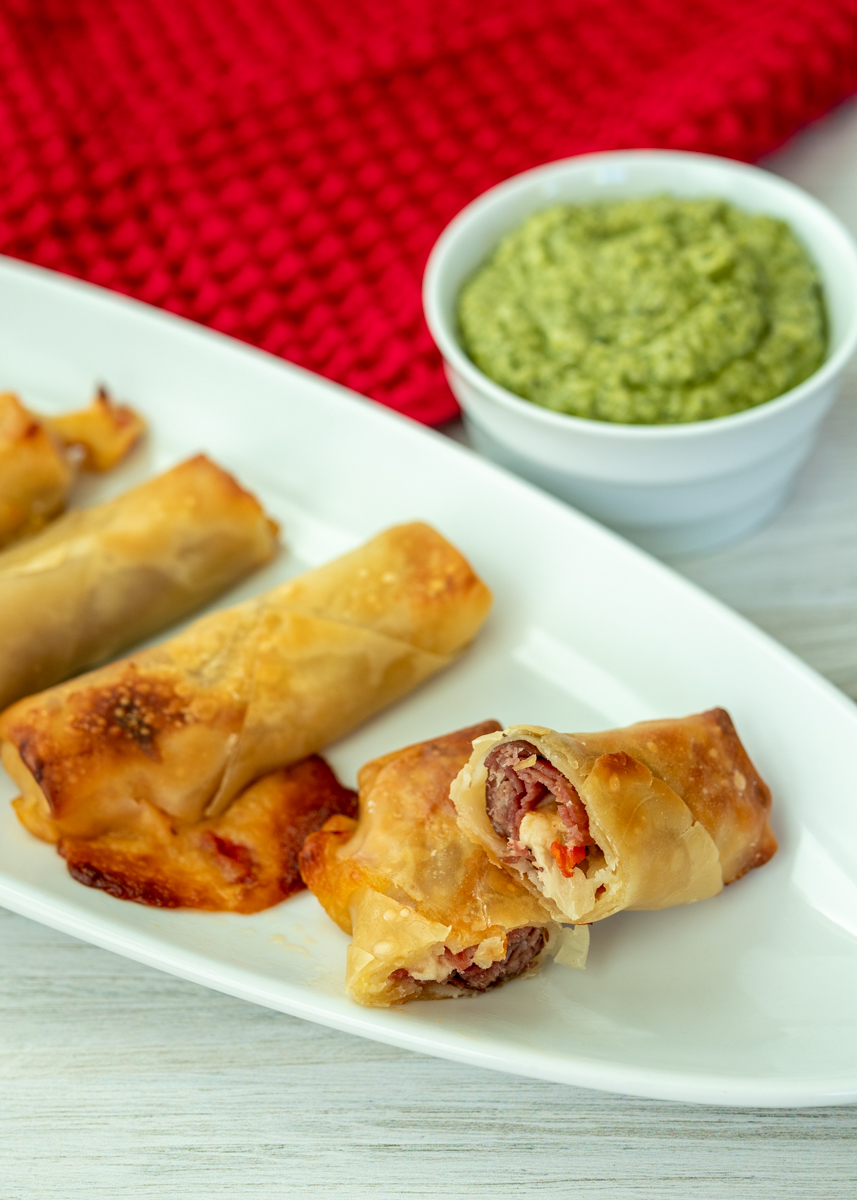 This is a monumental recipe! Not because it tastes amazing (which is does) or because you should make it immediately (which you should), but because it's the first recipe I've made and photographed for the blog since Sam was born. It may have taken two days and gone in and out of the fridge five times while I started and stopped, but here it is! Don't worry, the recipe is actually super simple and easy so it won't take you much time at all to whip up, unless you also have a three month old who decides to only take twenty minute naps that day!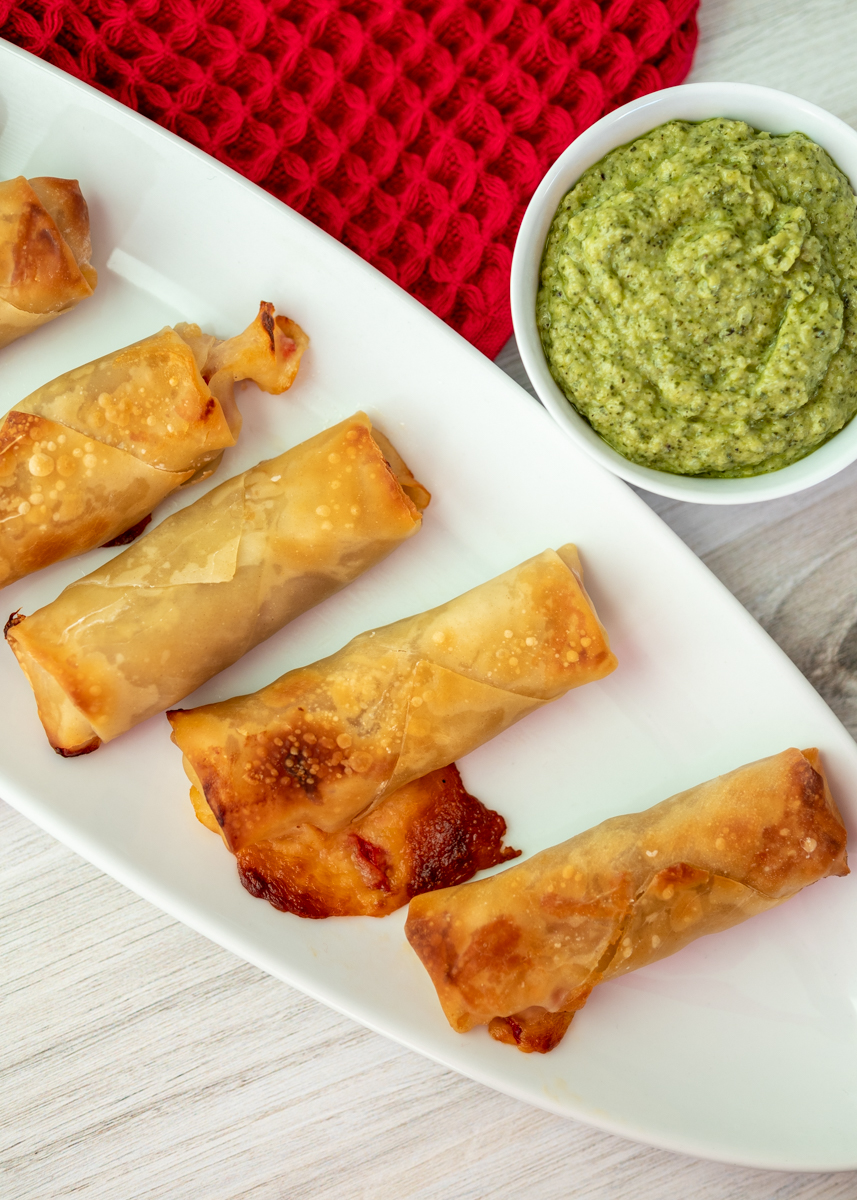 I wanted to post something tasty in time for the Super Bowl on Sunday. I thought of these Cheesy Baked Prosciutto and Salami Egg Rolls a while ago and I'm so excited I finally made them. Prosciutto, salami, roasted red peppers and mozzarella cheese all get wrapped up in these crispy egg rolls. They are savory, salty and perfectly cheesy.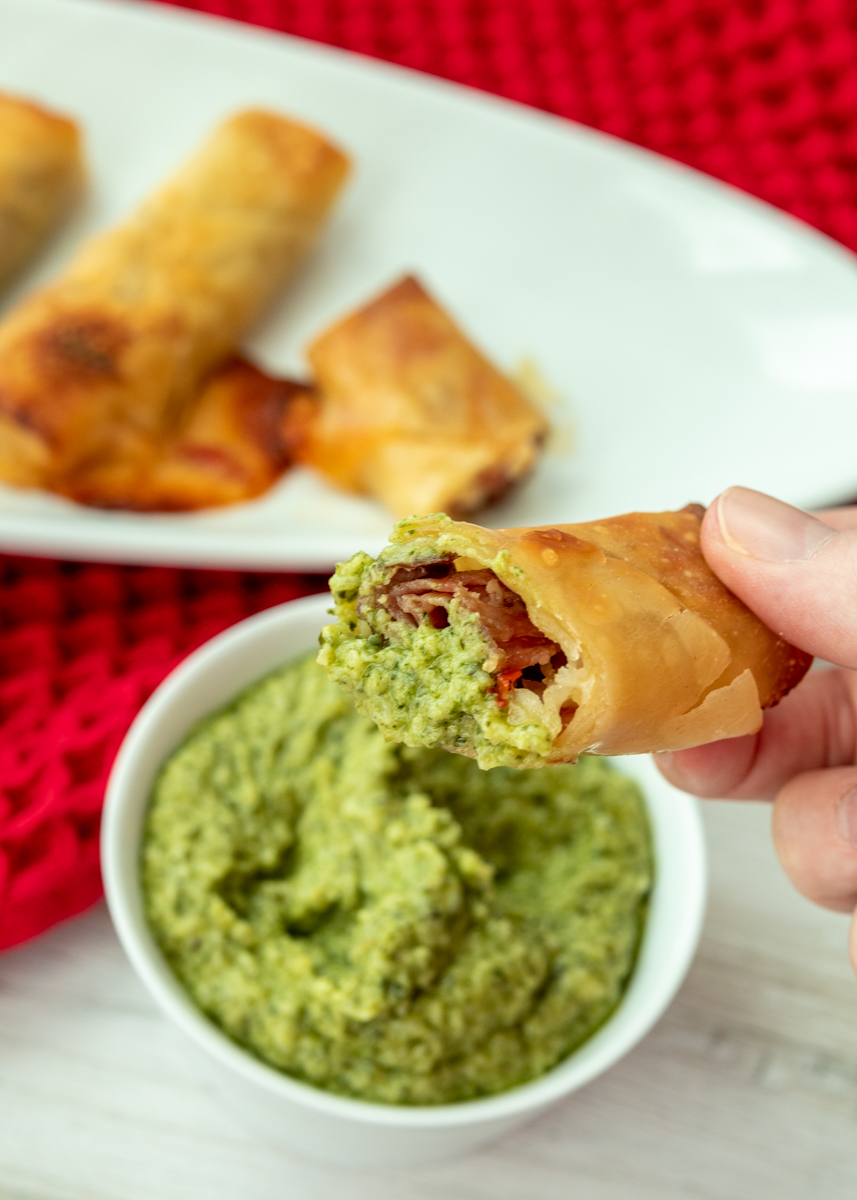 I like to think of them as antipasto egg rolls and you really could customize them with your favorite antipasto components. An all veggie one with roasted mushrooms and artichokes would be delicious! You would just have to make sure you chop the pieces small enough so you can roll the wrapper without it breaking.
As great as they are on their own these party appetizer egg rolls needed a dipping sauce. I had a hard time deciding on one because there's so many that would pair well with them. Ultimately I landed on a creamy pesto dipping sauce using my cauliflower puree trick to make the pesto creamy without actually adding cream. Just as it worked in the sun-dried tomato cream sauce, the cauliflower taste doesn't come through, but it adds a creamy thickness to the pesto.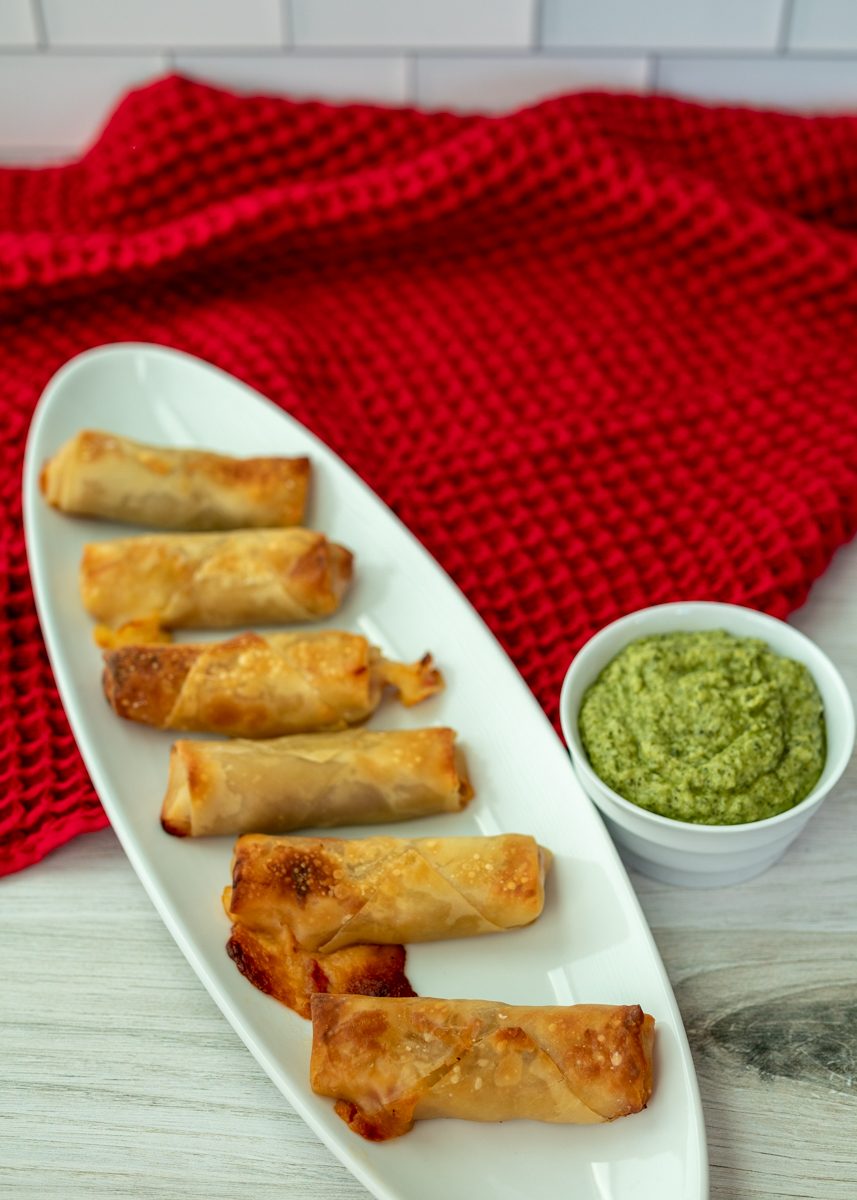 If you're looking for a pesto recipe I have one here. Enjoy!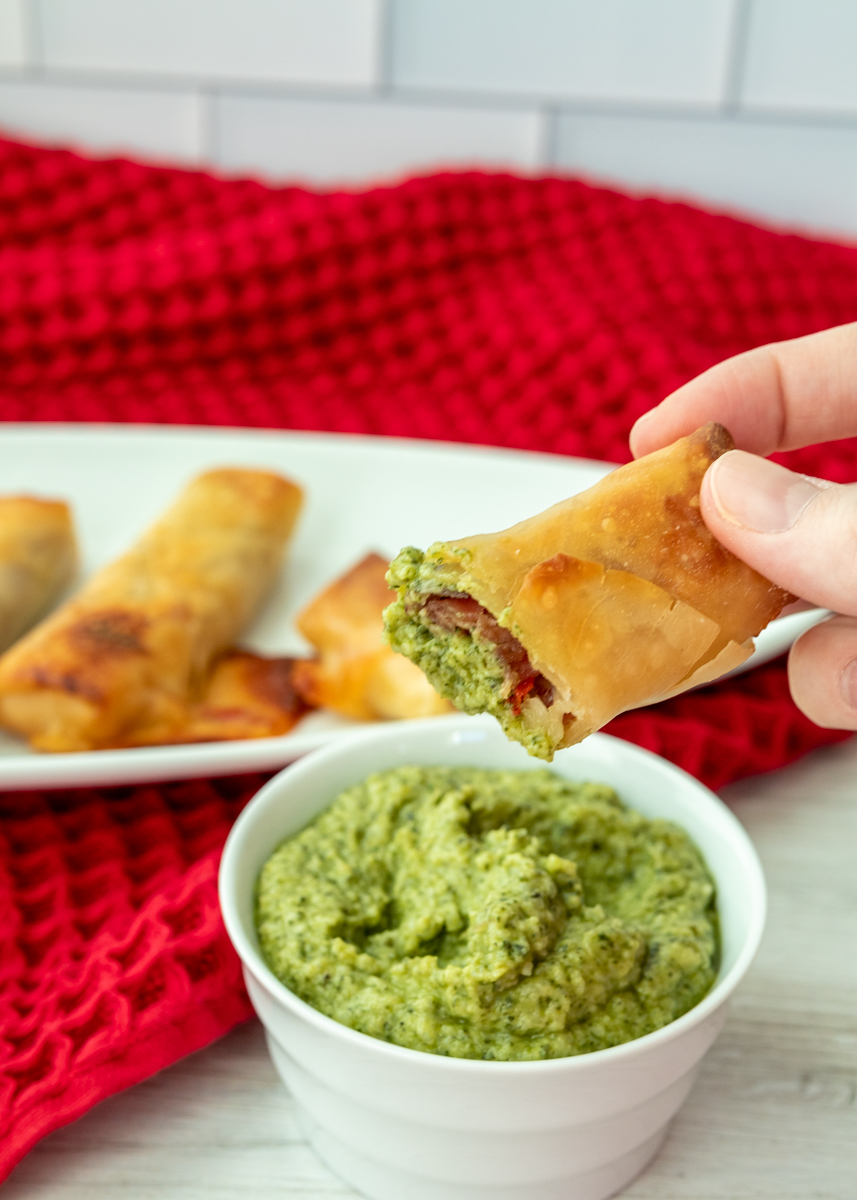 Cheesy Baked Prosciutto and Salami Egg Rolls
Ingredients
for the egg rolls
12 egg roll wrappers, see note
4 slices prosciutto (about 2 ounces), cut into thirds
6 thin slices genoa salami (about 2 ounces), cut in half
6 thin slices sopressata (about 2 ounces), cut in half
½ cup thinly sliced roasted red peppers (about 1 roasted red pepper)
1½ cups shredded mozzarella cheese
for the pesto dipping sauce
1 cup steamed cauliflower florets
½ cup basil pesto
Directions
for the egg rolls
Preheat the oven to 400 degrees F. Line a baking sheet with nonstick aluminum foil or coat with cooking spray and set aside.
Before filling the egg roll wrappers, make sure you have a little bowl or cup of warm water and a clean work surface. Place the egg roll wrapper down so that a corner is facing you. Stack a piece of the prosciutto, genoa salami and sopressata near the bottom corner of the wrapper. Add some roasted red peppers and about 2 tablespoons of the shredded mozzarella on top. Take the bottom corner of the wrapper and fold it up and over the fillings so it's completely covering it then continue to roll it one more time. Fold in the left and right corners so they create a little envelope then wet your finger with the water and use it to moisten the whole exposed top corner. Continue to roll the wrapper and seal the roll. Place it on the baking sheet. Repeat for the remaining rolls then coat all the rolls with cooking spray.
Bake the rolls for 8 minutes, then flip them over and bake for another 8 minutes. They should be crispy and golden brown. Serve warm with the pesto dipping sauce.
for the pesto dipping sauce
Combine the cauliflower and the pesto in a blender or food processor until smooth. If it's too thick add a tablespoon of water.
Notes
I use Nasoya egg rolls wrappers. I find them in the refrigerated section of my grocery store near the tofu products.