Pepperoni Pizza Rolls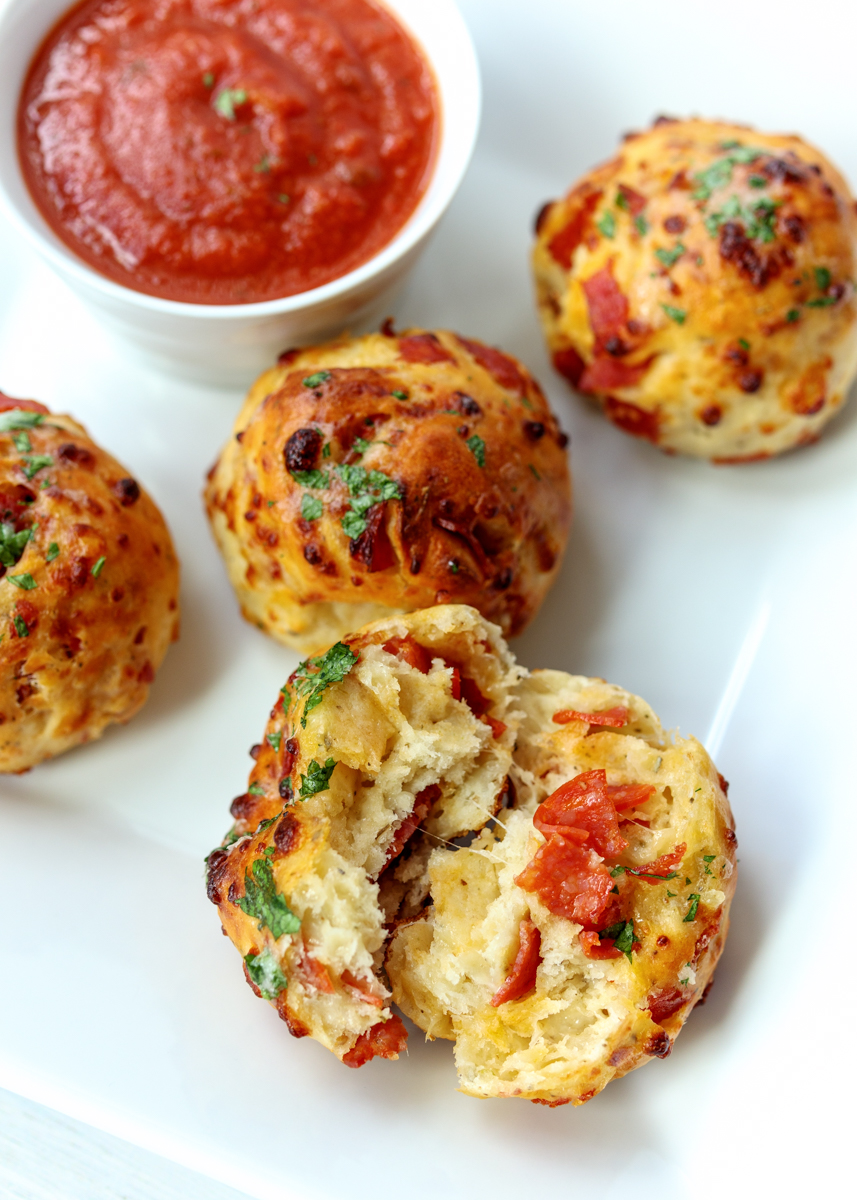 Wow! Wow! Wow! I do not know how else to start this post, but that's all that flashes in my brain when I think about these epic Pepperoni Pizza Rolls. The rolls are crispy on the outside, fluffy on the inside and packed full of pepperoni pizza flavor. There's plenty of garlic and herb seasoning as well as melted mozzarella cheese and pepperoni slices. When they come hot out of the oven a little melted butter, fresh parsley and Parmesan gets brushed on top before serving. Dip a bite into some warm marinara and it's just like eating a slice of pepperoni pizza except, dare I say it, better!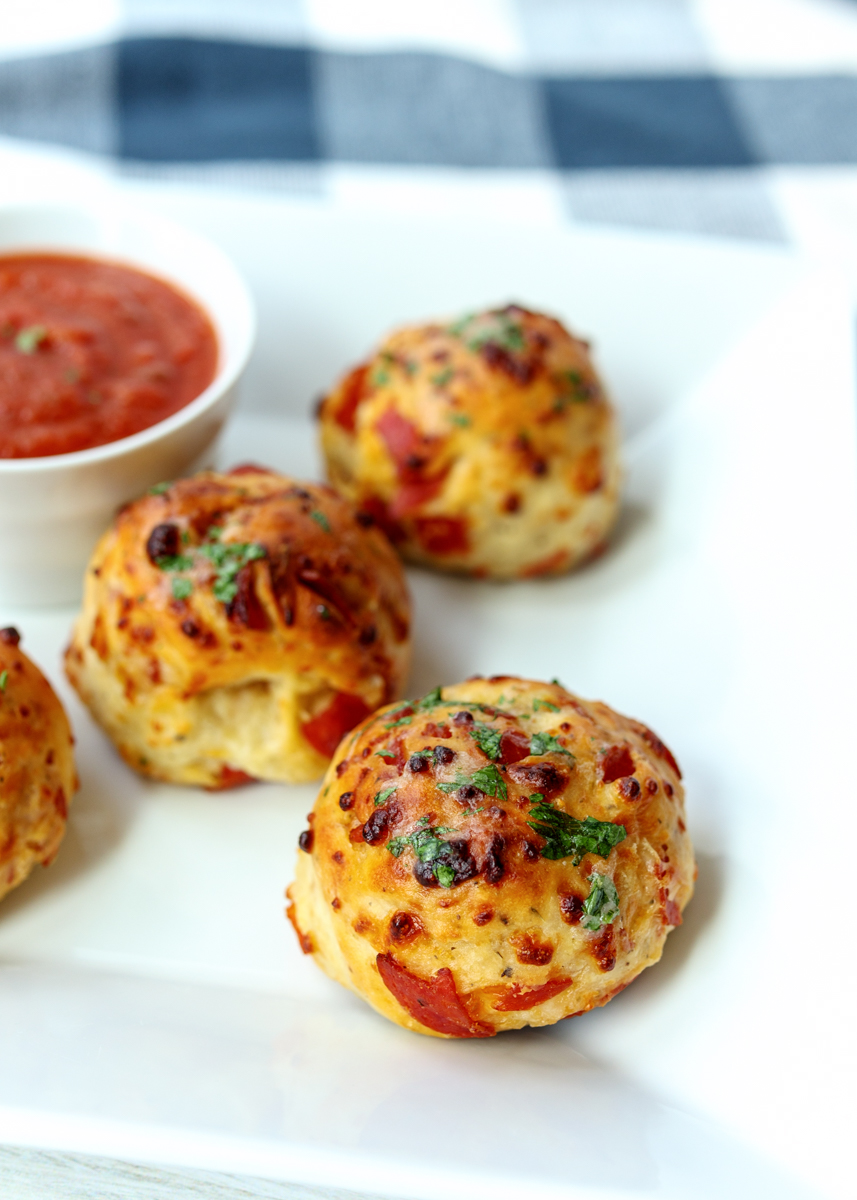 Tomorrow is National Pepperoni Pizza and since it's also pizza Friday I thought it would be perfect to post a recipe for pepperoni pizza. I had all of the ingredients ready to go, but couldn't get motivated to deal with either my pizza stone or my countertop pizza oven and the rolling and stretching of the pizza dough involved. I started brainstorming for an easier solution and came up with these epic Pepperoni Pizza Rolls.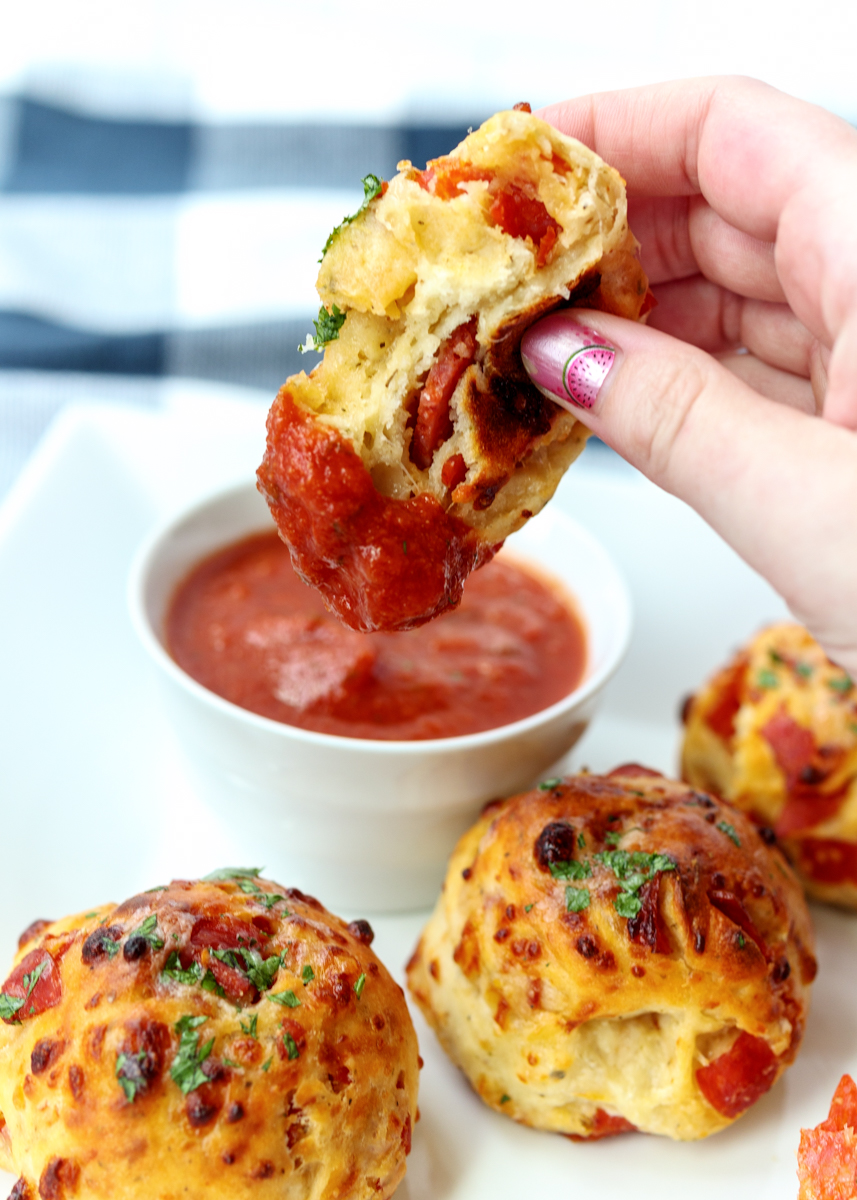 The shredded mozzarella and chopped pepperoni slices get kneaded right into the pizza dough. You then make the dough into a ball, cut it into eight pieces and roll each piece into its own little ball. The little dough balls get baked at 475 degrees F for twelve minutes and voila! Time to eat!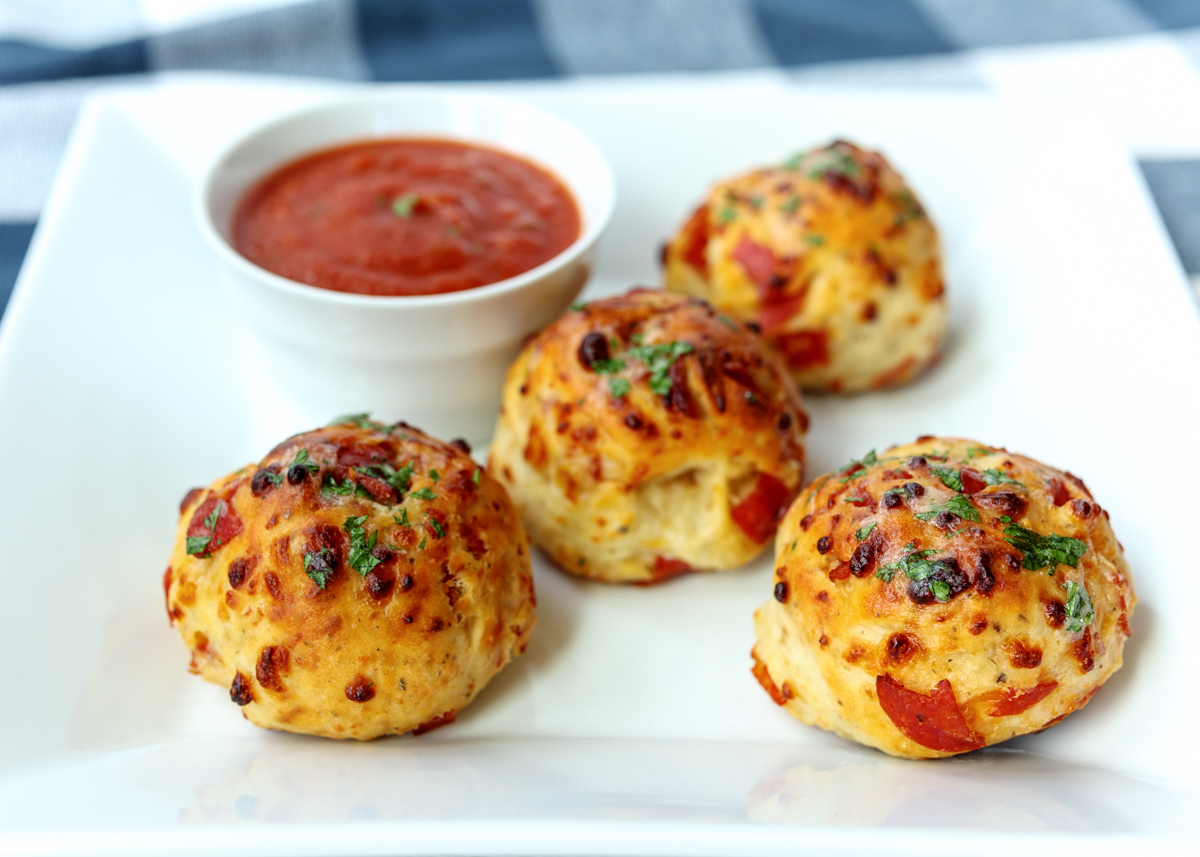 The secret that makes these even easier is that we're using Sunny Anderson's 1-2-3 pizza dough as the base for this recipe. I first saw this published in my Food Network Magazine a few years ago and decided that I finally needed to try it. The 1-2-3 is for the only ingredients involved: 1 tablespoon of garlic and herb seasoning, 2 cups of plain Greek yogurt and 3 cups of self rising flour. I halved this to get eight Pepperoni Pizza Rolls, although they're so good that if you're making them for more than just your family you will want to double the recipe I have below! It sounds odd, but the ingredients get mixed together with a dough hook in a stand mixer (or you could mix and then knead by hand if you don't have a stand mixer) and somehow create the most delicious dough.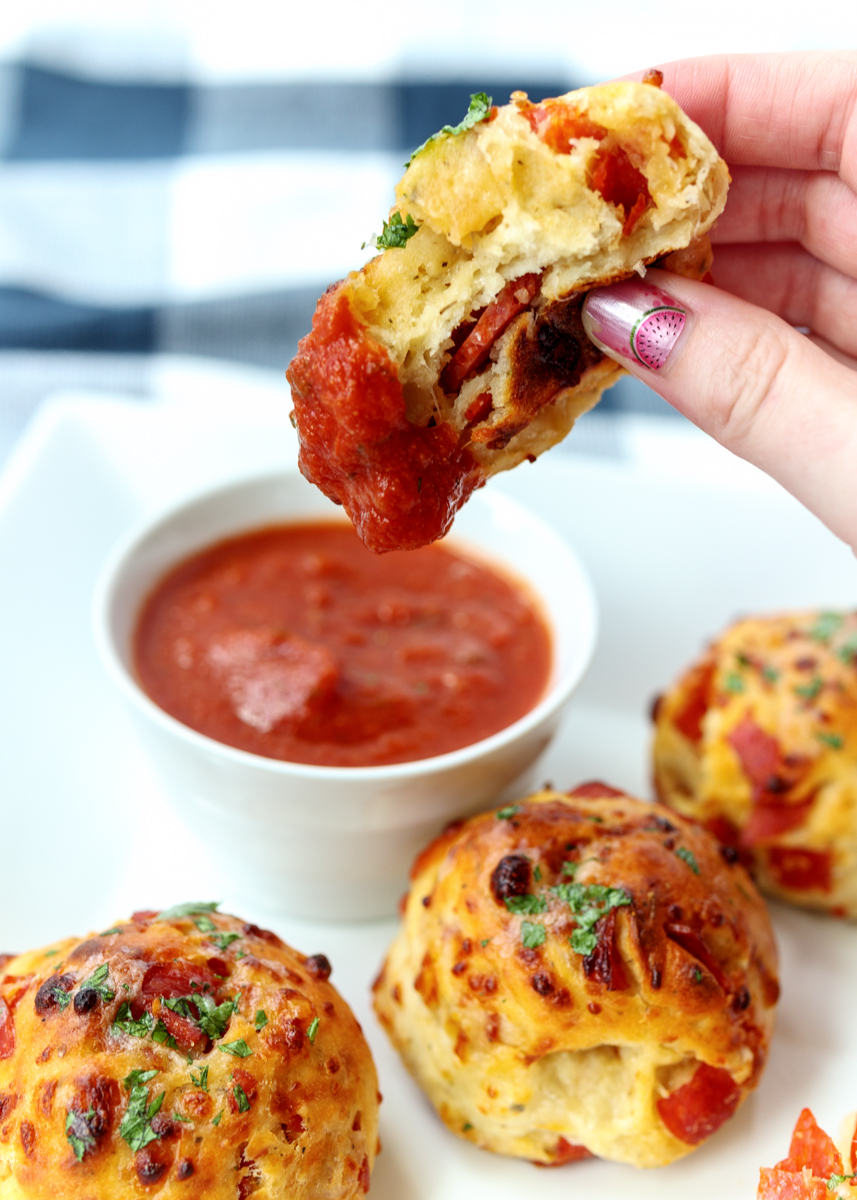 If you don't want to use self-rising flour I included a note in the recipe, but it really helps making them even easier. I promise that even the most novice home cook could nail this recipe – and it only takes twenty minutes to make including the baking time! These are definitely going to be a new regular recipe of mine. Try them out – I know you will love them just as much as we do!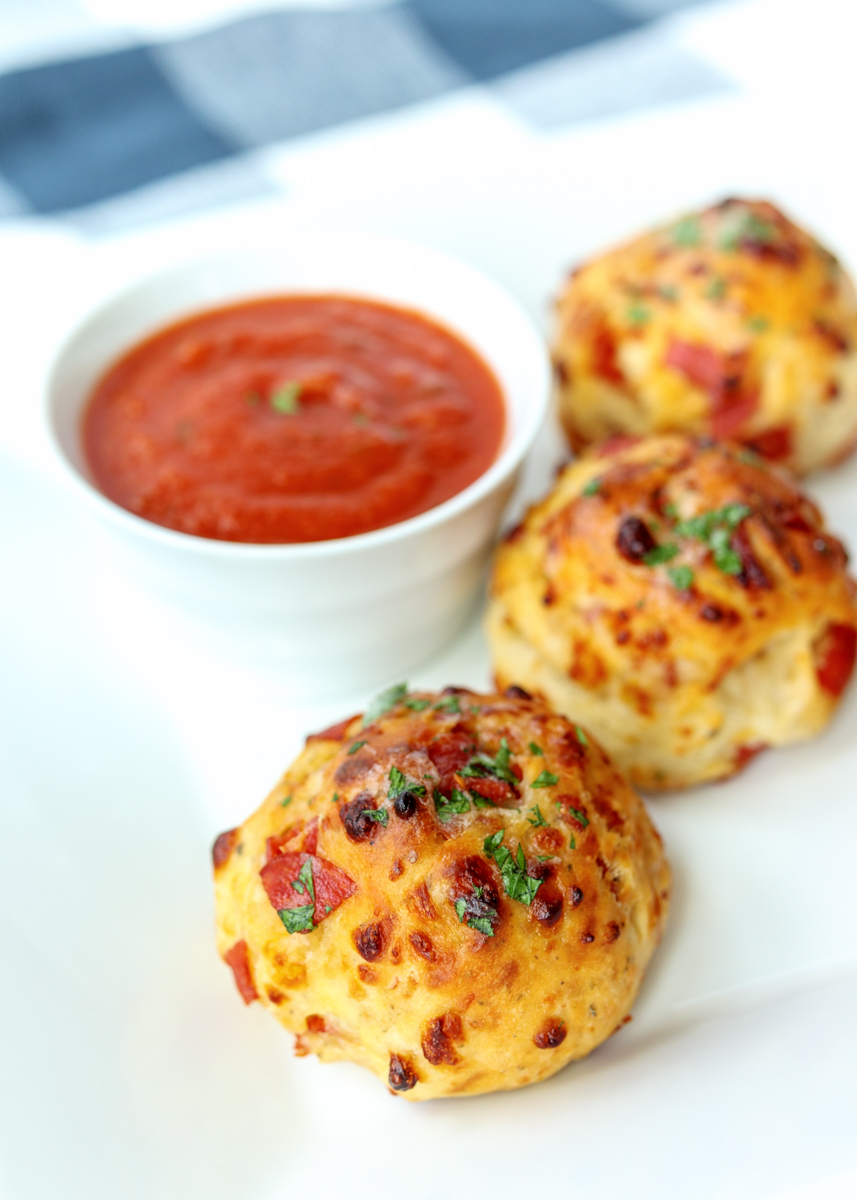 Pepperoni Pizza Rolls
Ingredients
1½ cups self rising flour
1 cup plain nonfat Greek yogurt
1 teaspoon Italian seasoning
½ teaspoon garlic powder
1 cup shredded mozzarella cheese
½ cup sliced pepperonis
1 tablespoon butter, melted
2 teaspoons chopped parsley
1 teaspoon grated Parmesan cheese
Marinara, for serving
Directions
Preheat oven to 475 degrees F. Line a baking sheet with aluminum foil, lightly spray with cooking spray and set aside.
Add the self rising flour, Greek yogurt, Italian seasoning and garlic powder to the bowl of a stand mixer. Mix with a dough hook on medium speed until combined, stopping and scraping down the sides and bottom at least once. Continue until the dough comes together.
Add the mozzarella cheese to the bowl of the stand mixer. Chop the sliced pepperonis and add to the bowl of the stand mixer. Mix on medium-low speed until incorporated. Take the dough out of the bowl, form into a large ball and place on a cutting board. Slightly flatten the dough ball then cut into 8 even wedges. Roll each wedge into a ball and place on the prepared baking sheet. Bake for 12 minutes.
While the pizza rolls are in the oven, combine the melted butter, chopped parsley and grated Parmesan in a small bowl. Sprinkle in a little Italian seasoning. When the rolls come out of the oven, brush the tops with the melted butter mixture. Serve hot with the marinara sauce.
Notes
If you don't have self-rising flour use the following substitution: 1½ cups all-purpose flour, 2¼ teaspoons baking powder, ¼ teaspoon salt plus ⅛ teaspoon salt.
 Pizza dough recipe adapted from June 2017 issue of Food Network Magazine
.
Some of the links above are affiliate links, which means I may receive a small commission for my referral. This does not affect the retail cost of the item. Thank you for supporting Lemon & Mocha!