Copycat Olive Garden Salad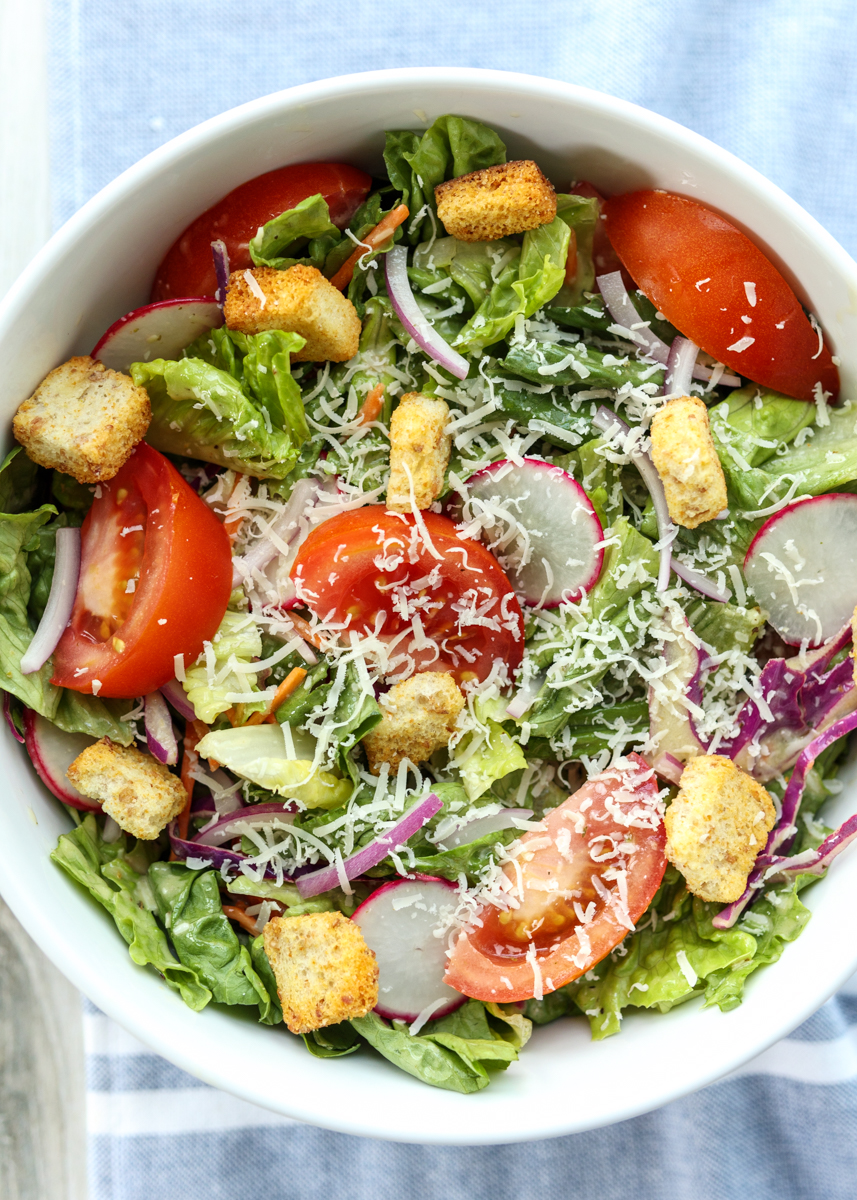 The Olive Garden holds a special place in my heart. Many years ago during high school that was the preferred dinner spot for my friends and I. We would get all dressed up, as a joke to ourselves that this was our "fancy" dinner spot, wait the hour at the crowded restaurant to be seated and then stuff our faces with salad, breadsticks and pasta. Of course, it was always someone's birthday so we could get the free chocolate cake and we would rotate through the group as to whose turn it was to be "celebrated."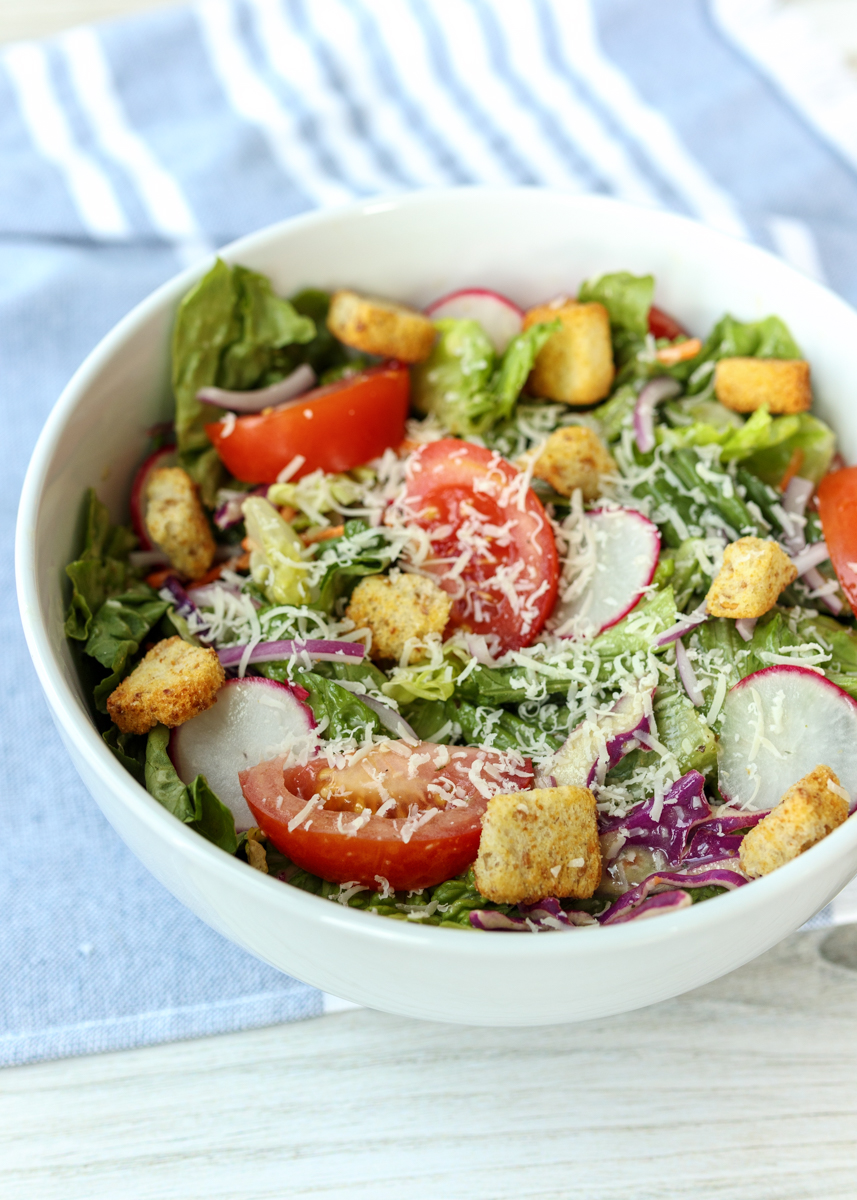 These days I don't eat there that often, but whenever I do all the nostalgia of those days comes rushing back. Their unlimited salad isn't just about nostalgia, though, it's actually just really good. So back in 2009 when Food Network Magazine published their copycat version of the Olive Garden salad I made it right away.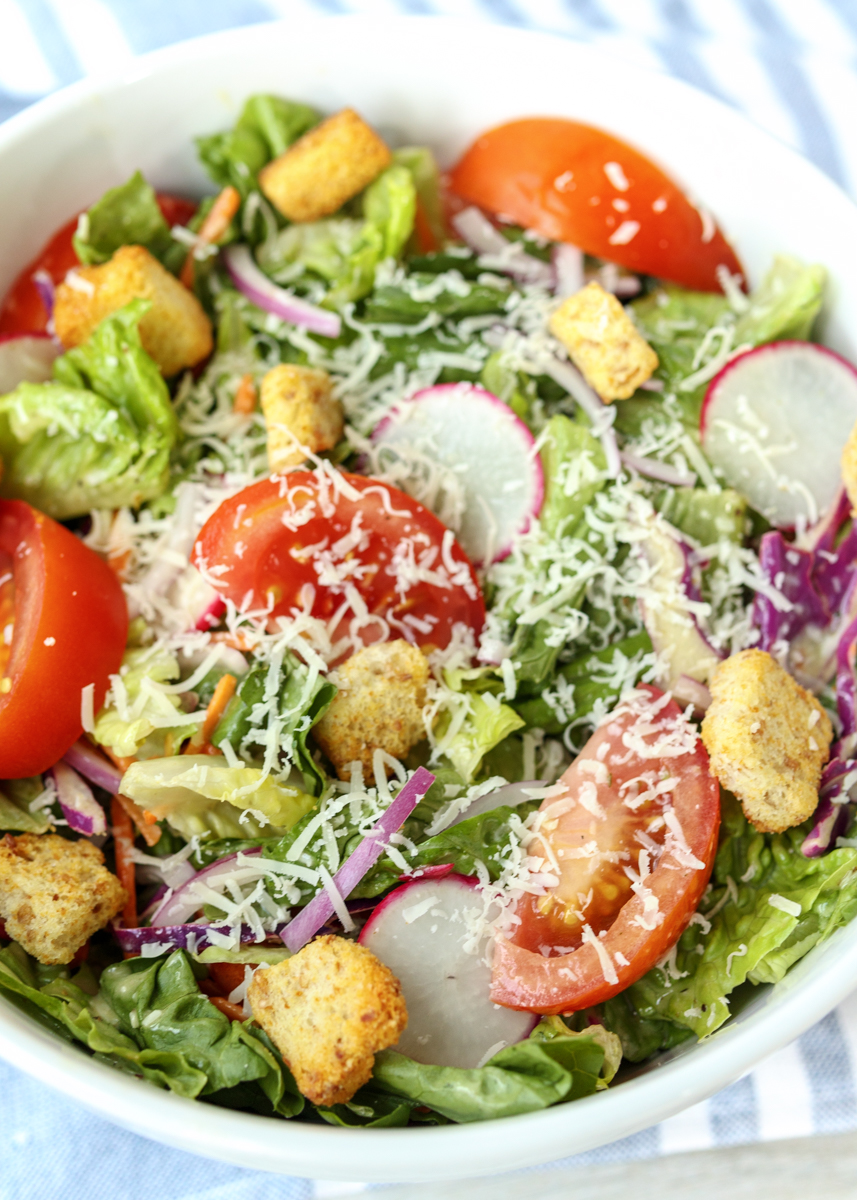 The salad is simple: romaine lettuce mix with shredded carrots, croutons, Parmesan cheese, olives and pepperoncinis (both of which I leave out). What makes the salad special is the light, tangy and subtly creamy Italian dressing.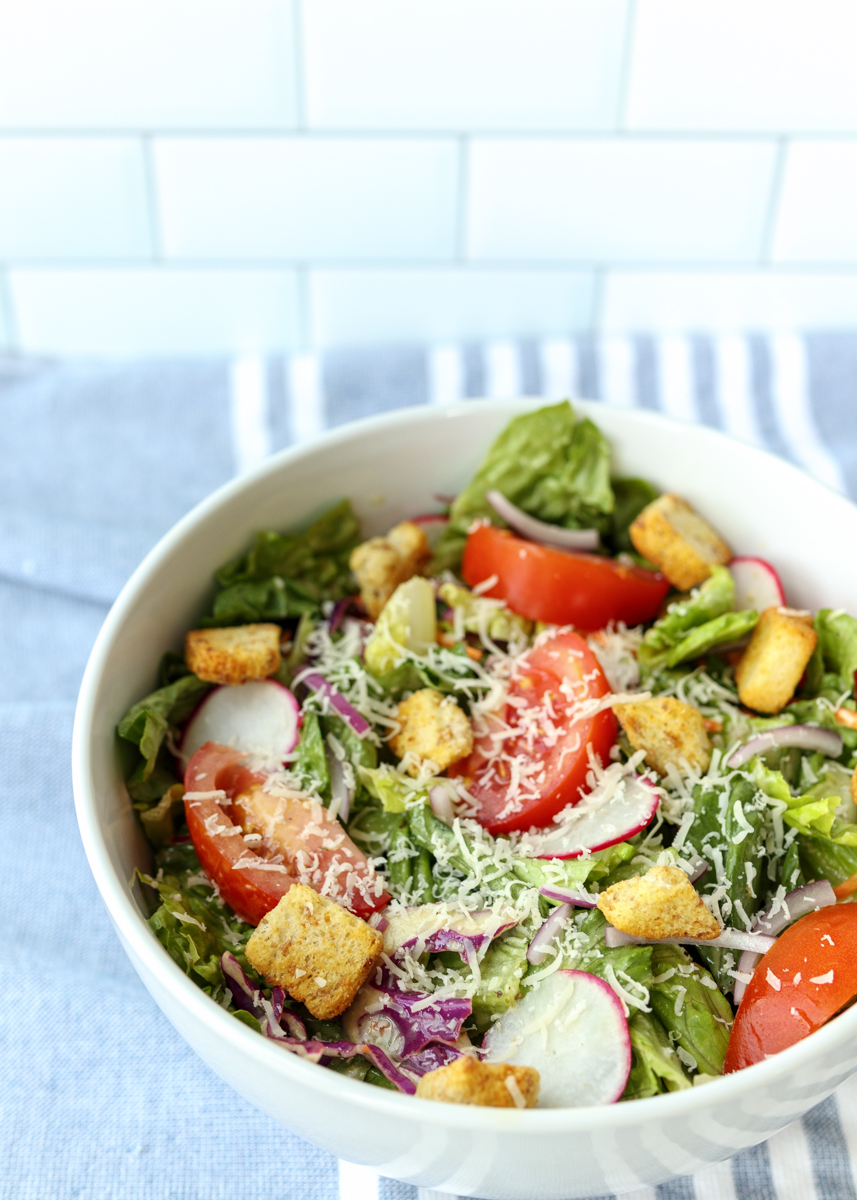 I was surprised when I checked out the ingredient list for their copycat version of the salad dressing. Most of it seemed like fairly normal items you would expect: olive oil, white wine vinegar, lemon juice, Parmesan, Italian seasoning, garlic powder and salt. But then I saw the secret – Miracle Whip. Miracle Whip? Yes, I know, but it totally makes this dressing taste just like you're sitting at Olive Garden. I had never used Miracle Whip before, but I discovered it is a sauce similar to mayonnaise except it has added sugar, paprika, garlic powder and other spices. It also has this zippy tanginess to it, which helps the dressing achieve both the tangy and creamy qualities while still looking like your regular Italian dressing.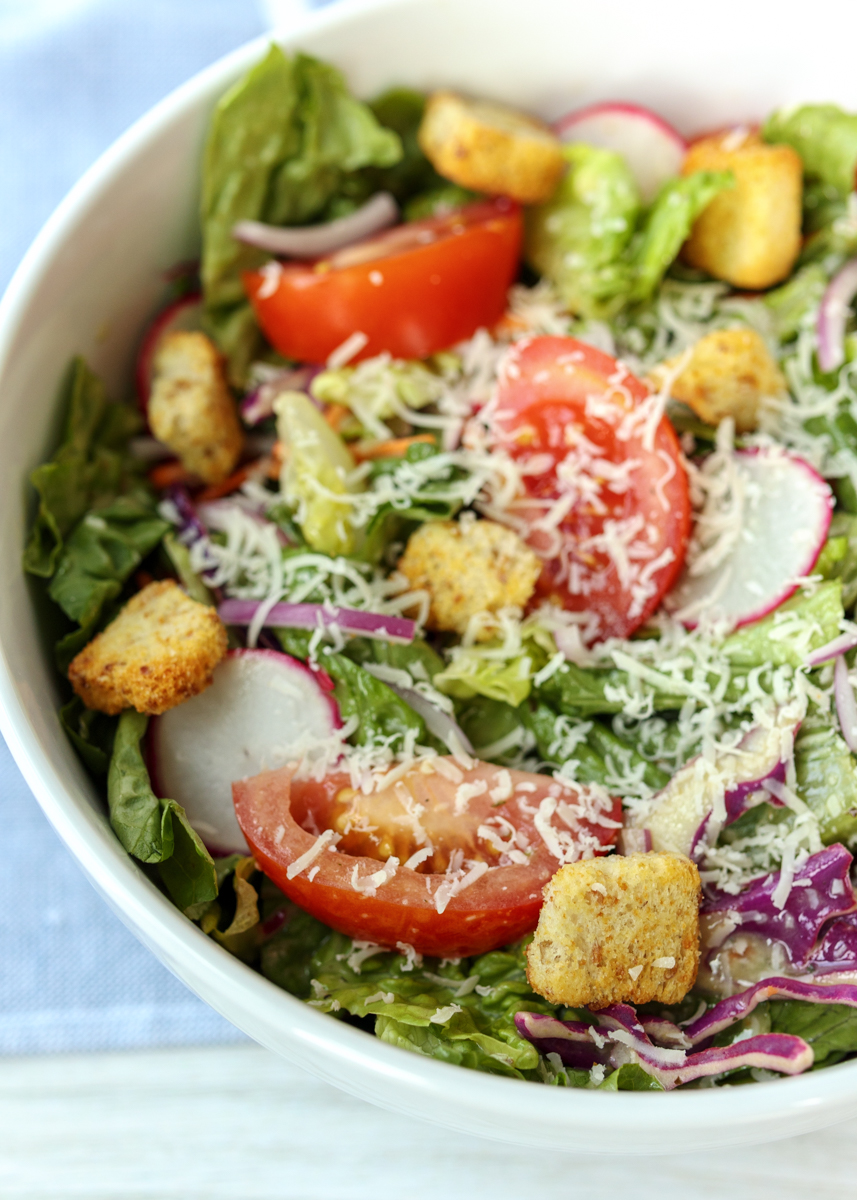 Since then I've made this salad countless times and I'm finally sharing it with you all!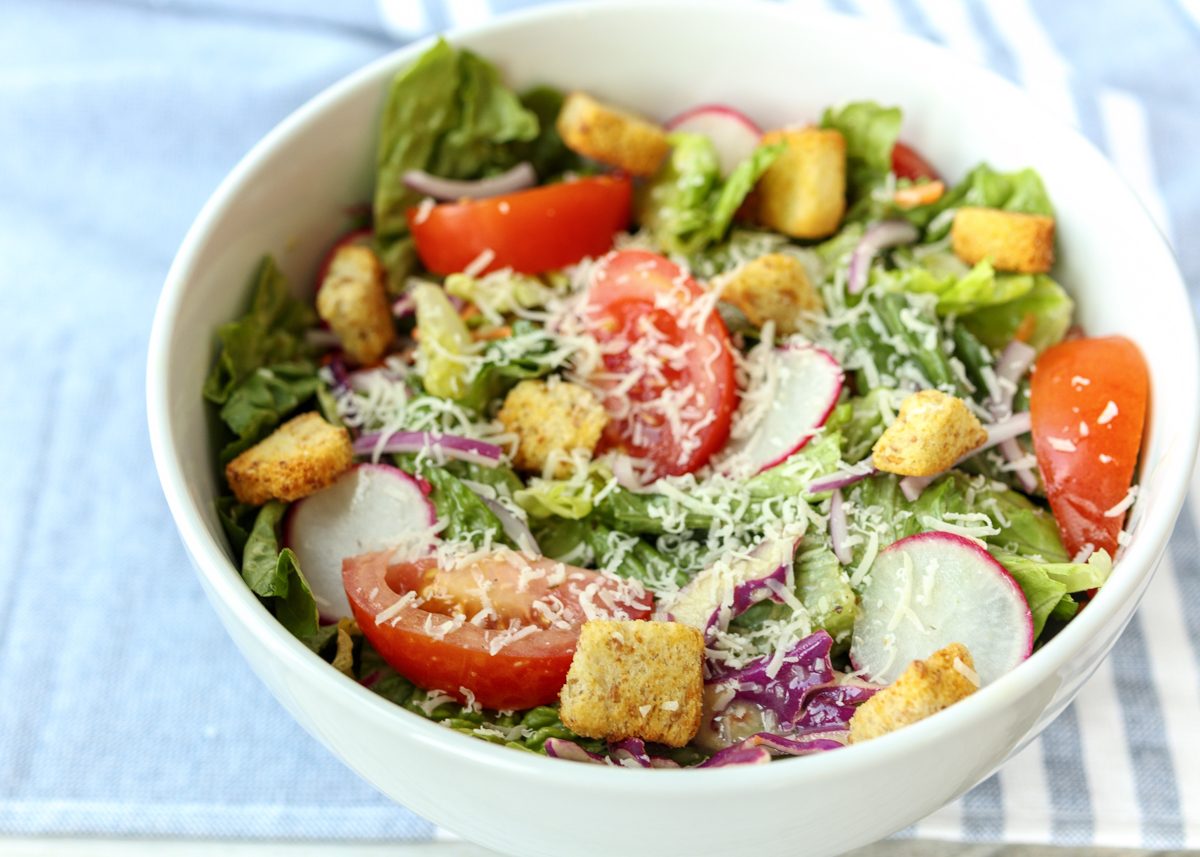 Copycat Olive Garden Salad
Ingredients
for the dressing
¼ cup extra virgin olive oil
3 tablespoons Miracle Whip
2 tablespoons white wine vinegar
1 tablespoon lemon juice
2 tablespoons grated Parmesan cheese
½ teaspoon Italian seasoning
⅛ teaspoon garlic powder
⅛ teaspoon salt
for the salad
1 10-ounce bag American salad blend (romaine blend with shredded carrots and cabbage)
¼ red onion, thinly sliced
1 tomato, quartered
4 pepperoncinis, optional
2 tablespoons sliced black olives, optional
½ cup croutons
1 tablespoon grated Parmesan cheese
Directions
for the dressing
Combine all the ingredients in a food processor or blender and puree until smooth. If too thick add 1 additional tablespoon olive oil.
for the salad
Add the salad blend to a large salad bowl then top with the remaining ingredients. Drizzle with the dressing and toss to combine before serving.
 Recipe slightly adapted from June/July 2009 issue of Food Network Magazine
.
Some of the links above are affiliate links, which means I may receive a small commission for my referral. This does not affect the retail cost of the item. Thank you for supporting Lemon & Mocha!