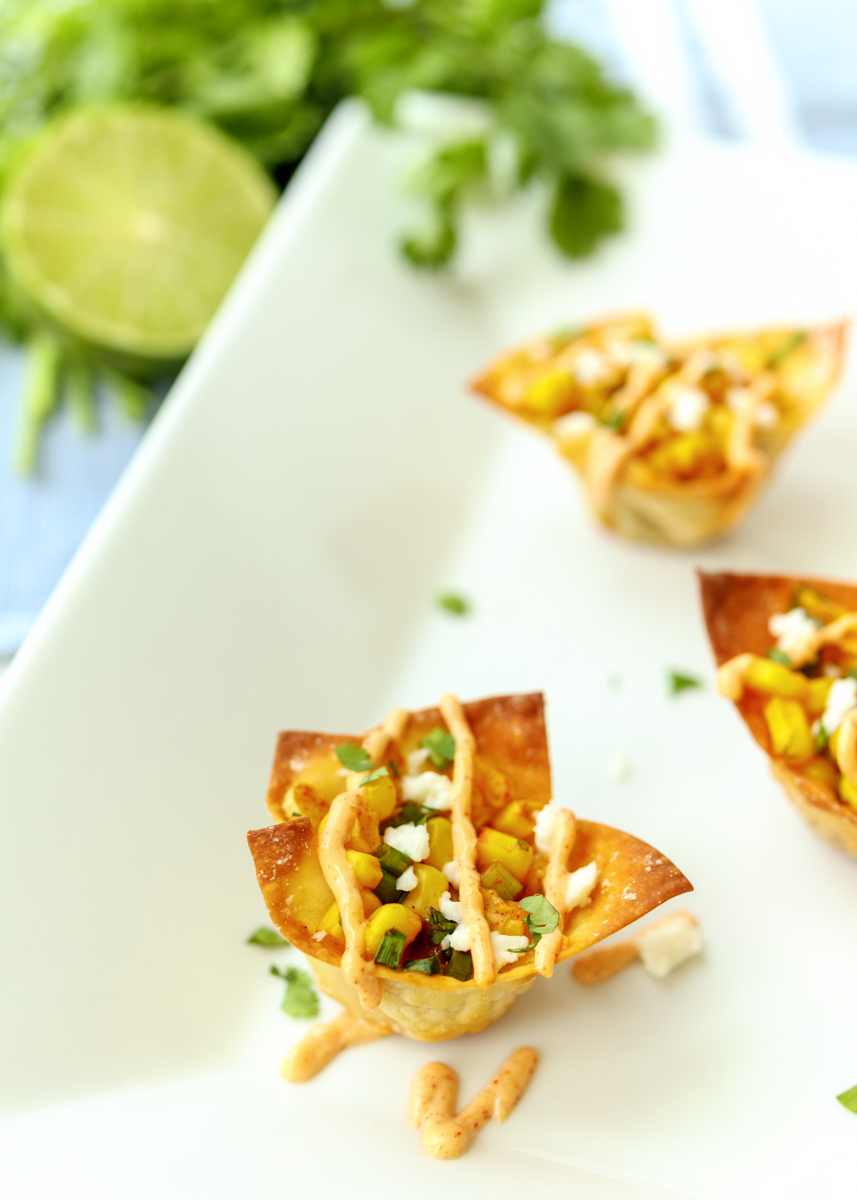 There's something so fun about bite-sized appetizer food. They're great for parties and big crowds, but don't discount appetizers for everyday either. When I have a few friends over I love serving just a bunch of appetizers we can all pick at until we're bursting at the seams – of course always with leaving room for dessert. Sometimes they're a nice casual dinner for Matt and I, too.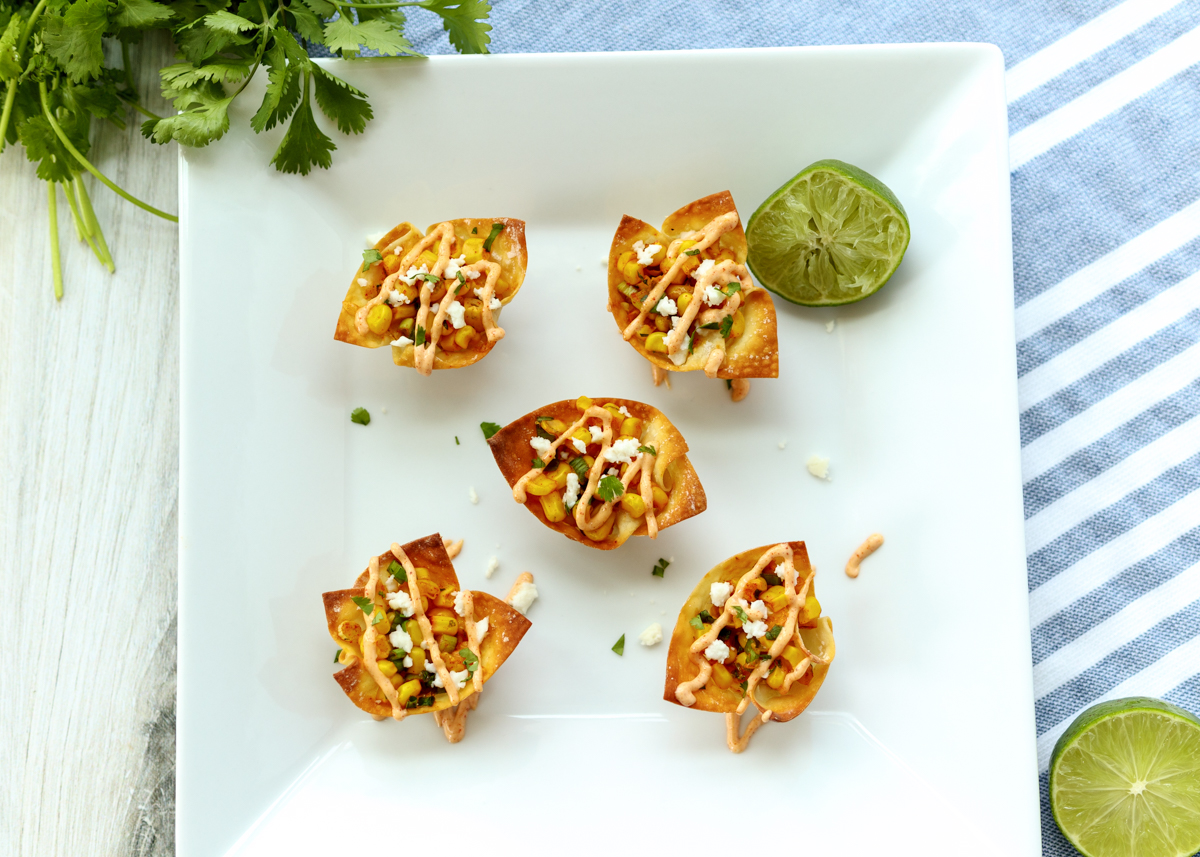 These Elote Wonton Bites would be perfect for a big outdoor bash or to just feel those summer Friday vibes. If you aren't familiar with my elote obsession, elote is also known as Mexican street corn. Usually served grilled on the cob, it's slathered with lime, salt, chili powder, cotija cheese (a crumbly Mexican cheese) and mayo or crema fresca. Elote instantly makes me feel like it's summer and last year I turned it into a bunch of fun dishes, including Elote Hot Dogs, Mexican Street Corn Pasta Salad and Elote Pizza.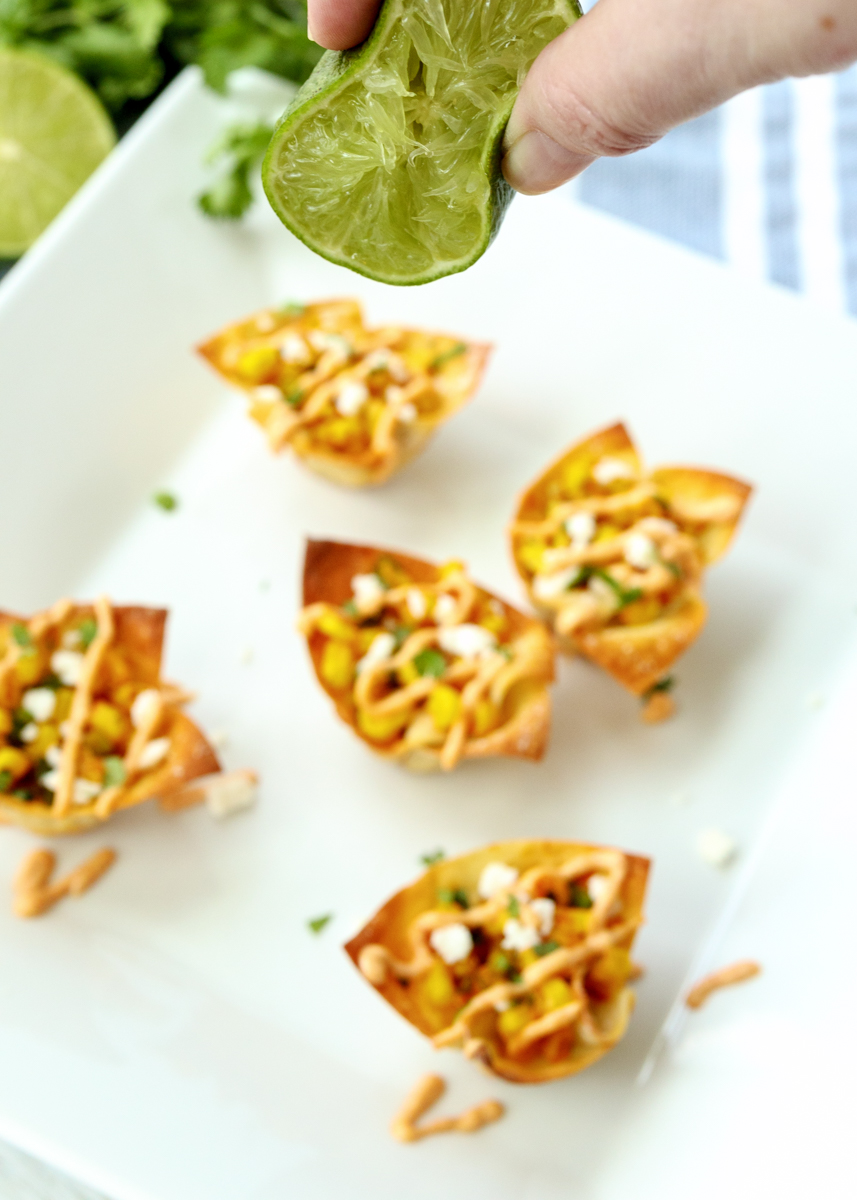 Of course this summer I had to keep it going with some more exciting ways to get your cheesy, creamy corn fix. Crispy wonton cups are filled with corn, scallions and all the elote flavorings then topped with salty cotija cheese and a lime mayo drizzle. Make sure you don't skimp on the cotija cheese or the mayo! Both are what help transport you to a beach-side happy hour sipping on a margarita.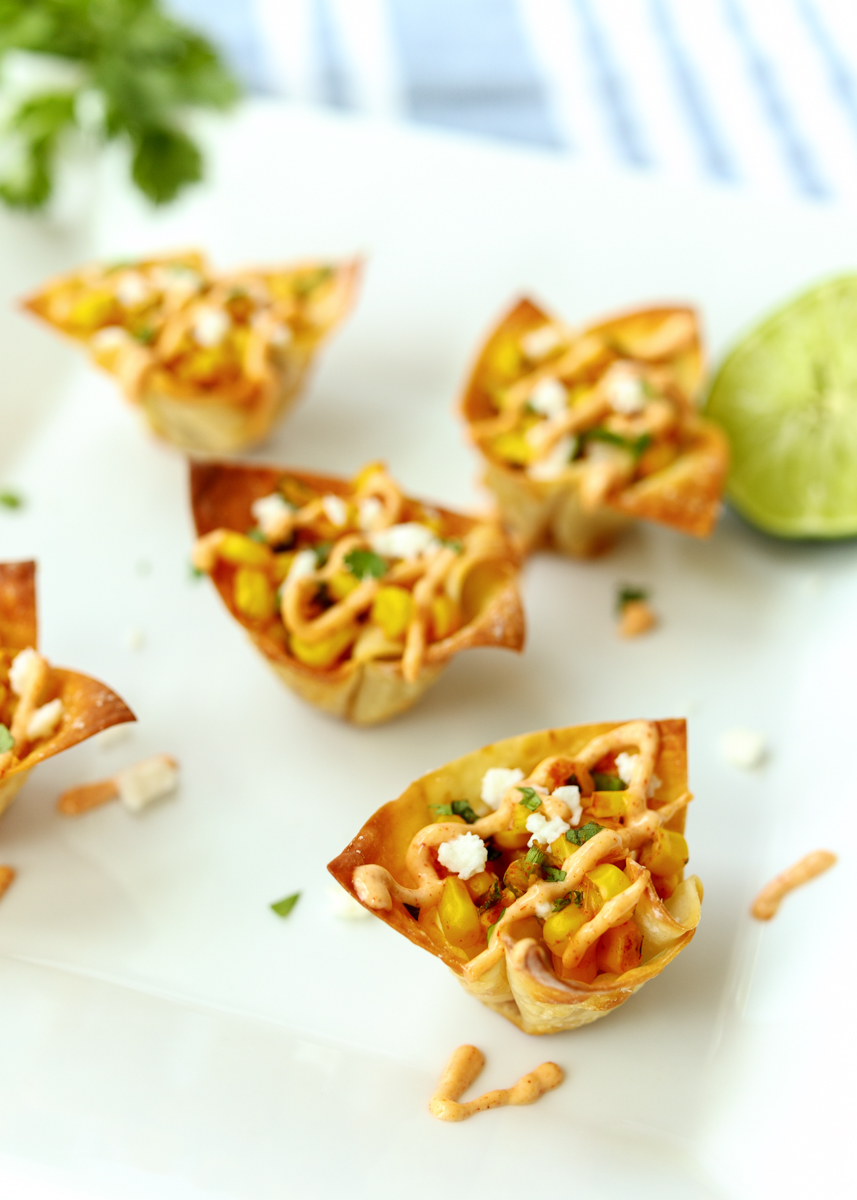 I have been able to find cotija cheese in every grocery store I go to near me, but if you can't find it you can substitute queso fresco, which is another crumbly Mexican cheese. If you can't find either of those then you can use feta cheese, although the taste won't be quite the same. As many of you know, I do not like spicy foods so I use smoked paprika in these to get the smokiness without the heat, but if you like spice then season with chili powder to your preference.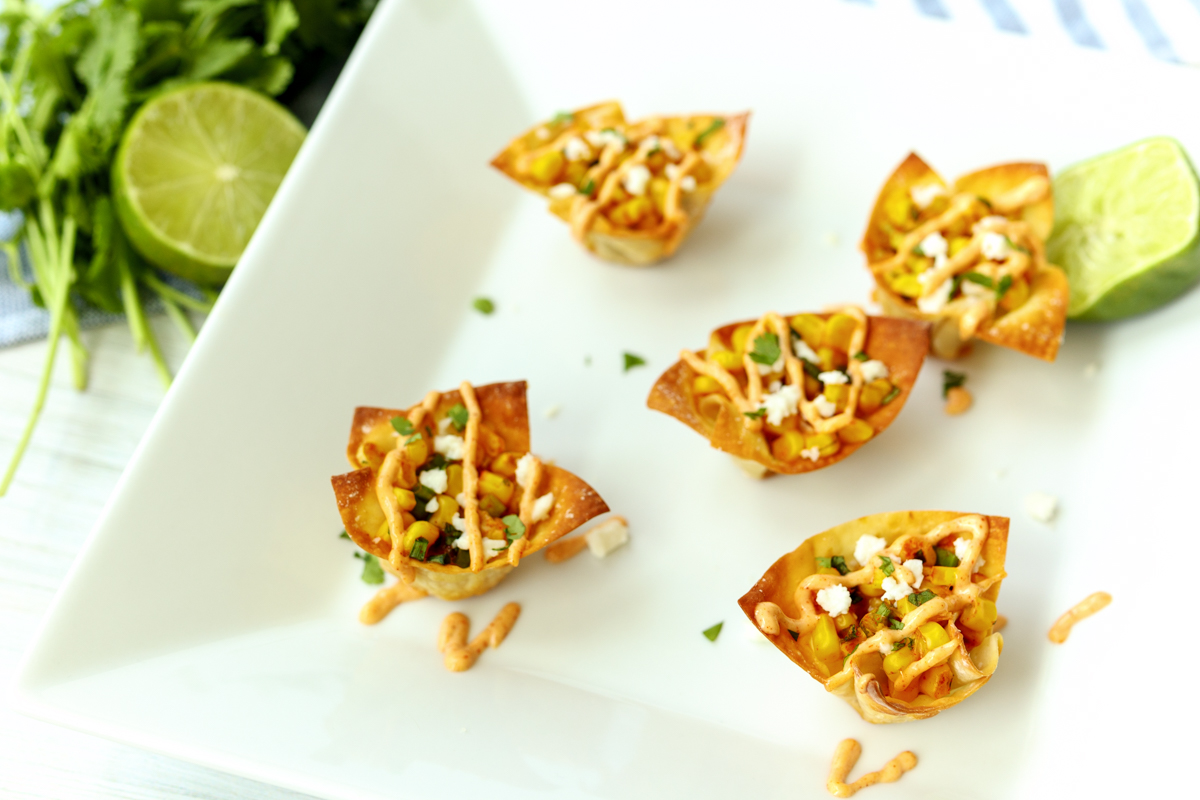 The one thing I didn't do was char the corn because I wanted to keep things a little more simple, but next time I might go the extra step and sear the corn in a sauté pan or grill some ears of corn to fully get the Mexican street corn experience. I hope you like these little bites and get excited for another Elote twist dish I have coming up later this summer!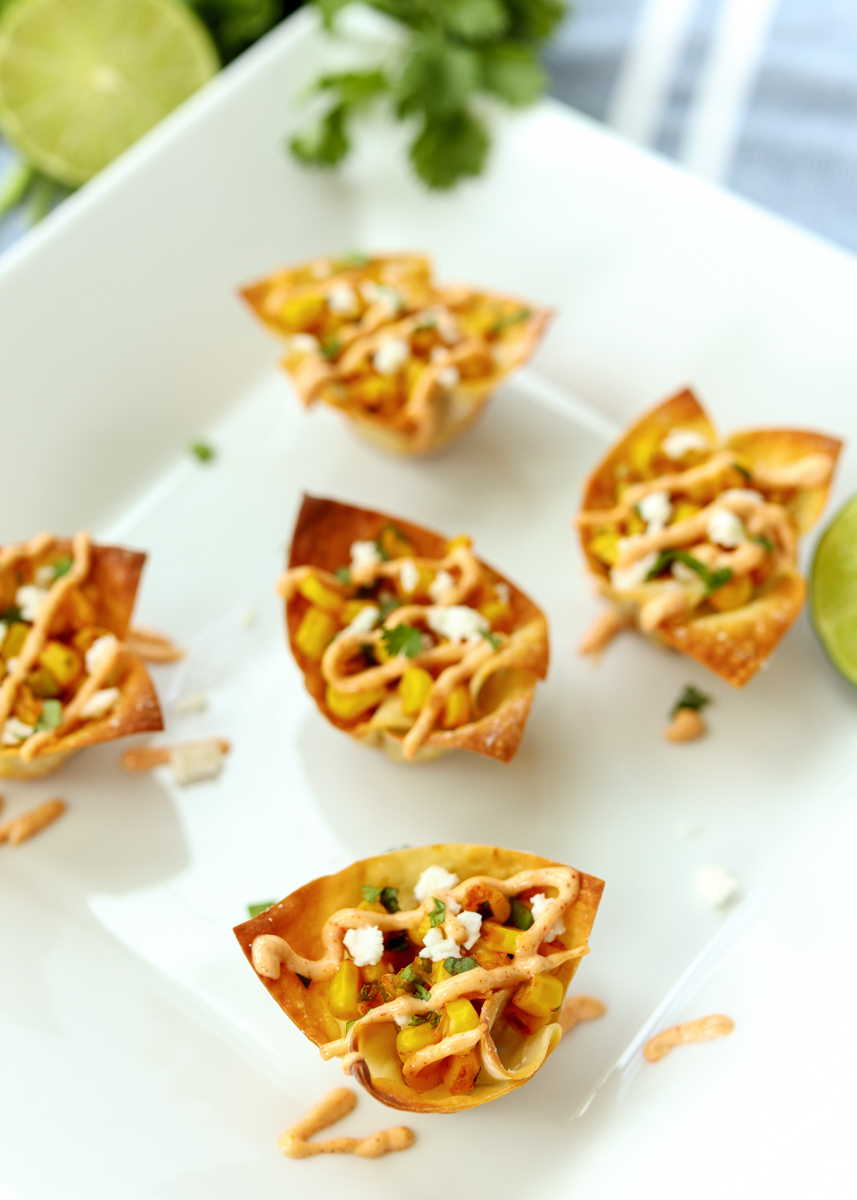 Elote Wonton Bites
Ingredients
24 wonton wrappers
1 15-ounce can corn, no salt added (about 1½ cups corn kernels), drained
2 scallions, trimmed and sliced
½ cup shredded mozzarella
1 tablespoon finely chopped cilantro
Zest from 1 lime
¾ teaspoon smoked paprika, divided
¼ teaspoon salt
¼ cup mayonnaise
1 teaspoon lime juice
⅛ teaspoon ground cumin
Pinch chili powder
Cotija cheese, for topping
Cooking spray
Directions
Preheat the oven to 350 degrees F.
Spray a mini muffin pan then place the wrappers into the cavities so they create little wonton bowls. Lightly spray the wonton wrappers in the pan then bake for 6 minutes. Set aside.
While the wrappers are in the oven, combine the corn, scallions, mozzarella, cilantro, lime zest, ½ teaspoon of the smoked paprika and salt in a mixing bowl.
After the wontons have baked on their own, spoon the corn mixture into the wontons in the mini muffin pan, evenly dividing between them. Bake for 5 more minutes. While the wontons are finishing baking, make the lime mayo by combining the mayonnaise, lime juice, remaining ¼ teaspoon of smoked paprika, ground cumin and chili powder in a small bowl. Pour into a squeeze bottle if you have one. When the wontons come out of the oven, serve them hot topped with plenty of crumbled cotija cheese and a generous drizzle of the lime mayo.
Notes
If you can't find cotija cheese, you can substitute queso fresco. If you can't find either of those Mexican cheeses you can use feta cheese, but the taste won't quite be the same.