Caramelized Onion Hummus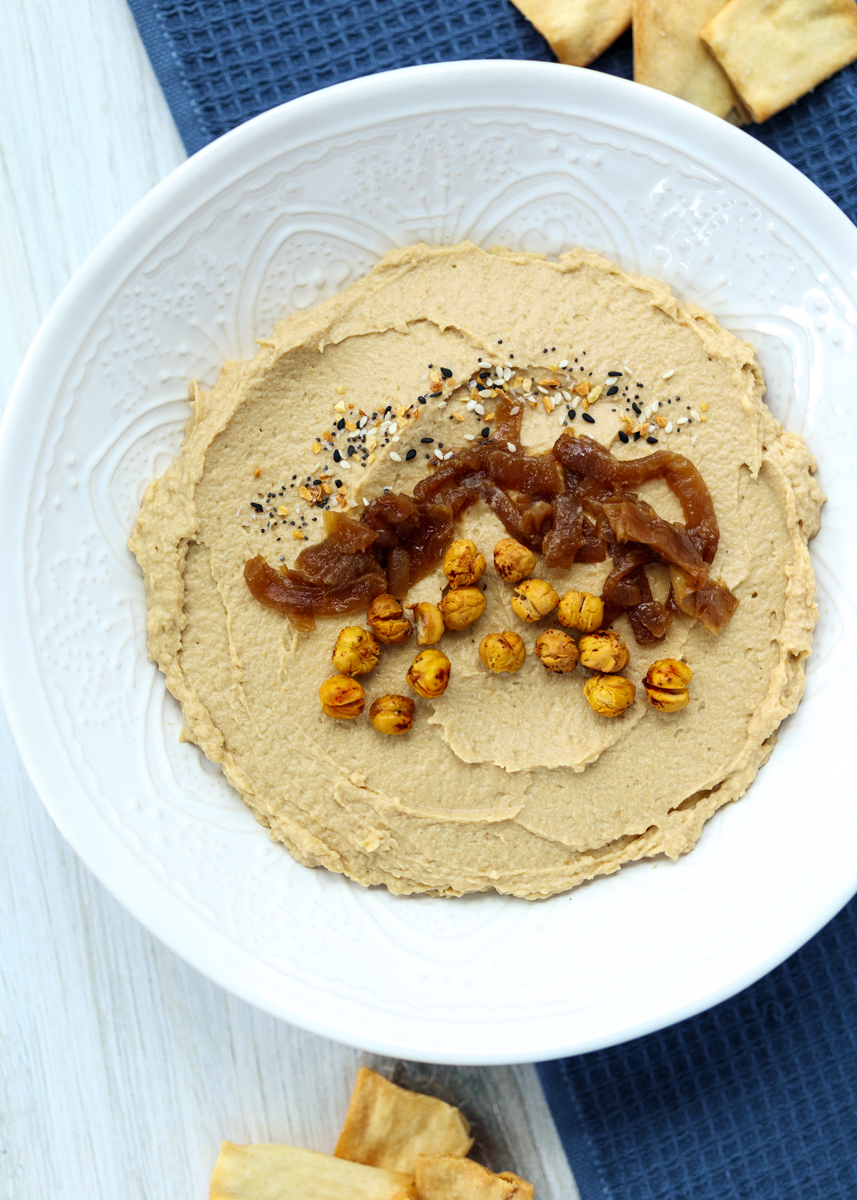 I hope you all had a great weekend! Mine was unusually event-packed with a Kelly Clarkson concert, skiing and a Shin Lim show, who was the magician who won last season of America's Got Talent. He also won the most recent America's Got Talent Championship season, which I didn't watch, but it was apparently a mix of returning winners and runner-ups. Anyways, Shin Lim does close-up magic and if you haven't seen him perform before you should go watch some clips of him on YouTube. Seeing it in person was even crazier; every trick literally left me speechless, except for "How did he do that?!"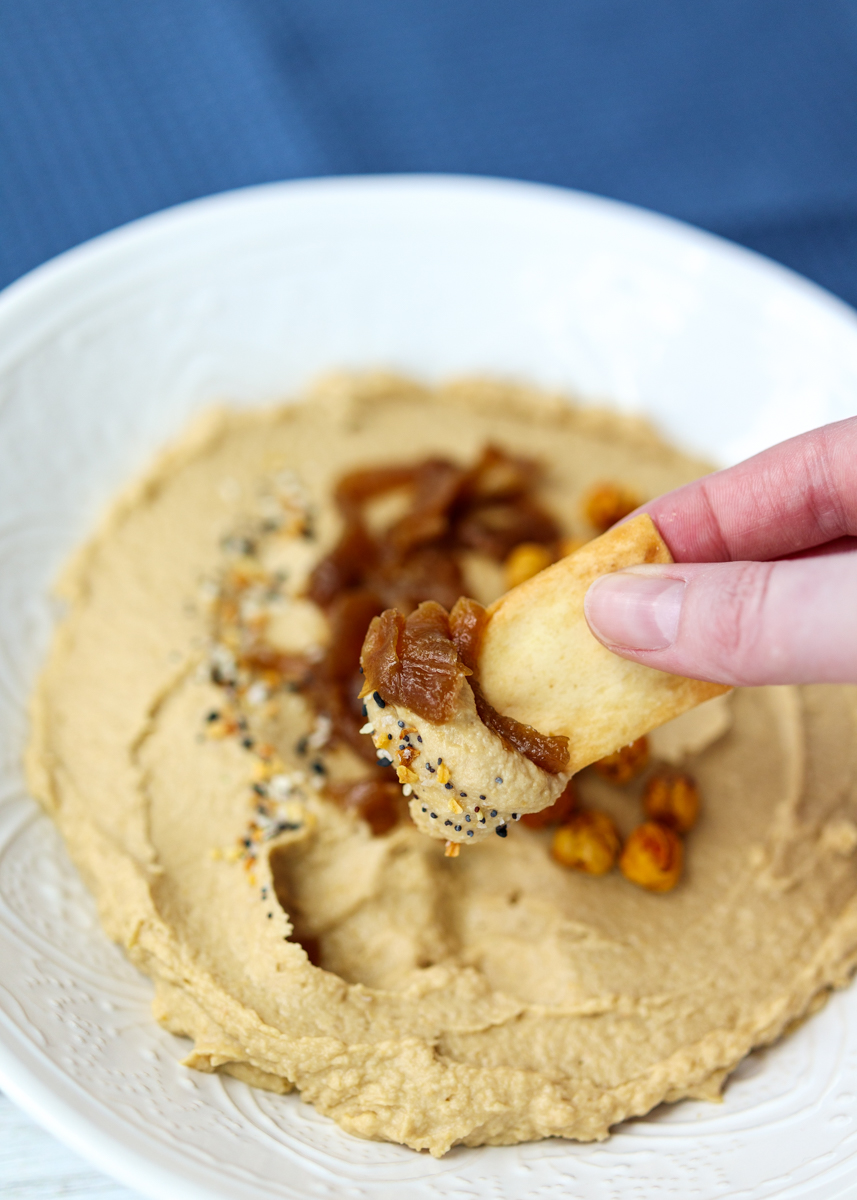 This Caramelized Onion Hummus might be not quite as mind-blowing, but it's still crazy delicious. We all have those times where you get a product at the grocery store and are instantly hooked. That was what Wegman's Caramelized Onion Hummus was for Matt and me.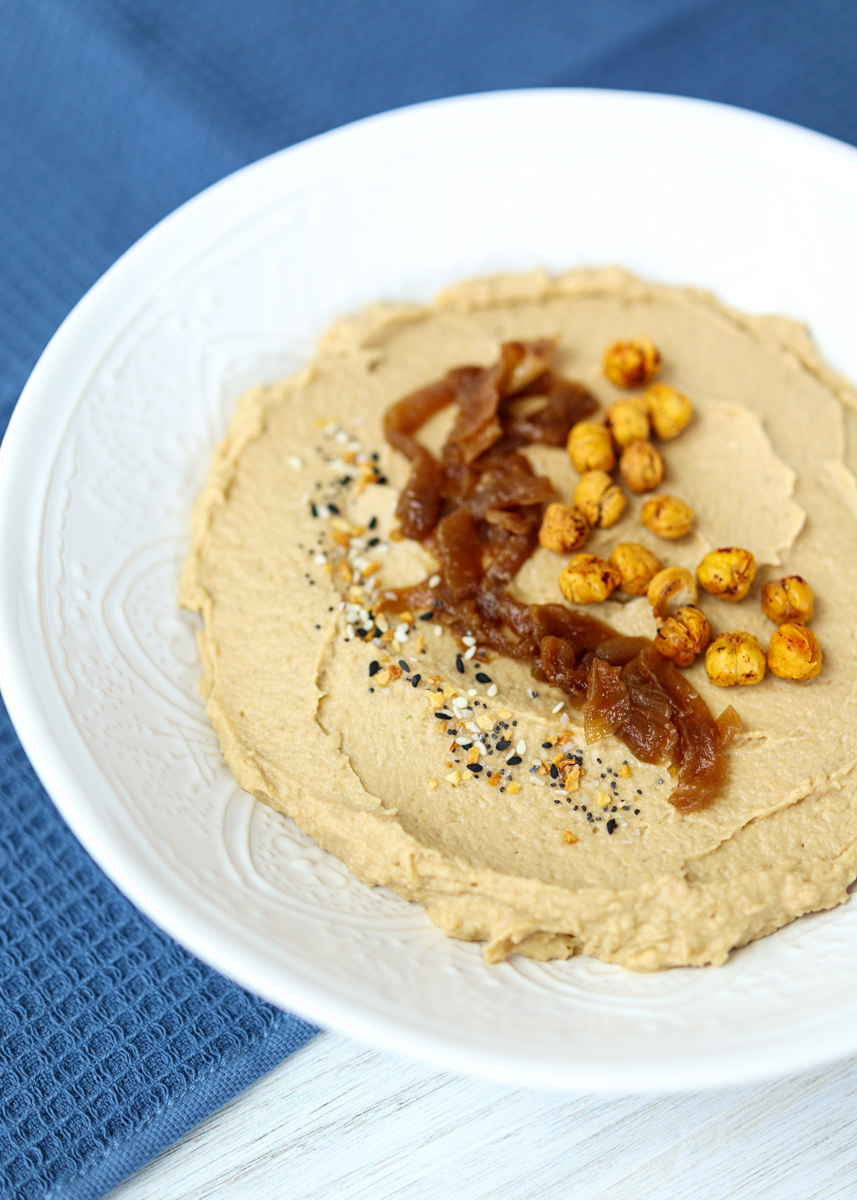 After buying it a few weeks in a row I decided to recreate it at home, especially since I was planning on making caramelized onions for the Barbecue Meatloaf Sandwiches. Caramelized onions add a whole level of richness and sweetness to hummus.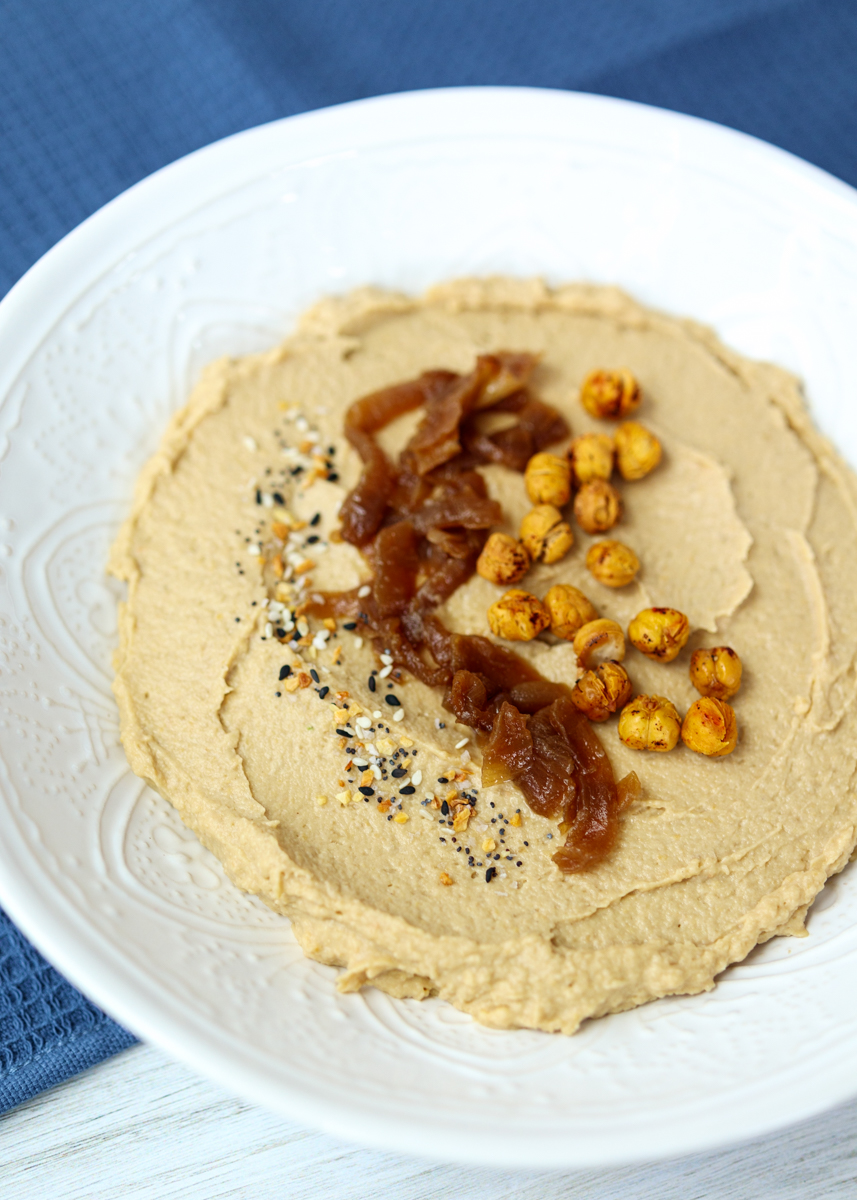 The hummus is really creamy and gets just the right amount of acidity from some lemon juice and apple cider vinegar. I served the hummus topped with caramelized onions, crispy chickpeas and some Everything But the Bagel Seasoning from Trader Joe's to add some extra savory flavor. We ate ours with pita chips and veggie slices, but I also love hummus spread on sandwiches or in a salad.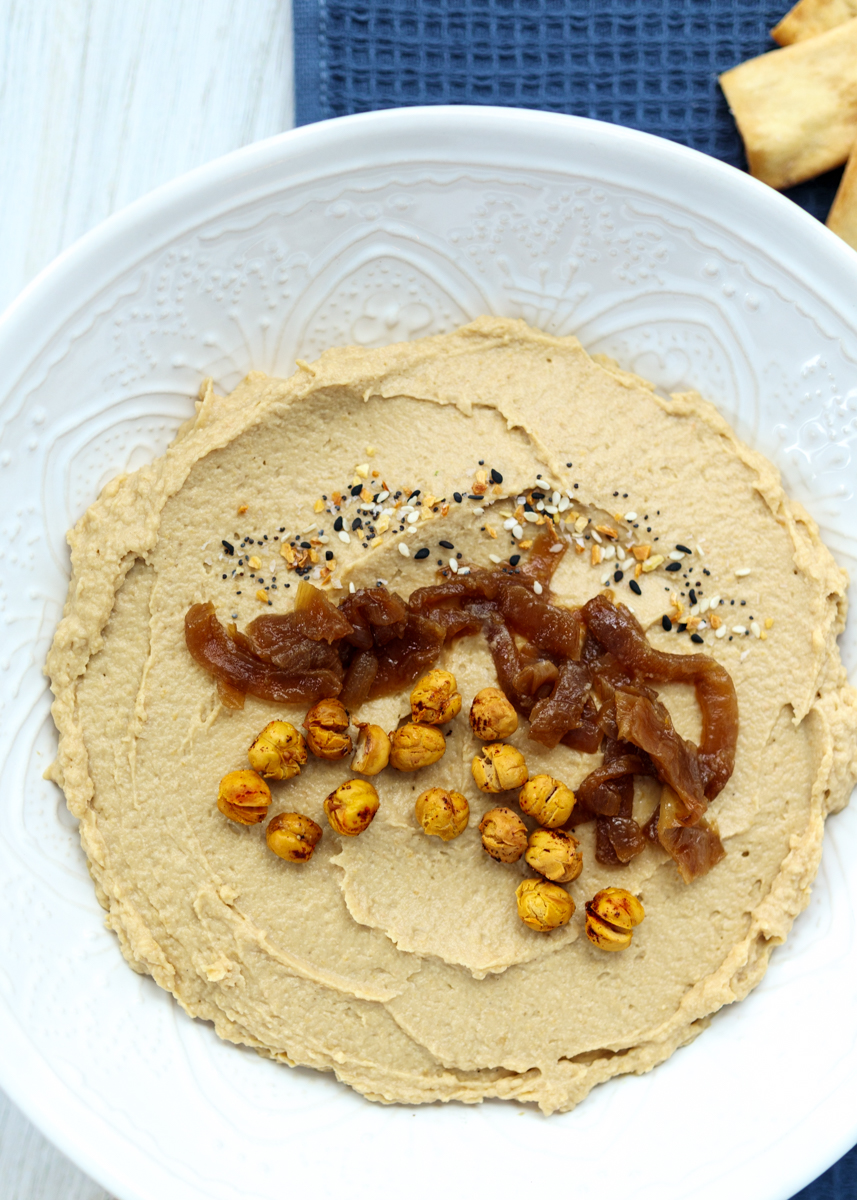 I tried something new with the hummus this time as well and it turned out so good that I'll be sharing it with you on Wednesday! And so good that I made it three nights in a row last week for Matt and I to snack on before dinner. So stay tuned!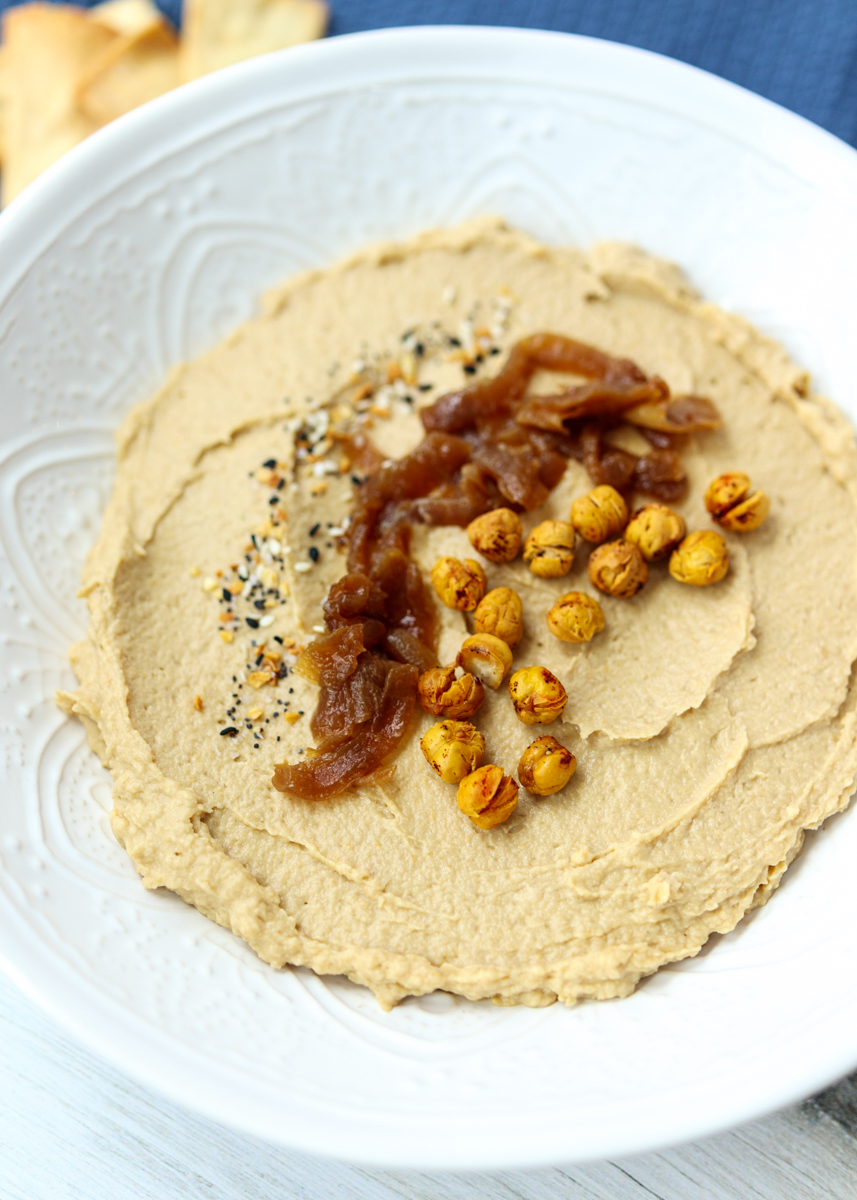 Caramelized Onion Hummus
Ingredients
1⅓ cup caramelized onions
1 15-ounce can of chickpeas, drained and rinsed
1 clove garlic
⅓ cup tahini
⅓ cup olive oil
1 teaspoon lemon juice
½ teaspoon apple cider vinegar
½ teaspoon salt
Directions
Blend everything together in a food processor until smooth and creamy. Top with caramelized onions, roasted chickpeas and everything but the bagel seasoning before serving.
Caramelized Onions
Ingredients
4 medium onions, halved then sliced
1 tablespoon plus 1 teaspoon olive oil
Salt
Directions
Heat the oil in a large saucepan over medium-low heat. Add the onion slices then toss to coat. Season with salt. Cook the onions, stirring every few minutes for 35-40 minutes. Towards the last 20 minutes if they start getting burnt in spots add a little more water (no more than a tablespoon at a time). If you want them really caramelized, you can continue cooking for an additional 10 minutes, but you will want to stir very frequently to make sure they don't burn. Remove from the heat when done.