Chocolate Tahini Banana "Soft Serve"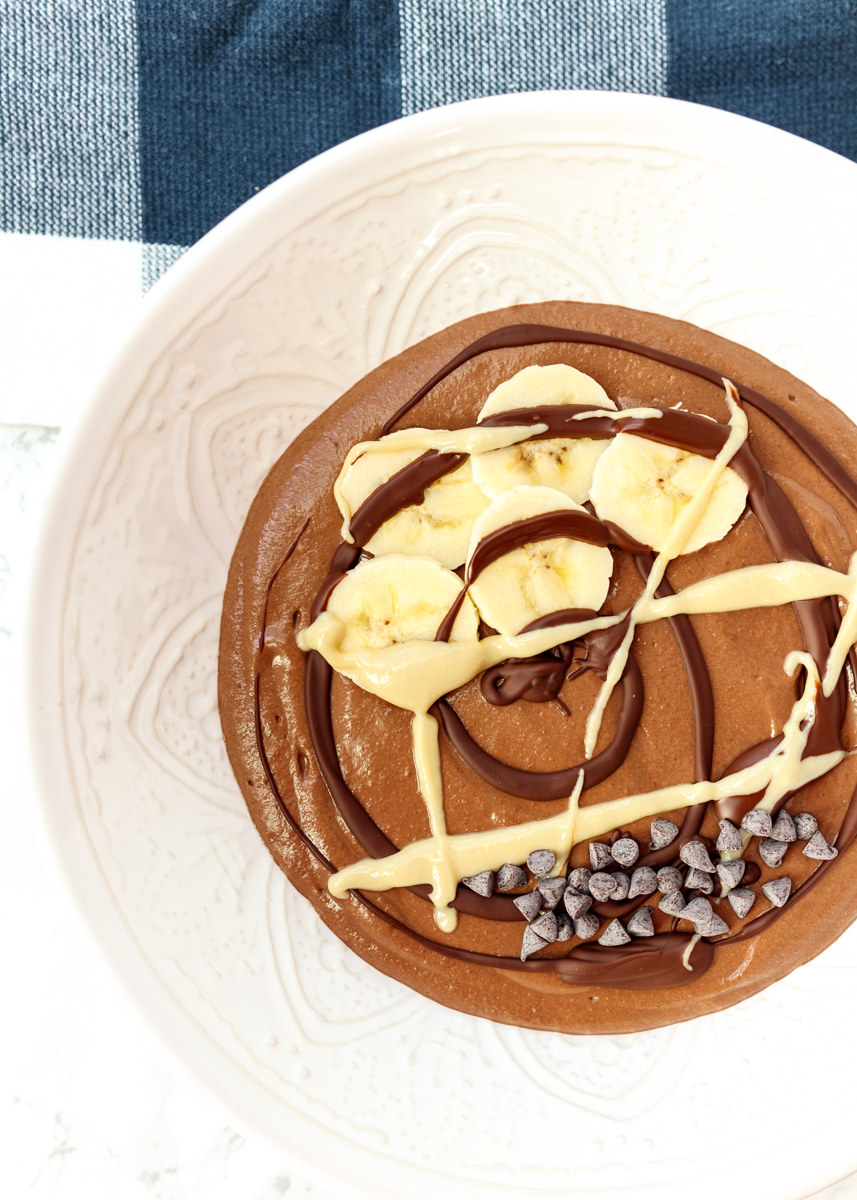 Happy Friday, everyone! Today I'm sharing a chocolate-packed tasty treat with you all. This Chocolate Tahini Banana "Soft Serve" is creamy, smooth and topped with a quick chocolate magic shell. If the magic shell sounds familiar it's because that's what I used to top the Pistachio Semifreddo I posted last summer. It's no secret that I love using tahini in the kitchen. I use it to make hummus, turn it into a dressing and drizzle it over lettuce wraps. However, I had only ever used it savory dishes and lately I've seen a lot of sweet recipes popping up with tahini listed as an ingredient.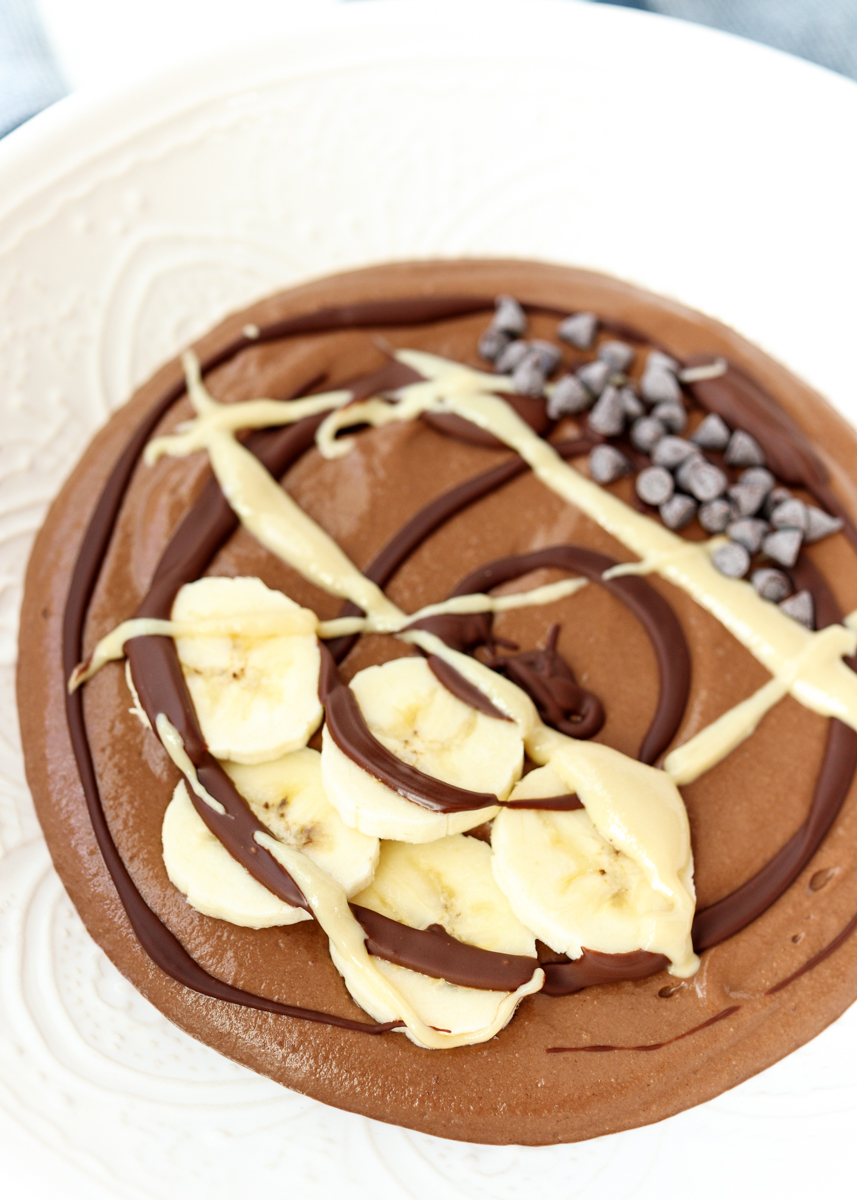 At first I thought using tahini in a sweet recipe sounded really strange. But then when I thought about it more, tahini is very similar to peanut butter. They're both creamy, nutty and rich in flavor. Considering I love peanut butter in sweet desserts, it's not too much of a stretch to think I might also enjoy tahini swapped in. Clearly, since I'm posting this recipe now, the verdict is that I enjoyed it very, very much!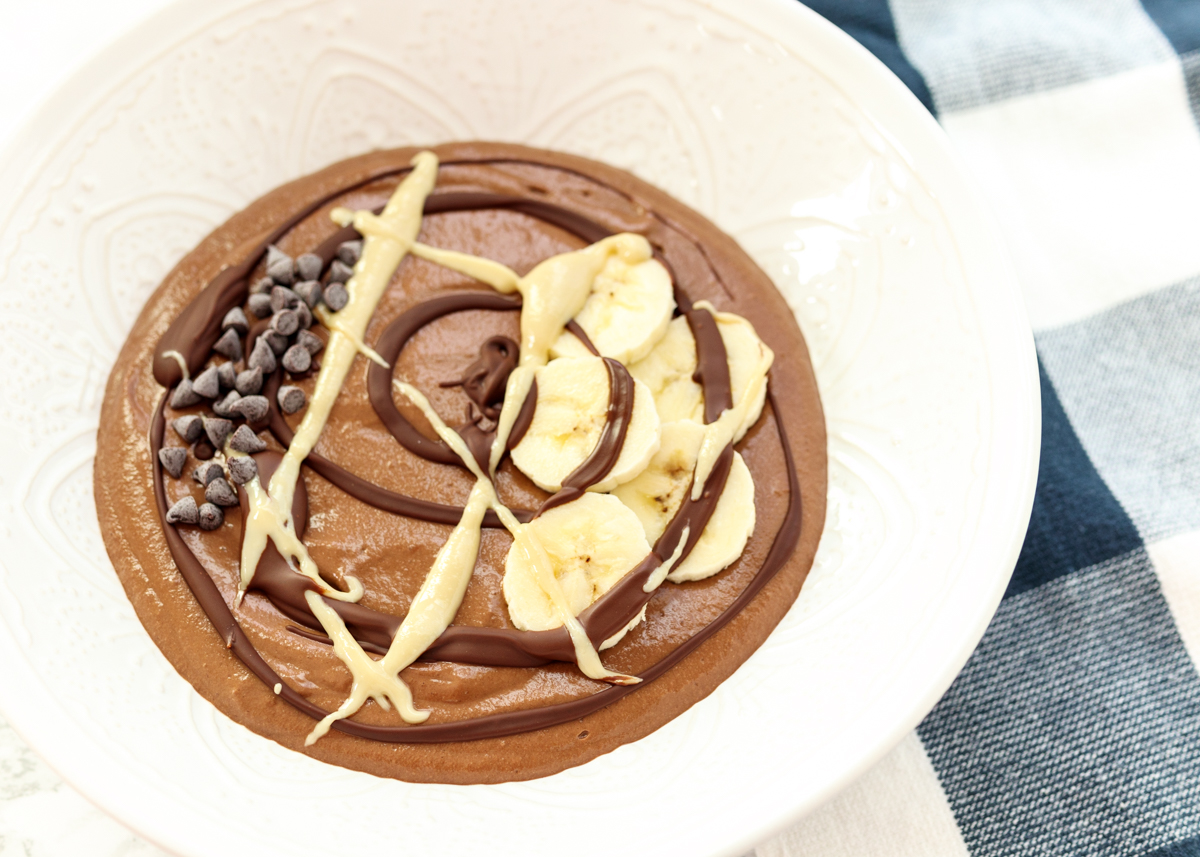 I swirled it into my chocolate banana "soft serve" and drizzled a little more on top for good measure. Have you ever had banana "soft serve?" I've also heard it called nice cream. There's probably many different ways it's described, but I think of it as a dessert smoothie bowl without the yogurt. It has the texture of partially melted ice cream and thanks to the cocoa powder it's super chocolatey. You make it by blending frozen bananas, which bring the sweetness and that semi-frozen texture.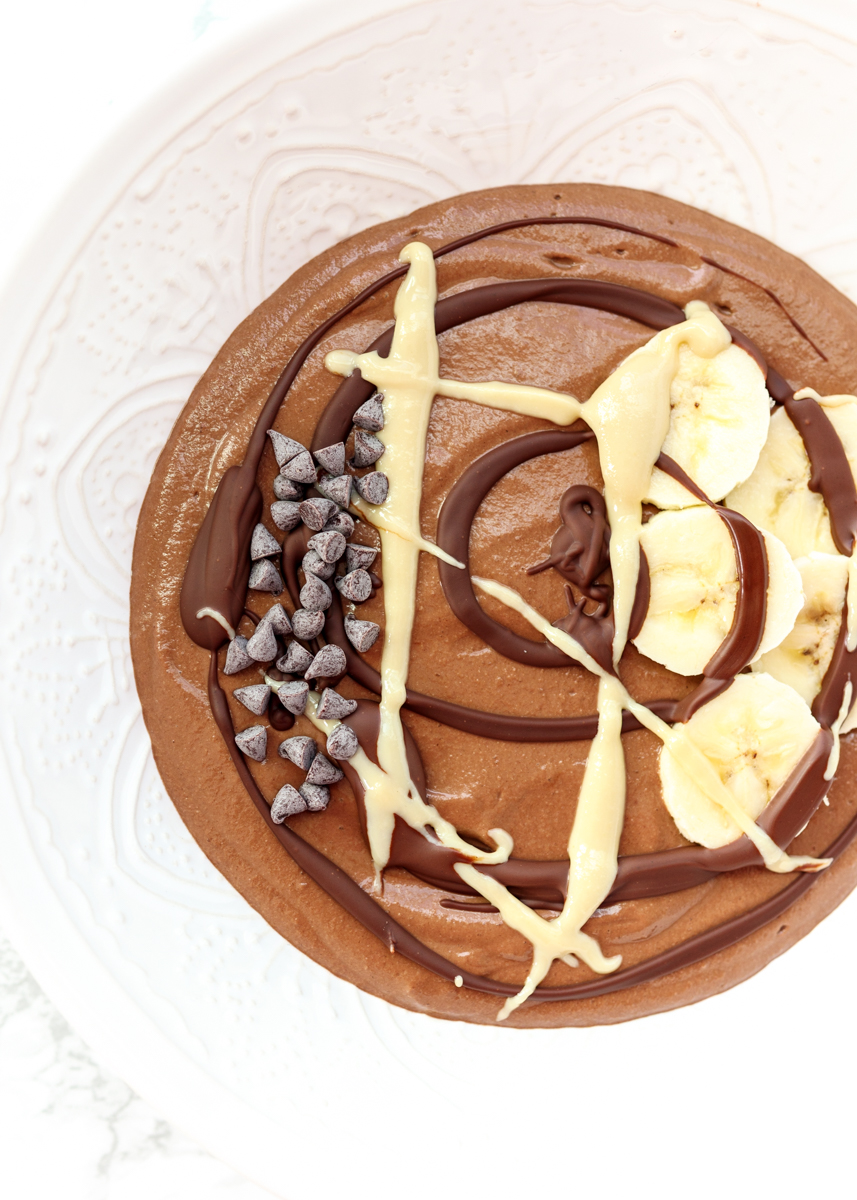 I added frozen cauliflower florets as an experiment and it was a big success! It didn't change the flavor at all, but secretly added some veggies to this sweet treat. The creamy tahini added the right amount of nuttiness, which pairs so well with chocolate and banana. Of course it wouldn't truly be a chocolate treat if I didn't find a way to add chocolate on top of my chocolate so I drizzled some magic shell on top. You can make magic shell by melting chocolate chips with coconut oil then drizzling over something cold, like this Chocolate Tahini Banana "Soft Serve," which makes it harden into fun chocolate swirls that you can crack with your spoon and eat with each bite.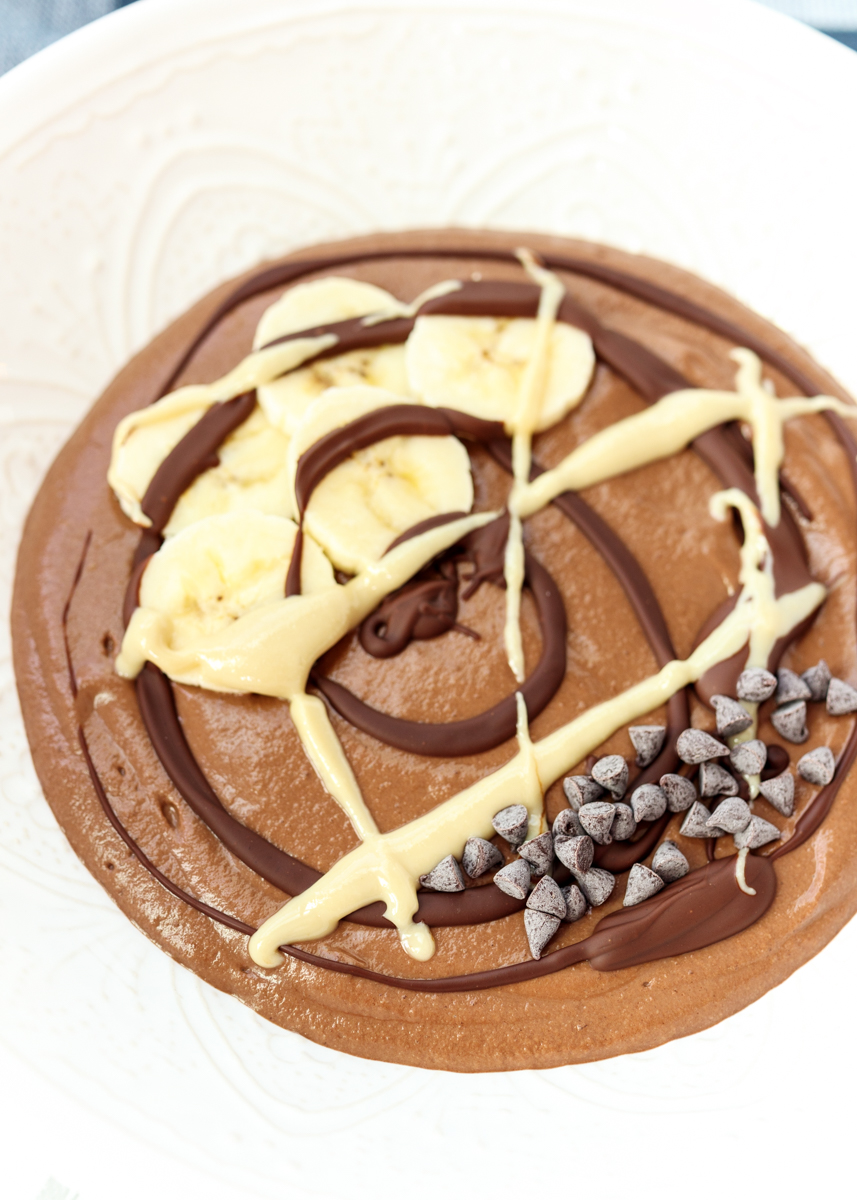 I love making this when I want to eat some dessert, but I don't already have anything made. A few bursts in my high-speed blender and it's time to eat!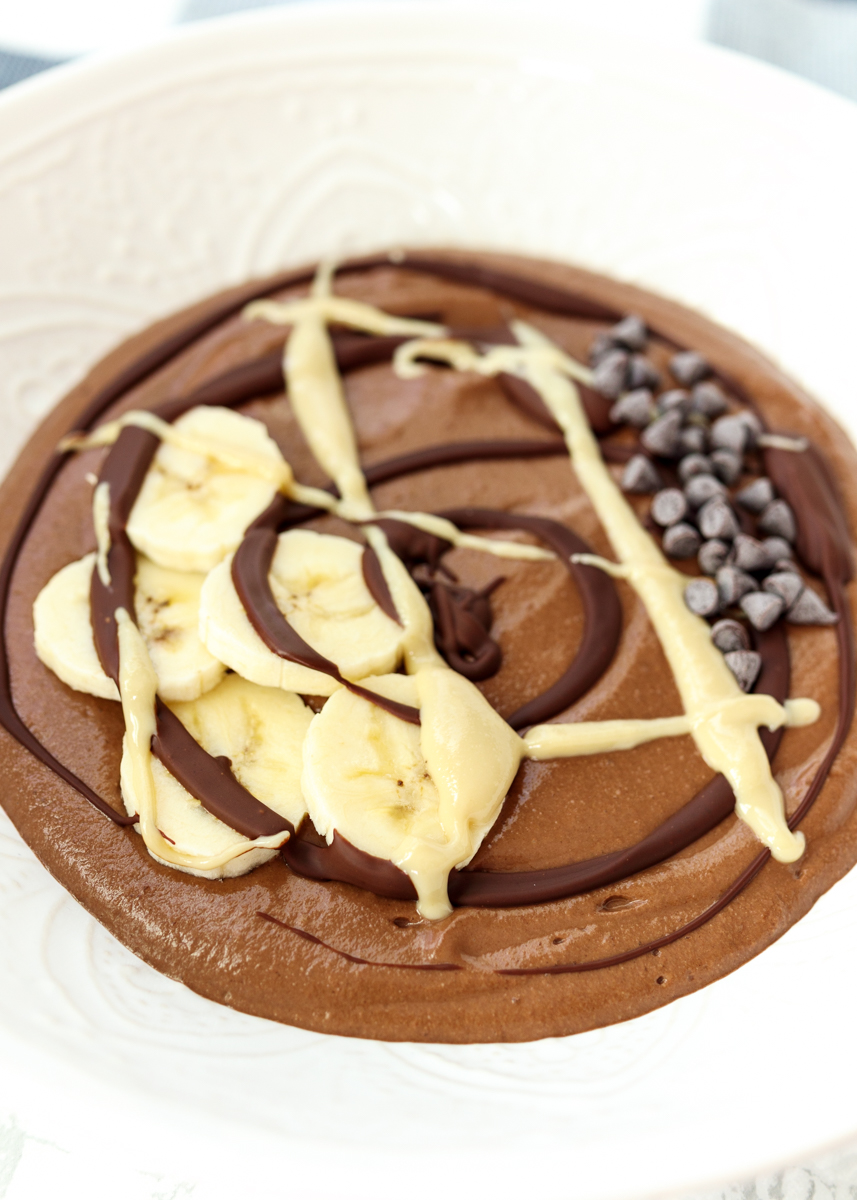 Chocolate Tahini Banana "Soft Serve"
Ingredients
1½ cups frozen ripe banana slices (about 1½ bananas)
1 cup frozen cauliflower florets
3 tablespoons cocoa powder
1 tablespoon agave
1 teaspoon vanilla
2 tablespoons chocolate chips
½ teaspoon coconut oil
Sliced bananas and tahini, for topping
Directions
Add the frozen banana slices, cauliflower florets, cocoa powder, agave and vanilla to a high-speed blender. Blend until smooth. Taste for sweetness and add more agave if needed. Divide the mixture between 2 bowls.
Melt the chocolate chips and the coconut oil in a microwave safe bowl. Microwave for 30 seconds, then stir. Continue to microwave for 15 second increments, stirring after each, until melted and smooth. Carefully drizzle over the "soft serve" to harden and top with banana slices and a tahini drizzle.
Notes
I've also made this using 88 Acres Watermelon Seed Butter instead of tahini using a 1-1 substitution.