Roasted Beet Hummus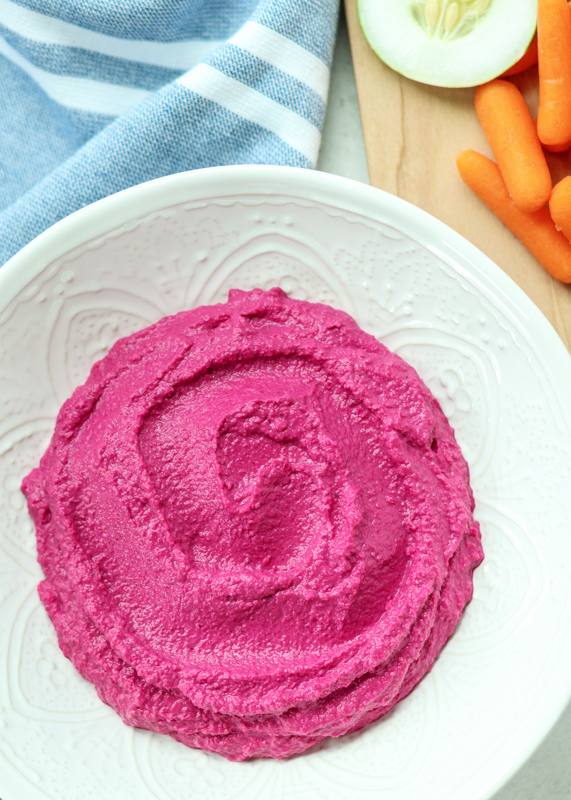 How gorgeous is this Roasted Beet Hummus?! This was not achieved with food dye or a photo editing trick. The hummus actually comes out this beautiful bright fuchsia color from the inclusion of a roasted beet. Making food look pretty isn't my strong suit, but I didn't even have to try with this one!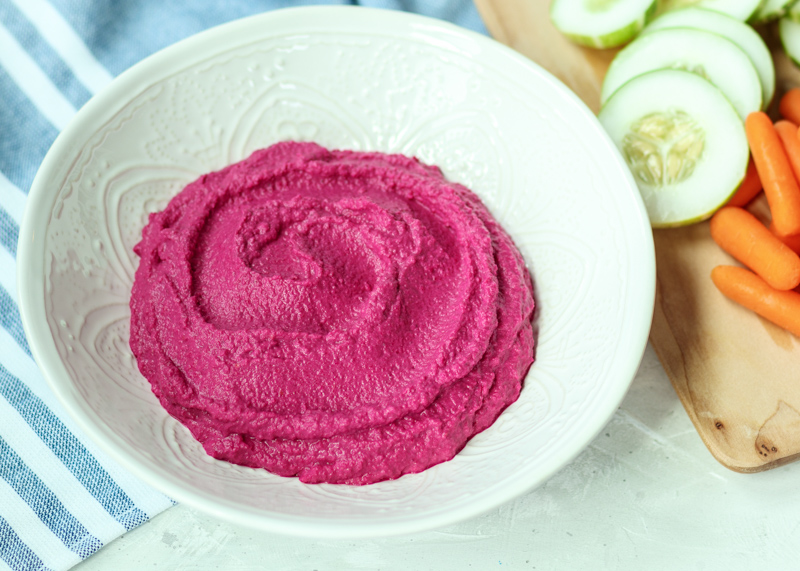 This Roasted Beet Hummus is my third recipe for my self-proclaimed healthy snack week. Hummus with carrot sticks, sliced cucumbers or whatever cut veggies I have in my fridge is my go-to afternoon snack. Of course, it tastes even more addictive when eaten with pita chips, but lately I've been sticking with the crunchy vegetables. For some reason I always forget to make hummus and instead buy it at the store. I'm not quite sure why, I've made hummus before so I know it is literally one of the easiest things you could make. Five basic ingredients get pureed in a food processor – done. After buying a new hummus flavor at the store that I ended up not liking I decided I should try getting back into making my own hummus so I could be sure it would taste good.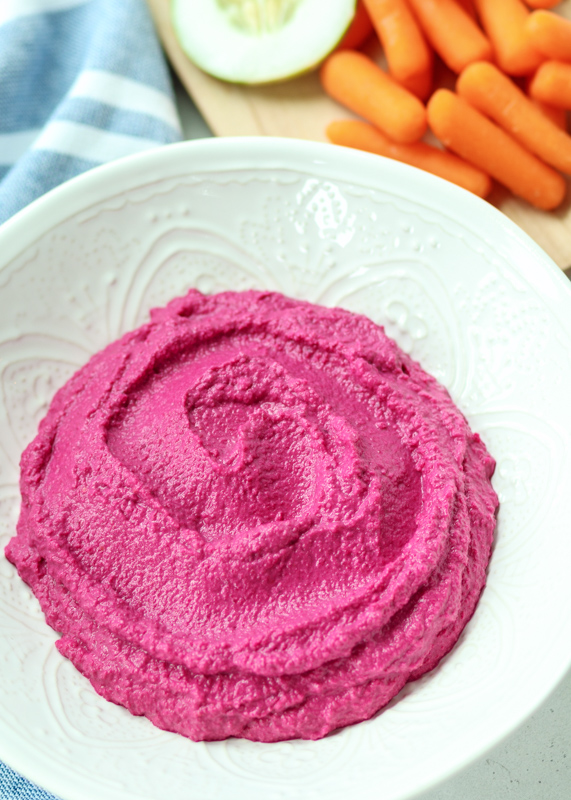 A few years ago I made Pumpkin Hummus, which is full of yummy fall flavors. I wanted to try making a different flavor and immediately thought of roasted beets. As most of you know, I love beets. Also, beets are really good for you! Yay healthy ingredients! The beet flavor adds some rich earthiness to the zing of the lemon juice and zest. So far I've been eating it with my usual crunchy veggies, but I've also eaten some with a spoon. Oh, sorry, that probably wasn't helpful. You were hoping I would say something like, I've also eaten some spread on a big roasted turkey sandwich with lettuce, tomato and cucumber or on some avocado toast. Or whipped into the egg yolks for deviled eggs or smeared onto a crispy flatbread topped with goat cheese and caramelized shallots. All of which sound AMAZING and now I'm definitely tempted to step out of my crunchy vegetable and spoon bubble.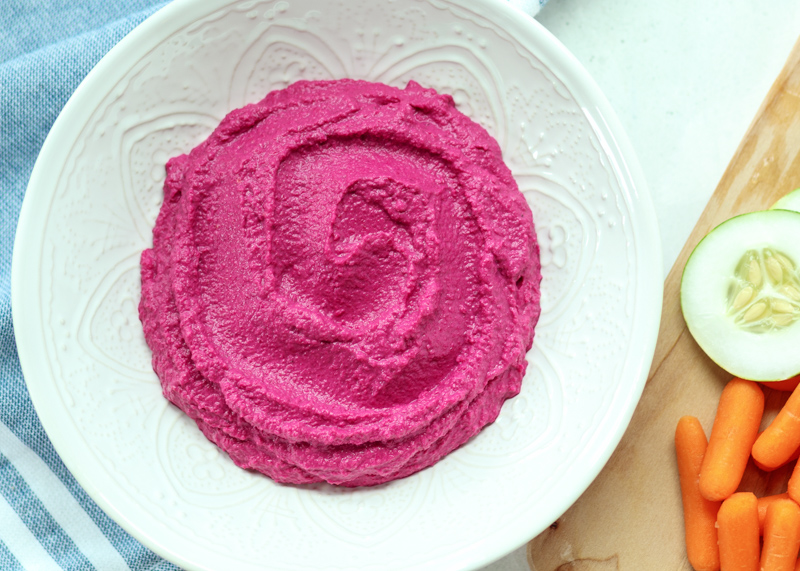 This makes quite a bit of hummus, but I just discovered with a bit of Googling that hummus freezes well. I'm going to try it with half of the Roasted Beet Hummus and I'll report back with how I froze it and how it tasted after being frozen. From what I read, for optimal texture and taste it shouldn't be frozen a long time, which is perfect since I'll probably be defrosting it to use in a week or two when I go through what I have in the fridge. Do you make your own hummus?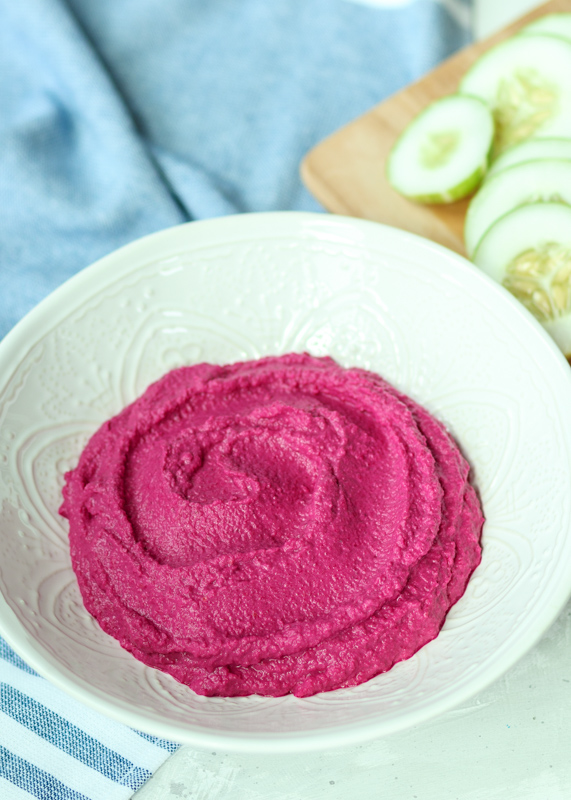 If you are looking for more healthy snack inspiration check out my recipes for Fall Trail Mix with Pumpkin Spiced Pepitas, Baked Apple Chips and Crispy Baked Kale Chips!

Roasted Beet Hummus
Ingredients
1 beet, scrubbed clean and stem removed
1 15-ounce can chickpeas, rinsed and drained
1 clove garlic
⅓ cup tahini
⅓ cup olive oil
Juice and zest from 1 lemon
¼ teaspoon salt
Directions
Preheat the oven to 400 degrees F. Take a piece of foil large enough to wrap and cover the beet. Peel the beet, but be careful - beet juices stain, including your fingers! If you would rather peel the beet after cooking, see the recipe not. Place the beet in the middle of the foil and very lightly drizzle with olive oil then lightly season with salt. Wrap the foil around the beet to create a little packet that is fully sealed. Place the beet on a baking sheet or pan (you might want to put foil on that, too) in case your packet falls over in the oven and beet juice leaks out. Roast the beet for 45 minutes, or until tender. You might need to roast for longer if the beet is very large. Let cool slightly - carefully cutting into the beet will help it cool.
If you haven't already, cut the beet into quarters or large chunks. Put the cut beet, chickpeas, garlic, tahini, olive oil, lemon juice, lemon zest and salt in a food processor. Blend or pulse until smooth. Taste and adjust salt if needed.
Notes
There is not a big flavor difference whether you roast the beet with the skin on or peeled. I prefer to peel mine ahead of time so I can use it as soon as it's done instead of waiting for it to be cool enough to handle to peel. If you want to peel yours after roasting, when it's cooked and cool enough to handle, peel the beet by rubbing it with your hands and fingers under running water.