Chocolate Cherry Coconut Energy Balls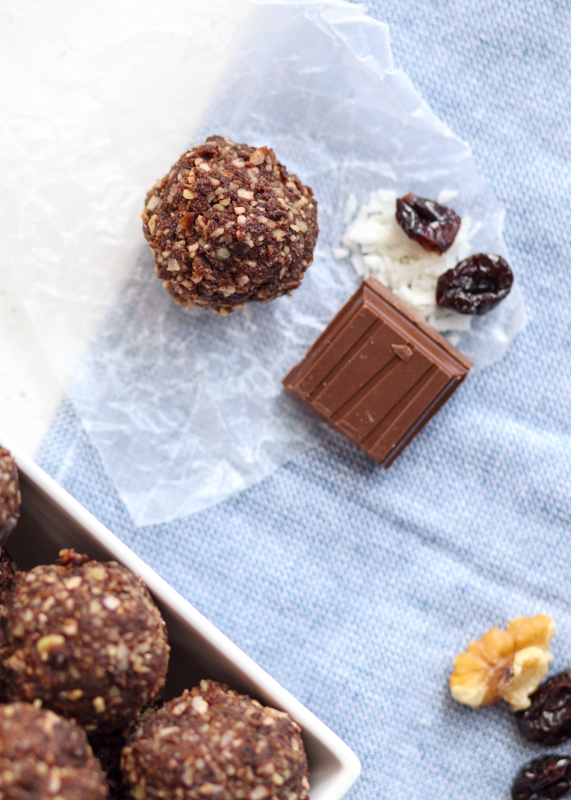 I am so excited to share the recipe for these Chocolate Cherry Coconut Energy Balls with you! I just went and ate one from my freezer to get in the mindset of writing this post. They are really good, which makes it especially hard not to eat them all. These energy balls are sweet, tart and screaming of chocolate, cherry and coconut flavors.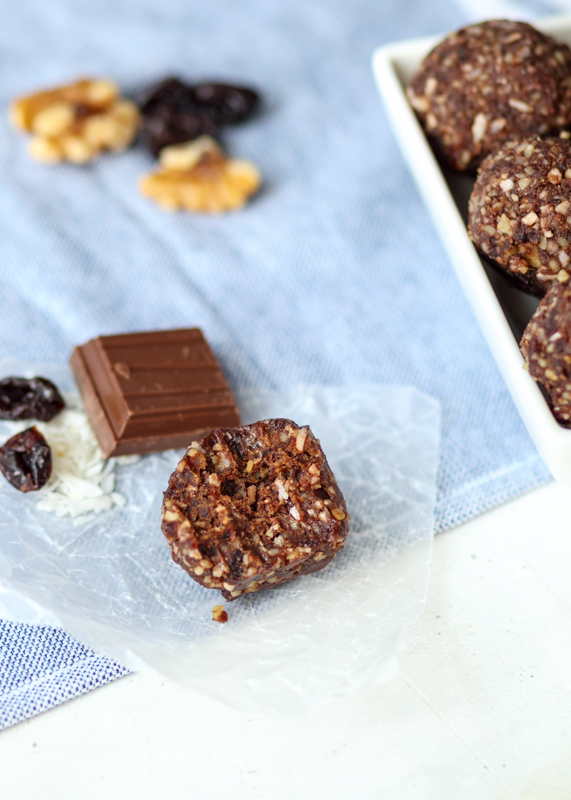 I wanted to be able to really taste each flavor and after a little trial and error I think I got the ratio just right. The chocolate – and the dark coloring of the energy balls – comes from the cocoa powder. I love the combination of chocolate and cherries so we have dried cherries to bring in our cherry flavor. Finally, coconut comes through via the unsweetened coconut and the coconut extract. There's also coconut oil, but that actually has a very mild coconut taste in its raw form.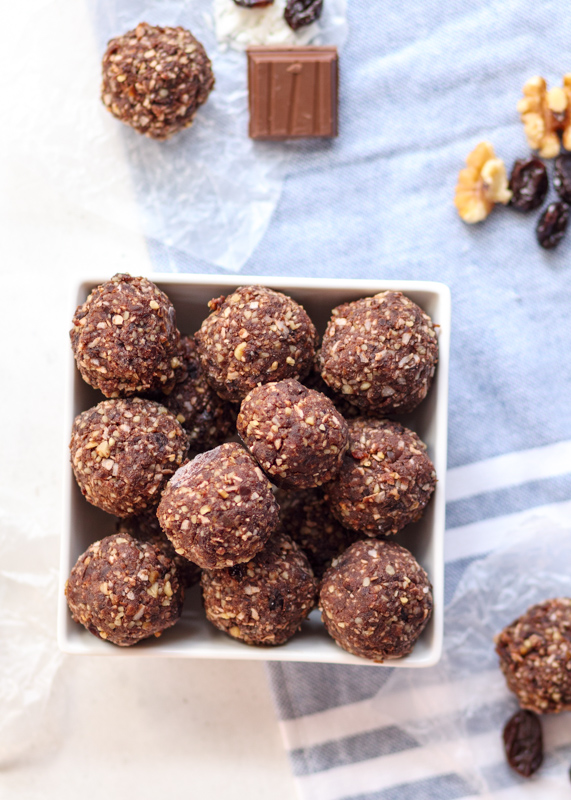 The reason I call these energy balls is because they have a combination of protein, carbohydrates and fats, perfect for giving you a little boost of energy during the day. The protein and some of the healthy fats are because of the walnuts, which also help give a subtle nutty flavor to the energy balls.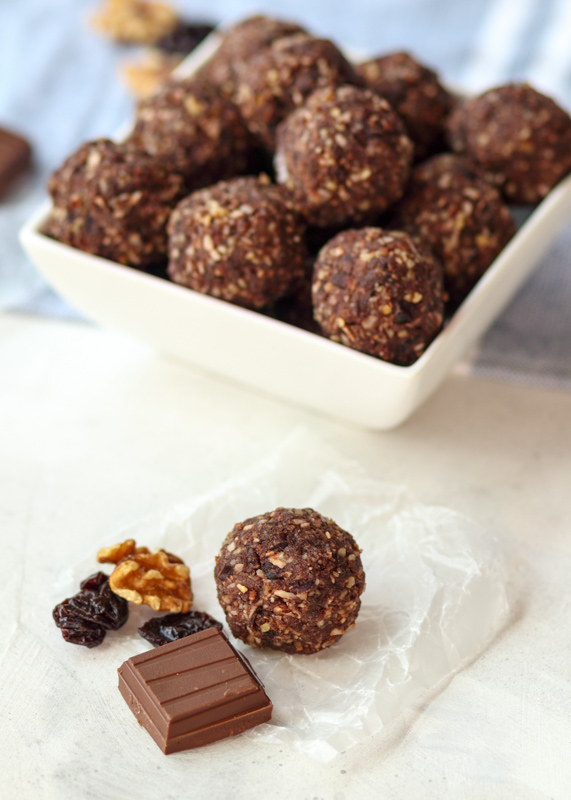 I'll always think the best part of any recipe I post is the taste, so the second best part is how easy these little no-bake bites are to whip up in your food processor. Everything gets pulsed together then you roll them into balls while your hands become a sticky mess and you get ravenous breathing in all the chocolate, cherry and coconut scents.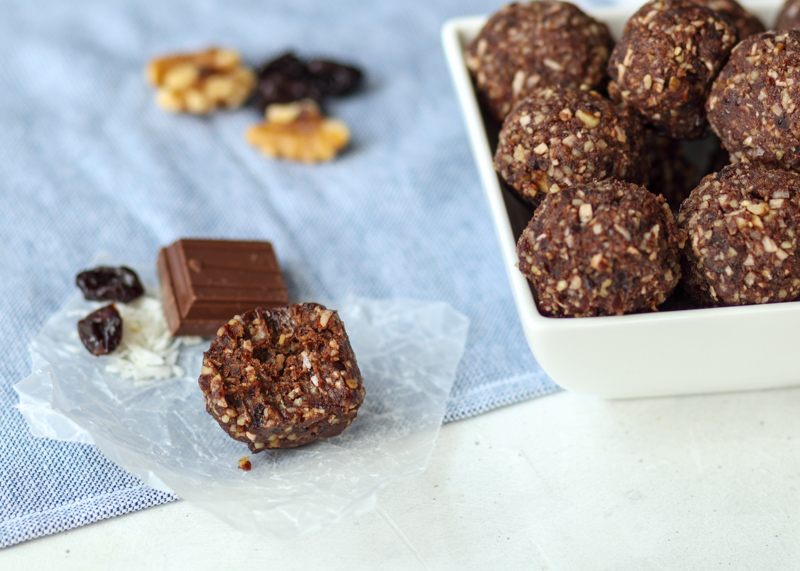 I believe these Chocolate Cherry Coconut Energy Balls are paleo, but I'm definitely not a paleo expert so don't quote me on it! If anyone is a follower of the paleo diet and knows whether all the ingredients are paleo or not please let me know in the comments. Either way, Matt and I love having these little bites in the freezer for whenever we need a little boost – I hope you all enjoy them as much as we do!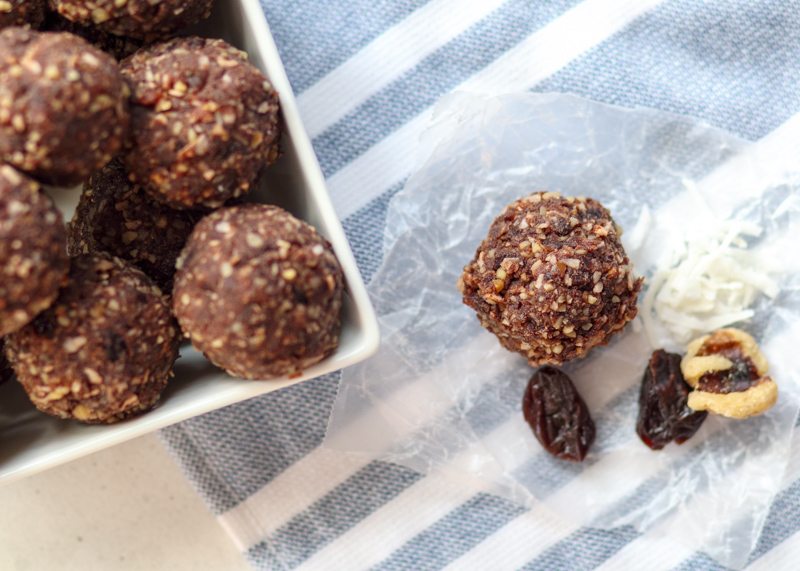 Chocolate Cherry Coconut Energy Balls
Ingredients
10½ ounces of walnuts, about 2 cups
1¼ cups shredded unsweetened coconut
1¼ cups Medjool dates, pitted
1 cup dried cherries (sweetened sour cherries)
3 tablespoons cocoa powder
2 tablespoons coconut oil
1 teaspoon coconut extract
1 teaspoon salt
Directions
In a food processor, pulse the walnuts and shredded coconut until they resemble crumbs. Add the dates, dried cherries, cocoa powder, coconut oil, coconut extract and salt then pulse until a sticky batter has formed and no large chunks remain. Scoop the mixture into a bowl. You could form the balls right from the food processor, but I find it's a lot easier and I have less waste if I form them from a bowl.
Line a baking sheet that will fit in your freezer with wax paper or parchment paper. Scoop up some of the mixture and use your hand to roll it into a ball. You will be making about 22 energy balls and your hands will get very sticky! As you form the balls, place them on the prepared baking sheet so they aren't touching. Freeze them for at least one hour. You can store them in the fridge or the freezer in an airtight container. They should be okay in the fridge for 1 week and will stay longer in the freezer. I prefer to keep them in the freezer and then I let them sit for a minute before eating (or I eat them straight from the freezer if I don't feel like waiting!).
Notes
The volume of walnuts changes depending on whether you are using whole, halved or pieces, so it's better to go by weight. I used a mixture of whole and halved walnuts and it came out to 2 cups by volume and 10½ ounces by weight.