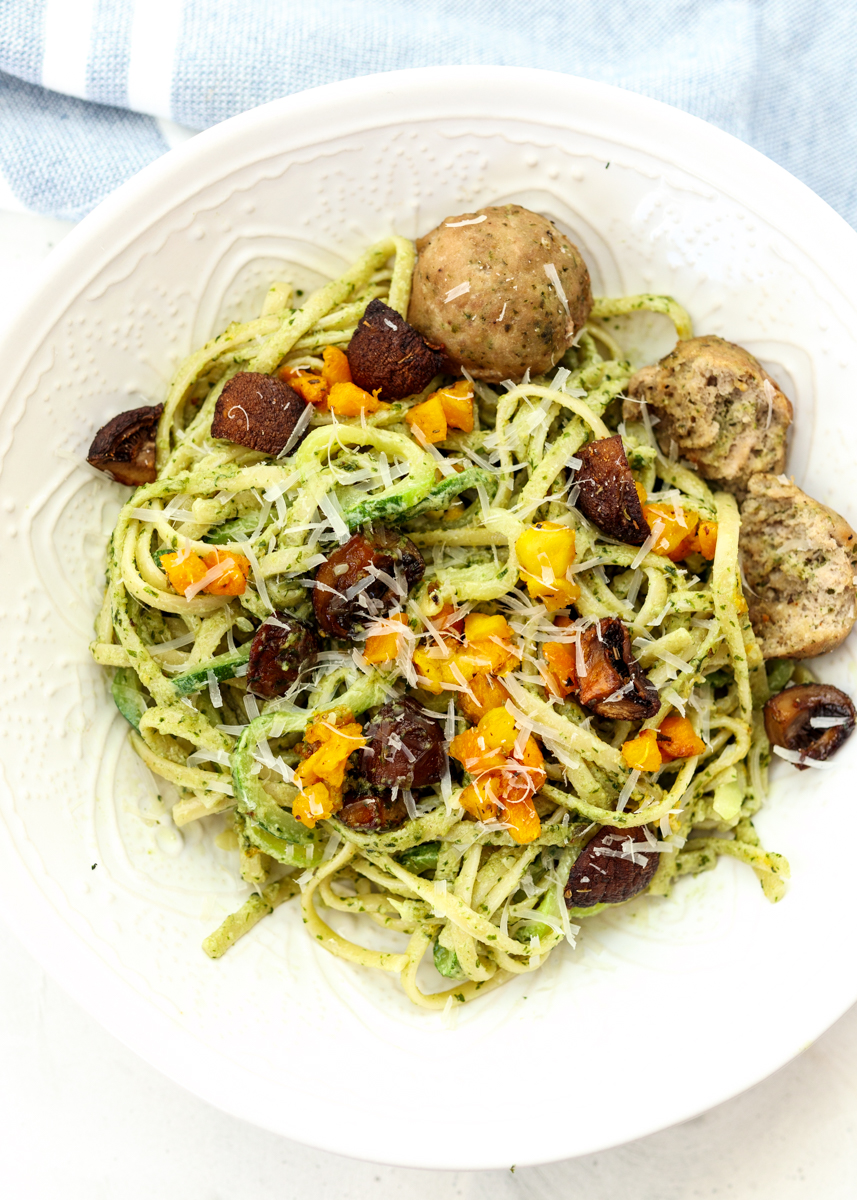 Winter Pesto Pasta is a cozy dish loaded with roasted butternut squash and mushrooms that is sure to warm you up during these chilly winter days. Whenever Matt and I are craving pasta I like to load it up with lots of veggies and I love the ease and the taste of roasted vegetables, especially in the wintertime.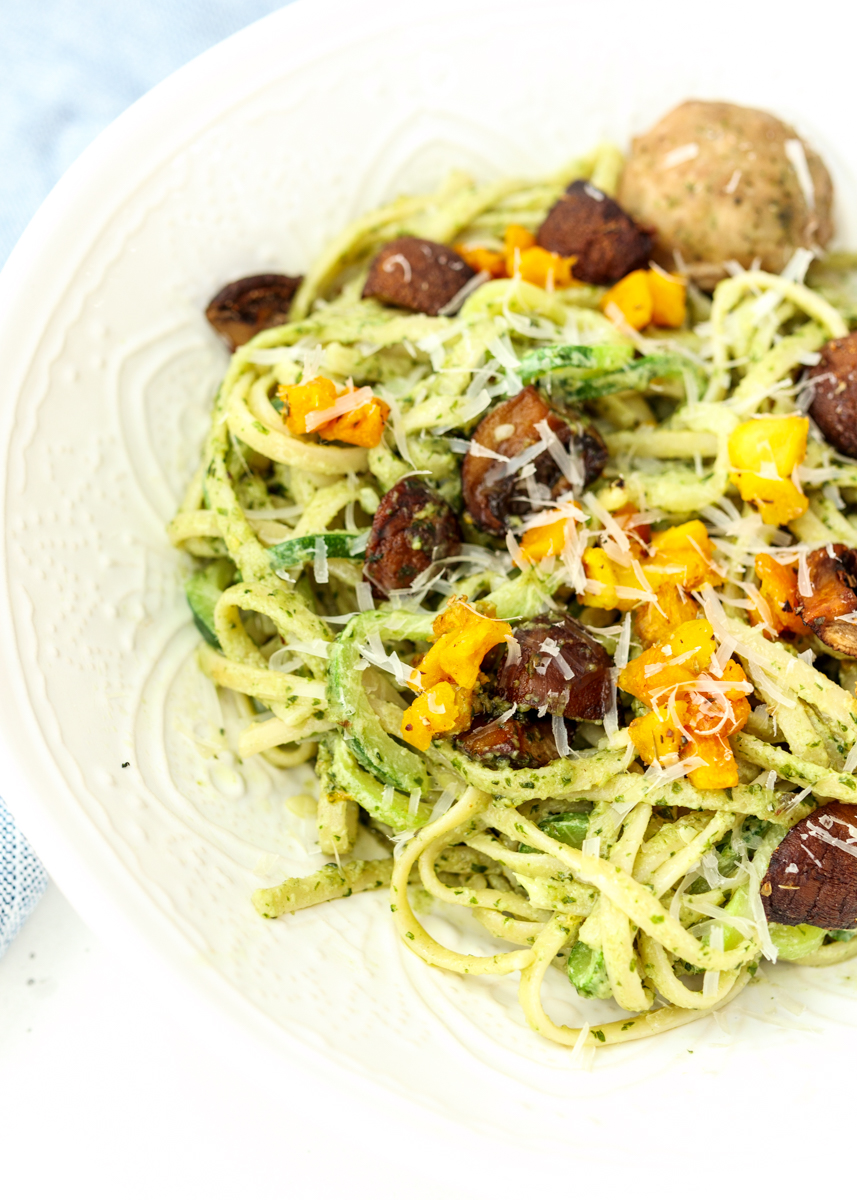 I also used a mix of spaghetti and zucchini noodles to sneak in even more vegetables. You can spiralize the zucchini yourself or pretty much every grocery store now sells spiralized vegetable noodles. The best part is that you just throw them into the water when the pasta is almost done cooking so it could not be easier to add zucchini noodles into your pasta dishes. You could keep the meal vegetarian, but I served it alongside my Baked Pesto Turkey Meatballs – love those!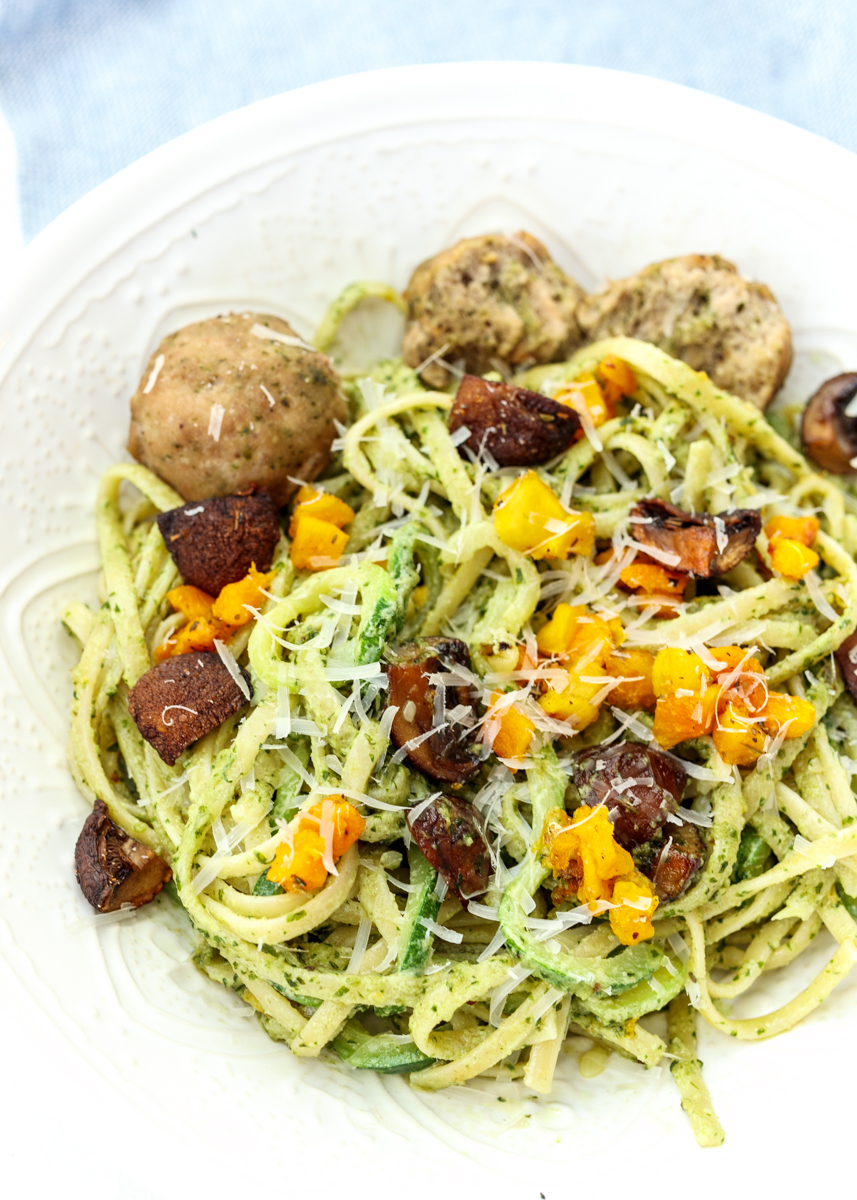 The star of the whole dish, though, is the quick and easy homemade pesto. I love tomato sauce, but we are both way more into pesto around here. My favorite seed butter company, 88 Acres, which is a local Massachusetts company, sent me some of their new products to try in exchange for sharing them on Instagram. The exchange didn't involve my blog at all; I'm purely sharing this here because their new product prompted me to discover my new favorite homemade pesto hack.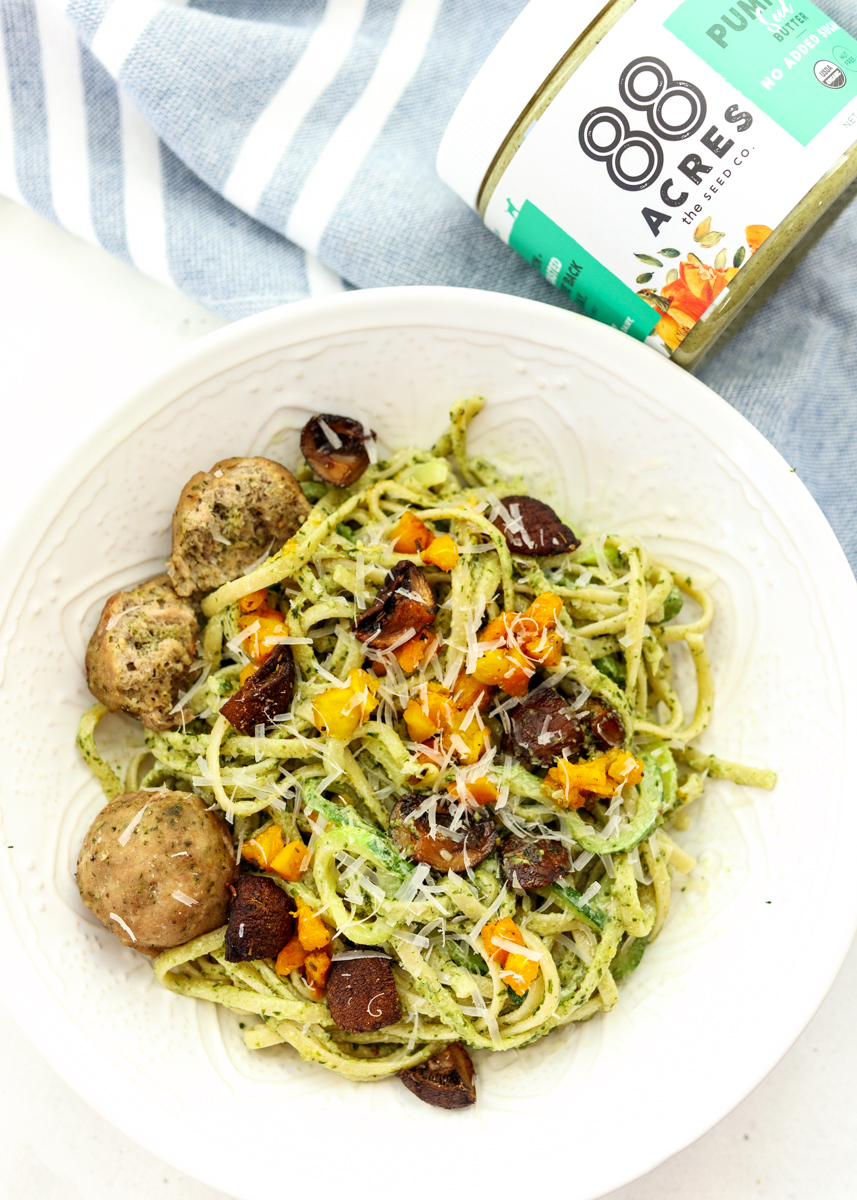 Instead of grinding down seeds or nuts to use in the pesto, I just used some of their new no-sugar added pumpkin seed butter. I combined the pumpkin seed butter, basil, Parmesan, garlic powder, a little olive oil and some salt to taste. It was creamy, flavor-packed and saved me from having to buy pricey pine nuts.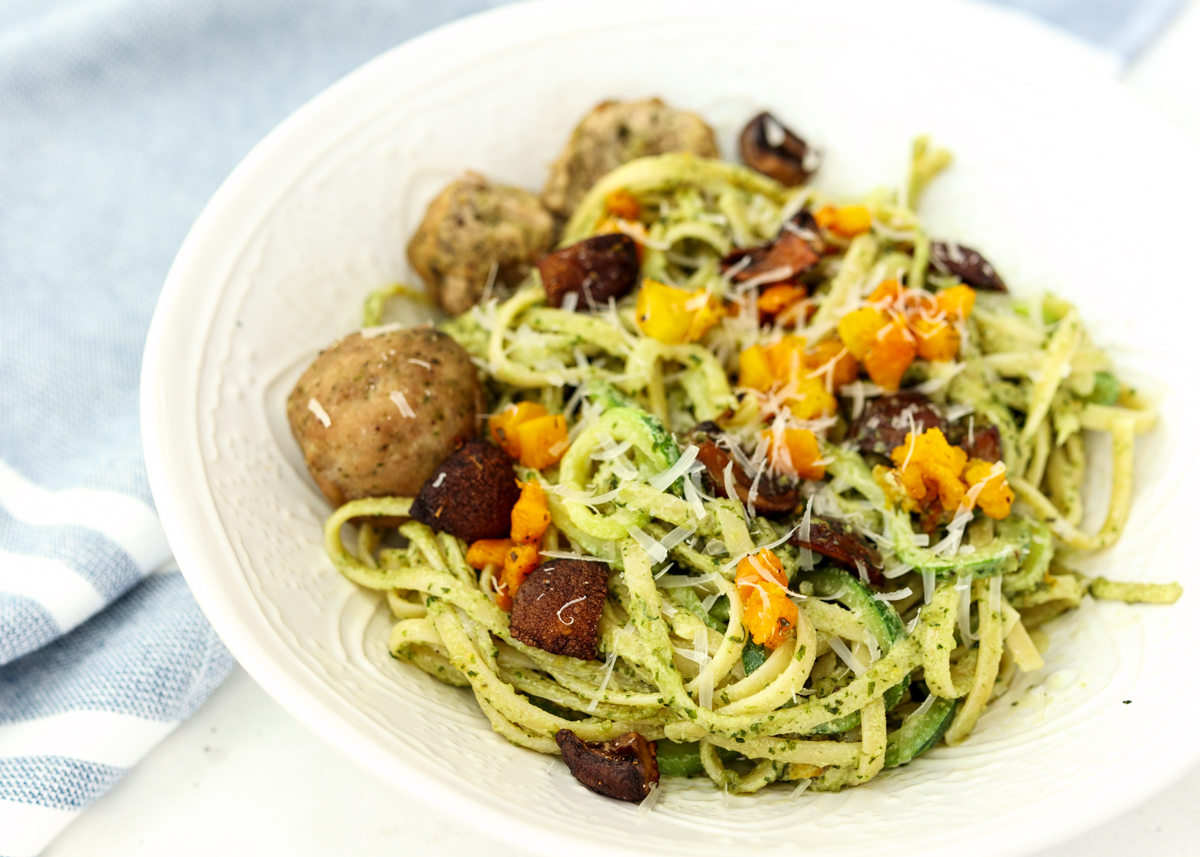 I'm excited to try this new hack with other seed butters! I would recommend using one that has no-sugar added though to avoid adding sugar to your pesto. You could also try making this pesto with roasted pumpkin seeds and adding more olive oil, which I'm sure would be really good, too. Do you like experimenting with different types of pesto or do you have a go-to one you make all the time?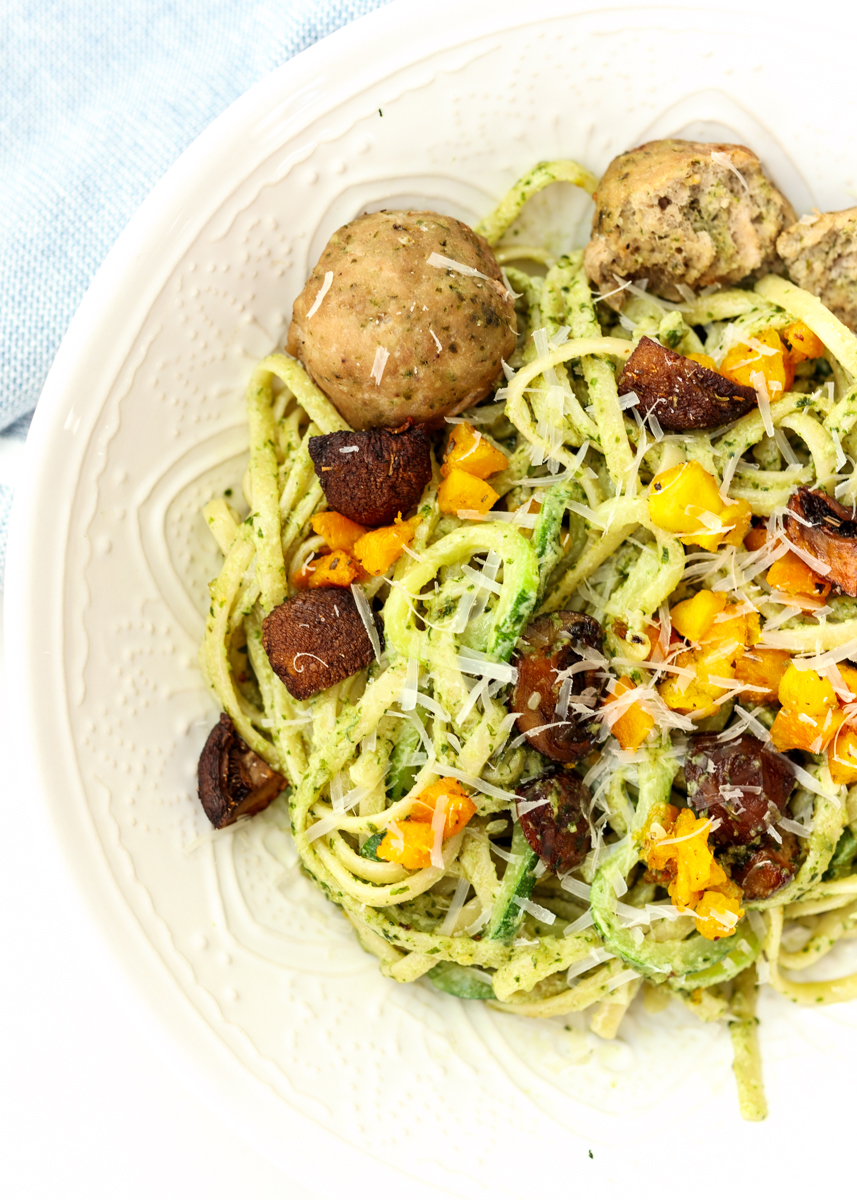 Winter Pesto Pasta
Ingredients
1 cup small diced butternut squash
6 medium whole cremini mushrooms, stems removed and quartered
2½ tablespoons olive oil, divided
¼ teaspoon dried oregano
¼ teaspoon garlic powder, divided
⅛ teaspoon salt
4 ounces spaghetti
1 cup fresh basil
2 tablespoons no-sugar added pumpkin seed butter
2 tablespoons fresh grated Parmesan, plus more for topping
1 zucchini, zoodled
Baked Pesto Turkey Meatballs, optional
Directions
Preheat the oven to 400 degrees F. Line a baking sheet with nonstick aluminum foil or parchment paper and place the butternut squash cubes and quartered mushrooms in a single layer. Toss the veggies with ½ tablespoon of olive oil then sprinkle with ¼ teaspoon dried oregano, ⅛ teaspoon garlic powder, ⅛ teaspoon salt and some fresh ground black pepper. Roast the veggies for 25 minutes, or until tender and slightly caramelized, tossing once halfway through baking.
Cook the spaghetti according to the package instructions. When the spaghetti is 2 minutes away from being done, toss in the zucchini noodles. Drain the spaghetti and the zucchini noodles together once tender in a colander.
While the water is coming to a boil for the pasta, make the pesto. Combine the basil, Parmesan, pumpkin seed butter, the remaining 2 tablespoons of olive oil, ⅛ teaspoon garlic powder and salt to taste in a food processor. Add more olive oil if needed, about 1 tablespoon more. Pulse until smooth.
When the spaghetti and zucchini noodles have been drained, add them back to the pot along with the pesto, butternut squash and mushrooms. Toss to combine. Serve with fresh grated Parmesan on top and baked pesto turkey meatballs, if desired.