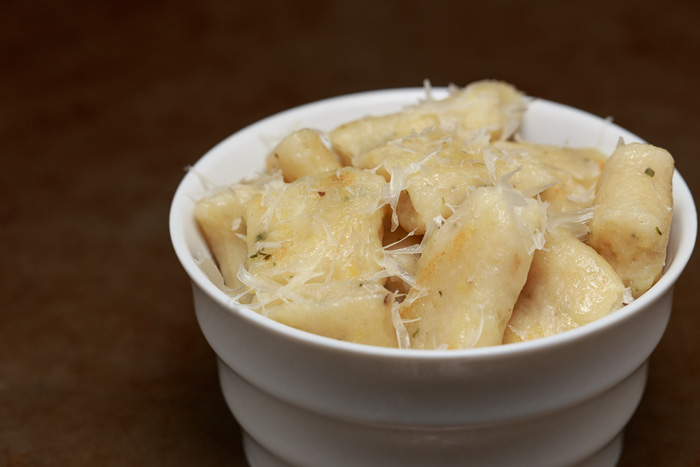 Making homemade gnocchi had been on my bucket list of things to conquer in the kitchen for quite some time now. These delicate pillows of pasta are one of Matt's and my go-to orders while out to eat, but I was putting off making them from scratch.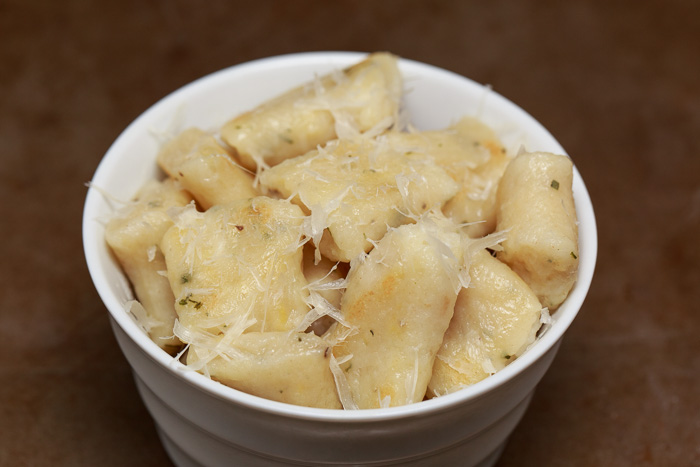 Giada had assured me countless times how simple gnocchi are to create. I would watch Giada quickly whip up a perfect batch in her gorgeous, sunny kitchen and think to myself, "Giada even pronounces gnocchi perfectly, of course she thinks it's simple!"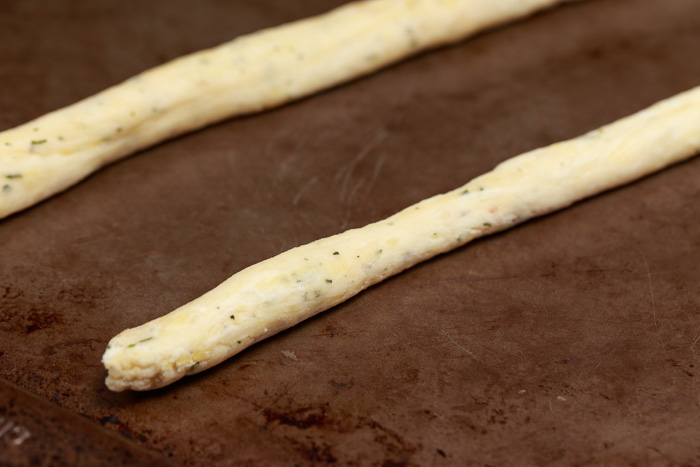 Well, my friends, I am here as a novice gnocchi-pronouncer and gnocchi-creator to let you know that in fact it is that simple. Sure there are fair amount of steps between the boiling, mashing, cooling, kneading and what-not, but once you have the process down you'll have fresh gnocchi on the table in no time.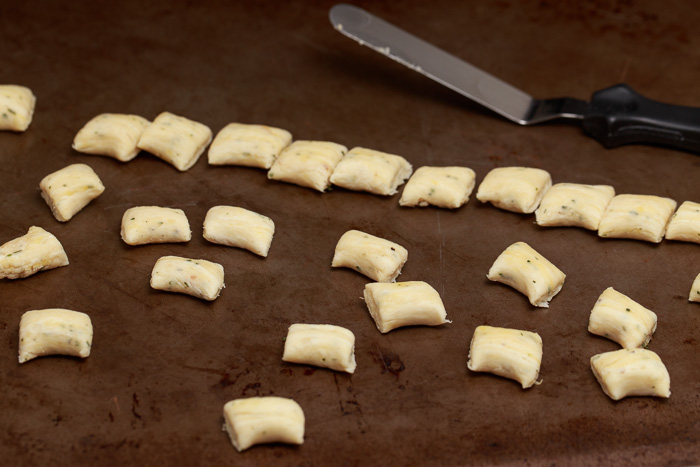 The most difficult part was the shaping with the fork tines, but I never have much patience for beautifying foods so I decided to leave them as is. I'm here to eat it not take a picture! Actually, I am, but I much prefer the eating part.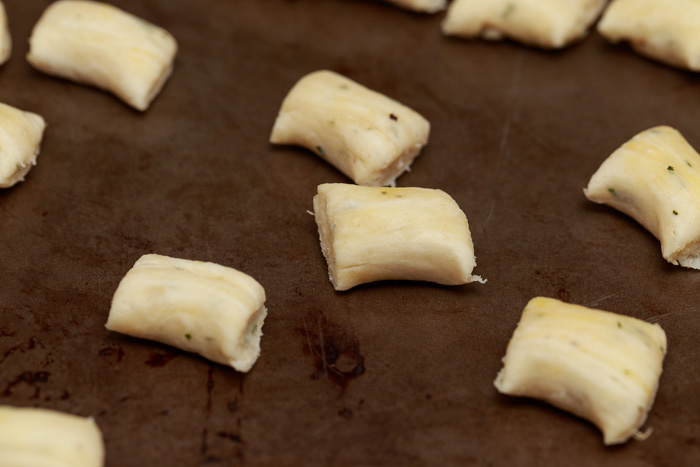 So conquer your kitchen fears and give homemade gnocchi a try! What are some things on your kitchen bucket list?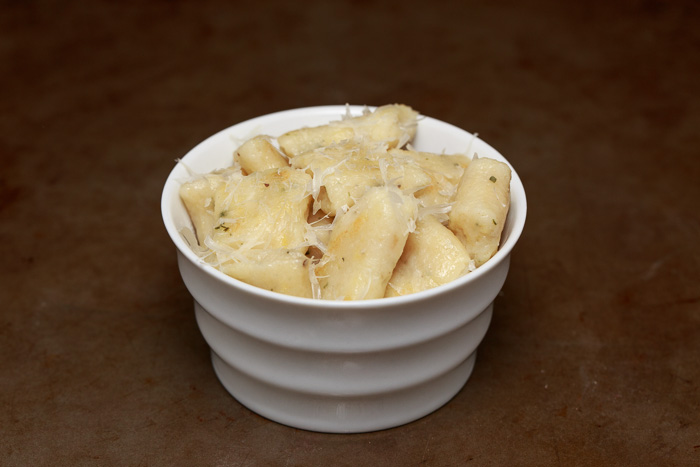 Homemade Goat Cheese Gnocchi
Ingredients
2 pounds potatoes, preferably Russets
11 ounces goat cheese
½ cup Parmesan, grated
2 tablespoons dried oregano (or ½ cup fresh, chopped)
3 eggs
6 cups cake flour
2 tablespoons salt
1 tablespoon ground black pepper
Directions
Preheat the oven to 425 degrees F. Line a baking sheet with foil and set aside.
Scrub and dry the potatoes then pierce each potato with a fork 5-6 times. Place on the prepared baking sheet. Bake for 45-60 minutes. The potatoes are done when you can easily pierce with a fork or knife. Remove from the oven and let cool slightly. Once the potatoes are cool enough to handle, peel then grate them into a large mixing bowl. Alternatively, you can accomplish this with a potato ricer.
Add the goat cheese, Parmesan, oregano, eggs, flour, salt and pepper to the large mixing bowl and mix until the dough starts to come together.
Lightly flour a cutting board or smooth surface and knead the dough until it is smooth. Shape the dough into a large ball or mound and place a kitchen towel overtop. Let rest for 30 minutes.
Bring a large pot of salted water to a boil. Meanwhile start shaping the gnocchi. Using about ¼ cup of dough at a time, and leaving the kitchen towel over the rest, shape the dough into a long rope about ½" thick, as pictured above. Using a sharp non-serrated knife or an icing spatula, cut the dough rope into 1" pieces. Place the pieces on a lightly floured baking sheet.
When you have a small batch ready to be boiled (I boiled about ½ cookie sheet worth at a time), carefully place the gnocchi into the prepared boiling water. When they float to the top, about 3-5 minutes, remove with a large slotted spoon and serve.
Notes
*If you don't have cake flour, for each cup you measure out of all-purpose flour remove 2 tablespoons before putting in the recipe.
*I simply pressed the gnocchi instead of the traditional ridge shape, but a quick Google search of shaping gnocchi will lead you to plenty of videos showing the traditional technique.
*If you are not eating the gnocchi right away, follow these instructions after placing in the boiling water:
1. When they float to the top, about 3-5 minutes, remove with a large slotted spoon and place in a bowl of cold water. Drain into a colander and let cold water run over the gnocchi in the colander. Let drain.
2. Remove to a large container and lightly toss with olive oil to keep them from sticking together. Repeat with the rest of the gnocchi until they are all cooked. Keep in the fridge until ready to serve.
Recipe from Spring 2008 issue of 

Edible Aspen
.