Chicken Cacciatore with Mushrooms and Artichokes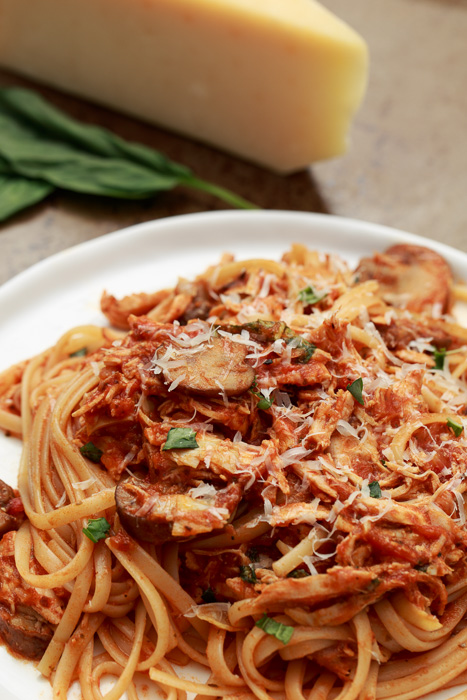 1 pound split skinless chicken breasts, bone-in
2 tablespoons olive oil
2 garlic cloves, minced
1 shallot, minced
12 ounces sliced cremini mushrooms
1 26-ounce jar of tomato sauce
1 tablespoon sugar
½ cup artichoke hearts, chopped
3 tablespoons chopped fresh basil leaves, about 4 leaves
⅓ cup freshly grated Parmesan, plus more for serving
½ pound cooked linguine
Season both sides of the chicken with salt and pepper. Heat 1 tablespoon of the olive oil in a large stockpot over medium-high heat. Add the chicken and brown it, about 5 minutes per side. Remove the chicken from the pot and set aside.
Reduce the heat to medium on the stockpot and add the remaining olive oil. Add the garlic and shallots and sauté for 3 minutes. Add the mushrooms and sauté until browned, about 6 minutes, stirring occasionally. Push the mushrooms to the side so that there's room on the bottom of the stockpot and return the chicken to the pot.
Add the tomato sauce and sugar. Lightly stir then bring the pot to a boil before covering and reducing to a simmer on medium-low heat. Simmer for 30 minutes or until the chicken reaches an internal temperature of 165 degrees F.
Keeping the sauce warm, remove the chicken, shred off the bone with 2 forks, then return to the sauce. Add the artichokes, basil and Parmesan to the sauce. Add the linguine and stir to coat. Serve topped with fresh Parmesan, if desired.
Recipe by
Lemon & Mocha
at http://www.lemonandmocha.com/2014/05/06/chicken-cacciatore-with-mushrooms-and-artichokes/