Winter Pesto Pasta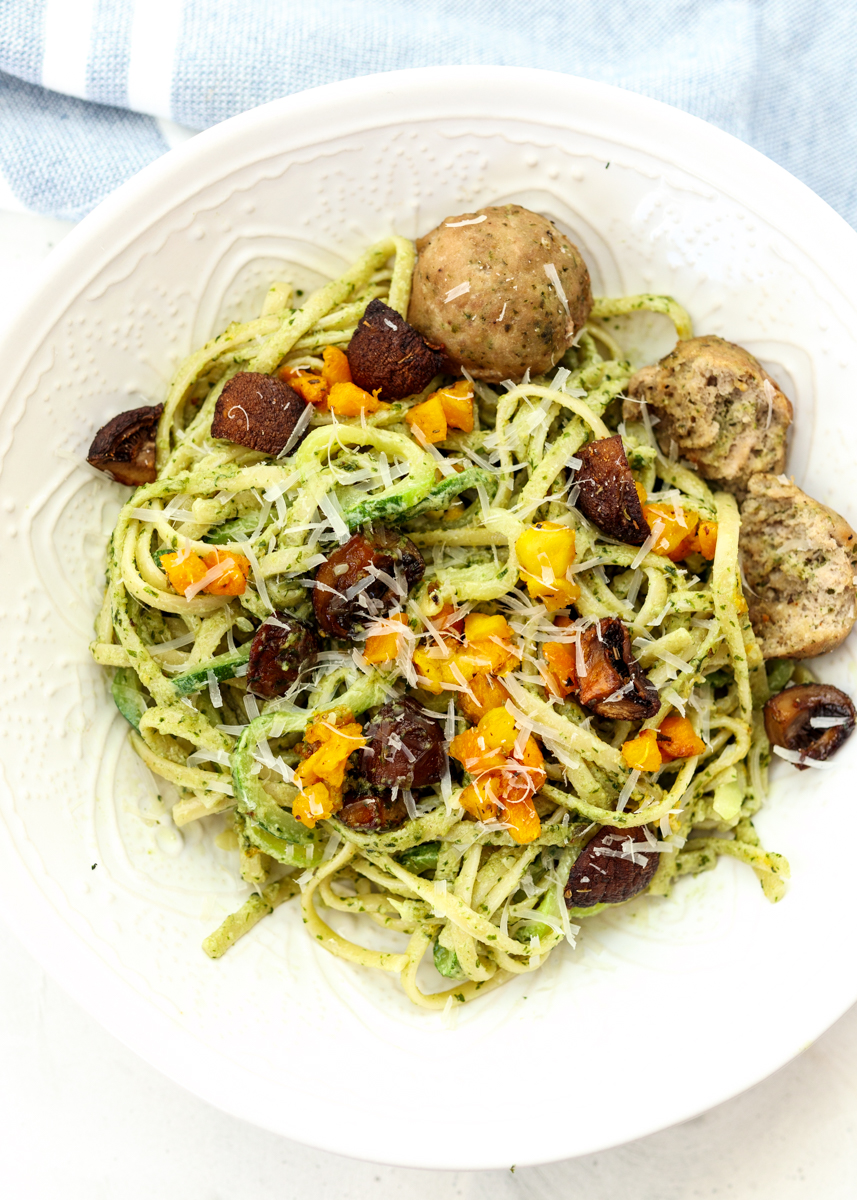 1 cup small diced butternut squash
6 medium whole cremini mushrooms, stems removed and quartered
2½ tablespoons olive oil, divided
¼ teaspoon dried oregano
¼ teaspoon garlic powder, divided
⅛ teaspoon salt
4 ounces spaghetti
1 cup fresh basil
2 tablespoons no-sugar added pumpkin seed butter
2 tablespoons fresh grated Parmesan, plus more for topping
1 zucchini, zoodled
Baked Pesto Turkey Meatballs, optional
Preheat the oven to 400 degrees F. Line a baking sheet with nonstick aluminum foil or parchment paper and place the butternut squash cubes and quartered mushrooms in a single layer. Toss the veggies with ½ tablespoon of olive oil then sprinkle with ¼ teaspoon dried oregano, ⅛ teaspoon garlic powder, ⅛ teaspoon salt and some fresh ground black pepper. Roast the veggies for 25 minutes, or until tender and slightly caramelized, tossing once halfway through baking.
Cook the spaghetti according to the package instructions. When the spaghetti is 2 minutes away from being done, toss in the zucchini noodles. Drain the spaghetti and the zucchini noodles together once tender in a colander.
While the water is coming to a boil for the pasta, make the pesto. Combine the basil, Parmesan, pumpkin seed butter, the remaining 2 tablespoons of olive oil, ⅛ teaspoon garlic powder and salt to taste in a food processor. Add more olive oil if needed, about 1 tablespoon more. Pulse until smooth.
When the spaghetti and zucchini noodles have been drained, add them back to the pot along with the pesto, butternut squash and mushrooms. Toss to combine. Serve with fresh grated Parmesan on top and baked pesto turkey meatballs, if desired.