Mini Raviolis with Sun-dried Tomatoes, Spinach & Goat Cheese
Why do mini food items always taste better? Does their cuteness enhance their deliciousness? Or is it that knowing you can eat more of the tiny bites makes them even more irresistible? Whatever the reason may be, the mini raviolis in this dish certainly increase the tasty factor.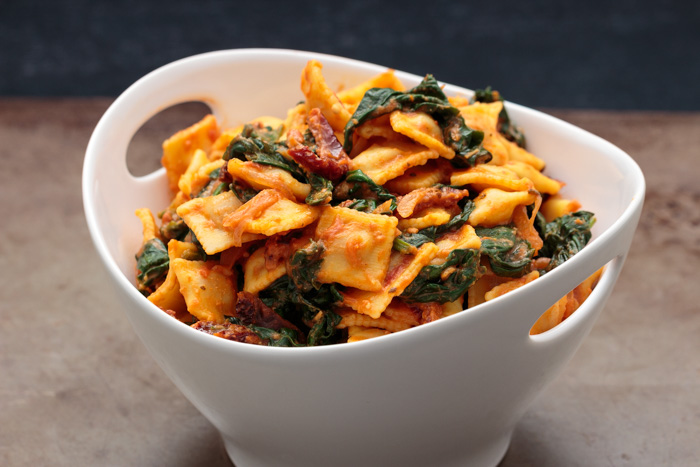 And using store-bought raviolis and prepared sauce is a winning weeknight dinner combination. This pasta meal was an unplanned dish born from the ingredients in my fridge, but I was so happy with the results I decided to share it here on Lemon & Mocha.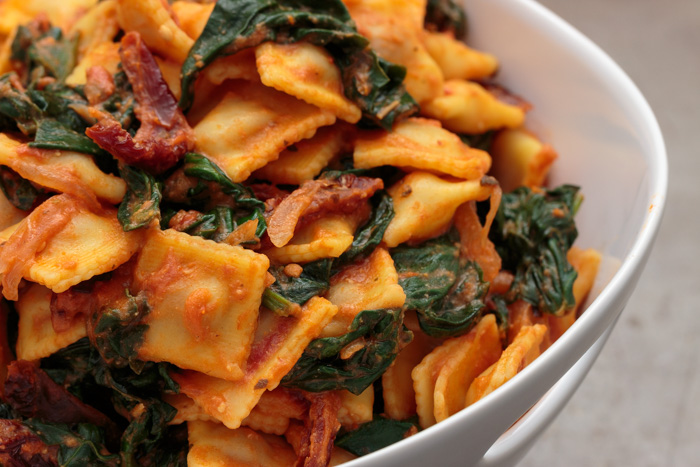 The sautéed garlic, shallots and sun-dried tomatoes tend to be my go-to pasta trifecta. They are the perfect base to almost any pasta dish, providing full-packed savory flavoring.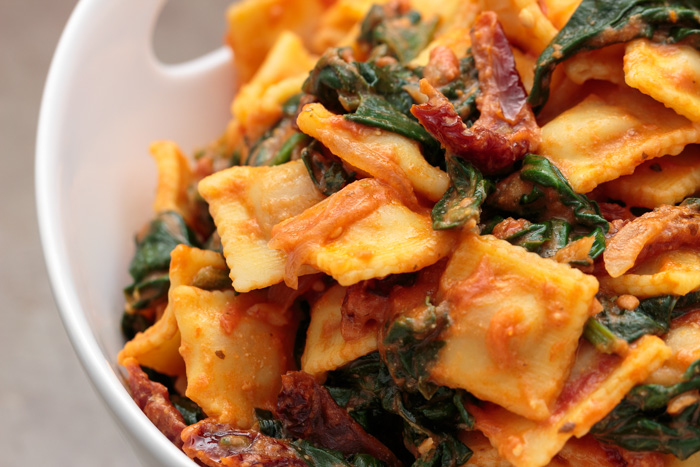 The fresh spinach leaves are a great way to sneak in some veggies and are a great pairing for the ricotta-filled raviolis. The goat cheese adds a depth and creaminess to regular prepared sauce, almost giving it the taste of a vodka sauce.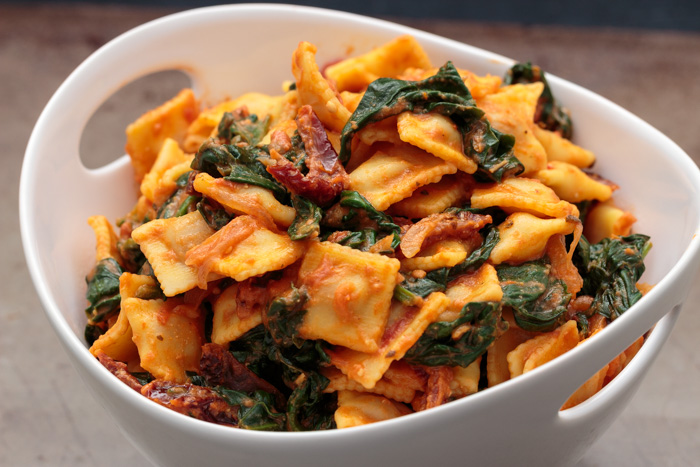 Feel free to swap out the spinach and use your favorites veggies to mix and match this pasta dish. I think asparagus and mushrooms or eggplant and zucchini would both be delicious variations. I might have to go give them a try!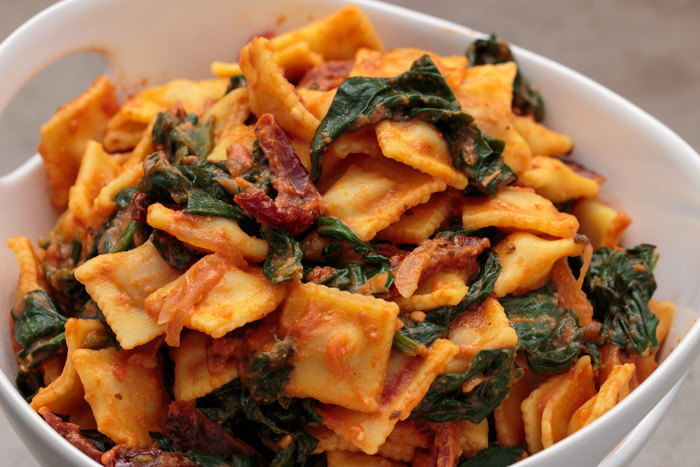 Mini Raviolis with Sun-dried Tomatoes, Spinach & Goat Cheese
Ingredients
1 tablespoon olive oil
1 tablespoon butter
1 clove garlic, minced
1 shallot, minced
1 cup sun-dried tomatoes, julienned
12 ounces fresh spinach leaves
2 ounces goat cheese, regular or garlic & herb
1-2 cups prepared tomato sauce, depending on sauciness preference
1 pound mini raviolis, prepared according to package instructions
Freshly grated Parmesan, if desired, for serving
Directions
Heat the olive oil and butter in a large pot over medium heat. Add the garlic and cook until fragrant, about 30 seconds. Add the minced shallot and cook, stirring frequently, until the shallot has softened and started to lightly brown.
Add the sun-dried tomatoes and cook until softened, about 5 minutes. Add the spinach leaves, a handful or so at a time, stirring often, until all the spinach has been aded and wilted.
Stir in the goat cheese until melted. Add the tomato sauce and stir until warm.
Carefully stir in the prepared mini raviolis until coated. Serve hot with freshly grated Parmesan, if desired.