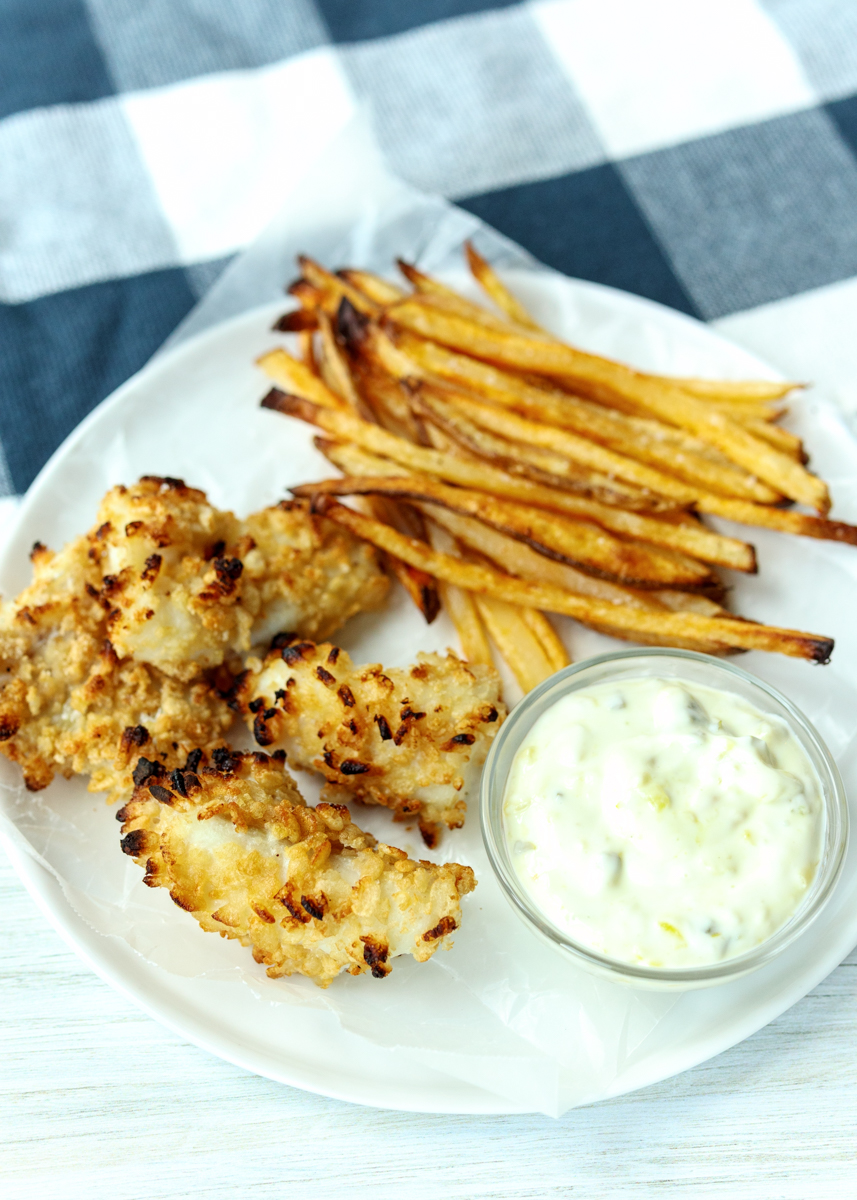 We're wrapping up a week of healthy dinners here on Lemon & Mocha with a lightened up twist on a classic: Crispy Baked Fish and Chips. Tender, flaky fish coated in a crispy exterior and some homemade french fries, all served alongside a creamy tarter sauce – yum!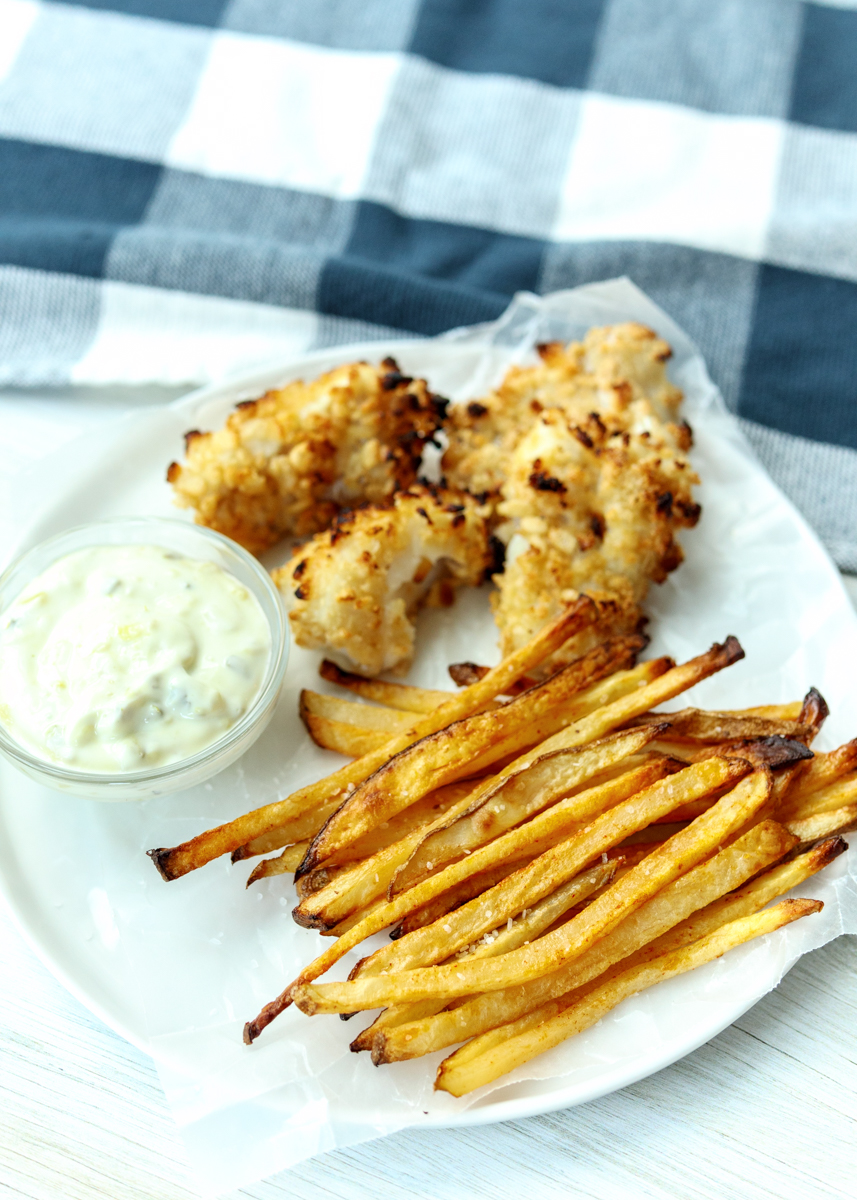 We've done a few things to the original dish to lighten it up with the most obvious being that we're baking the breaded fish and french fries instead of frying them. I've baked breaded chicken many, many times, but I had never tried it before with fish. It came out so well! The fish was tender and perfectly cooked while the outside was crispy.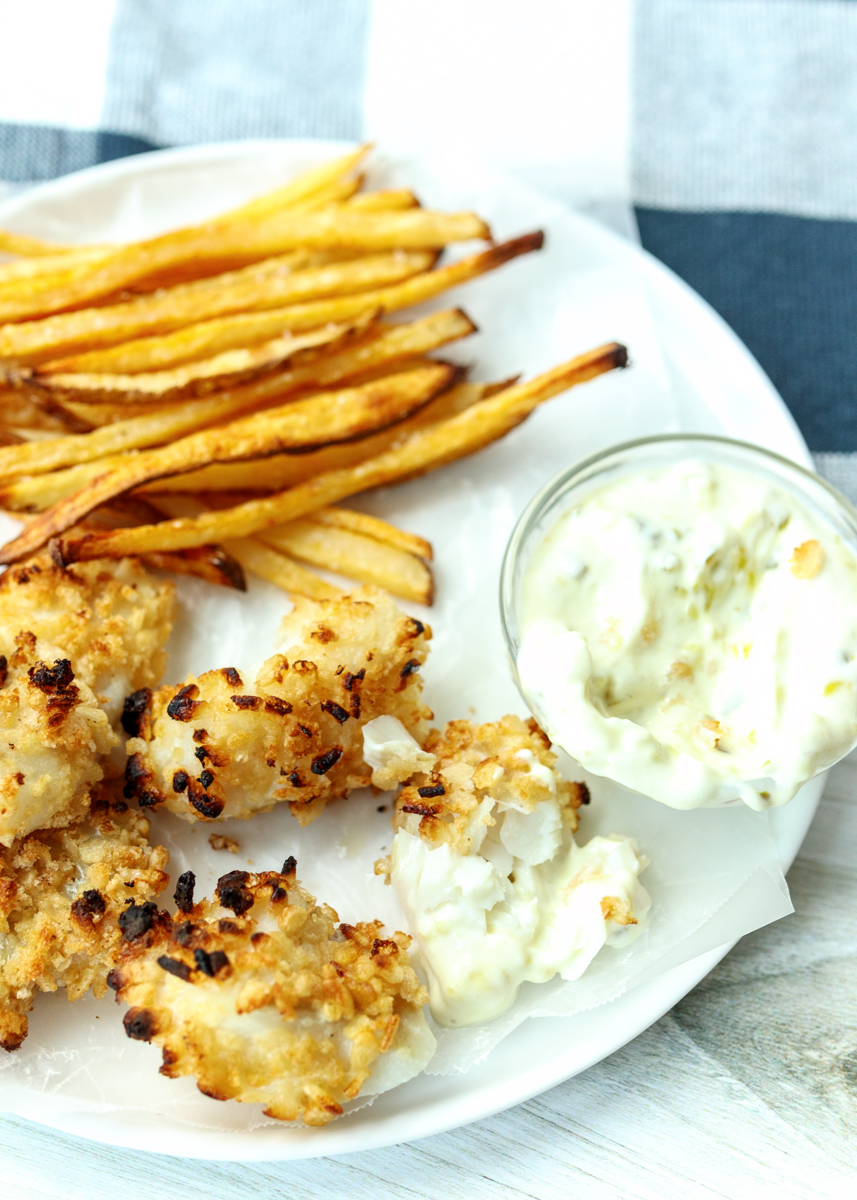 The breading in this recipe is interesting and helped in aiding with the crispiness factor. No panko or nuts here; instead the fish is breaded with crisp rice cereal! Also known as Rice Krispies cereal or whatever Trader Joe's or store brand you prefer. A bowl of Rice Krispies was my go-to during my first trimester so we have plenty of boxes stockpiled in the house. I love that the breading process is only a two step as well. The fish pieces get dunked in some frothy egg whites and then coated in the crispy rice cereal. That's it!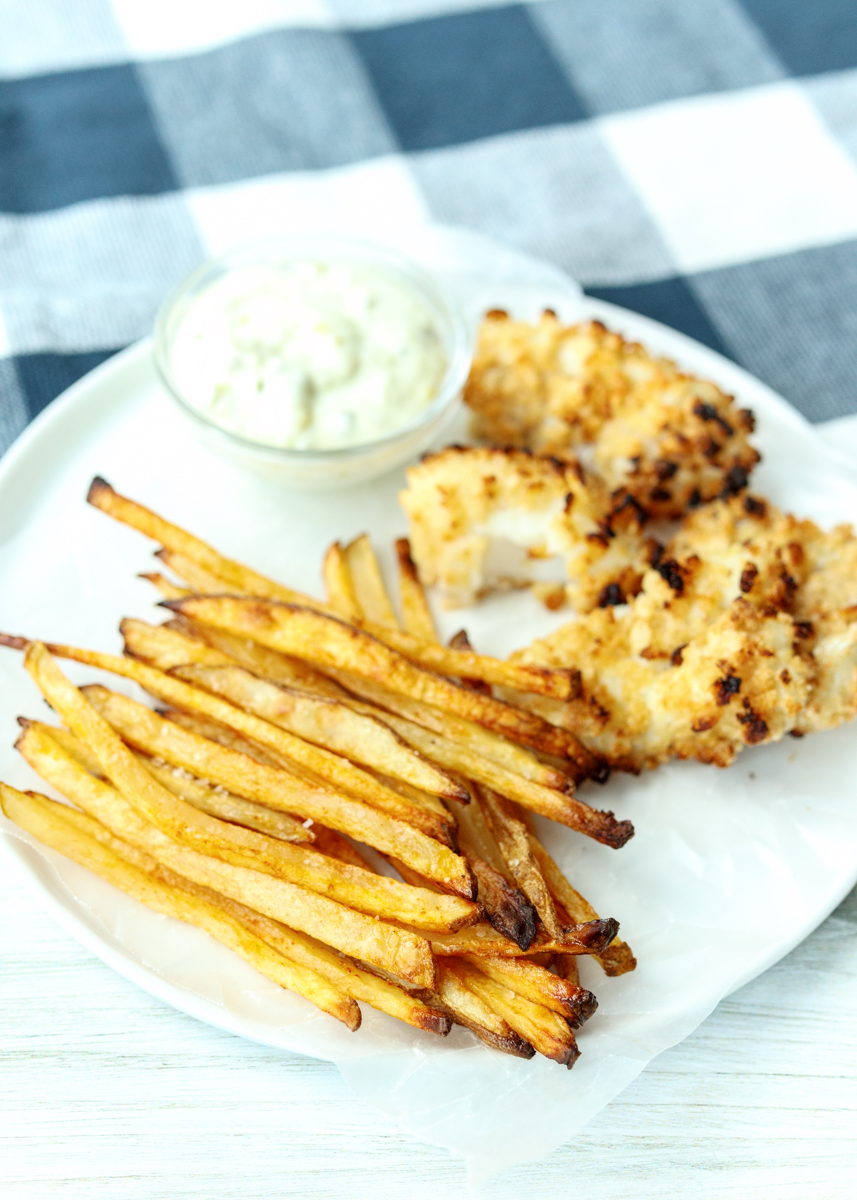 The baked french fries were also a big hit for Matt and I. I've baked fries before, but the trick about preheating the baking sheet in the oven was a new one for me and I definitely think it helped make them crispier. Finally, the tarter sauce has been lightened up as well! I'm not sure about you, but in addition to using tarter sauce on my fish, I love dipping my fries in the stuff. This healthier homemade version is made with a Greek yogurt base and has no mayonnaise. I am a self-proclaimed mayo addict and I was prepared to not like this yogurt version, but it was really good! I didn't miss the mayo at all and felt like I was eating regular tarter sauce.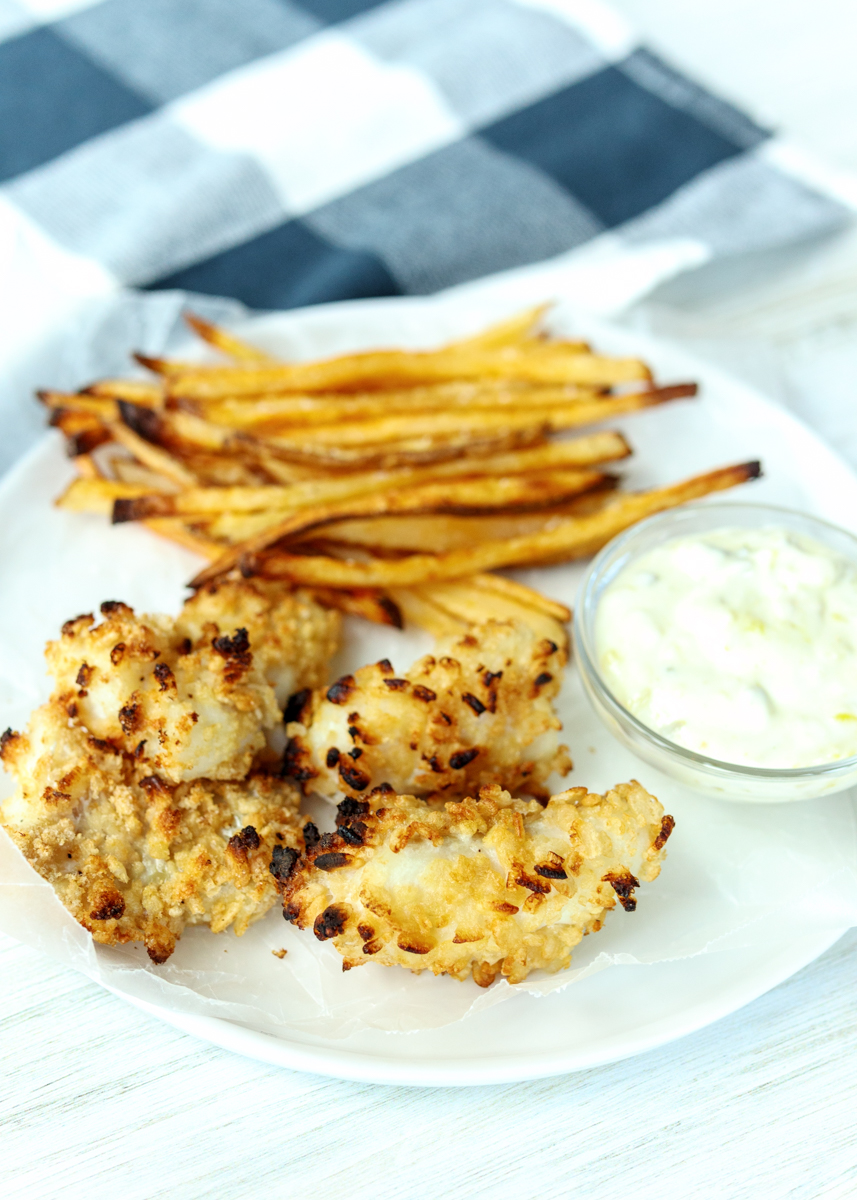 The only downfall for this whole meal is that it is not make-ahead friendly, but I'll let it slide every once in a while for a delicious and healthy fish and chips dinner! Happy Friday, everyone!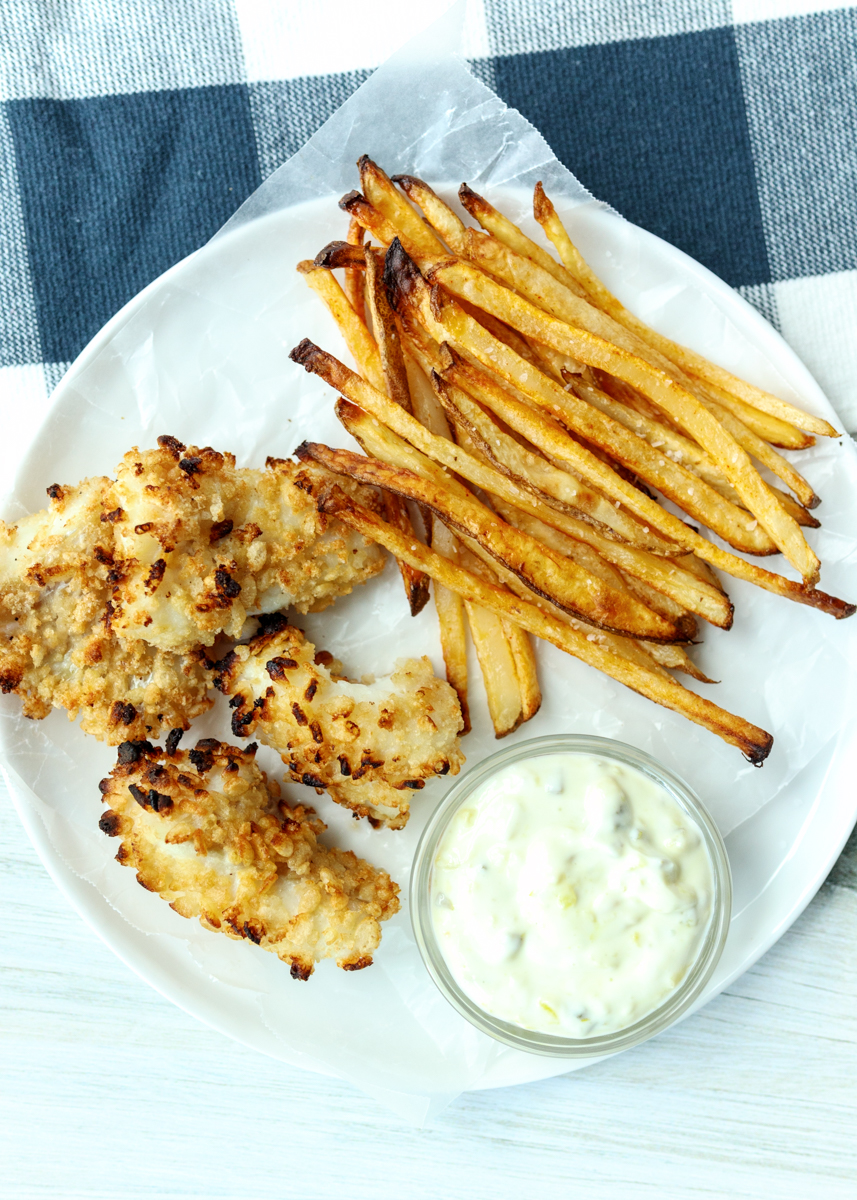 Crispy Baked Fish and Chips
Ingredients
for the chips
3 medium russet potatoes, about 1¼ pounds, scrubbed clean
¼ cup extra-virgin olive oil
Smoked paprika
Coarse sea salt
for the fish
2¾ cups crispy rice cereal, such as Rice Krispies
3 large egg whites
1½ pounds skinless, boneless pollock (or other firm white fish, such as cod), cut into 2-inch by 4-inch pieces
Salt and ground black pepper
Olive oil cooking spray
for the tarter sauce
⅔ cup nonfat Greek yogurt
3 tablespoons pickle relish
½ teaspoon lemon juice
¼ teaspoon hot sauce
Salt
Directions
for the chips
Preheat oven to 450 degrees F, making sure oven racks are in the upper and lower thirds of the oven. Use convection oven setting if available. Place a baking sheet on the top rack to preheat.
While the oven is preheating prep the fries. Cut the unpeeled potatoes into ¼-inch thick sticks. Place them in a large bowl then add the olive oil. Toss to coat then sprinkle with the smoked paprika and toss to coat. Carefully remove the baking sheet from the oven. Add the potato sticks and spread in an even layer, leaving the extra oil behind. Bake the fries on the top rack for 25-30 minutes, or until browned and crispy, flipping the fries once halfway through. When they come out of the oven sprinkle generously with the coarse sea salt.
for the fish
Set a wire cooling rack onto a baking sheet and lightly spray with the olive oil cooking spray.
Set up a breading station with 2 bowls. In the first, combine the cereal (lightly crushing with your hands), 2 teaspoons of salt and some ground black pepper. In the second, whisk the egg whites with a pinch of salt until frothy. First dip the fish pieces in the egg whites then dip in the cereal mixture to completely coat. Place on the prepared wire rack and repeat with the remaining fish pieces, positioned on its side so more of the crust is exposed if possible.
Lightly spray with olive oil cooking spray. Bake the fish on the bottom oven rack for 12 minutes, or until crispy and cooked through. Serve with the chips and tarter sauce.
for the tarter sauce
Combine the yogurt, relish, lemon juice and hot sauce in a small bowl. Season with salt to taste. Cover and place in the fridge for at least 10 minutes before using.
 Recipe from July/August 2010 issue of Food Network Magazine
.
Some of the links above are affiliate links, which means I may receive a small commission for my referral. This does not affect the retail cost of the item. Thank you for supporting Lemon & Mocha!