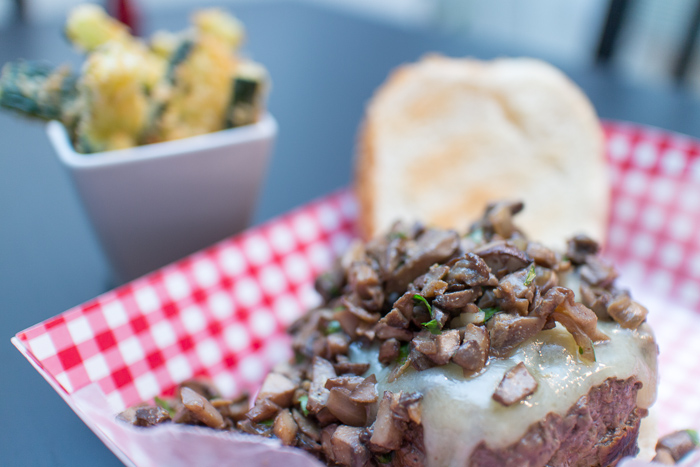 A couple of my cousins are fellow food lovers and we always inevitably land on the topic of food. Partly because we are usually gathering for some sort of meal and partly because endless discussions about food is a consequence (or bonus!) of being in my company. Somehow of all the various directions our food conversations could go we always make our way to the topic of fast food.
Now I eat fast food very rarely. And my cousins and I all have great food around our city of Boston that we enjoy frequently. But there is something so universal and instantly crave-inducing about a crispy McNugget, salty skinny fries and creamy soft serve ice cream in a cake cone. It probably has something to do with what's in the food at these places, but shh! Let's not ruin it!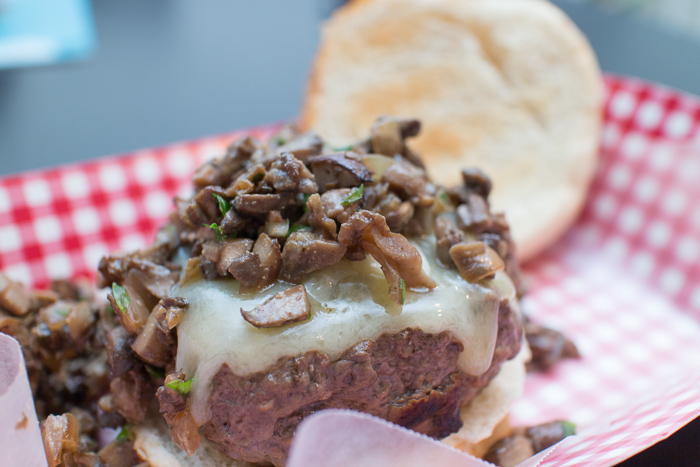 The most crave-worthy of all is a juicy, cheesy burger. The last time I was with my cousins they asked when I was going to post a burger so here it is. A mushroom overload cheddar burger. Now originally I was waiting to post this during the warmer months when it would seem more seasonally appropriate. But I couldn't wait. I had to post it right this second. What else were you going to eat with those zucchini fries?
Mushroom lovers will swoon over these patties loaded with porcini mushrooms and mushroom stock. And if that's not enough, which is probably the case because there are never enough mushrooms, the burger is topped with a seasoned mushroom and shallot sauté that pairs perfectly with the richness of the sharp cheddar. These burgers will do more than satisfy your burger craving- they will create a whole new craving to have these again and again!

Mushroom Overload Cheddar Burgers
Ingredients
½ cup water
½ ounce chopped dried porcini mushrooms
2 tablespoons olive oil
4 ounces cremini mushrooms, chopped
½ shallot, minced
2 teaspoons dried Italian seasoning
1⅓ pounds ground beef
¼ cup finely chopped onion
1 clove garlic, minced
4 slices sharp cheddar cheese
4 burger buns
Salt and pepper
Directions
Microwave the water until hot. Add the dried mushrooms and let rehydrate.
In a large sauté pan heat the olive oil over medium high heat. Add the mushrooms and minced shallot then season with salt and pepper. Cook until mushrooms are tender and golden, about 10 minutes, while stirring occasionally. Stir in the Italian seasoning and remove from the heat.
In a large mixing bowl combine the ground beef, chopped onion, minced garlic, rehydrated dried mushrooms and a couple tablespoons of the soaking liquid. Do not overwork the meat, mix until just combined. Divide the beef mixture into four equal portions and form each portion into a 1 inch thick burger patty. Season each side of the burgers with salt and pepper.
Cook the burgers on a grill or grill pan until desired doneness. During the last couple minutes of cooking place 1 slice of cheese on each burger. If using a grill pan tent foil over the pan to help the cheese melt.
Serve the burgers on the buns topping with a large spoonful of the mushroom mixture.
Recipe adapted from Bobby Flay's Burgers, Fries & Shakes
.