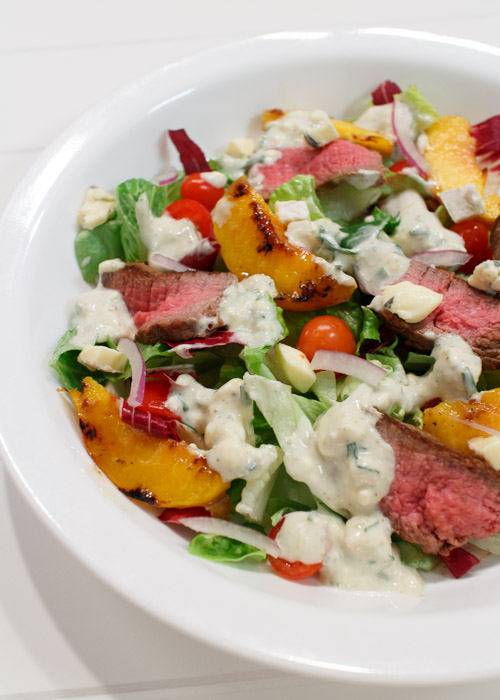 I am not a huge fan of having a salad as an entrée. Maybe it's because salads get a bad rap as diet food. Maybe it's because it's ingrained in my brain that dinner should be a hot meal. Or maybe it's because munching on all that lettuce makes me feel a bit like a rabbit.
But sometimes between the pasta dishes and batches of peanut butter apple bars you just need a fresh break. All the recent baking and experimenting in the kitchen left me craving a salad. Of all things. Unbelievable.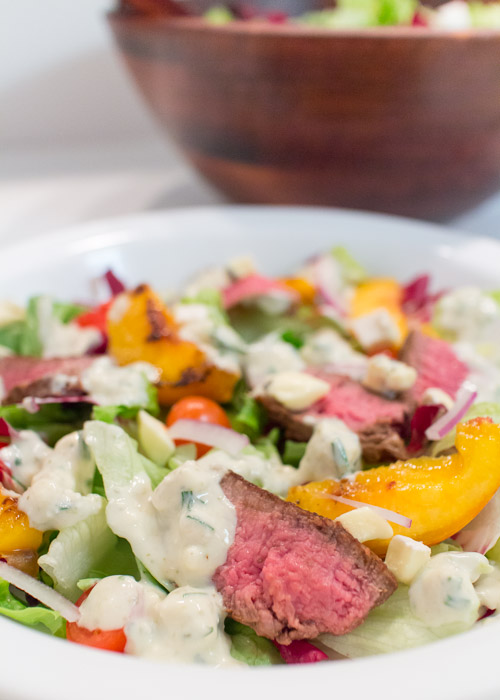 This grilled steak and peach salad did not disappoint. Peach season is ending, but there's still time to take advantage of this sweet fleshy fruit before it's gone from grocery stores until next summer. Peaches are delicious, but grilled peaches are like a whole new species. The outer flesh caramelizes and develops a light smoky taste while the inner peach juices form a syrupy concentrate. For those of you who have not grilled peaches before, I apologize for sharing this secret at the end of peach season.
Between the succulent grilled peaches, the tender steak and the creamy mild dressing this salad made me forget all about my salad doubts. And I didn't even think about rabbits once.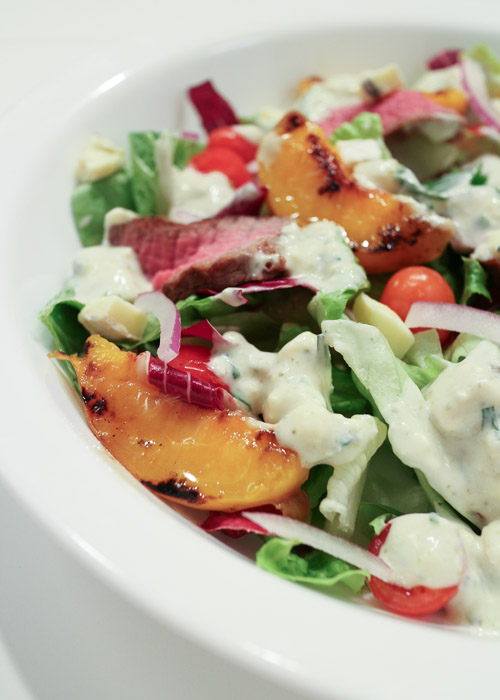 Grilled Steak and Peach Salad with Easy Homemade Blue Cheese Dressing
Ingredients
for the steak
1 cup extra-virgin olive oil
1 tablespoon vinegar
1 teaspoon brown sugar
¼ teaspoon onion powder
¼ teaspoon garlic powder
¼ teaspoon paprika
⅛ teaspoon cayenne powder
⅛ teaspoon mustard seeds
salt and pepper
1 pound sirloin tips
for the dressing
½ pound cambozola cheese crumbles, or another mild blue cheese of your choosing
⅓ cup light sour cream
1 tablespoon lemon juice
1 tablespoon red wine vinegar
1 tablespoon honey
2 teaspoons minced fresh chives
1 teaspoon pesto
for the salad
2 peaches, halved and pitted
4 cups mixed romaine, raddicchio and butter lettuce, or the greens of your choosing
1½ cups grape tomatoes, halved
¼ of a red onion, thinly sliced
Directions
Place the steak in a shallow dish. Whisk together the first 9 ingredients in a small bowl then pour over the steak. Cover and refrigerate overnight, or for at least three hours. Remove the marinated steak from the fridge about 30 minutes before cooking.
Heat a grill pan over medium-high heat and let it get hot. Place the steak tips on the grill pan, being sure not to crowd the pan, and let them cook 5-6 minutes per side for medium depending on the thickness of the tips. Remove to a cutting board and let rest for 10 minutes before cutting into thin slices.
While the steaks are cooking make the dressing. Put half the blue cheese into a small mixing bowl with the sour cream, lemon juice, vinegar, honey, chives and pesto. Cover and chill until ready to serve.
While the steak is resting, finish the salad. Brush the cut side of the peaches with extra-virgin olive oil then place them cut side down over a grill pan on medium-high heat. Grill the peaches for 3 minutes then flip and grill the other side for one minute. Remove from the heat and let cool slightly. Once peaches are cool enough to touch, slice into wedges.
Toss the greens, grape tomato halves and red onion slices in a large bowl. Divide onto the four plates then top with the sliced steak, peach wedges, dressing and the remaining blue cheese crumbles.
Recipe adapted from September 2013 issue of

Food Network Magazine

.