Blueberry Sour Cream Pancakes with Blueberry Syrup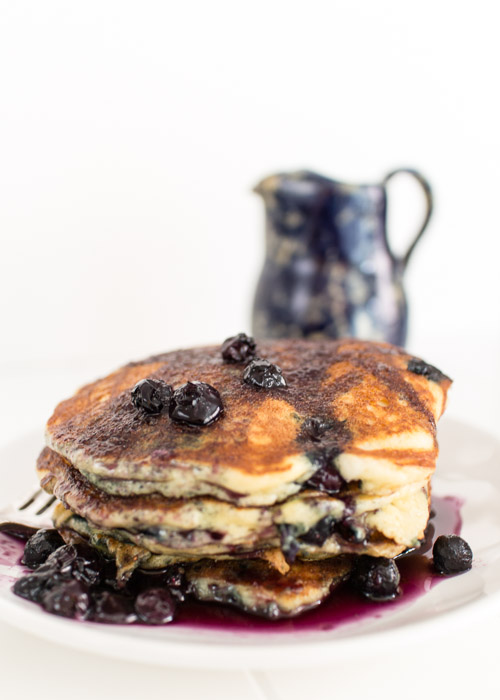 1 cup sour cream
7 tablespoons all-purpose flour
1 tablespoon sugar
1 teaspoon baking soda
½ teaspoon salt
2 large eggs
½ teaspoon vanilla extract
1 cup blueberries
Butter
½ cup maple syrup
1½ cup blueberries
Put the sour cream in a medium mixing bowl. Sift in the flour, sugar, baking soda and salt.
Stir together until just combined. The batter will be lumpy.
In a separate bowl, whisk together the two eggs with the vanilla.
Pour the egg mixture into the sour cream and flour mixture. Stir until just combined.
Place a frying pan or griddle over medium-low heat. Once the pan is hot melt a tablespoon of butter and wait for it to bubble.
When the butter is bubbling, pour ¼ cup of batter for each pancake. Try not to overcrowd your pan; the amount of pancakes you can fit will depend on your pan's size. Leave some space between the pancakes as they will expand when you add the blueberries.
As soon as the batter is in the pan, place a small handful of blueberries on each pancake.
Cook until the pancake is covered with tiny bubbles on the top, then flip. Cook for another two minutes then remove from the pan.
Add some more butter and repeat with the remaining batter until you have cooked all your pancakes.
While the pancakes are cooking, make the syrup. Put the syrup and the blueberries in a small saucepan and bring to a boil over medium-high heat. Let the syrup boil for 3 minutes then remove from the heat. Slightly mash the blueberries with a wooden spoon or potato masher, keeping some of the blueberries whole. Pour the syrup into a small pitcher and place on the table with the pancakes.
I add my blueberries to each pancake individually as I have noticed when I add them to the mixing bowl they all sink to the bottom. Adding individually means you get to be more precise, but it also does spread out the pancakes quite a bit so be cautious when determining how many pancakes will fit in your pan.
Recipe by
Lemon & Mocha
at http://www.lemonandmocha.com/2013/10/15/blueberry-sour-cream-pancakes-with-blueberry-syrup/