Baked Zucchini Fries with Special Sauce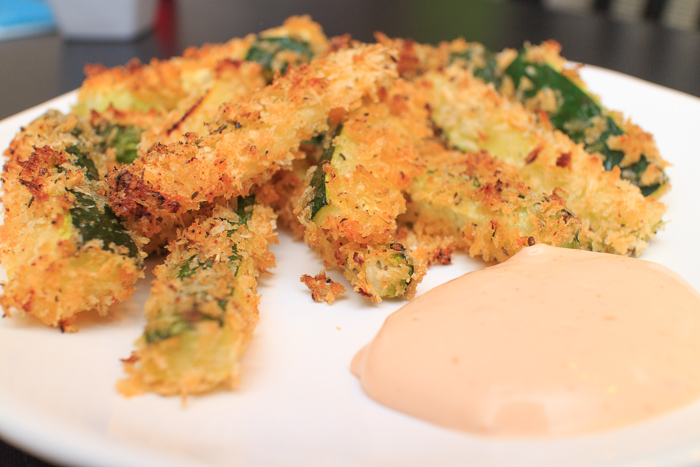 Many people extol the wonderful qualities of winter. They argue that warm winter fires, cozy blanket couch snuggling and glistening snowflakes are romantic and special. Well as someone who lives in a fireplace-less apartment that Matt keeps at a snuggie required temperature year round I argue, what is so romantic about an extra-long work commute on a sandy, dirty snow-covered road?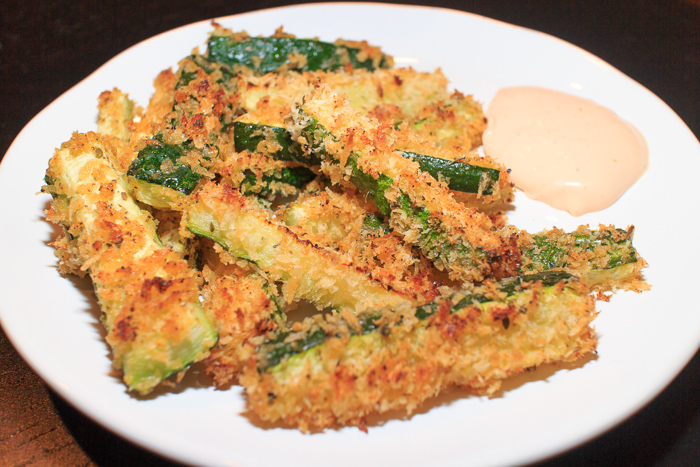 Yes, I know, January just started and I'm already complaining about winter. January gets me a little down as my favorite holiday of the year is over and there's nothing to look forward to for the rest of the season. Besides Valentine's Day, my anniversary, skiing, creamy winter mac and cheeses… but hey, I'm busy complaining here! Sometimes I need a little burst of summer to get me through these long dark days. Aside from actually seeing the sun before and after work, what really gets me thinking about summer are summer vegetables. And french fries, mmm french fries.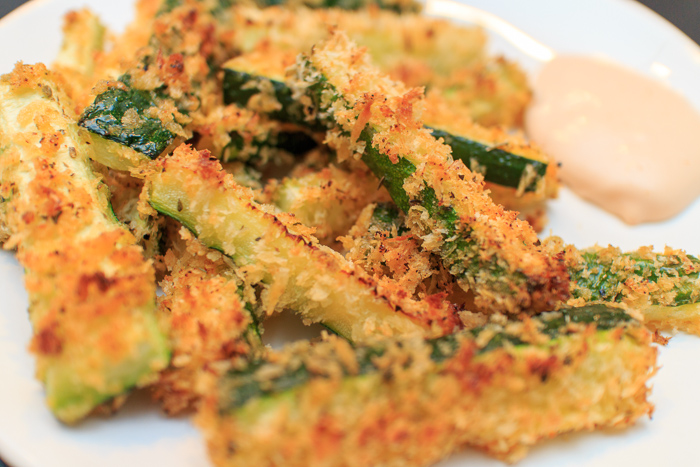 Voila! Baked zucchini fries. These fries will have everyone gobbling their vegetables like they're, well, eating fries. The subtle flavor of the zucchini is amped up by the seasonings in the crunchy coating. Served alongside special sauce these baked zucchini fries may just be habit-forming. My mom used to call it fish stick sauce, but I think special sauce sounds a little more appetizing and versatile. Special sauce is also fitting as it has special powers that include getting kids to gobble up their fish sticks and vegetables. So make these fries and bring some summer to your winter.

Baked Zucchini Fries with Special Sauce
Ingredients
for the zucchini fries
1 large zucchini
3 tablespoons olive oil
1 cup panko breadcrumbs
1 tablespoon grated Parmesan
1 teaspoon dried oregano
½ teaspoon garlic powder
½ teaspoon onion powder
¼ teaspoon paprika
Salt and pepper
for the sauce
⅓ cup mayonnaise
3 tablespoons ketchup
Directions
Preheat the oven to 425 degrees F.
Lightly coat a cooling rack with cooking spray then place on a cookie sheet or jelly roll pan. Set aside.
Cut the zucchini into 3 inch sticks.
Place the olive oil in a small bowl and set aside.
In a separate small bowl combine the breadcrumbs, Parmesan and seasonings.
Working one zucchini stick at a time, dip the stick into the olive, coat in the breadcrumb bowl then carefully place on the prepared cooling rack. Repeat with the remaining zucchini sticks.
Bake for 25 minutes or until golden brown.
While the zucchini fries are baking, combine the mayonnaise and ketchup. Serve the zucchini fries warm with the special sauce for dipping.
Notes
Zucchini is naturally a soft vegetable when cooked so don't expect a sturdy fry, just one with flavor and an outer crunch.
Recipe adapted from

Health Magazine
.