Baked Pistachio Crusted Chicken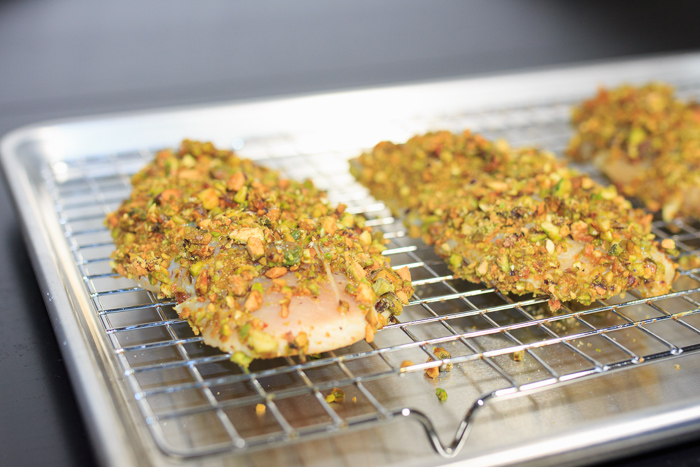 2 cups unsalted shelled pistachios
½ teaspoon garlic powder
½ teaspoon onion powder
½ teaspoon paprika
Salt and pepper
4 boneless skinless chicken breasts
Preheat oven to 400 degrees F.
Lightly coat a cooling rack or roasting rack with cooking spray. Set over a cookie sheet or jelly roll pan and set aside.
Roughly chop the shelled pistachios in a food processor.
Combine the chopped pistachios and seasonings in a shallow bowl.
Place 1 chicken breast in the pistachio mixture and press down to coat. Flip and coat the other side of the breast. Carefully place on the prepared cooling rack. Do not pat the chicken dry as you will need the natural moisture of the chicken to help the pistachio coating stick. Repeat with the remaining chicken breasts.
Bake the chicken for 20 - 30 minutes, or until the internal temperature reaches 160 degrees F. The time varies because every oven is different and chicken can dry out quickly so it's best to use temperature rather than time to judge doneness.
Remove and serve with a big salad or lemon orzo and asparagus.
Recipe by
Lemon & Mocha
at http://www.lemonandmocha.com/2014/01/07/baked-pistachio-crusted-chicken/