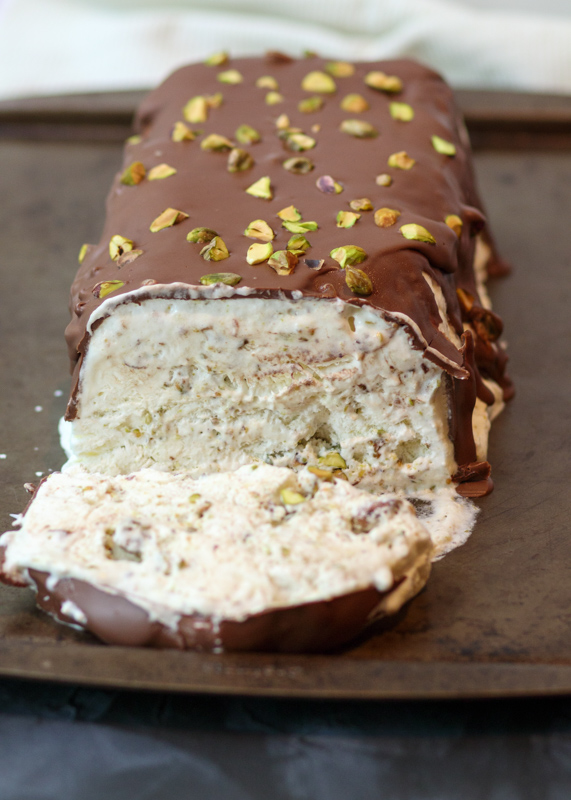 I know, I know. It's early in the morning and you're already drooling over a dessert. I'm sorry, but I had to share this one, especially just in time for Father's Day on Sunday! I kind of consider this an all-parent dessert since I actually made and photographed it for Mother's Day with the intention of posting it for Father's Day. I have to work ahead over here so I'm often doing odd things like celebrating 4th of July in June or Christmas in September. This Pistachio Semifreddo with Nutella Magic Shell Topping would be good for any occasion, but I made it with my Dad in mind.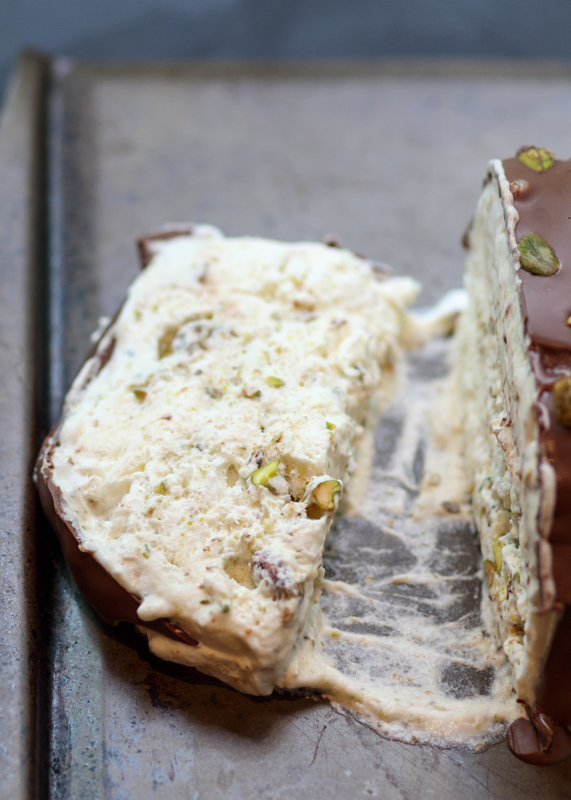 My Dad loves ice cream, but I've made him so many ice cream desserts over the years that I wanted to try something different. I've also always wanted to try a semifreddo, which to me tastes like ice cream mixed with whipped cream that's been semi-frozen. The creaminess of the semifreddo with the crunch from the pistachios was an addictive combination. It would be delicious if you just left it at that. But I could never, ever in good conscience discourage you from topping the pistachio semifreddo with this Nutella magic shell! Adding coconut oil to the Nutella makes it act like that amazing magic shell topping you can buy in the bottle where the topping hardens when it touches the ice cream. This Nutella topping starts to harden as soon as you pour it over the semifreddo and will harden to completion if you just pop it in the the freezer for a little bit. Whacking off big hunks of the hardened Nutella to eat with the creamy semifreddo felt downright sinful. And so, so good.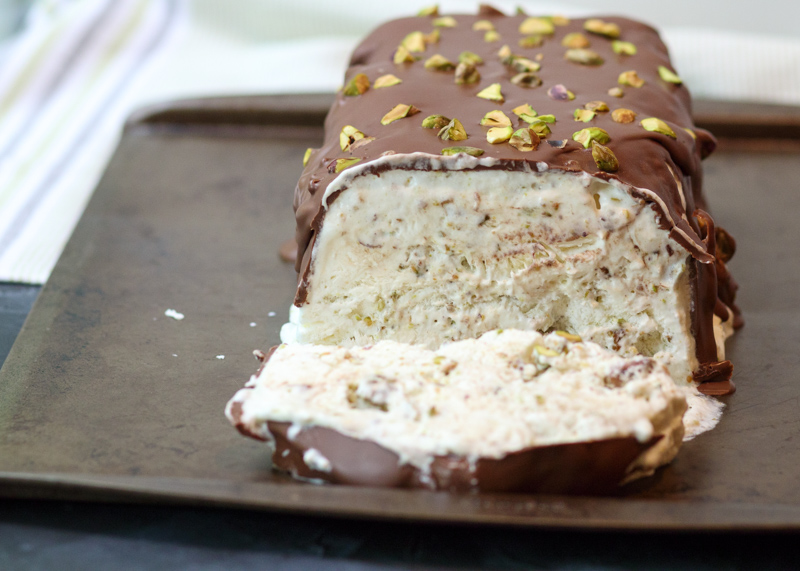 The recipe seems like a lot of steps, but it's actually fairly simple. A lot of the comments on the original recipe were from people who said they don't cook or bake often and they were surprised at how easy it actually was to make. You are basically whipping a meringue base, whipping a whipped cream and folding them together with the chopped pistachios. Then it goes into the freezer for at least eight hours so you will definitely want to plan ahead.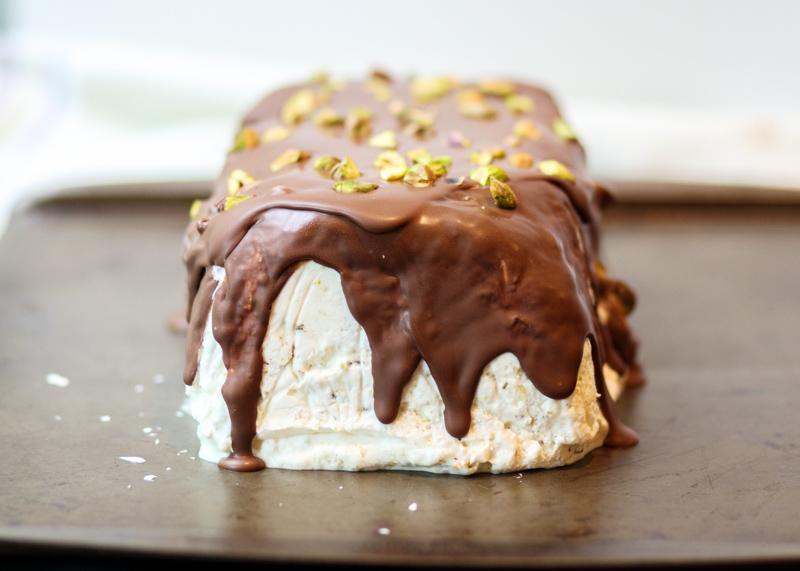 You all know I love my food memories so of course I have some to share about my Dad and pistachio ice cream. The first is that my Dad's company always had an ice cream sundae party every summer – and still do! My Dad is retired, but they still do the ice cream parties. Back when there weren't as many people they would have everyone vote on the flavors by marking their vote on a printout of the flavors from the local ice cream shop. My Dad and another guy who worked there loved the pistachio ice cream and somehow that flavor would always win even though everyone else made fun of them for liking an "old man" flavor. I will always think of it as an "old man" flavor even though now I love it. I guess that makes me an old man? Anyways, my second memory I want to mention is when I got accepted to Boston College my Dad and I went to visit the campus that weekend. Of course we had to check out the closest ice cream shop, which is White Mountain Creamery. Funny enough, I don't remember what flavor I got, but I remember my Dad got the pistachio ice cream. I was so happy in that moment being on a high from excitement to go to Boston College sitting there eating ice cream with my Dad.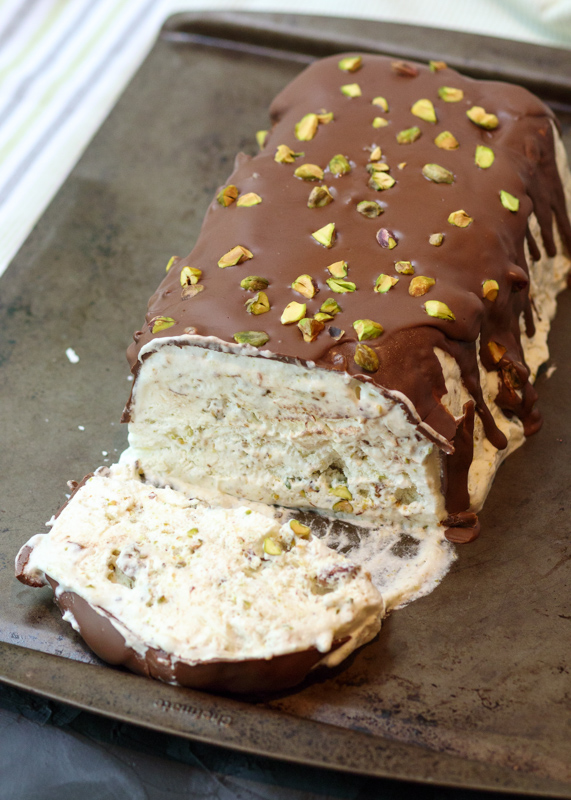 Now even though I made this dessert with my Dad in mind it kind of backfired on me. For those of you that don't know, my Dad can be very picky. He'll eat everything, but he will finish the meal saying that it was good, but he prefers his classic favorites. This was one of those times. He liked it, but thought it was a little too sweet for him and wanted it to be ice cream – haha – but everyone else had seconds so I think it's safe to say that 98% of your guests will go nuts for it. I hope you all have a wonderful weekend and make lots of delicious food memories with your loved ones! Happy Father's Day to all the awesome Dads out there, especially my Dad, Lee, and my father-in-law, Floyd!
Pistachio Semifreddo with a Nutella Magic Shell Topping
Ingredients
for the semifreddo
1½ cups shelled pistachios
½ cup granulated sugar, divided
6 egg whites
2 cups heavy cream, kept in the fridge until ready to use
¼ teaspoon almond extract
for the Nutella magic shell
1 cup Nutella
⅓ cup coconut oil
Directions
for the semifreddo
Line an 8½" by 4½" loaf pan with plastic wrap so it hangs over all the sides then set aside. Roughly chop ¼ cup of the pistachios and set aside.
Pulse ¾ cup pistachios with 2 tablespoons of the sugar until the pistachios are finely chopped. Add the remaining ½ cup pistachios and pulse a few times until the pistachios are very roughly chopped and large chunks still remain. Set aside.
Whip the egg whites in the bowl of a stand mixer or in a large bowl with a hand mixer on medium speed until there are soft peaks. This mean the peak is just barely holding its shape and would flop if you lifted the beater. Increase the speed to high and add ¼ cup plus 2 tablespoons of the sugar a little at a time. Once the sugar has been added continue to beat until the egg whites are holding stiff peaks. This means the peaks hold their shape completely straight even when beaters are lifted.
In a different bowl of a stand mixer or in a large bowl with a hand mixer, beat the cold cream and the almond extract on medium speed. Carefully increase the speed to high and beat until you have stiff peaks. Carefully fold the egg white mixture into the cream mixture, then gently fold in the pistachio mixture. Pour and scoop into the prepared loaf pan. It will probably go over the top of the pan. Just keep adding and smooth to create an even surface on top. Lightly cover with plastic wrap and freeze for 8 hours.
Remove the semifreddo from the freezer. Invert onto a serving dish (or plate/container that will fit in your freezer if you aren't serving right away) and carefully remove the pan and plastic wrap. Top with the Nutella magic shell. Look harden slightly then sprinkle the reserved chopped pistachios on top. Return to the freezer until ready to serve. Let soften slightly before serving
for the Nutella magic shell
Microwave the Nutella and coconut oil in a small microwave safe bowl until melted. I start at 30 seconds, stir then continue microwaving and stirring at 15 second intervals. Once the mixture is melted and smooth let cool slightly at room temperature before using.
Notes
This recipe contains uncooked egg whites, which may be a concern if salmonella is a problem where you live.
Using a metal mixing bowl for the egg whites and heavy cream makes a big difference, especially if you can chill them in the freezer, along with the metal beaters, before using. If your egg whites or cream isn't coming to peaks it may be that your ingredients or bowl wasn't cold enough so I always chill mine.
Semifreddo recipe slightly adapted from

Epicurious

.