Honey Ice Cream with Pralined Almond Crumble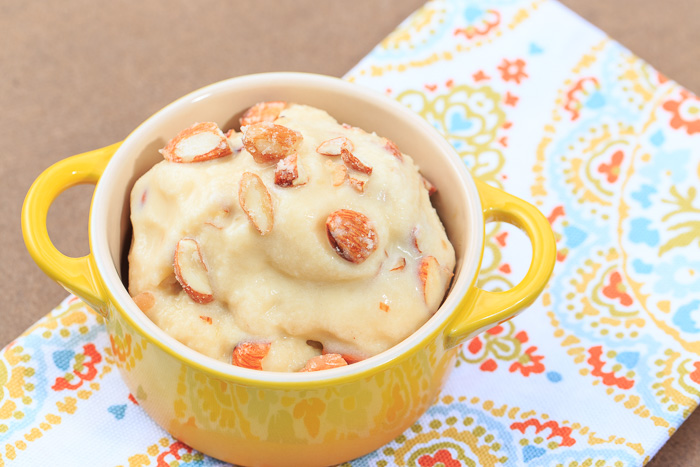 1½ cups heavy cream
½ cup good-flavored honey
1½ cups whole milk
¼ cup sugar
Pinch of salt
5 large egg yolks
¼ cup water
½ cup sugar
1 cup whole almonds, unblanched and untoasted
⅛ teaspoon coarse salt
Add the heavy cream and the honey to a large bowl. Place a fine mesh sieve over top and set aside.
In a medium saucepan over medium-low whisk together the milk, sugar and salt until warm. Meanwhile whisk together the egg yolks in a medium bowl. Carefully pour the warmed milk mixture, whisking constantly, then pour the whole mixture back into the medium saucepan.
Place the saucepan over low heat and cook the mixture while stirring until thick enough to coat the back of a spoon, about 8 minutes. Make sure the mixture never reaches a boil. Remove from the heat and pour through the fine mesh strainer into the large bowl.
Place the large bowl in an ice bath. Slowly add the cream and continue to stir while sitting in the ice bath until cool.
Once cool, remove from the ice bath then cover and chill in the fridge overnight.
Freeze in your ice cream maker according to manufacturer's instructions, pouring in 1 cup of the pralined almond crumble with 5 minutes left.
Line a baking sheet with nonstick foil and set aside.
In a large skillet over medium-high heat combine the water, sugar and almonds. Cook and stir continuously with a wooden spoon until the liquid comes to a boil and the sugar has dissolved then reduce heat to medium.
Continue to cook until the liquid mixture has become sandy in texture. Continue to stir the dark syrup making sure to scrape from the bottom and completely coat the almonds. Keep stirring until the almonds are shiny and glossy.
Remove the pan from the heat before sprinkling with the salt. Pour onto the prepared baking sheet and spread them out. Let them completely cool, breaking up any clusters as needed.
Roughly chop. Pour 1 cup into the ice cream mixture with 5 minutes left. Reserve the rest for topping.
Recipe by
Lemon & Mocha
at http://www.lemonandmocha.com/2014/09/05/honey-ice-cream-with-pralined-almond-crumble/