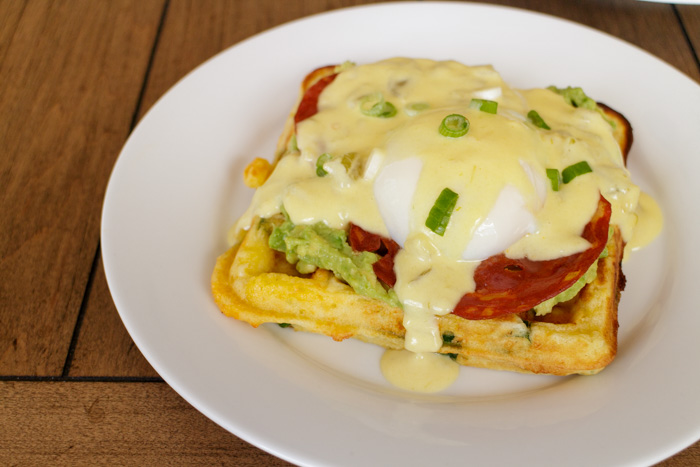 I cannot believe I waited so long to share this dish with you. If you thought I was excited about the waffles, oh baby, that pales in comparison to this creation. A couple months ago my brother-in-law, Nick, and our friend, Kate, came to visit and I wanted to make it a proper foodie weekend. I brainstormed for weeks to come up with the perfect breakfast that would have a variety of textures, bold flavors and most importantly, be creative and inspired. This right here is my ultimate breakfast. Eggs Benedict over Cheddar Scallion Waffles with Crispy Chorizo, Smashed Avocado and Green Chile Hollandaise. I know you were probably expecting something sweet and overflowing with chocolate, but there's actually a candy bar hidden under that waffle! I'm kidding, that would be gross. Or would it… hmmm…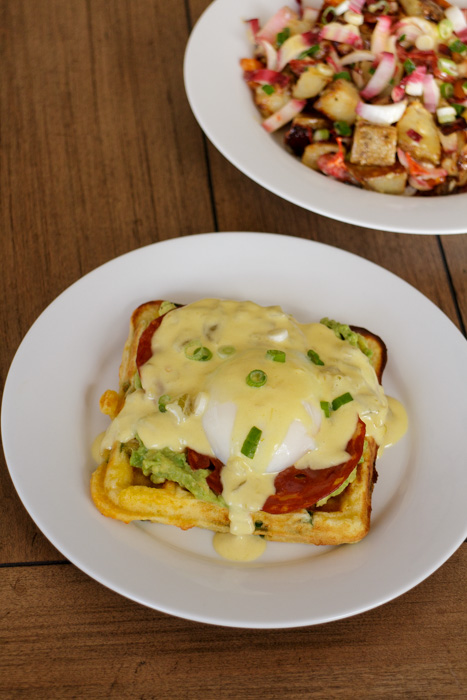 Let's break down this Southwestern eggs Benedict layer by layer. First, there is the all important base in the form of an outrageously cheesy cheddar and scallion waffle. I took my Perfect Buttermilk Waffle base, omitted the vanilla extract and then loaded it up with sharp cheddar cheese and chopped green onions. Next, I smashed together an avocado with some lime juice and salt to give it a little fresh punch and spread it over the waffle. I found some deli-sliced chorizo at Trader Joe's so I threw that in a frying pan to make it crispy and crunchy before layering it on top of the smashed avocado.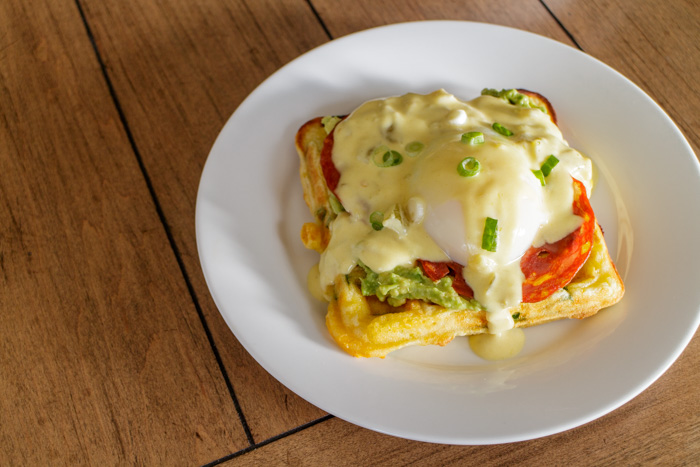 In comes the perfectly poached egg, ready to burst open with its runny yolky goodness. I poached mine sous vide, but we will come back to that in a later post. If you are intimidated about poaching an egg you could always fry up an over easy egg instead.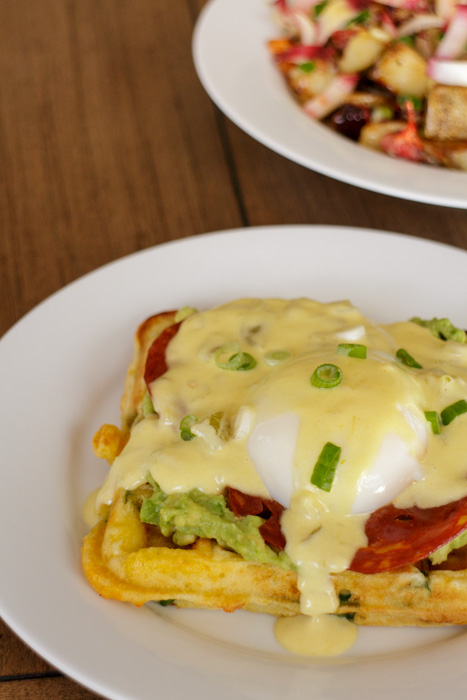 Finally, the icing on the cake, er the hot fudge on the sundae, er never mind… the sauce on the savory dish! Creamy, luscious, buttery hollandaise sauce mixed with diced green chiles for a very subtle flavor kick. Hollandaise is made using egg yolks, lemon juice and lots and lots of butter (see tutorial here), but I bought mine right from the dairy section of Trader Joe's. Top with salsa or sour cream and get ready to make inappropriate noises while you devour this dish.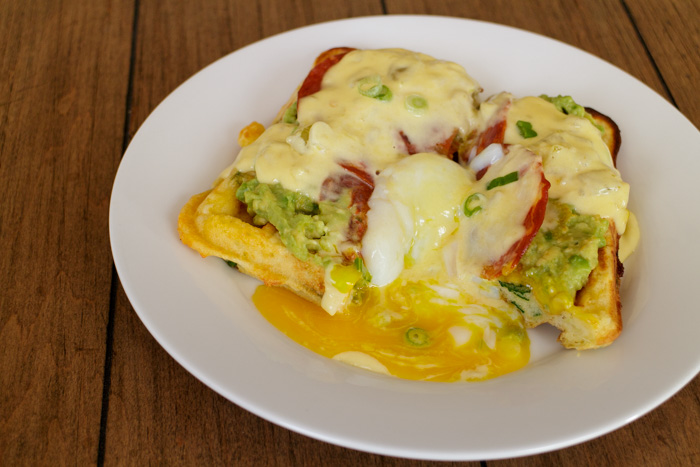 What Nick and Kate didn't know is that this dish right here single-handedly kick-started my motivation to dive back into Lemon & Mocha after a longer than intended hiatus. And I am so glad to be back! So make this dish and feel inspired. Or just come over for breakfast and we can cook then devour it together.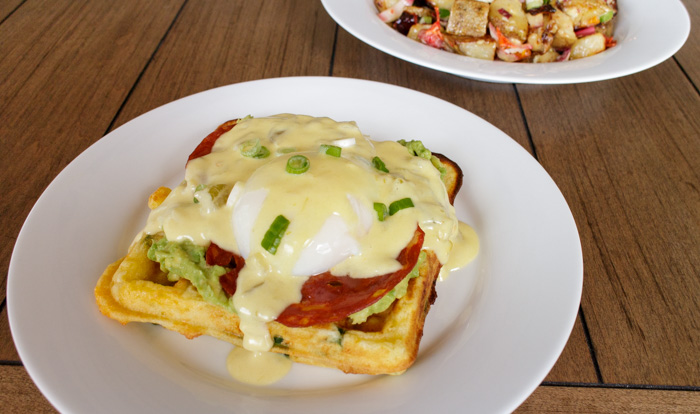 Eggs Benedict Over Cheddar Scallion Waffles with Crispy Chorizo, Smashed Avocado and Green Chile Hollandaise
Yield:
4 servings, plus extra waffles
Ingredients
for the waffles
½ cup unsalted butter, melted and cooled in a medium mixing bowl
1¾ cups all-purpose flour
2 teaspoons baking powder
1 teaspoon baking soda
1 teaspoon sugar
½ teaspoon salt
3 large eggs, room temperature
1½ cups buttermilk, room temperature
1 cup shredded sharp cheddar, more or less depending on how cheesy you want the waffles
½ cup sliced scallions
for everything else
1 avocado
Lime juice, to taste
8 thin slices chorizo
4 poached eggs
2-3 tablespoons diced green chiles
¾ cup warm hollandaise, more or less as desired
Sliced scallions, for topping
Salsa and sour cream, if desired
Directions
for the waffles
Turn on the waffle iron to get it hot and spray with nonstick cooking spray, depending on manufacturer's instructions.
Sift the flour, baking powder, baking soda, sugar and salt into a large mixing bowl. Stir to combine then create a well in the center for the liquid ingredients.
Add the eggs to the cooled butter mixing bowl and beat until frothy. Add the buttermilk and beat again until well-combined.
Pour the buttermilk mixture into the well in the dry ingredients. Stir with a wooden spoon until just combined. The buttermilk and leavening will create a batter full of air bubbles. Fold in the cheddar and scallions, being sure not to over-mix.
Pour the batter onto your waffle iron in batches and cook according to manufacturer's instructions. If working in batches, let waffles rest on a cooling rack after they are cooked, or place them directly on the rack of your oven or toaster oven on a low heat to stay warm.
for everything else
Take four plates and place one waffle on each plate. In a small bowl, mash the avocado and sprinkle with lime juice and sea salt to taste. Spread the avocado mixture on each waffle.
In a dry frying pan, heat the chorizo in a single layer over medium heat, until hot and crispy. Remove from the pan and place in between two paper towels to remove some of the grease before placing two slices on each avocado-topped waffle.
Place one poached egg on top of each chorizo-topped waffle.
Stir the diced green chiles into the warm hollandaise then drizzle (or pour if you're feeling dangerous) over the poached eggs and waffles. Top with sliced green scallions, salsa and sour cream as desired.
Notes
If you cannot find deli-sliced chorizo, crisp up some crumbled chorizo in a pan instead, being sure to drain/pat out the grease.