Eggs Benedict Over Cheddar Scallion Waffles with Crispy Chorizo, Smashed Avocado and Green Chile Hollandaise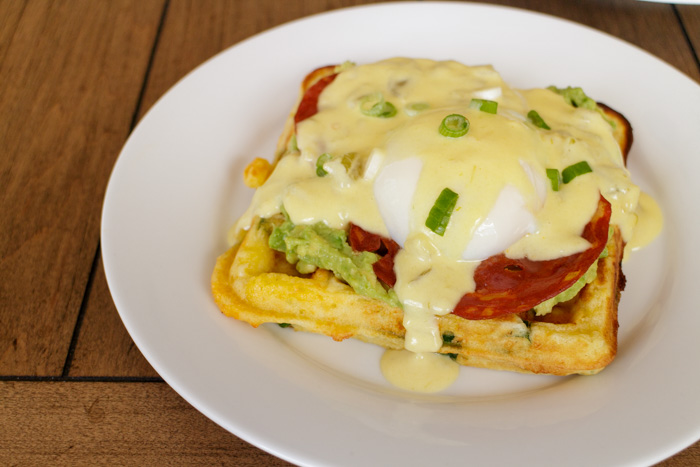 Yield:
4 servings, plus extra waffles
½ cup unsalted butter, melted and cooled in a medium mixing bowl
1¾ cups all-purpose flour
2 teaspoons baking powder
1 teaspoon baking soda
1 teaspoon sugar
½ teaspoon salt
3 large eggs, room temperature
1½ cups buttermilk, room temperature
1 cup shredded sharp cheddar, more or less depending on how cheesy you want the waffles
½ cup sliced scallions
1 avocado
Lime juice, to taste
8 thin slices chorizo
4 poached eggs
2-3 tablespoons diced green chiles
¾ cup warm hollandaise, more or less as desired
Sliced scallions, for topping
Salsa and sour cream, if desired
Turn on the waffle iron to get it hot and spray with nonstick cooking spray, depending on manufacturer's instructions.
Sift the flour, baking powder, baking soda, sugar and salt into a large mixing bowl. Stir to combine then create a well in the center for the liquid ingredients.
Add the eggs to the cooled butter mixing bowl and beat until frothy. Add the buttermilk and beat again until well-combined.
Pour the buttermilk mixture into the well in the dry ingredients. Stir with a wooden spoon until just combined. The buttermilk and leavening will create a batter full of air bubbles. Fold in the cheddar and scallions, being sure not to over-mix.
Pour the batter onto your waffle iron in batches and cook according to manufacturer's instructions. If working in batches, let waffles rest on a cooling rack after they are cooked, or place them directly on the rack of your oven or toaster oven on a low heat to stay warm.
Take four plates and place one waffle on each plate. In a small bowl, mash the avocado and sprinkle with lime juice and sea salt to taste. Spread the avocado mixture on each waffle.
In a dry frying pan, heat the chorizo in a single layer over medium heat, until hot and crispy. Remove from the pan and place in between two paper towels to remove some of the grease before placing two slices on each avocado-topped waffle.
Place one poached egg on top of each chorizo-topped waffle.
Stir the diced green chiles into the warm hollandaise then drizzle (or pour if you're feeling dangerous) over the poached eggs and waffles. Top with sliced green scallions, salsa and sour cream as desired.
If you cannot find deli-sliced chorizo, crisp up some crumbled chorizo in a pan instead, being sure to drain/pat out the grease.
Recipe by
Lemon & Mocha
at http://www.lemonandmocha.com/2016/06/24/eggs-benedict-over-cheddar-scallion-waffles-with-crispy-chorizo-smashed-avocado-and-green-chile-hollandaise/