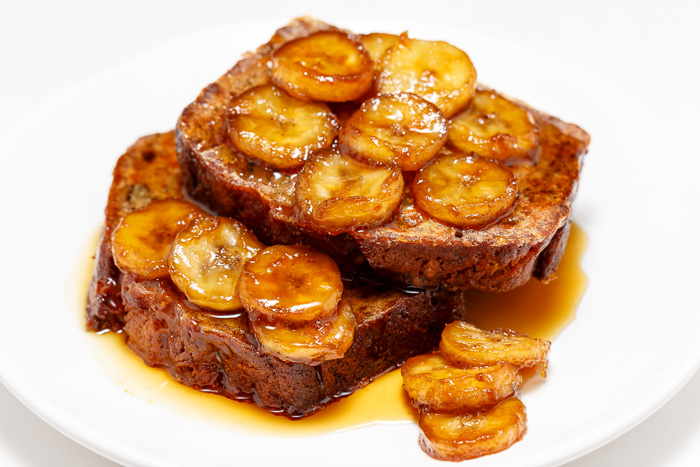 When I made french toast for the first time in the form of my Nutella stuffed french toast with vanilla pecan butter, it opened up a new door of possibilities for me. As is typical of my list-loving self I sat down and excitedly scribbled a whole page of french toast ideas. Any type of slightly sweet bread or sturdy cake out there was jotted down along with complimentary toppings and sauce ideas.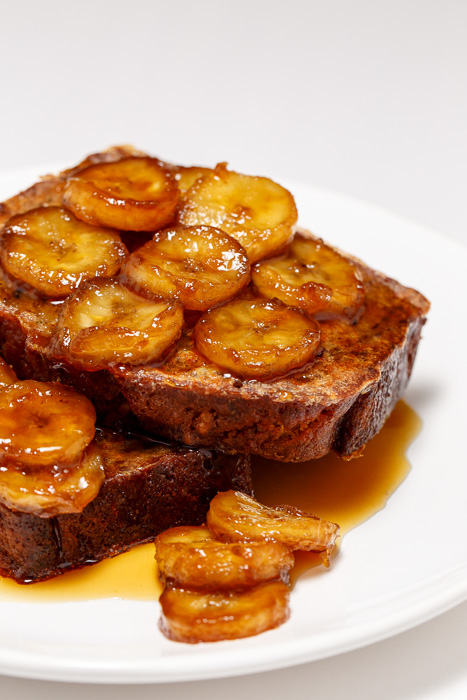 One such idea was banana bread french toast with caramelized bananas. I'm not the first to think of this genius idea, but I was eager to make it nonetheless. Some overly ripened bananas provided me with the perfect opportunity.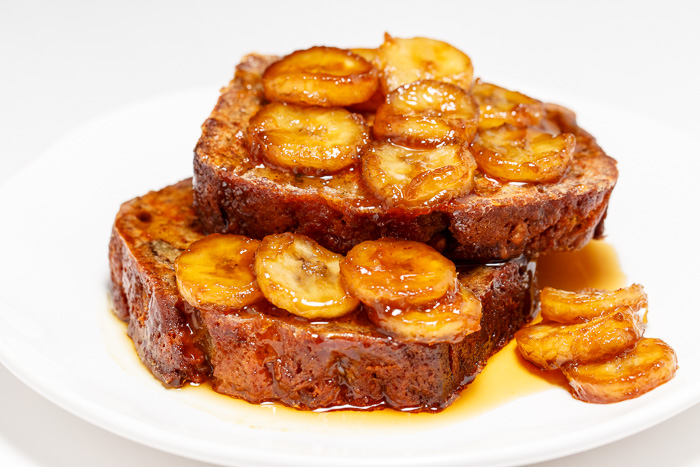 After my banana bread was made and cooled completely overnight I cut it into 1" thick slices. After dipping in the egg mixture and cooking in my frying pan I caramelized some banana slices in butter and brown sugar.
The end result was magnificent: a delicious excuse to eat dessert for breakfast. Not that you need an excuse, but if you do now you have one.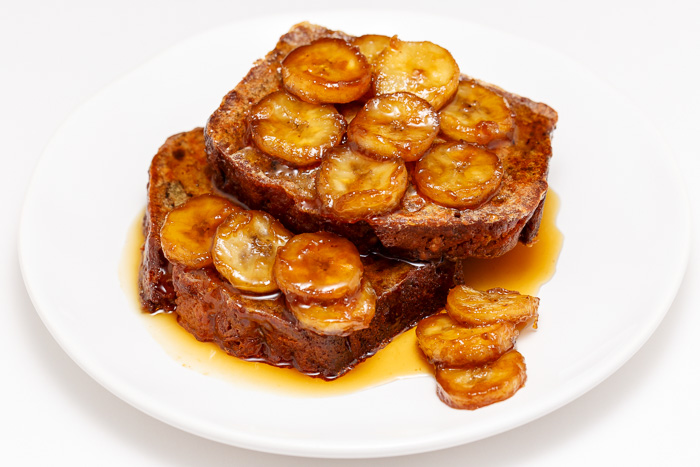 I made my banana bread with walnuts for some added texture, but you could always toast some walnuts to place on top of the finished french toast.
Banana Bread French Toast with Caramelized Bananas
Ingredients
for the french toast
2 eggs
3 tablespoons milk
½ teaspoon vanilla
½ teaspoon ground cinnamon, divided
¼ teaspoon ground nutmeg, divided
Cooking spray or 1 tablespoon butter
4 slices thick cut banana bread
for the caramelized bananas
1 tablespoon butter
1 banana, sliced into coins
2 tablespoons brown sugar
Directions
for the french toast
In a shallow bowl large enough to fit the slices of bread beat the eggs with a fork or whisk.
Add the milk, vanilla, ¼ teaspoon ground cinnamon and ⅛ teaspoon ground nutmeg then mix or whisk to combine.
Heat a griddle or skillet over medium heat and coat with cooking spray or the tablespoon of butter.
Lay two of the slices of banana bread flat in the egg mixture and let sit for 1 minute. Flip the slices and let sit for another minute. Pick up the slices and let all the excess egg mixture drip off. If there is a lot of excess egg mixture that won't drip off push off with the fork or whisk.
Place on the heated griddle or skillet. Let cook for 4 minutes, or until brown, then flip. Cook the other side of r 4 minutes, or until brown. Remove from the heat and top with the caramelized bananas.
Repeat with the remaining serving.
for the caramelized bananas
Melt the butter in a small skillet over medium heat. Add the banana slices and brown sugar. Carefully stir to coat. Continue to cook the banana slices until softened and coated in the syrup, about 5 minutes.