Coconut Cream Cheese Brownies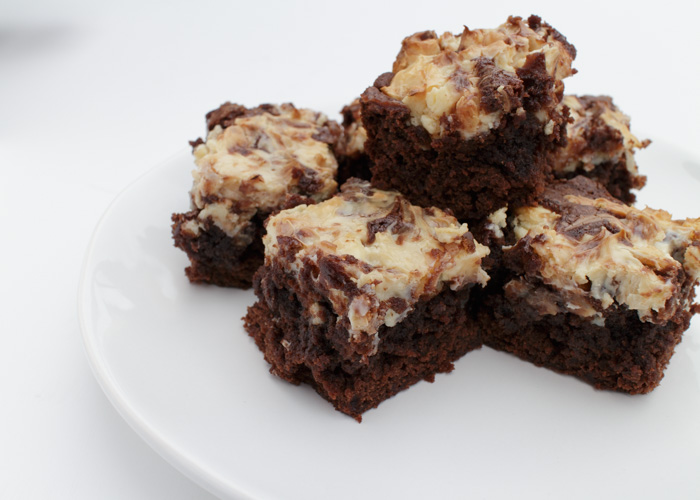 1 package brownie mix with ingredients according to package, or your favorite brownie batter recipe
8 ounces cream cheese, softened
⅓ cup granulated sugar
1 large egg
½ teaspoon almond extract
1 cup shredded toasted coconut
Preheat oven to 350 degrees F. Grease a 9" by 9" baking pan and set aside.
Prepare the brownie mix according to the package instructions. Pour into the prepared baking pan.
Using the paddle attachment of a stand mixer or a hand mixer on medium speed beat the cream cheese until fluffy.
Add the sugar then mix until combined. Add the egg, almond extract & coconut then mix until combined.
Dollop the cream cheese mixture over the brownie batter then gently spread evenly as much as possible over the brownie mixture. To create a marbled effect, carefully swirl through the batter with a knife.
Bake for 35-40 minutes or until a toothpick comes out clean. Let cool completely then cut into squares before serving. Refrigerate until ready to serve, then let come to room temperature if desired.
Recipe by
Lemon & Mocha
at http://www.lemonandmocha.com/2014/10/16/coconut-cream-cheese-brownies/