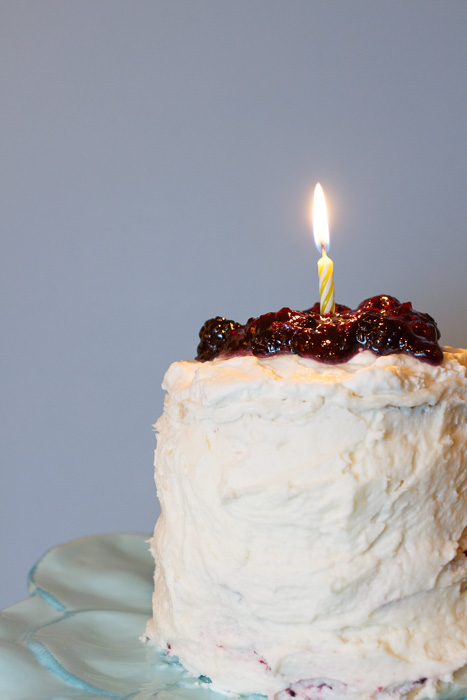 There are a lot of special days throughout the year, but yesterday was extra exciting. No, it wasn't Ben & Jerry's free cone day or a work holiday. And there weren't any overturned bakery trucks spilling pastries into the street or any celebrity sightings. There was a birthday in the Lemon & Mocha family:  yesterday Matt was one year older! What an old geezer! Just kidding, especially since I'm six months his senior.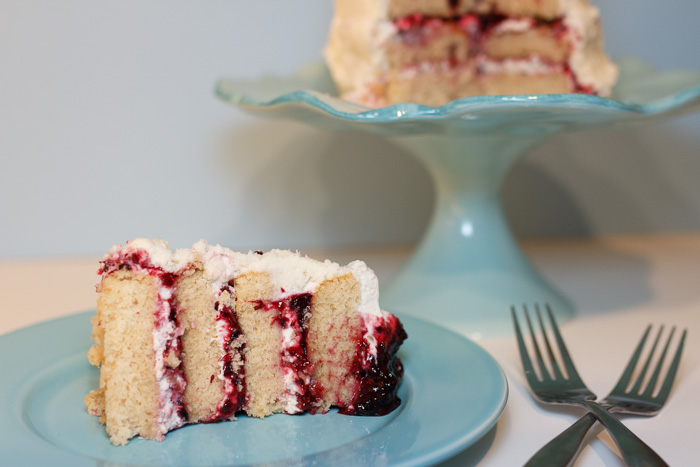 As I'm sure you've noticed, Matt is an amazing photographer and an excellent eater. He is also one of the most caring people and without his support and encouragement Lemon & Mocha might still have been a dream of mine rather than a reality. To celebrate Matt's day of birth I wanted to make him an extra special cake. This was more difficult than it sounds as Matt and I have been heavily cutting back on desserts. I found this fabulous blog called Sweetapolita that would ensure the treat would remain a treat and not a week-long gorge session of a full 9-inch layer cake. I haven't had great luck with scaled down baked goods, including some incredibly disappointing recipe that made two dense vanilla cupcakes, but this mini cake turned out fabulous.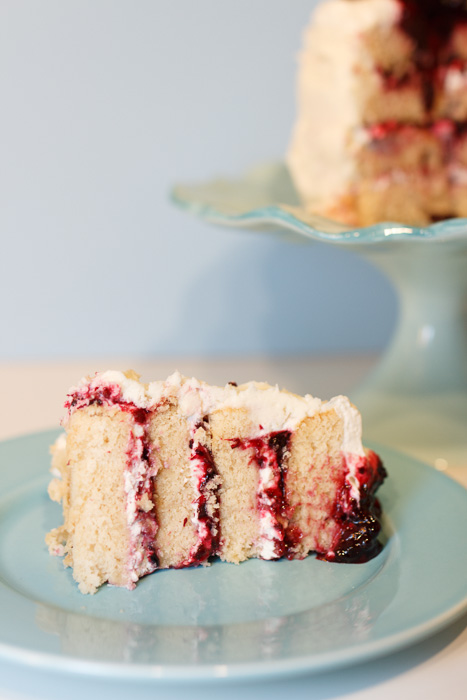 The fruity interior was light and beautiful against the moist vanilla cake. I never have the greatest luck with vanilla cakes, but this one was incredibly tasty. There are a fair amount of components and steps, but I spread it out over a couple days to make it easier to manage. Although the cake is so divine you will want to keep it to yourself, this "cake for two" is more like a cake for four or six so they'll be plenty for you even if you share. So happy birthday, Matt! As part of my gift I was going to make sure you didn't have to take any photographs of your own cake, but you couldn't help yourself 😉

Vanilla Blackberry-Marscarpone Cake for Two
Ingredients
for the cake
½ cup whole milk
2 egg whites
1 whole egg
2 teaspoons vanilla extract
1 cup plus 3 tablespoons cake flour
¾ cup sugar
1¼ teaspoons baking powder
½ teaspoon salt
¼ cup unsalted butter, at room temperature
2 tablespoons vegetable shortening
for the blackberry compote
2 cups fresh or frozen blackberries, divided
½ cup sugar
1 tablespoon lemon juice
1 tablespoon orange juice
Pinch of salt
for the whipped mascarpone filling & frosting
2 tablespoons cold water
2 teaspoons unflavored gelatin
1¾ cups heavy cream, cold & divided
¼ cup powdered sugar
1 teaspoon vanilla extract
Pinch of salt
⅓ cup mascarpone cheese, softened
Directions
for the cake
Preheat the oven to 350 degrees F. Grease 2 round 5-inch baking pans. Line with parchment paper, butter and flour the parchment paper then set aside.
In a small bowl whisk together 2 tablespoons of the milk, egg whites, whole egg and vanilla. Set aside.
In the bowl of a stand mixer combine the cake flour, sugar, baking powder and salt. Add the butter and shortening then mix until combined. Add the rest of the milk then mix on low speed until just combined. Scrape the sides if needed.
Slowly add the egg mixture to the flour mixture while beating on medium speed. Once just combined, evenly divide the batter into the 2 baking pans.
Bake 20 minutes or until a toothpick inserted in the center comes out clean. Remove from the oven and let cool on a cooling rack for 10 minutes. Run a butter knife or offset spatula around the edges of the pans and invert the onto the cooling racks, making sure to turn them right side up for cooling. Let cool completely before beginning assembly.
for the blackberry compote
Heat 1½ cups of the blackberries, sugar, lemon juice, orange juice and salt in a small saucepan over medium heat. Cook, stirring often, until the berries start to cook down, about 10 minutes.
Turn the heat to low and simmer for about 15 minutes, or until the compote has thickened enough that it coats a spoon without dripping off. When ready, remove from the heat and let cool for a couple minutes.
Puree the mixture in a blender or food processor until smooth. Set a fine mesh sieve of a medium bowl and push the compote through, discarding the seeds caught in the sieve. Stir the remaining whole blackberries into the compote then store in an airtight container in the fridge.
for the whipped vanilla mascarpone filling
Place the cold water in a small bowl then sprinkle with the gelatin, letting sit for at least 10 minutes. Heat ⅓ cup of the cream in a small saucepan until just steaming then pour into the gelatin mixture. Place the small bowl in the fridge so the mixture can cool, about 8 minutes. Open the fridge and stir the mixture every couple minutes.
Beat the remaining cream, powdered sugar, vanilla and salt with a stand mixer. This works best if the whisk attachment and stainless steel bowl have been chilled in the freezer. Continue to beat it soft peaks just begin to form, about 1 minute. Slowly add the cooled gelatin mixture, making sure to continue beating until it is thick enough to spread. Make sure you add the gelatin mixture very gradually of the filling could collapse.
Place the mascarpone cheese in a large bowl then carefully fold in the whipped cream mixture. Cover the filling and place in the fridge until you are ready to assemble the cake.
for cake assembly
Carefully cut each cake in half horizontally so you have 4 equal cake layers. Place the first cake layer on a small plate or cake stand. Place a few tablespoons of blackberry compote and a few tablespoons of mascarpone filling onto the center of the cake layer then carefully spread with a spatula. Place a second cake layer on top and repeat until the final cake layer has been placed on the cake. The final cake layer should be placed face down. Smooth the frosting in between the cake layers with an offset spatula and add more frosting on any spots where the compote filling is leaking out.
Carefully wrap the entire cake in plastic wrap and place in the fridge for 30 minutes to help it firm up before frosting.
Making sure your frosting is fluffy, apply a thick layer allover the chilled cake. Smooth with an offset spatula.
Recipe from 

Sweetapolita

.