Ratatouille Napoleon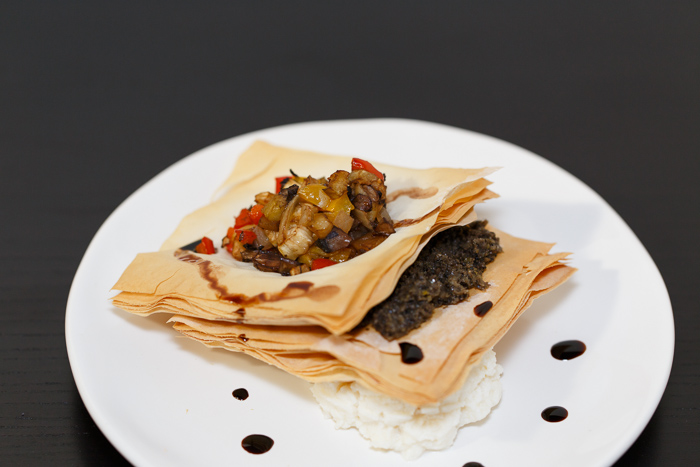 I received several fantastic cookbooks around the holidays and I have been so over-the-top excited about each of them that I can't believe I have waited this long to share them with you. I have spent the last couple months cooking away and trying different recipes from each of the cookbooks. But one of the ones I was most thrilled about diving into, The Southern Vegetarian, was one that began as a gift to someone else. I purchased this book for Christmas for my fellow foodie friend and once it arrived I determined that I needed my own copy right away.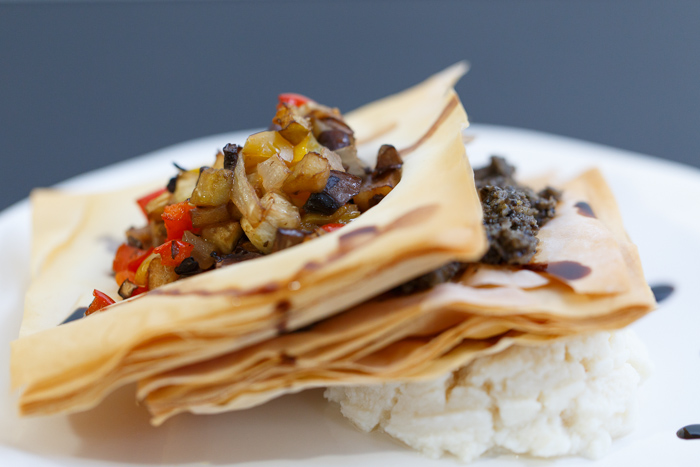 Thankfully my parents got it for me for Christmas so I could start drooling over all the pages without dirtying someone else's copy. This book proves, if you didn't believe it already, that eating vegetarian can be exciting, surprising and absolutely drool-worthy delicious. Matt and I previously ate vegetarian about once a week, although it was mostly for cost-saving purposes.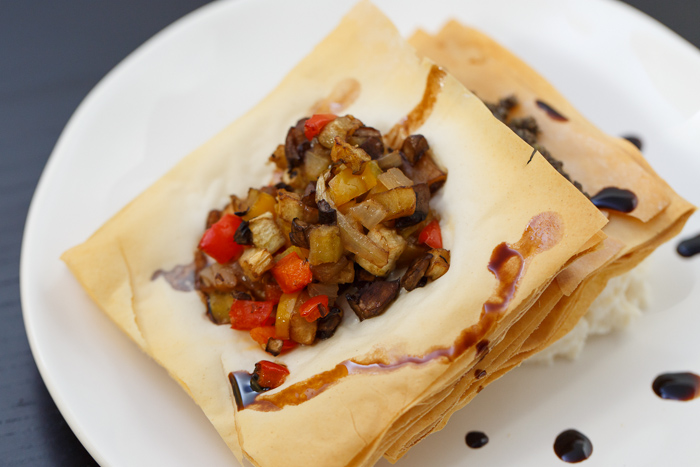 After the holidays were over, a scale had been purchased and we both had picked our jaws up from the floor (ok, it wasn't that bad, but still a minor reality check moment), we decided to increase our vegetarianism for health concerns as well. Reduce your grocery bill and slim down? No, I'm not talking about starvation, I'm talking about eating (partly) vegetarian!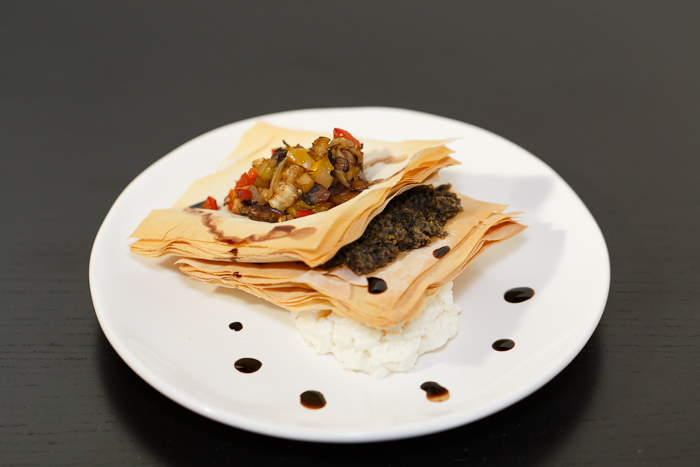 This ratatouille napoleon is an easy and delicious multifaceted meal that will undoubtedly impress your family and friends. The layering of the crunchy phyllo dough, hearty sautéed vegetables, savory olive tapenade, refreshing ricotta and slightly sweet balsamic reduction will perform a cohesive symphony of flavors on your taste buds. So veggie lovers and meat snarfers alike: make this dish, eat it, repeat, but don't forget to share.

Ratatouille Napoleon
Ingredients
for the napoleon
2 cups peeled and diced eggplant
½ yellow onion, diced
½ red bell pepper, diced
½ yellow bell pepper, diced
5 ounces crimini mushrooms, diced
1 tablespoon olive oil
1 tablespoon balsamic vinegar
8 sheets phyllo dough
¼ cup olive tapenade, plus 2 tablespoons
¼ cup reduced fat ricotta cheese, plus 2 tablespoons
Salt and pepper
for the balsamic reduction
Directions
Preheat the oven to 400 degrees F.
Line a large rimmed baking sheet then spread the eggplant, peppers, onions and mushrooms in an even layer. Lightly drizzle with olive oil and balsamic vinegar. Toss to coat then lightly season with salt and pepper. Bake for 16 minutes then remove from the oven.
Line a large baking sheet with parchment paper and set aside.
Carefully lay a sheet of phyllo on a clean work surface. Lightly coat with cooking spray. Top with another sheet of phyllo. Repeat the process until all 8 phyllo sheets have been laid on top of one another. Using a pizza cutter, cut the phyllo stack into 12 equal squares.
Place half the squares on the baking sheet. Use a medium ice cream scoop to place ¼ cup of the vegetable mixture on half of the phyllo squares. Bake the squares for 18 minutes or until they are golden brown.
Repeat with the remainder of the squares.
Spread olive tapenade on each of the un-topped squares.
To serve, scoop a spoonful of the ricotta onto a plate then layer a tapenade square followed by ratatouille square. Follow with a drizzle of the balsamic reduction.
for the balsamic reduction
Heat the balsamic vinegar in a small saucepan over medium-low heat until it has been reduced to a couple tablespoons.
Recipe adapted from

The Southern Vegetarian
.