Ratatouille Napoleon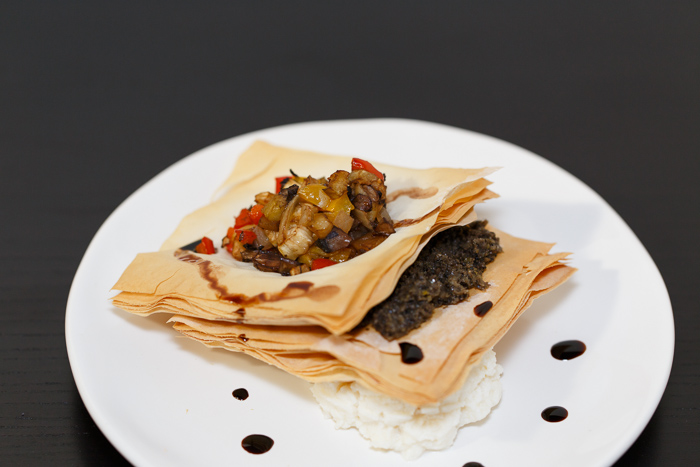 2 cups peeled and diced eggplant
½ yellow onion, diced
½ red bell pepper, diced
½ yellow bell pepper, diced
5 ounces crimini mushrooms, diced
1 tablespoon olive oil
1 tablespoon balsamic vinegar
8 sheets phyllo dough
¼ cup olive tapenade, plus 2 tablespoons
¼ cup reduced fat ricotta cheese, plus 2 tablespoons
Salt and pepper
Preheat the oven to 400 degrees F.
Line a large rimmed baking sheet then spread the eggplant, peppers, onions and mushrooms in an even layer. Lightly drizzle with olive oil and balsamic vinegar. Toss to coat then lightly season with salt and pepper. Bake for 16 minutes then remove from the oven.
Line a large baking sheet with parchment paper and set aside.
Carefully lay a sheet of phyllo on a clean work surface. Lightly coat with cooking spray. Top with another sheet of phyllo. Repeat the process until all 8 phyllo sheets have been laid on top of one another. Using a pizza cutter, cut the phyllo stack into 12 equal squares.
Place half the squares on the baking sheet. Use a medium ice cream scoop to place ¼ cup of the vegetable mixture on half of the phyllo squares. Bake the squares for 18 minutes or until they are golden brown.
Repeat with the remainder of the squares.
Spread olive tapenade on each of the un-topped squares.
To serve, scoop a spoonful of the ricotta onto a plate then layer a tapenade square followed by ratatouille square. Follow with a drizzle of the balsamic reduction.
Heat the balsamic vinegar in a small saucepan over medium-low heat until it has been reduced to a couple tablespoons.