Pomegranate Molasses Coffee Cake Loaf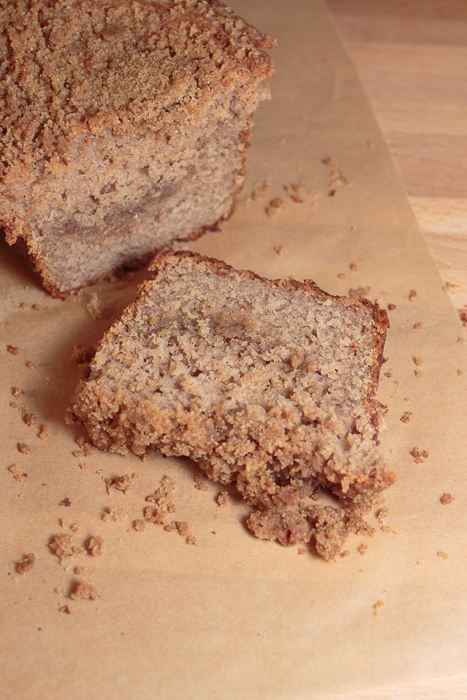 2 cups all-purpose flour
¾ cup sugar
3 teaspoons baking powder
1 teaspoon cinnamon
¼ teaspoon salt
2 large eggs, beaten
1 cup buttermilk
⅓ cup vegetable oil
3 tablespoons pomegranate molasses
2 teaspoons vanilla extract
4 tablespoons unsalted butter, melted
1 cup brown sugar
⅓ cup all-purpose flour
1 teaspoon cinnamon
¼ teaspoon salt
4 tablespoons butter, softened
Preheat the oven to 350 degrees F. Line a 9x5" loaf pan with parchment paper, lightly coat with cooking spray and set aside.
Combine the flour, sugar, baking powder, cinnamon and salt in a large mixing bowl.
Whisk the eggs, buttermilk, oil, molasses and vanilla extract in a small bowl.
Carefully stir the wet ingredients into the dry ingredients and mix until just combined. Mix in the melted butter until just combined.
In a medium bowl combine the brown sugar, flour, cinnamon and salt. Using a fork of pastry blender cut in the butter until well combined.
Pour half the batter into the prepared loaf pan then top with half the crumble mixture. Pour in the rest of the batter then top with the rest of the crumble mixture. Bake for 55 minutes or until the top is golden.
Remove the loaf from the oven then let cool in the pan for half an hour. Remove the loaf from the pan and let cool on a cooling rack for another hour.
*If you don't have buttermilk put 1 tablespoon of lemon juice in a liquid measuring cup then fill the rest of the way with milk. Let sit for 5 minutes before using in the recipe. Any milk from skim to whole will work.
*Although the cake won't cut as well while it's still warm it's worth to cut a messy slice just to taste this baby while it's warm!
Recipe by
Lemon & Mocha
at http://www.lemonandmocha.com/2014/02/20/pomegranate-molasses-coffee-cake-loaf/