Welcome to part two of my ultimate foodie weekend in New York City! If you missed part one, check it out here.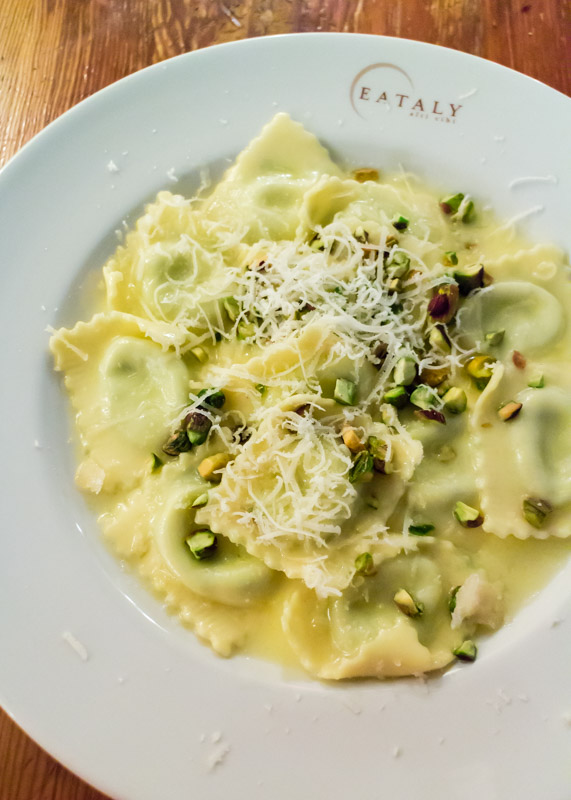 Eataly
Say hello to this plate of homemade ravioli filled with ricotta and spinach basking in lemon butter with some chopped pistachios and freshly grated Parmesan. This dish from La Pizza & La Pasta at NYC's original Eataly location was tender, well-balanced and so delicious. As a testament to how good this homemade ravioli was I finished before Matt, which says a lot since he's usually done after I'm only four bites into my meal. The pastas on the menu are divided into two sections – dried pasta from Italy and homemade pastas made right there in the Eataly kitchen.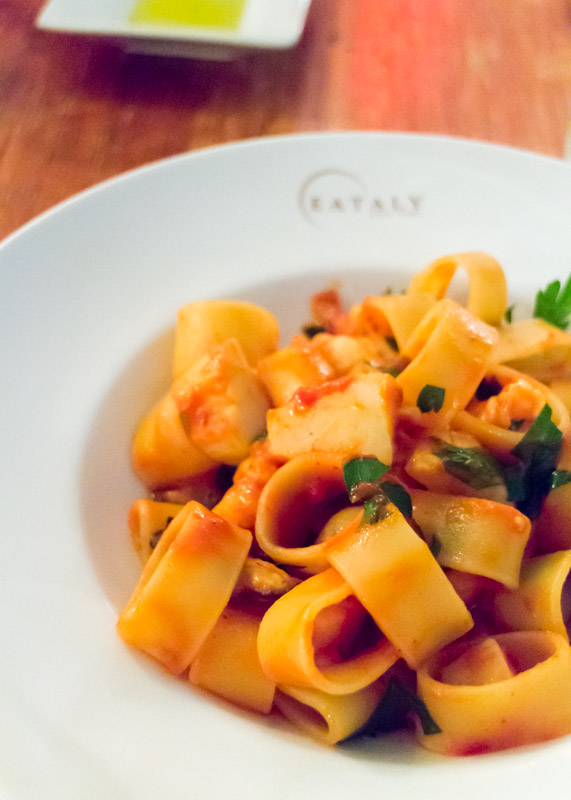 Pictured here is Nick's ring shaped pasta with shrimp, mussels and scallops with a tomato, white wine, garlic and chili flake sauce. I didn't get photos of Matt's homemade meat-filled agnolotti served in a beef reduction or Sarah's spaghetti cacio e pepe, which is a black pepper, Parmesan, Pecorino Romano and butter sauce, but I tried them both and they were excellent. Everything we had was a standout dish and our plates were definitely wiped clean at the end of the meal. We were there on a Sunday and as it slowly tipped into lunchtime around noon La Pizza & La Pasta got packed so try to sit a little earlier to avoid the lunch crowds.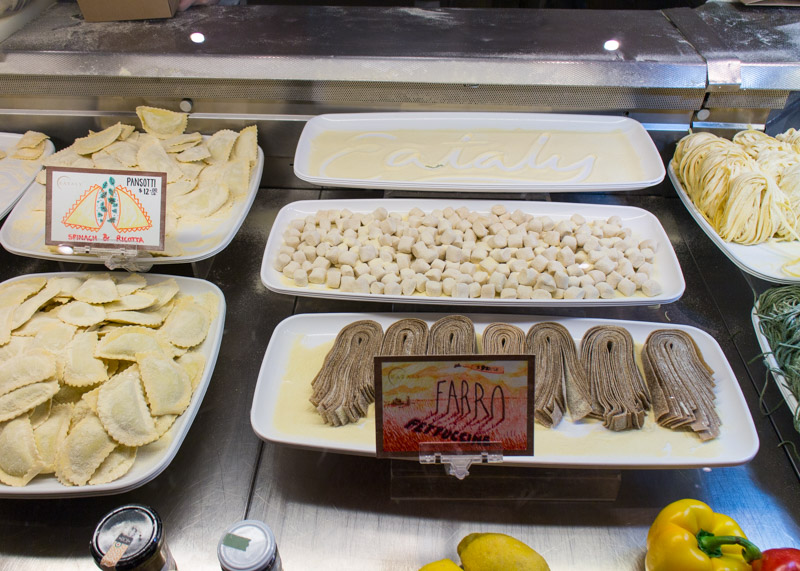 Eataly is self-described as the "largest Italian marketplace in the world." Eataly establishments can be found locally in New York City, Boston, and Chicago, internationally in cities ranging from Seoul to Istanbul and in seemingly every large city in Italy. Currently, an Eataly project is in the works in Los Angeles as well. The Eataly in the Prudential Center in Boston opened this winter and Matt and I have already been a couple times! We also visited and ate dinner at the Eataly in Rome in 2015 on our honeymoon, but although it was excellent, it was on a much smaller scale than the Eataly pictured here.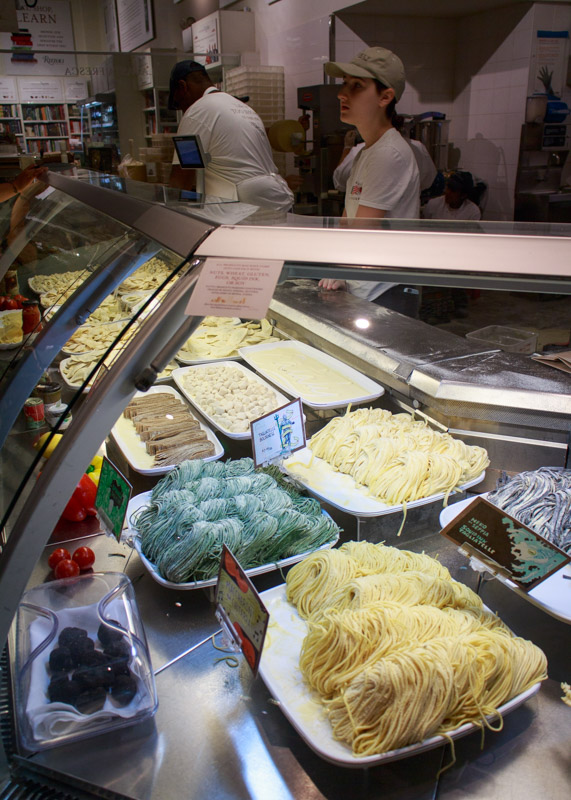 Look at all this amazing fresh pasta! Also, check out those whole black truffles on the bottom left of this picture!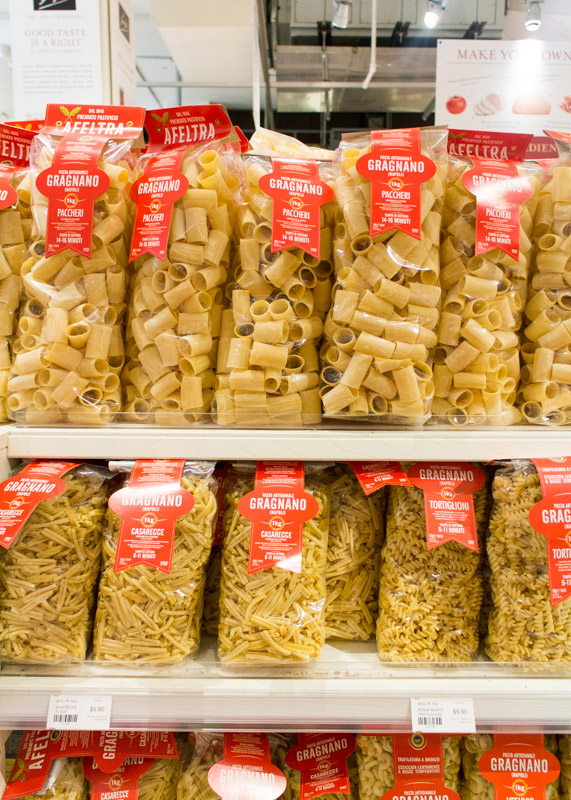 Although fresh pasta is where it's at, the rows and rows of dried pasta let me know I was in pure heaven. The marketplace is loaded with olive oils, fresh produce, meats, cheeses and every product you can think of to turn your kitchen into an Italian casa. The NYC Flatiron Eataly also has a great selection of microbrews, but they take it one step further. La Birreria, the all-season rooftop bar and restaurant that hosts different pop-up restaurants every season is actually a microbrewery! Don't let the weather scare you away- La Birreria is equipped with a retractable roof and heaters.
The marketplace has fresh seafood counters…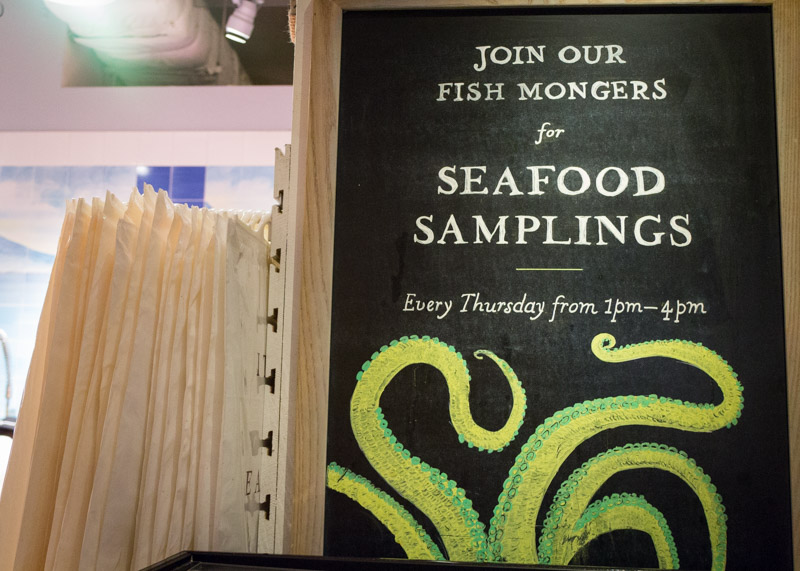 …cool signs…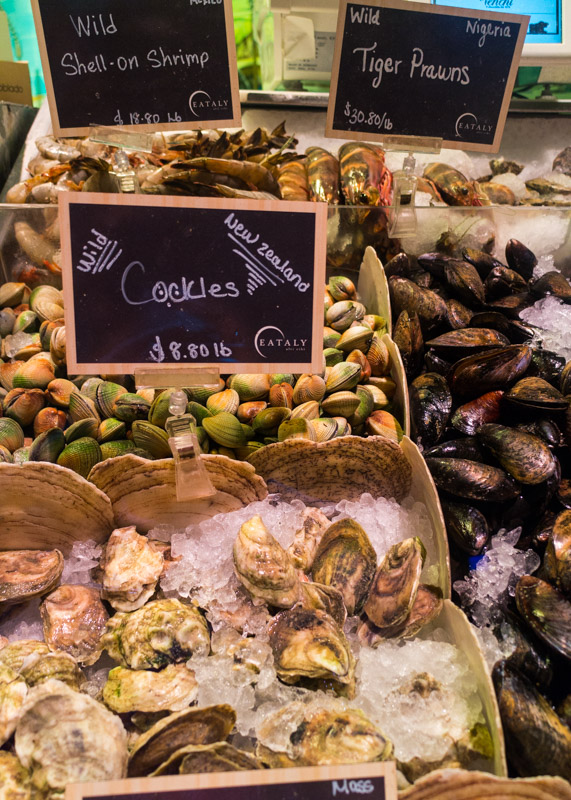 …and even wild New Zealand cockles!
There's several other sit-down restaurants similar to La Pizza & La Pasta and each one has a menu centered around a type of food, whether that is seafood or charcuterie. Several counter service spots are sprinkled throughout the marketplace dishing up sandwiches, pizza and espresso. Nutella-heaven, aka the Nutella Bar, aka a cafe where everything has Nutella, is part of Eataly with its own separate entrance on Fifth Avenue as well. Their motto is Nutella goes with everything – preach!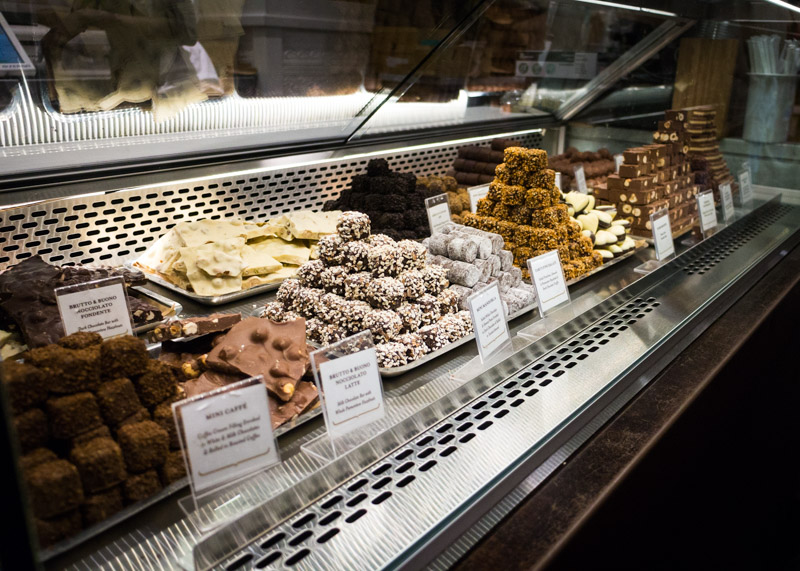 Oh, did I forget to mention these amazing chocolate treats that were sold by the pound and I wanted all the pounds of them?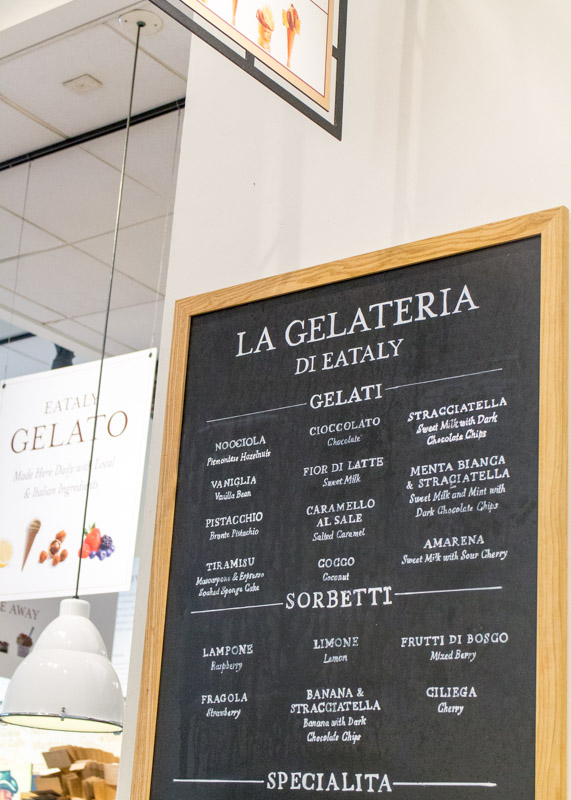 Of course it wouldn't be an Italian marketplace without gelato! I didn't have a chance to taste any as we were on our way to our next NYC foodie spot, but I will definitely be back.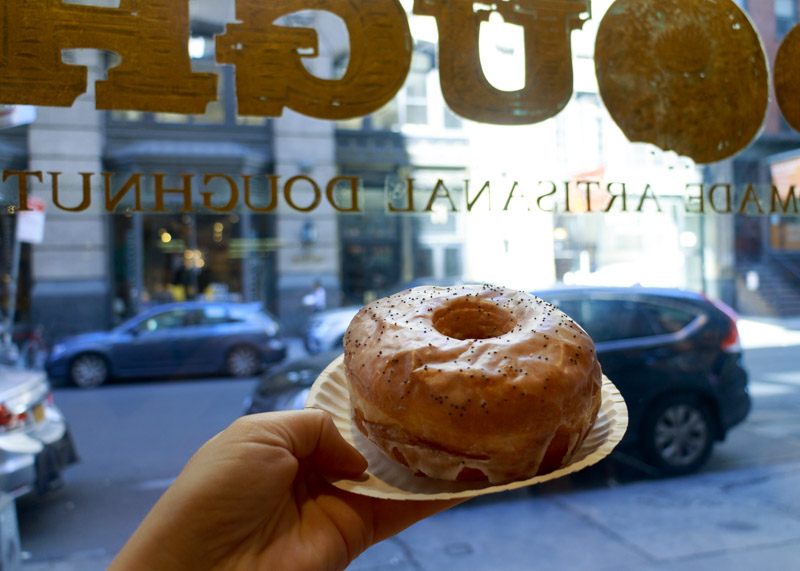 Dough

Next on the list was Nick's favorite NYC doughnut shop – Dough! They have a unique signature flavor selection, as well as plenty of rotating flavors. Dough boasts about each of their doughnuts having their own distinct personality and just from the flavor descriptions you can tell they mean it. I'm looking at you, matcha sugar, lemon meringue and gin & tonic! Their doughnuts are made in small batches throughout the day so feel free to sleep in and still get fresh doughnuts. Or order as an after-lunch dessert, or an afternoon pick-me-up, or a pre-dinner snack, or a post-dinner dessert… you get the idea.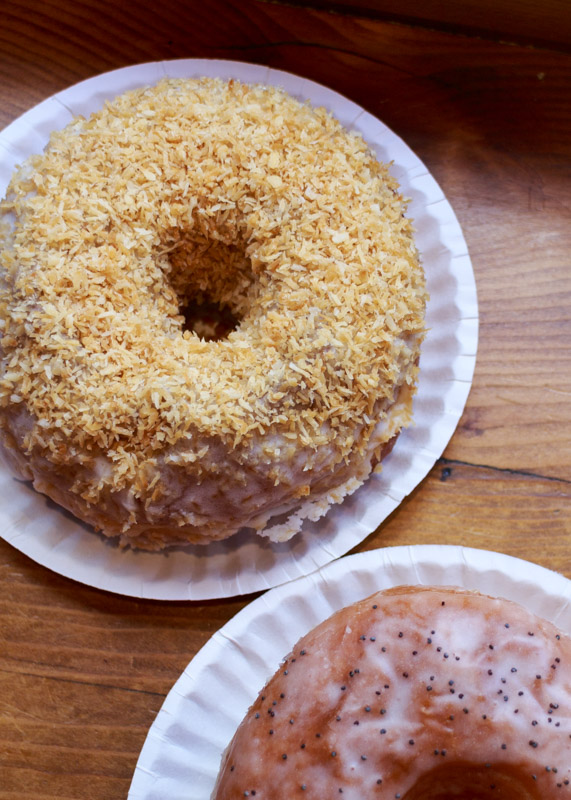 This here is the toasted coconut doughnut and the lemon poppy doughnut. We decided to start basic and we were all deep in pasta comas to think about ordering more than two of these bad boys. If you haven't been able to tell from the pictures, the Dough doughnuts are enormous! For scale reference, those are appetizer-sized paper plates. Dough also has a couple limited quantity items in addition to their yeast doughnuts- cake doughnuts and doughkas. Doughkas are their version of a doughnut-Babka hybrid; I am so crushed that I didn't know this and order ahead so I could try one. If you've never had chocolate Babka, run, don't even think about walking, to your favorite Jewish or Eastern European bakery (or even Trader Joe's!) and buy one. Then eat it, of course. In a nutshell, it's a yeast dough that's twisted or swirled with cinnamon sugar and/or chocolate and somehow manages to be light, dense, sticky and chocolately all at once. Dough's version uses their signature fluffy doughnut dough and they recommend calling one day ahead to reserve your order.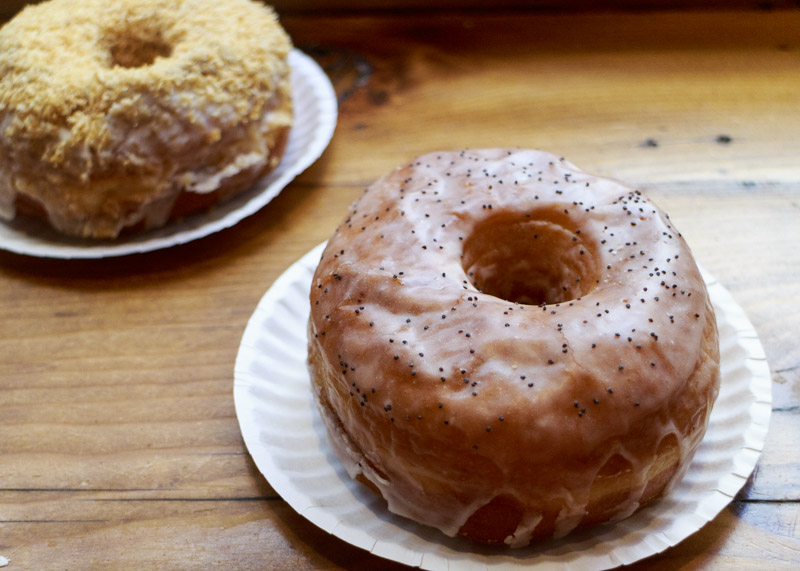 Both flavors were delicious, but what really stood out to me was the texture of the yeast doughnuts. Very slightly crispy on the outside while incredibly light and chewy on the inside. Their expanded interiors give way to lots of little air pockets that provide that delicate quality. It's amazing that two yeast doughnuts can have such different textures since Doughnut Plant and Dough were both completely unique in their own delicious ways. I know Nick has his favorite, but I really can't discern a winner until I have time to conduct more taste-testing of course.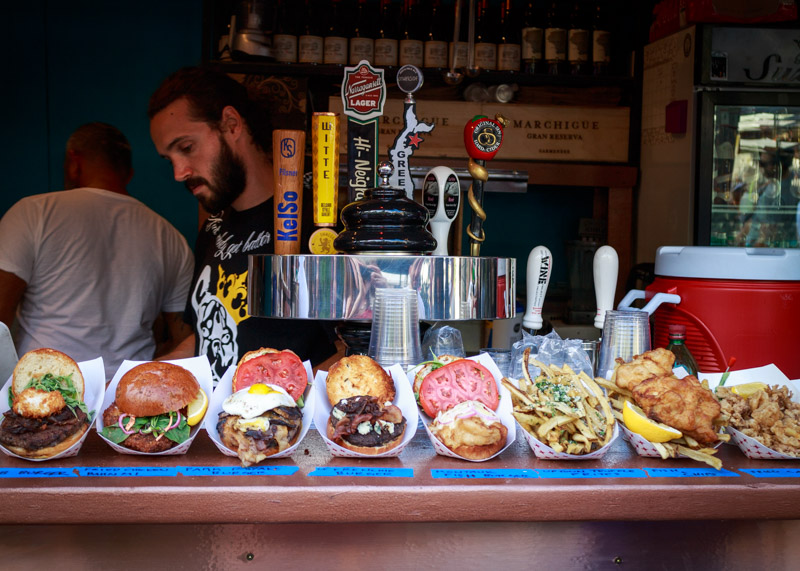 Mad. Sq. Eats

Welcome to Mad. Sq. Eats! This bi-annual food gathering brings together the best dishes from New York City's most delicious and trendy restaurants and food shops right in the center of the Flatiron District outside Madison Square Park. The vendors rotate every season and can be scoped out on the event website. Currently they are operating on a spring and fall schedule.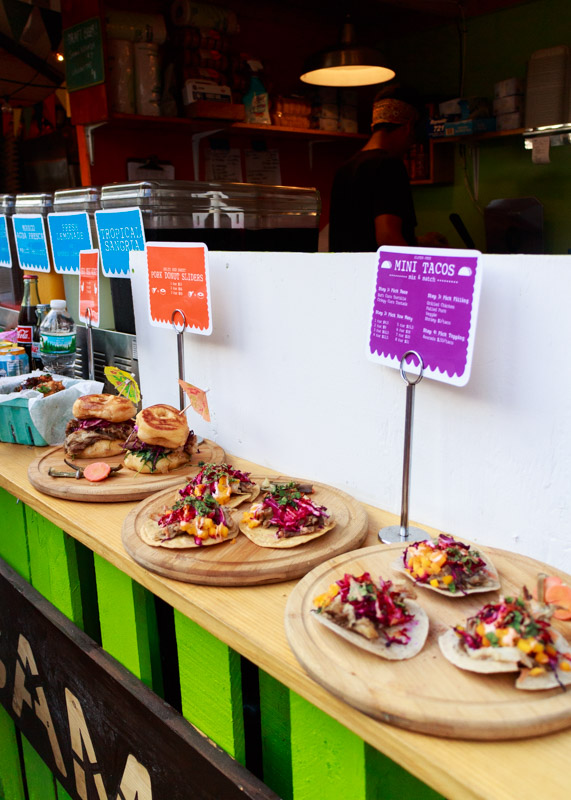 See those sandwiches in the back of this picture? Pulled pork sliders with doughnut buns from Jicama California Street Food. Yes, you read that correctly. Be prepared to find a smorgasbord of food trends, whether or not you're adventurous enough to try them. All the food vendors at Mad. Sq. Eats display their food so it's like browsing a restaurant's Instagram feed before placing your order.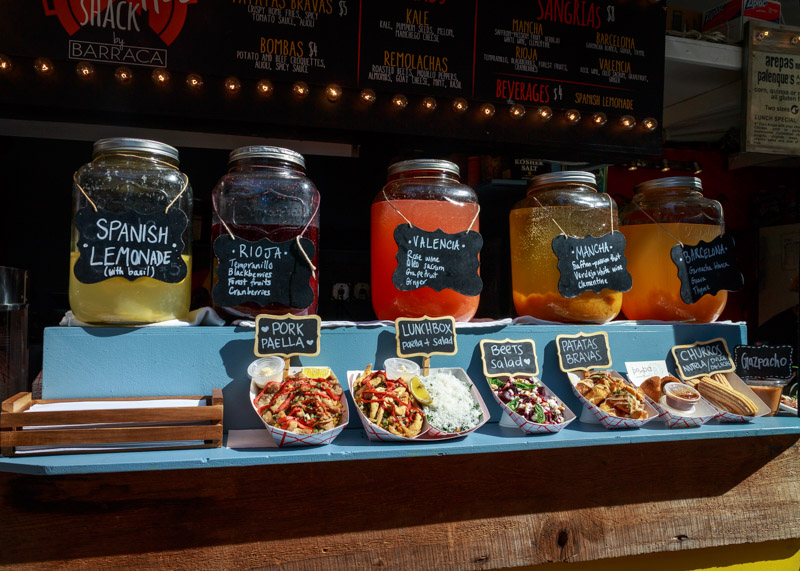 There was even a vendor serving up fruity sangria when we were there! Definitely take your time to walk around before hopping into a line so you don't have serious FOMO – fear of missing out 😉 – when you're super stuffed and spot something way at the end that you really want to try. The table space was tight, especially if you're there with a group. If you're unable to find a spot to sit fortunately Mad. Sq. Eats is right across from Madison Square Park, which has benches sprinkled throughout and is the perfect spot to munch your food finds.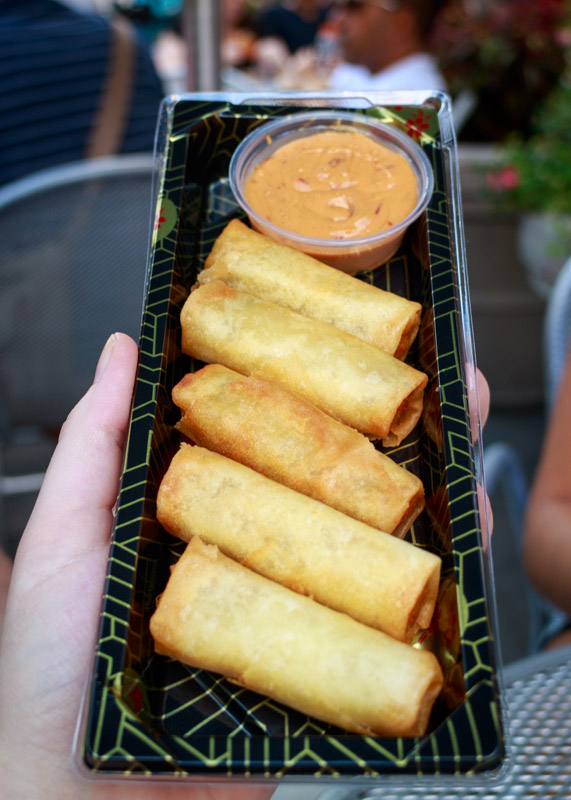 I can't remember which food vendor these spring rolls were from because there were a whole bunch offering them, but they were really good! Mad. Sq. Eats prides themselves on sourcing together the city's best restaurants and top trending food spots so you can bet that everything is going to be top notch.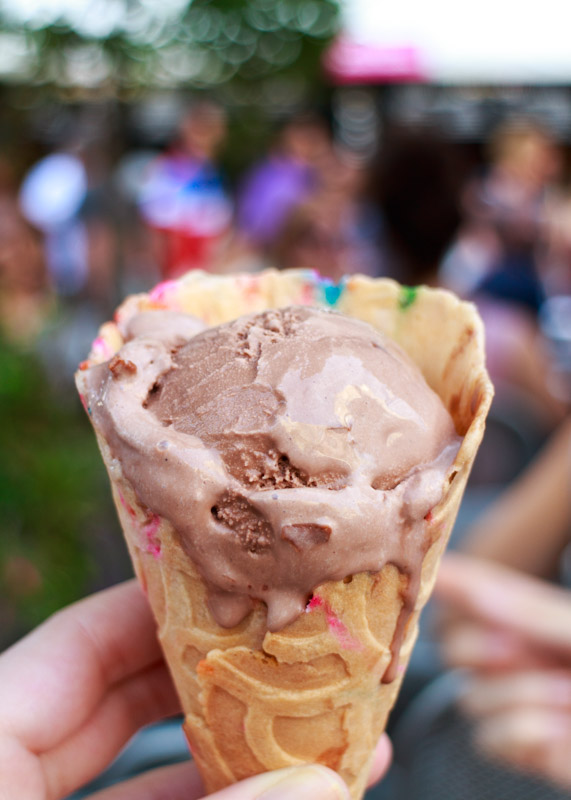 Ice & Vice

Now that is a sexy ice cream drip. This is a scoop of Shade ice cream – smoked dark chocolate with caramelized white chocolate ganache – from Ice & Vice in a birthday cake cone from The Konery. Ice & Vice is a self-described "experimental ice cream shop" and can be found in the Lower East Side as well as occasional kiosks and pop-ups throughout the city. Their flavors range from slightly adventurous, like the Shade flavor I had, to crazy interesting, like Opium Den – white sesame and toasted poppy seed with lemon bread crouton. One of Ice & Vice's signature creations is the Detention Ice Cream Pie – malted vanilla ice cream with a marshmallow Fruity Pebbles crust and Fruity Pebble dust. Ask for your ice cream cone order to be topped with a slice of the ice cream pie for some serious #foodporn.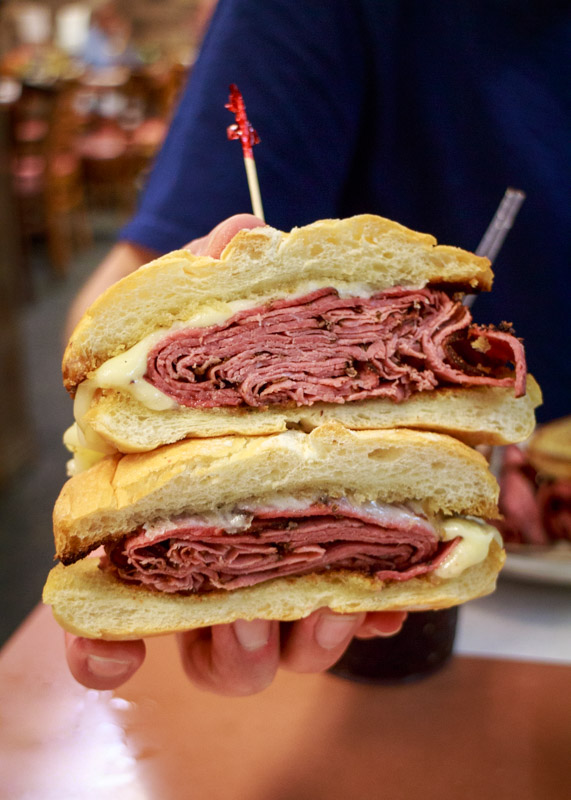 Rein's Deli

Matt and I were barely halfway home and we were already missing all the outrageous NYC foodie finds. As one last hurrah, we turned into Rein's Deli in Vernon, Connecticut for a perfect pastrami sandwich. Rein's is an authentic New York style Jewish deli that has been open since 1972. The first time we ate at Rein's the waitress recommended we get the pastrami on a buttered, pressed roll with melted cheese. It may not be traditional, but it is damn tasty.
I hope you get a chance to check out some of these epic New York City foodie spots! Make sure to comment and let me know what some of your favorites are – I would love to add them to my food bucket list!