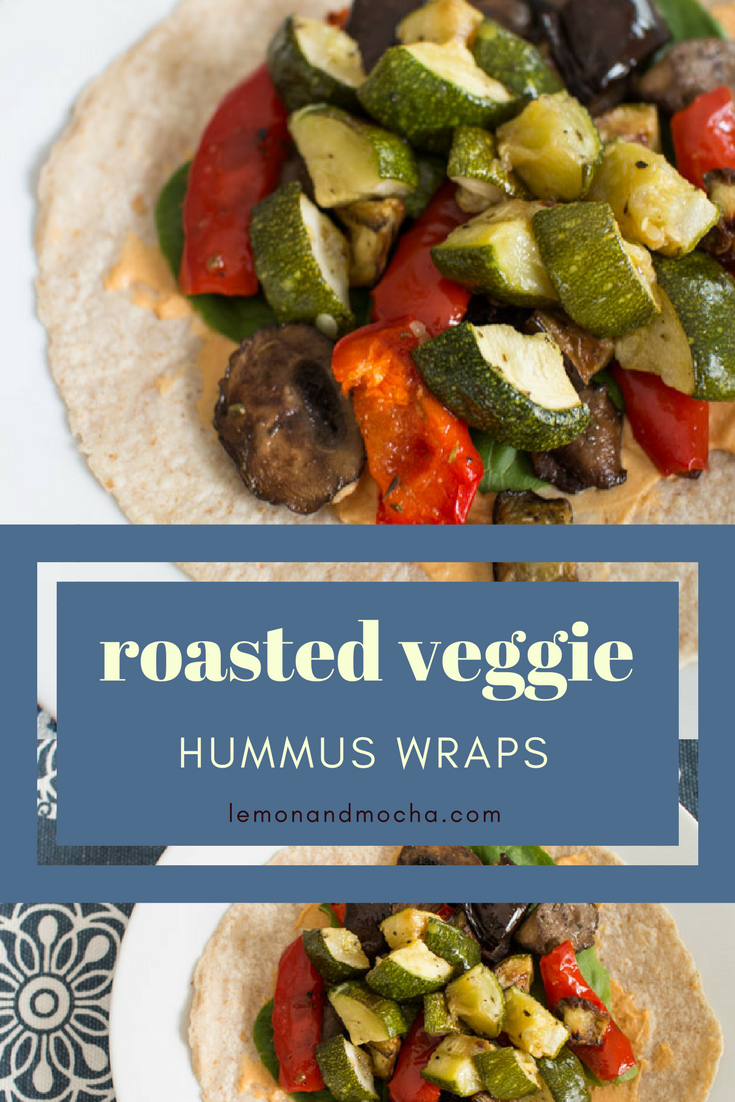 Lunch always seems to be a struggle for me, especially when I'm trying to eat healthy. I don't want it to be complicated because if I'm cooking lunch and dinner on a weekday I'll feel like all I did all day was cook and work with no time to relax. Boring also won't cut it because then I'll find myself not wanting to eat it and will end up with takeout or vending machine chips instead. My ideal healthy lunch has lots of veggies, minimal carbs and is something I can mass meal prep on a Sunday without taking too much time out of one of my days off.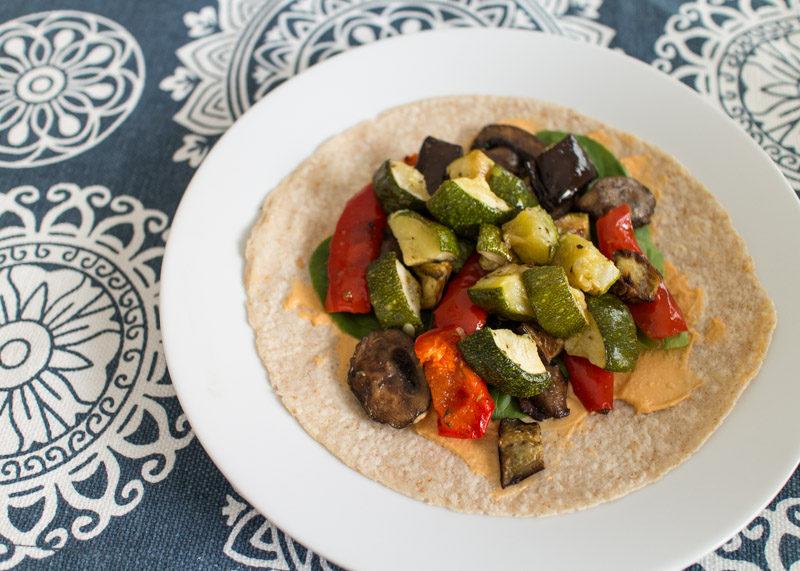 Roasted Veggie Hummus Wraps are one of the go-to's in our house. I roast all the vegetables on Sunday and then we are ready for lunches for the week. Having lots of roasted veggies in the fridge for weekday lunches is great when you want veggies, but the thought of another salad is making you want to order a panini and fries! If you have never had roasted vegetables with hummus before you are missing out. The creaminess of the hummus with the tender bell pepper, zucchini, eggplant and mushrooms is a really tasty combination. This recipe makes four servings, but it can easily be scaled up or down. If you want more protein in your lunch these wraps work really well with grilled or rotisserie chicken.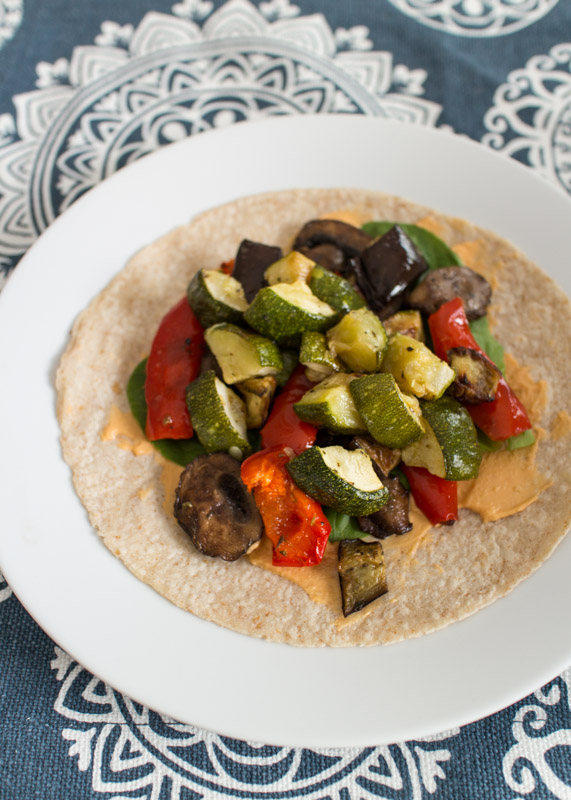 When you are buying wraps, especially if you are trying to be healthy, make sure you read the ingredients and nutrition facts. I always thought wraps were healthier than sandwiches, but a while back I did some research and found that a lot of wraps can be worse for you than sliced bread. Many brands claim to be healthy, but are full of sodium and trans fat. Try to find wraps that are high in fiber, low in sodium and don't have artificial preservatives.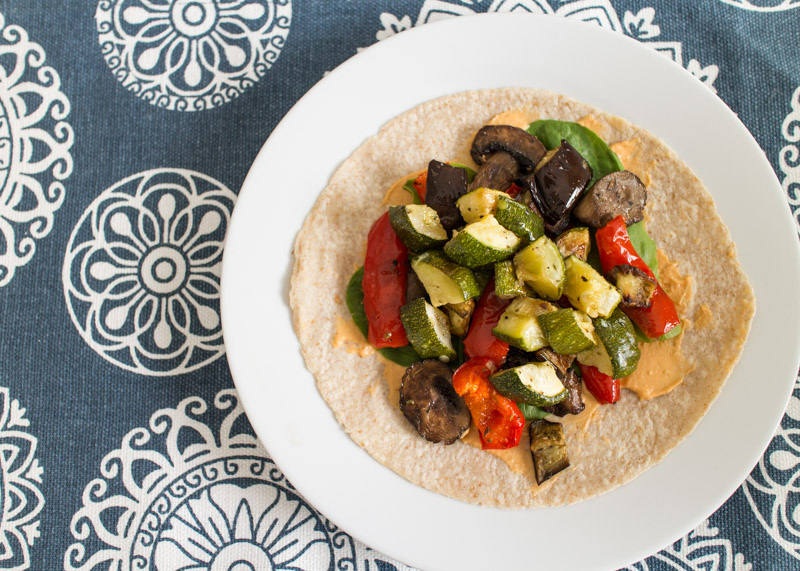 A quick tip for softening your wrap to make it easier to roll so it won't crack on you: wrap the tortilla in a damp paper towel and microwave for ten seconds. That's it! I told you it was a quick tip!

Roasted Veggie Hummus Wraps
Ingredients
1 red bell pepper, thickly sliced
2 zucchinis, quartered then thickly sliced
1 small eggplant, small diced
1 package sliced baby bella mushrooms, about 8 ounces
4 6" whole wheat wraps
½ cup roasted red pepper hummus
1 cup spinach leaves
Olive oil, salt, pepper, garlic powder, Italian seasoning
Directions
Preheat the oven to 425 degrees. Line a half sheet pan with nonstick tinfoil. Arrange all the prepared bell pepper, zucchini, eggplant and mushrooms on the baking sheet. Try to get the vegetables in a single layer, slightly overlapping the mushrooms if needed. Drizzle with olive oil then lightly move around with a spatula to coat. Generously season with ground black pepper, salt, garlic powder and Italian seasoning.
Roast the vegetables in the oven for 20-25 minutes, adding more time if needed, until the vegetables are tender. Toss the veggies halfway through the cooking time.
Lay out the wraps. Spread 2 tablespoons of the hummus onto each wrap. Divide the spinach leaves between the 4 wraps then evenly divide the veggies. This is definitely a loaded wrap so you will probably need a fork to finish all the yummy veggies that fall on your plate while eating!
Notes
- If making ahead, store the roasted veggies separate from the wraps and add when ready to eat so they don't make the wraps soggy. This can be eaten with the veggies room temperature or heated up. If I was bringing these wraps to work or packing in a lunch I would put the divided veggies in a little reusable container. That way the veggies can either be warmed up in their container or left cold. Then I would put the hummus and spinach on the wraps and roll them up. When it is time to eat, carefully unroll the wrap, add the veggies, and wrap it back up.
- For additional protein, add some grilled or rotisserie chicken to the wrap.