Uncle Rob's Tailgate Filet Sandwiches with Whiskey Marinade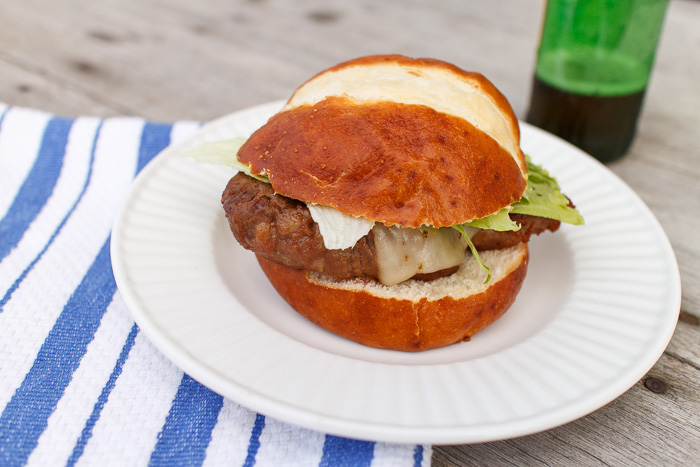 ¼ cup whiskey
¼ cup soy sauce
¼ cup dijon mustard
¼ packed light brown sugar
¼ cup minced green onions
1 teaspoon salt
Dash of worcestershire sauce
Ground pepper to taste
6 1" thick filets
6 pretzel buns
Pepper jack cheese, horseradish sauce and lettuce for serving, optional
6 pack of beer for the chef, age permitting
Combine the whiskey, soy sauce, mustard, brown sugar, onions, salt, worcestershire and pepper in a bowl. Set aside.
Place the filets on a cutting board and top with plastic wrap. Using a meat mallet pound filets until they are ½" thick.
Combine the filets and marinade in a large plastic bag to marinate for 6-8 hours.
Heat grill to high heat. Grill according to desired doneness. For medium-rare, grill for 3 minutes on one side, flip and grill for 2 more minutes before letting rest for 3-5 minutes before eating.
If you can't find filet, possible substitutions include eye of round steak or hanger steak.
Recipe by
Lemon & Mocha
at http://www.lemonandmocha.com/2014/08/19/uncle-robs-tailgate-filet-sandwiches-with-whiskey-marinade/