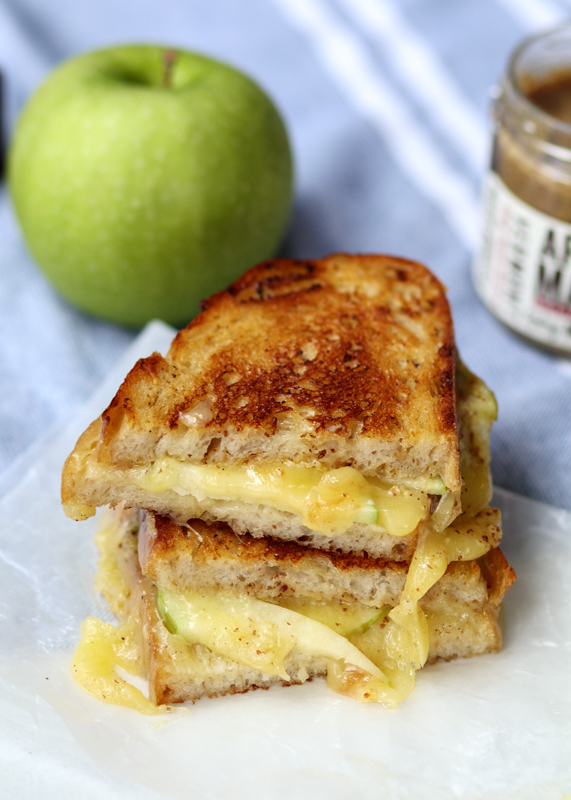 Happy Friday, friends! It seems only right to celebrate the upcoming weekend with something ooey, gooey and cheesy. Since it's already October we can't forget the fall flavors either! This grilled cheese is loaded with tart granny smith apple slices, a sweet and spicy maple mustard and some maple smoked cheddar. I only have one other grilled cheese recipe on Lemon & Mocha and while the Hobo Egg Grilled Cheese is an epic sandwich, it's about time I shared some more cheesy goodness.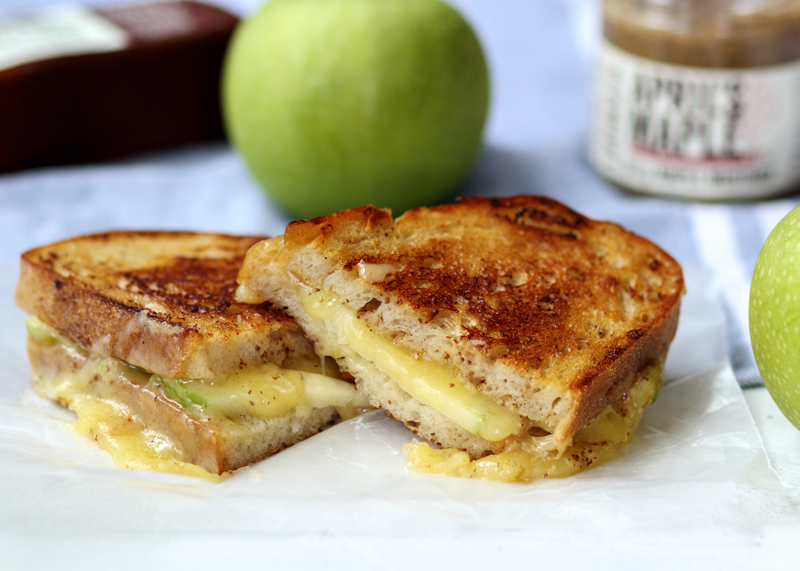 This grilled cheese has been in motion ever since I bought some spicy maple mustard and some maple smoked cheddar cheese. Pemberton Farms is a local market and nursery Matt and I like to go to and mid-summer we went on a Saturday to buy a bunch of flowers and bushes. We never have an issue parking there, but there was a line to get in the parking lot. We circled the block before finally finding a street spot and headed in to see that they were having a customer appreciation day complete with dozens of local vendors giving away samples of food, beer, wine and spirits. There was even free barbecue in the parking lot and a live band in the outdoor nursery! Needless to say, it was a bad day to try and buy flowers, but a perfect day to eat some free food and chat with local vendors.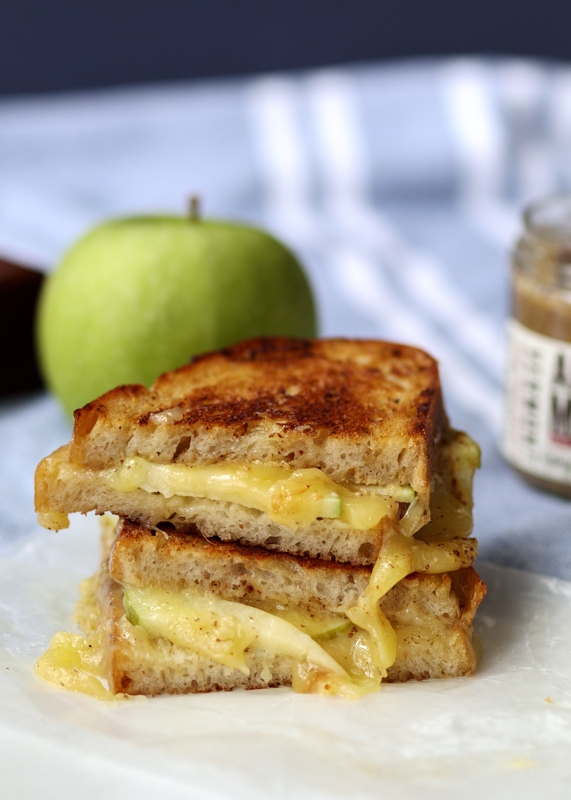 I tried this maple smoked cheddar from Grafton Village Cheese that was creamy with a little sweetness from the maple and had a nice smoky flavor. I commented that the cheese would be really good on a grilled cheese with apples and the woman at the vendor booth said she loves making them with April's Maple spicy maple mustard. I knew she was onto something so we bought both the cheese and the mustard. I've been waiting a while to make this grilled cheese since I wanted to make it in the fall and it was definitely worth the wait. Although I most likely won't be waiting weeks to have it again!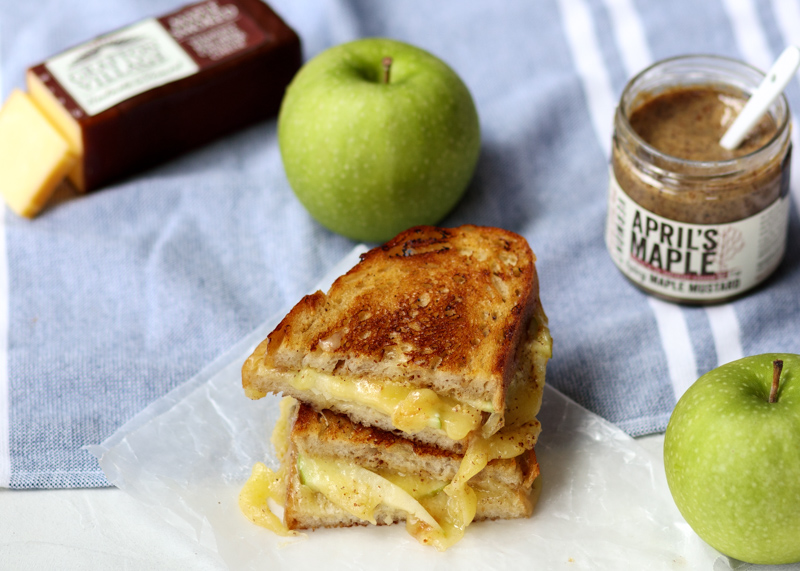 Since April's Maple is really local I wrote in the recipe for you to make your own maple mustard with equal parts spicy mustard and pure maple syrup, but if you spot April's Maple products near you I definitely recommend trying them out! If you can't find the Grafton Village maple smoked cheddar (although I noticed online that Wegman's seems to carry it, even in some non-local towns), you can substitute with any smoked cheddar, smoked gouda or a sharp cheddar.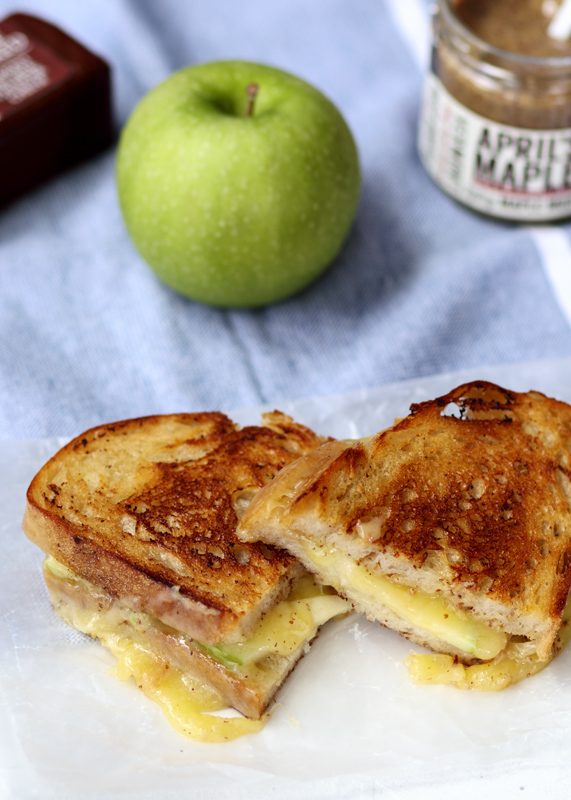 Other than the outrageous fall flavors inside, the key to a perfect grilled cheese is how you cook the outside. My two biggest tips are 1) cook it low and slow so the cheese has plenty of time to melt and 2) spread mayonnaise on the outside of your bread. Yes, mayonnaise! I first learned this trick from Roxy's Grilled Cheese, which is a Boston food truck. The mayo gets cooked off, but it creates a perfectly browned and crunchy outside to your grilled cheese. Every bit of that outside bread gets a very thin coat of the mayo making sure that the entire surface area of that bread will get browned in the pan. Definitely try this one!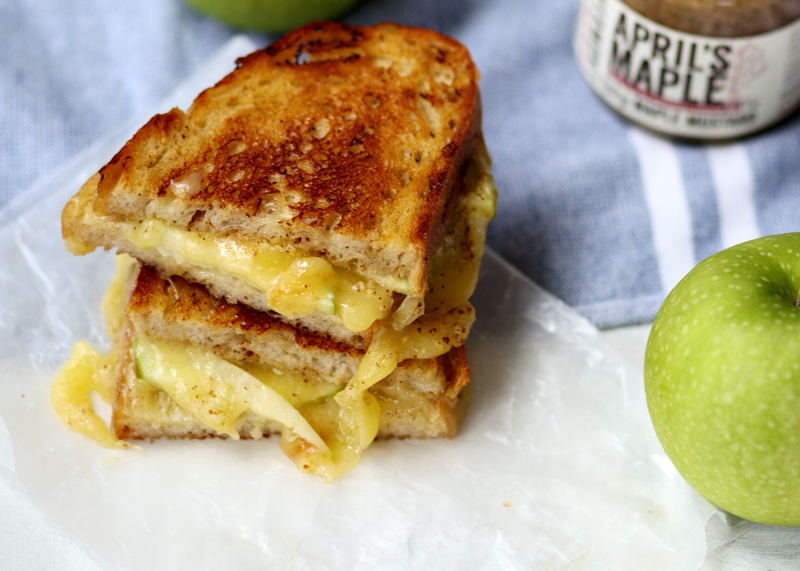 Maple Apple Grilled Cheese
Ingredients
1½ teaspoons Dijon or spicy mustard
1½ teaspoons pure maple syrup
2 slices sourdough bread
2 teaspoons mayonnaise
3 ounces maple smoked cheddar, sliced
6 thin slices of granny smith apple, about ¼ of a large apple
Directions
In a small bowl, combine the mustard and maple syrup. Spread over the inside of one of the slices of sourdough bread.
Heat a nonstick frying pan over medium-low heat. Spread 1 teaspoon of the mayonnaise on the other side of the bread you spread the maple mustard on. Place the bread in the frying pan, mayonnaise side down. Next evenly place the slices of cheese on top of the mustard then evenly place the slices of apple. Spread the other teaspoon of mayonnaise on the outside of the second slice of bread and place that slice of bread, mayonnaise side up, on top of the sandwich stack. Cover the grilled cheese with a pot lid big enough to cover it.
Cook until the cheese melts then carefully flip. This will depend on how thin you sliced your cheese, but mine cooked on medium-low for 7 minutes. Once you flip the grilled cheese leave it uncovered. Turn up the heat to medium-high and cook just until the bottom bread gets browned and crispy, about 1-2 minutes. Remove from the pan, let cool for a minute or two, then cut and enjoy!
Notes
If you can't find maple smoked cheddar, use smoked cheddar. If you can't find smoked cheddar you can substitute with smoked gouda or sharp cheddar.