Almost Meatless Sloppy Joes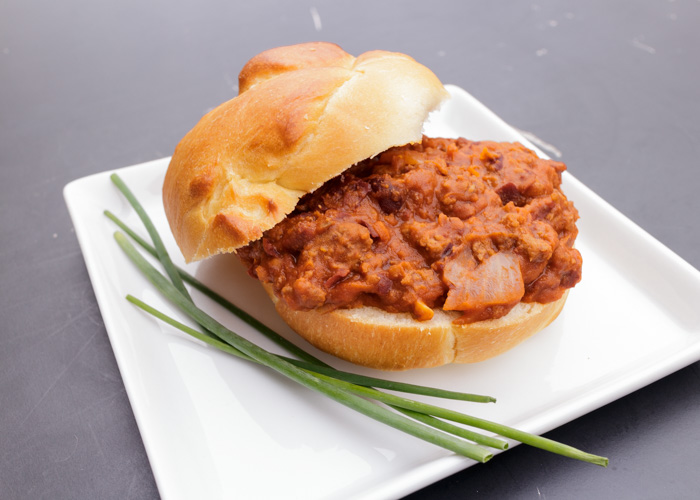 2 tablespoons olive oil
½ cup finely chopped white onion
1 tablespoon minced garlic
¼ teaspoon salt
¼ teaspoon ground black pepper
6 ounces ground sirloin
½ cup grated carrot
2 teaspoons chili powder
1 teaspoon brown sugar
½ teaspoon dried oregano
¼ teaspoon ground red pepper
2 cups canned crushed tomatoes
1 15.5 ounce can low sodium kidney beans, rinsed & drained
6 mini brioche buns, or other sandwich rolls of your choosing
Sliced red onion, for serving
Heat the olive oil over medium-high heat in a large stockpot. Add the onion, garlic, salt, pepper and beef and cook until the onion is softened and the meat is browned. Stir occasionally, making sure to crumble the beef.
Add the grated carrot, chili powder, sugar, oregano and red pepper then continue to cook for 2 minutes. Pour in the crushed tomatoes then bring the mixture to a boil. Once boiling, reduce the heat to medium then cook for 10 more minutes.
Take 1 cup of the kidney beans and mash them in a shallow bowl with a potato masher or fork. Add both the mashed beans and the remaining whole beans to the pot then cook until cooked through, about 1-3 minutes.
Serve on the buns topped with sliced red onion.
Recipe by
Lemon & Mocha
at http://www.lemonandmocha.com/2014/10/22/almost-meatless-sloppy-joes/