Game Day Cookies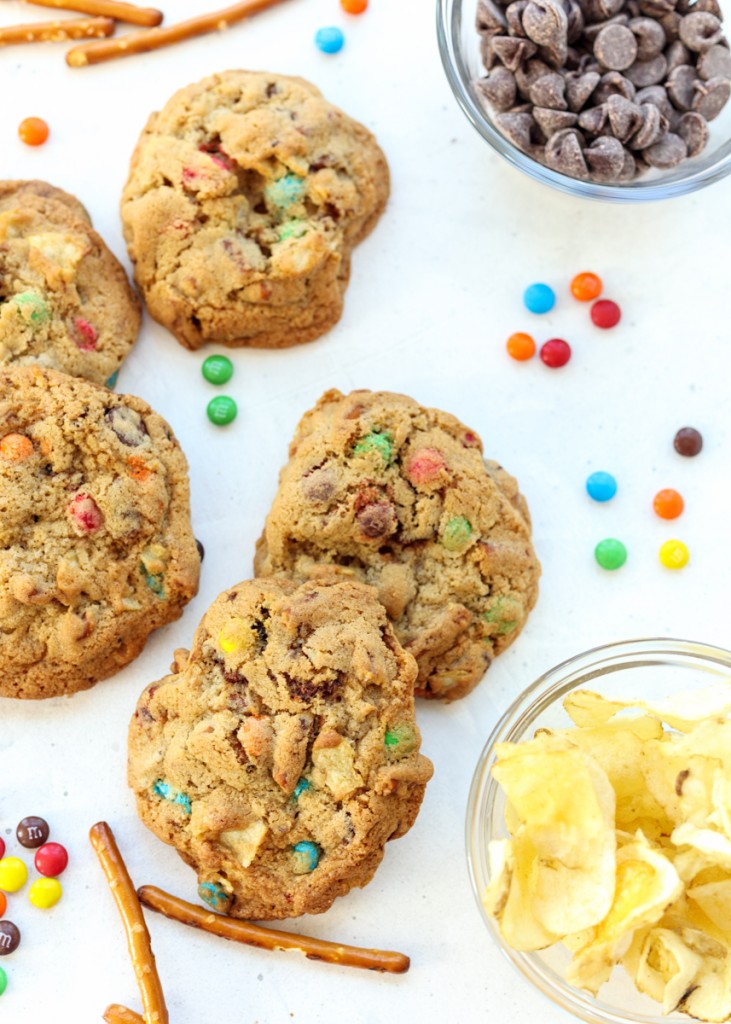 I'm stopping the Lemon & Mocha healthy January posts a couple days early, but it's for a good reason. I still have plenty of healthy recipes on the schedule, they just won't be the sole focus of my posts. I hope you enjoyed them though; I definitely did! The very good reason I'm cutting out early is because I have to post the monthly Food Network Magazine recipe. Last year was all about the muffins and if you're new here you can read about it in my Muffin of the Month Round-up. At the end of that post I guessed that the monthly treat for 2019 would be cookies so I was super excited when I opened up my January/February 2019 issue of Food Network Magazine to see their Calendar of Cookies!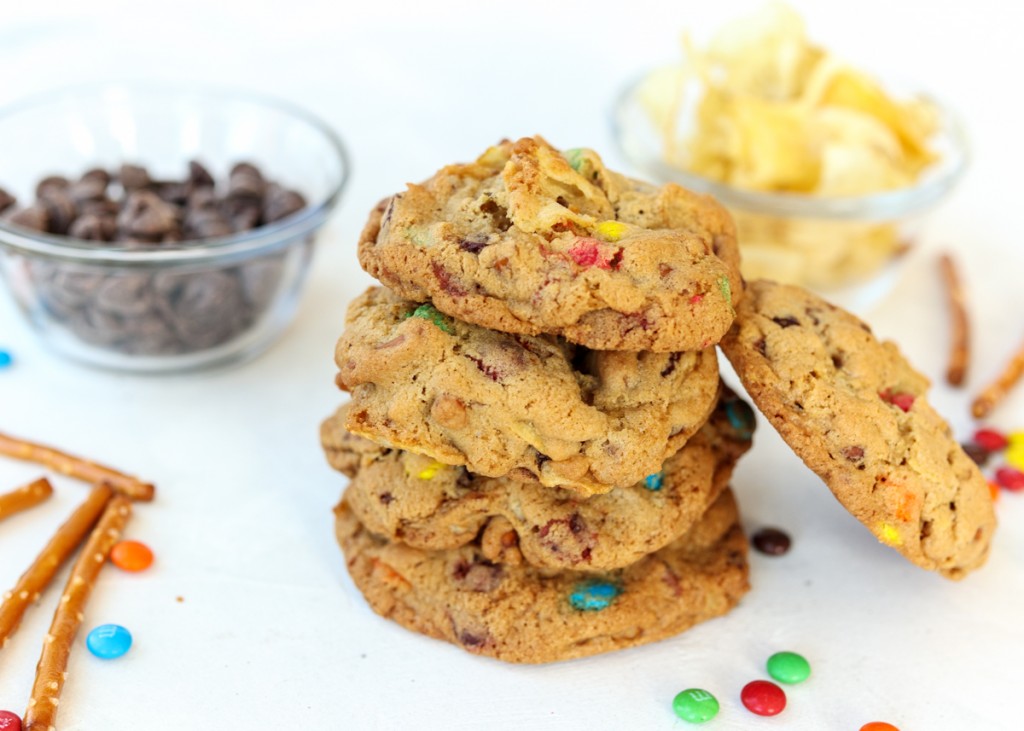 I was even more excited after looking at the recipes for each cookie because the types and flavors look so good. However, they are definitely fancier than the typical cookies I make. My go-to cookie is usually a drop cookie, like these Game Day Cookies I'm posting for January, but for the ones coming up we have cookie pops, different colored dough, sandwich cookies, pie cookies and even macarons! It's a little intimidating to go from easy one bowl muffins to these cookies, but who knows? Maybe they will end up being easier than they look. I like that it's a challenge to push myself out of my baking comfort zone a little each month. I hope you'll join me on this fun baking challenge!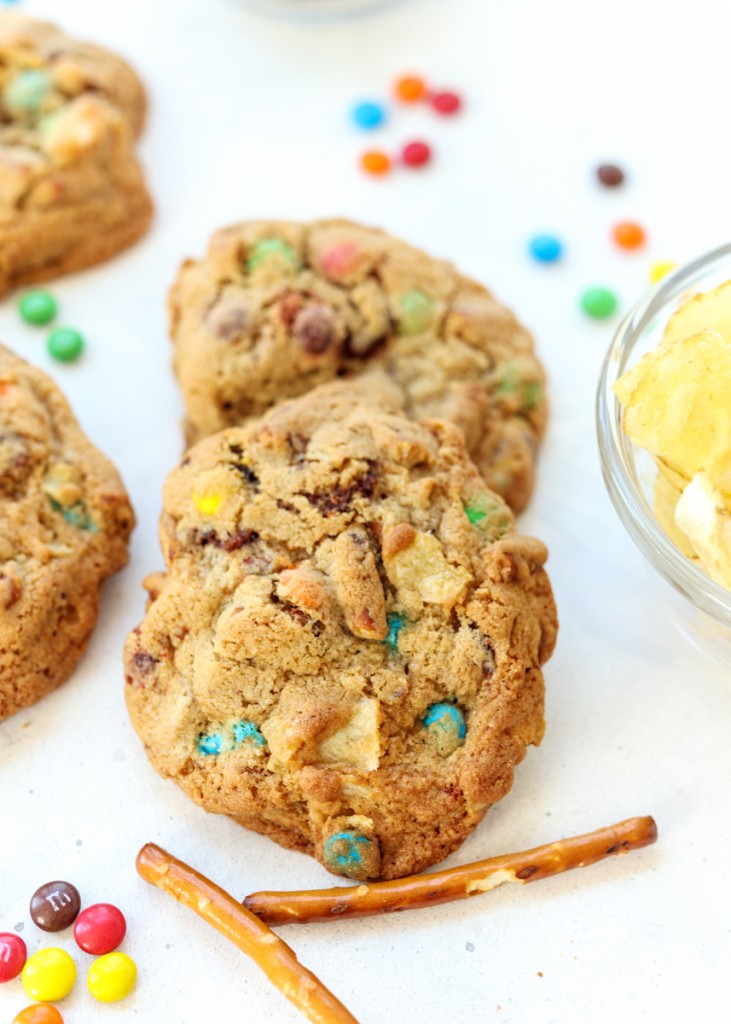 First up, we have these crazy snack-packed Game Day Cookies that are perfect for those Super Bowl parties! When I say packed I mean it; these cookies are loaded with candied bacon, pretzels, chocolate chips, mini M&M's and potato chips. The base is like your normal chocolate chip cookie dough plus some of the bacon fat to replace some of the butter and to really bring home that bacon flavor.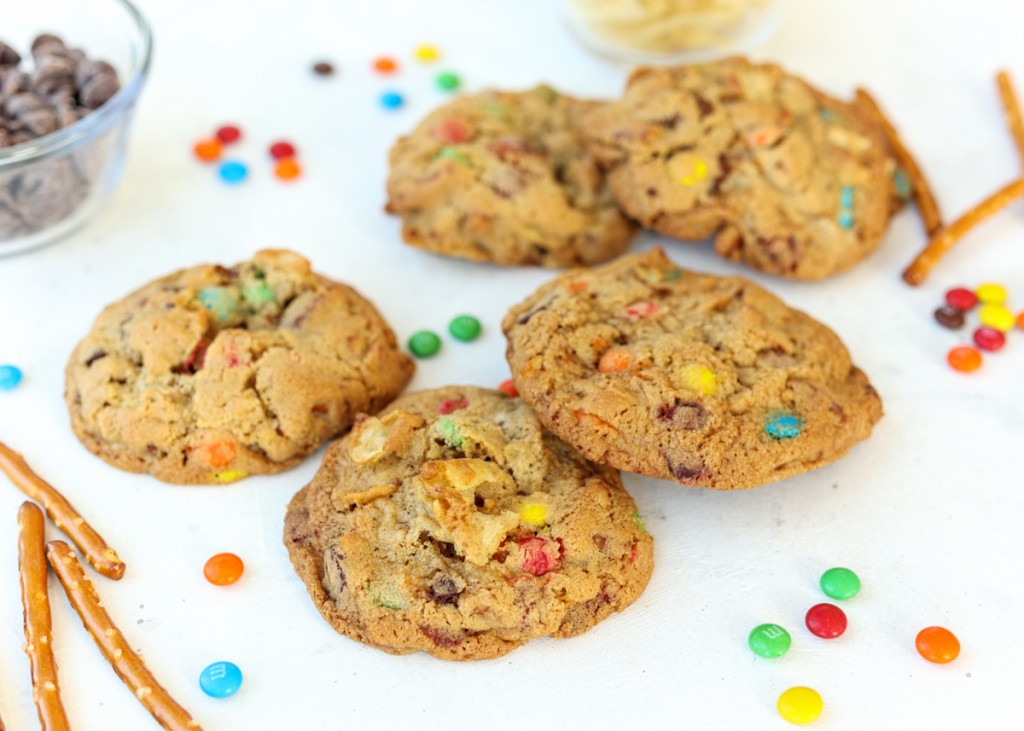 I've never made candied bacon before, but the recipe calls for you to crisp bacon in a skillet then drain the fat and continue cooking the bacon with some brown sugar. If you normally think crispy fresh-cooked bacon is addictive, wait until you try this candied bacon! It was hard to save it for the cookies.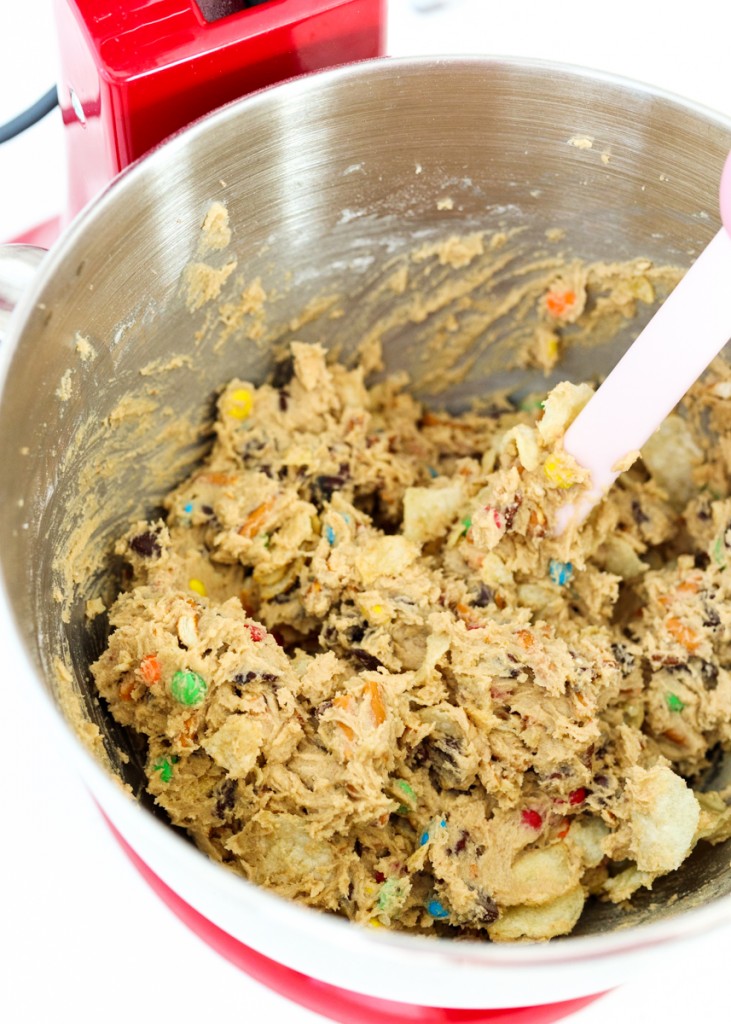 With all the different snack additions to these cookies they are the ultimate sweet and salty treat. Matt loved them especially because he is a huge bacon fan. I liked them, but I'm more of a sweets person so every time I ate one I found myself wishing it was less savory and more sweet. And had more chocolate, since as you all know I love to stuff my cookies with tons and tons of chocolate. So far, the Food Network Calendar of Cookies is off to a good start and I can't wait to try the February cookies! Stay tuned!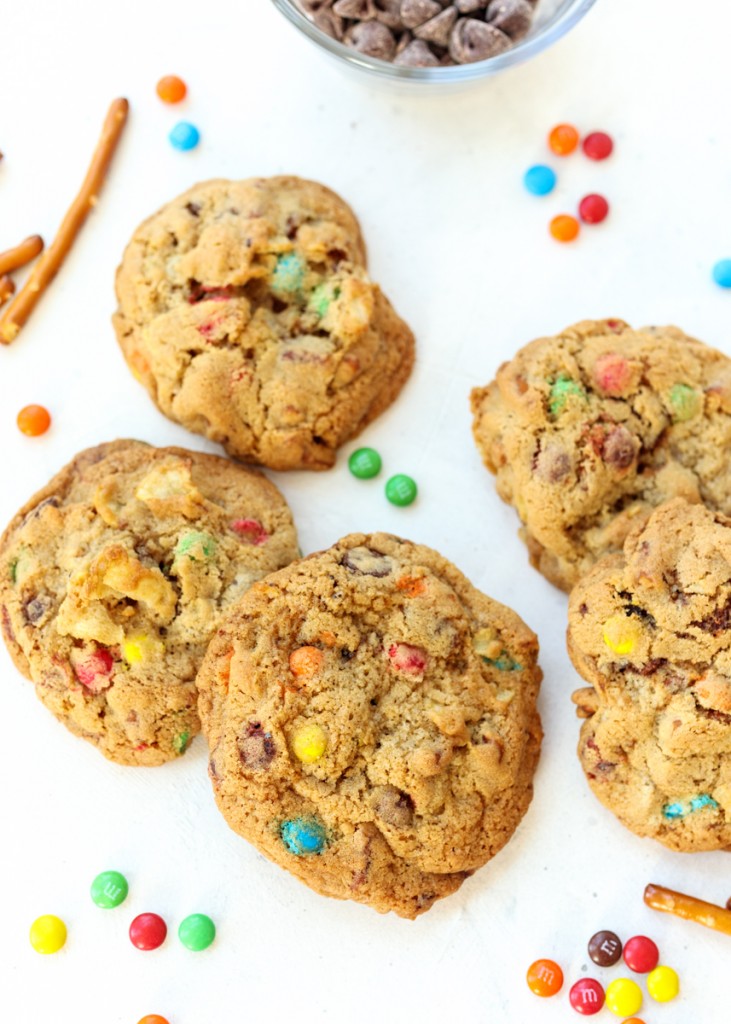 Game Day Cookies
Ingredients
5 slices bacon, chopped
½ cup plus 2 teaspoons packed dark brown sugar
1 teaspoon water
1½ cups all-purpose flour
½ teaspoon baking powder
½ teaspoon baking soda
¼ teaspoon salt
10 tablespoons unsalted butter, at room temperature
½ cup granulated sugar
1 large egg plus 1 egg yolk, at room temperature
2 teaspoons vanilla extract
1 cup broken pretzel sticks
½ cup semisweet chocolate chips
½ cup mini M&M's
2 cups kettle-cooked potato chips, broken
Directions
Make sure racks in the oven are in the upper and lower thirds so you can fit bake both baking sheets of cookies at the same time. Preheat the oven to 350 degrees F. Line 2 baking sheets with parchment paper and set aside.
In a medium skillet over medium heat, cook the chopped bacon until crispy and browned, stirring occasionally. Let cool slightly then measure out 2 tablespoons of the bacon grease and place in a large heatproof bowl or bowl of a stand mixer. Safely discard the remaining bacon grease or save for another use (like the Irish Cheddar, Bacon and Potato Muffins!). Add 2 teaspoons of the brown sugar and the water to the drained pan with the bacon and cook for about 1 minute, or until the sugar is dissolved, making sure to stir. Transfer the bacon to a plate and spread it out to let it cool.
In a medium bowl, sift together the flour, baking powder, baking soda and salt. Add the butter to the large bowl or bowl of a stand mixer that has the bacon fat already in it. Add the remaining ½ cup brown sugar and the granulated sugar then beat on medium-high speed for about 2-3 minutes, or until fluffy. Add the egg, egg yolk and vanilla then beat until combined. Add the flour mixture then beat on low until a few flour streaks remaining. Add the pretzels, chocolate chips, M&M's and candied bacon then beat until just combined. Use a rubber spatula to stir in the potato chips.
Use a large OXO cookie scoop or a large spoon to scoop out large dough balls that are about 3 tablespoons each. Place 2 inches apart on the prepared baking sheets and bake until the cookies are set around the edges, but still soft in the middle, about 13-15 minutes, switching the baking pans halfway through from top to bottom. Place the pans on wire cooling racks and let cookies cool on the pan for 5 minutes, then transfer cookies to the wire cooling racks to cool completely.
 Recipe from January/February 2019 issue of Food Network Magazine
.
Some of the links above are affiliate links, which means I may receive a small commission for my referral. This does not affect the retail cost of the item. Thank you for supporting Lemon & Mocha!