Game Day Cookies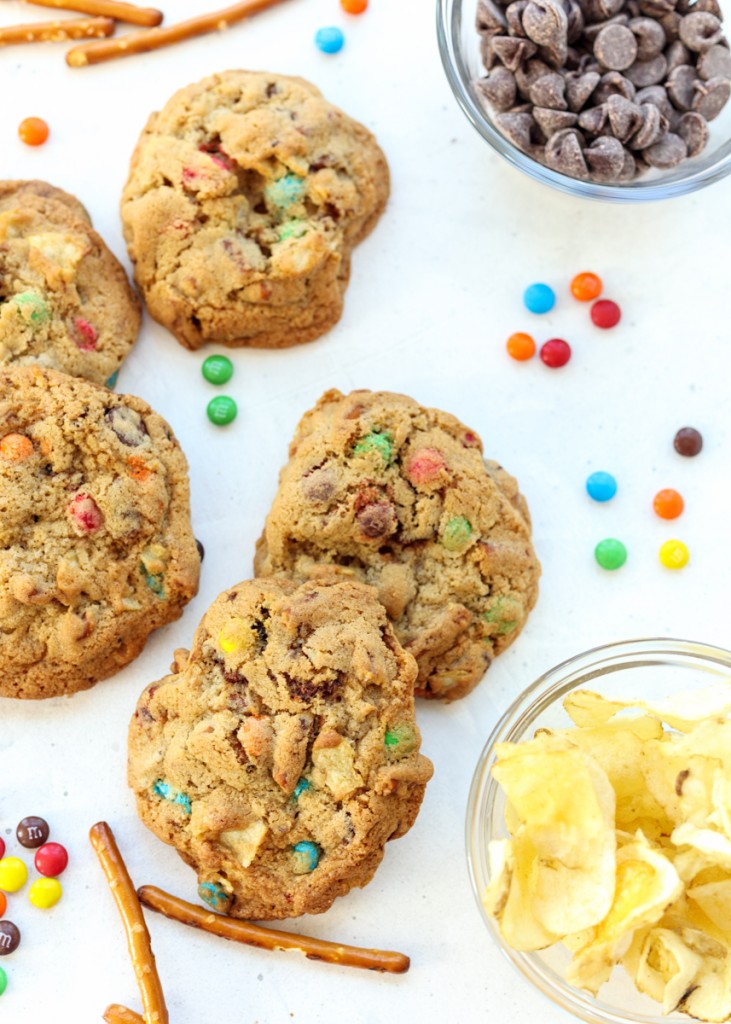 5 slices bacon, chopped
½ cup plus 2 teaspoons packed dark brown sugar
1 teaspoon water
1½ cups all-purpose flour
½ teaspoon baking powder
½ teaspoon baking soda
¼ teaspoon salt
10 tablespoons unsalted butter, at room temperature
½ cup granulated sugar
1 large egg plus 1 egg yolk, at room temperature
2 teaspoons vanilla extract
1 cup broken pretzel sticks
½ cup semisweet chocolate chips
½ cup mini M&M's
2 cups kettle-cooked potato chips, broken
Make sure racks in the oven are in the upper and lower thirds so you can fit bake both baking sheets of cookies at the same time. Preheat the oven to 350 degrees F. Line 2 baking sheets with parchment paper and set aside.
In a medium skillet over medium heat, cook the chopped bacon until crispy and browned, stirring occasionally. Let cool slightly then measure out 2 tablespoons of the bacon grease and place in a large heatproof bowl or bowl of a stand mixer. Safely discard the remaining bacon grease or save for another use (like the Irish Cheddar, Bacon and Potato Muffins!). Add 2 teaspoons of the brown sugar and the water to the drained pan with the bacon and cook for about 1 minute, or until the sugar is dissolved, making sure to stir. Transfer the bacon to a plate and spread it out to let it cool.
In a medium bowl, sift together the flour, baking powder, baking soda and salt. Add the butter to the large bowl or bowl of a stand mixer that has the bacon fat already in it. Add the remaining ½ cup brown sugar and the granulated sugar then beat on medium-high speed for about 2-3 minutes, or until fluffy. Add the egg, egg yolk and vanilla then beat until combined. Add the flour mixture then beat on low until a few flour streaks remaining. Add the pretzels, chocolate chips, M&M's and candied bacon then beat until just combined. Use a rubber spatula to stir in the potato chips.
Use a large OXO cookie scoop or a large spoon to scoop out large dough balls that are about 3 tablespoons each. Place 2 inches apart on the prepared baking sheets and bake until the cookies are set around the edges, but still soft in the middle, about 13-15 minutes, switching the baking pans halfway through from top to bottom. Place the pans on wire cooling racks and let cookies cool on the pan for 5 minutes, then transfer cookies to the wire cooling racks to cool completely.