Thai Peanut Shrimp and Broccoli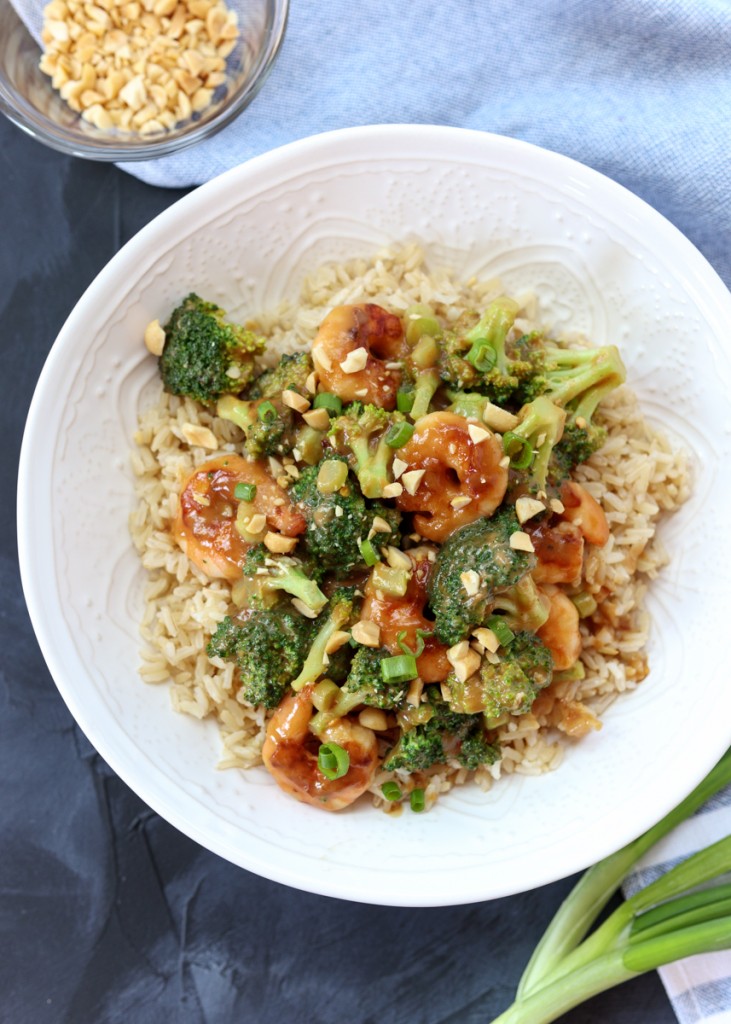 See? I told you the healthy recipes would be back! Although I can't say the same for what I have scheduled for next week. Last week when I posted the Roasted Acorn Squash with a Thai Peanut Sauce I started thinking about that creamy, salty and tangy peanut sauce. More specifically, about how it was so good that I needed to come up with other recipes I could drizzle it all over!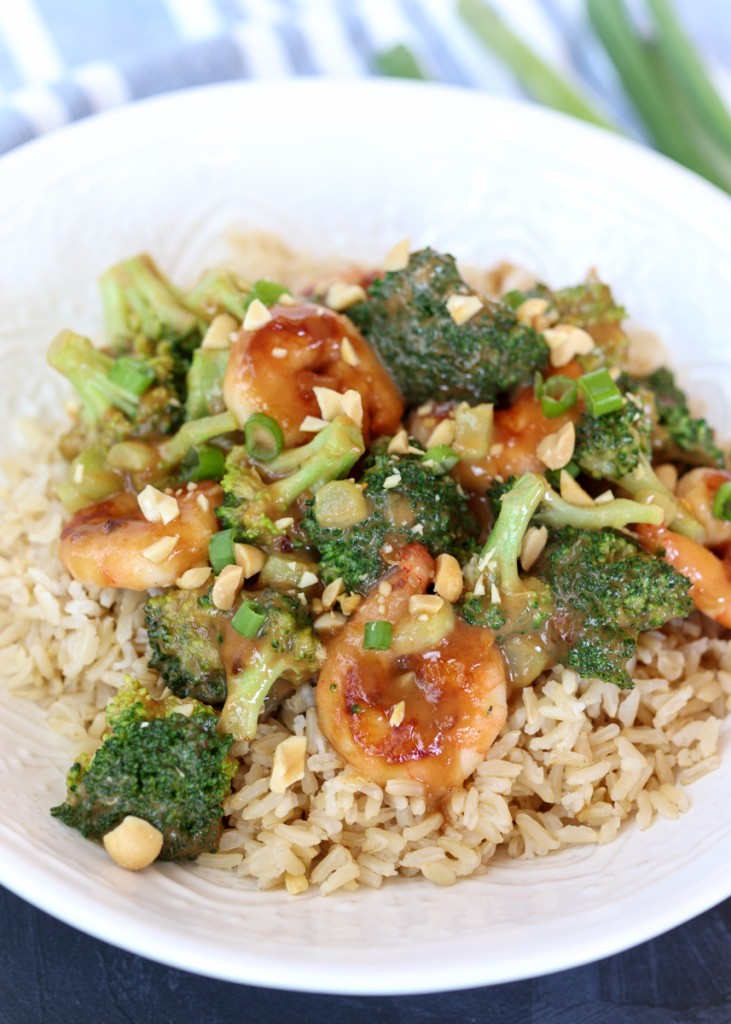 My mind immediately went to a stir fry so here we are staring at this drool-worthy Thai Peanut Shrimp and Broccoli. This dish came out exactly like I was hoping. The broccoli and shrimp are tender and slightly crispy, but of course the star is that creamy peanut sauce. Pour the whole thing over some brown rice, add some chopped peanuts and scallions and you are in weeknight dinner heaven.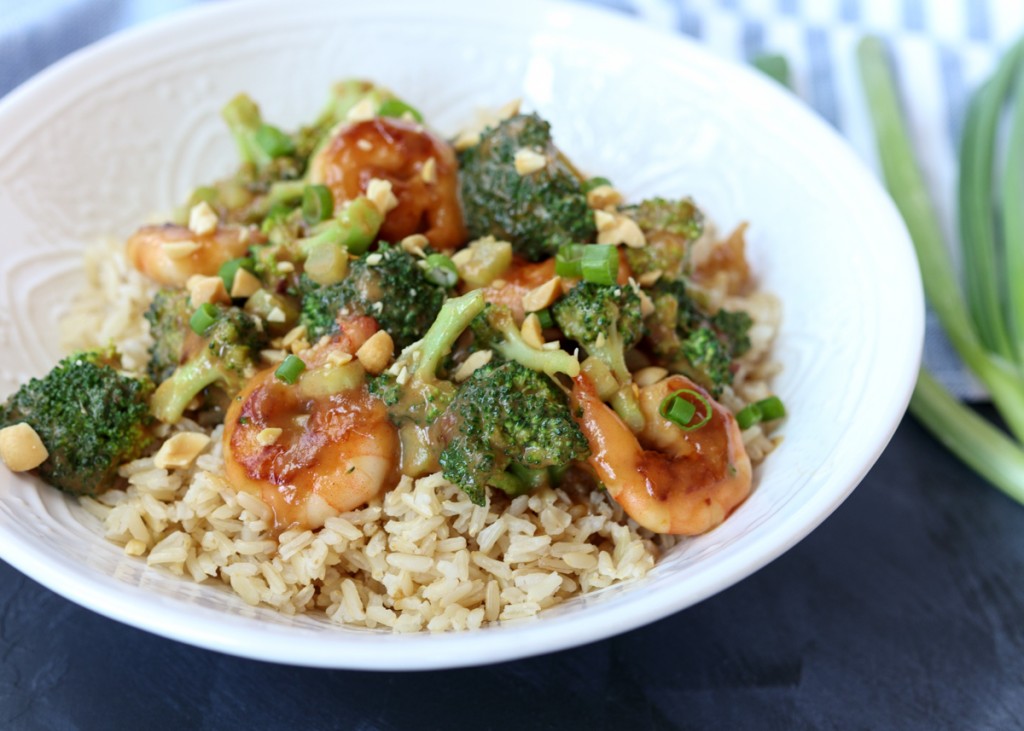 To make the broccoli for this stir fry I used the steam-sautéed method. Remember that old post? You lightly sauté some garlic and broccoli then add some water and cover the pan so the broccoli finishes cooking by steaming right in the skillet. It cooks the broccoli really quickly while also adding some char and flavor that is missing with traditional steamed broccoli. I also peel and chop the broccoli stalks so that I'm using every bit of the broccoli, but you can feel free to omit this step if you would prefer just to use broccoli florets.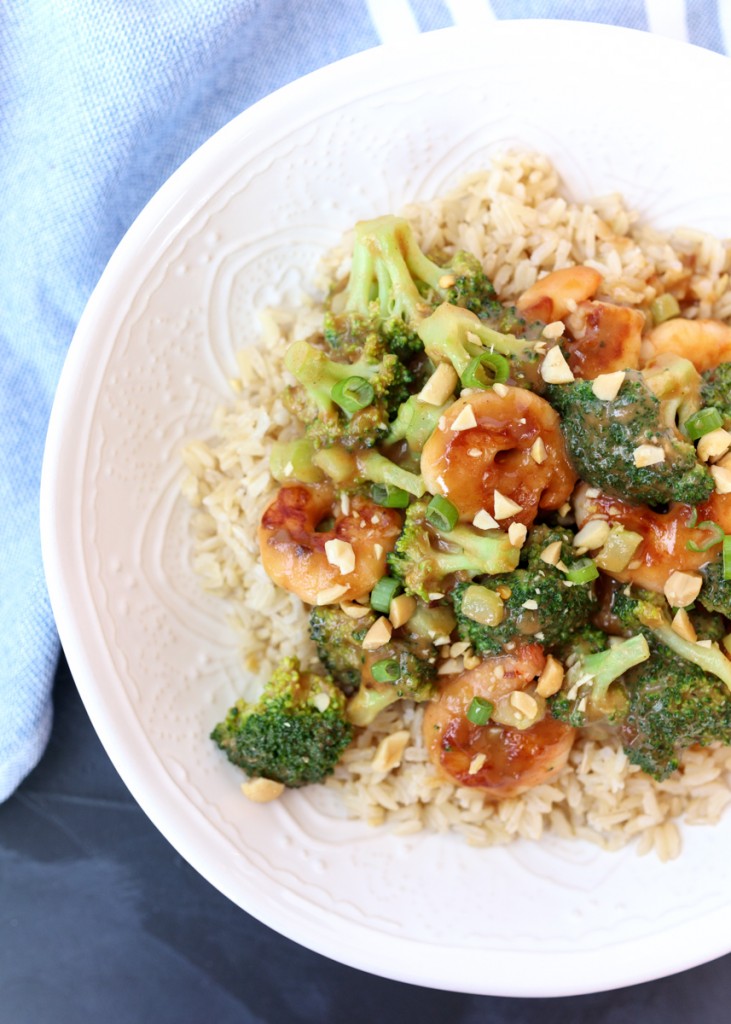 The shrimp get a quick sear with three minutes on each side before it's time for the simple peanut sauce made from peanut butter, coconut aminos, light coconut milk, maple syrup, lime juice, ground ginger and a little red pepper flakes. This whole dish is incredibly quick to throw together, which is the beauty of stir fry meals.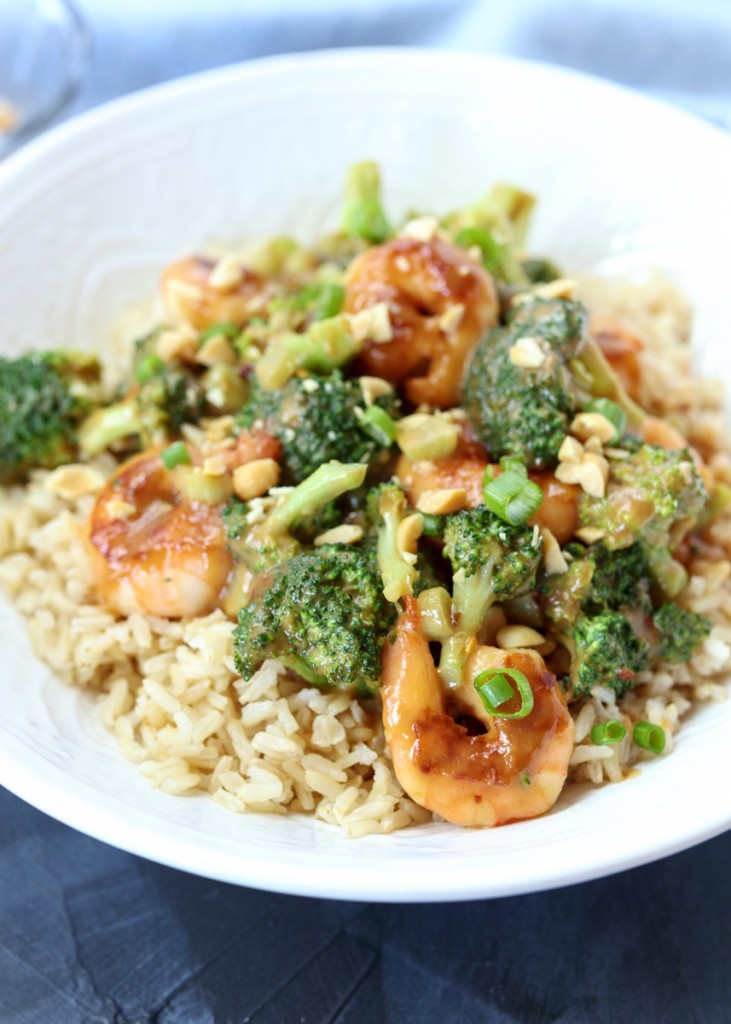 When Matt and I were in our old apartment and would both get home from work late, stir fries were usually a twice a week regular in our rotation. I love this Thai Peanut Shrimp and Broccoli stir fry because the peanut sauce is a nice change from the classic soy sauce base that was usually our go-to. I hope you all enjoy this one! Happy Friday!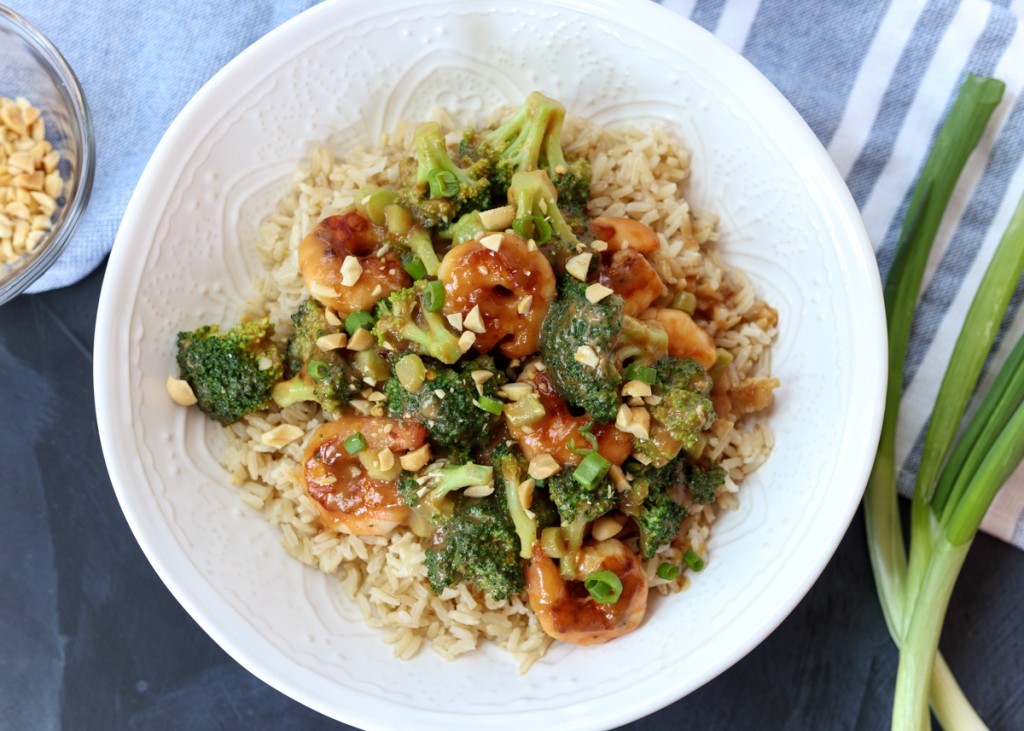 Thai Peanut Shrimp and Broccoli
Ingredients
1 tablespoon plus 1 teaspoon olive oil, divided
1 clove garlic, thinly sliced
1 head broccoli, cut into bite sized florets; stalks peeled, diced and kept separate
2½ tablespoons water
¼ cup creamy peanut butter (I used Jif)
2 tablespoons coconut aminos
2 tablespoons light coconut milk
1 tablespoon maple syrup
1 tablespoon lime juice
¼ teaspoon ground ginger
⅛ teaspoon red pepper flakes, plus more to taste
12 large shrimp, peeled and de-veined
2 tablespoons chopped peanuts
2 tablespoons chopped scallions
Salt and pepper
Directions
Heat a tablespoon of the olive oil in a large skillet (that has a lid, but don't use the lid yet) over medium heat. Add the garlic. When the garlic starts to sizzle, add the diced broccoli stalks and cook for 1 minute. Add the florets and cook for 3 minutes, stirring occasionally. Add the water, cover the skillet and reduce the heat to low. Steam the broccoli for 5 minutes, until tender and the water has steamed off.
While the broccoli is cooking, make the peanut sauce. Whisk the peanut butter, coconut aminos, light coconut milk, maple syrup, lime juice, ground ginger and red pepper flakes in a small mixing bowl until well combined.
When the broccoli is done, remove from the skillet. Heat the remaining teaspoon of olive oil in the skillet over medium-high heat. Once hot, add the shrimp, being sure not to move the shrimp once you place them in the skillet. Season the shrimp with salt and pepper and sear for 3 minutes, flip and sear for another 3 minutes. Reduce the heat to low. Add the broccoli and sauce to the skillet. Stir until combined then remove from the heat. Serve the shrimp and broccoli over brown rice and top with the chopped peanuts and scallions.
Notes
Substitutions: If you can't use coconut aminos, you can try swapping in low sodium soy sauce. You might need to increase the amount of maple syrup. If you can't use light coconut milk, substitute water.