Roasted Acorn Squash with a Thai Peanut Sauce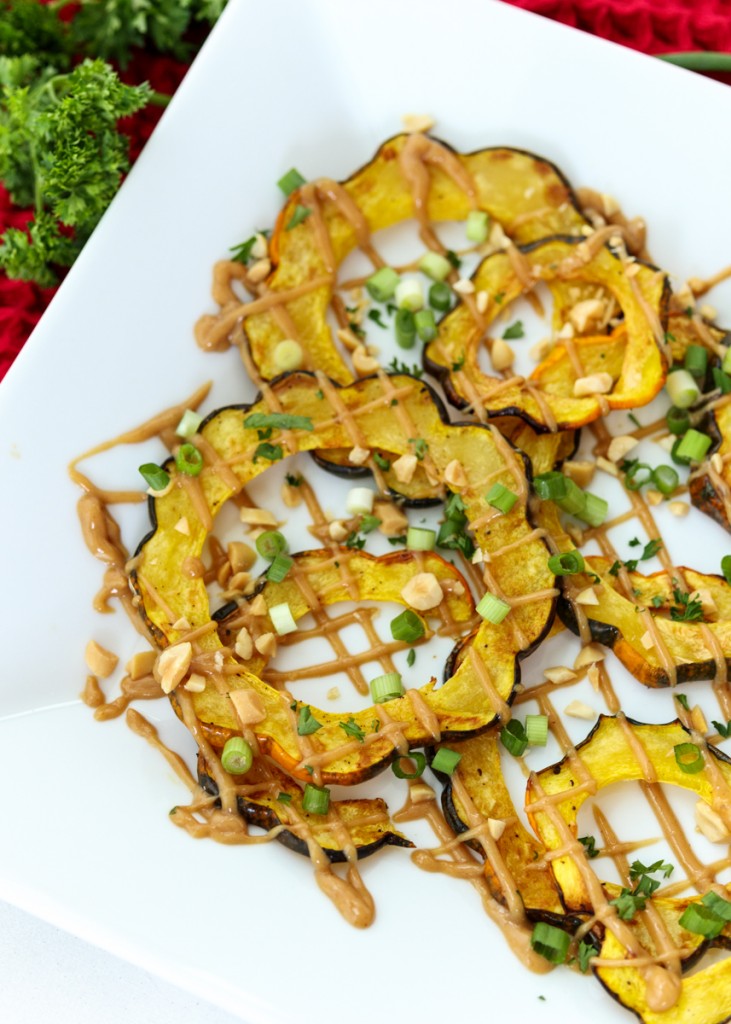 Are you guys peanut butter fanatics like I am? Most days I just look around the kitchen to see what would be a good vessel for my peanut butter snack. Pretzels? Check. Carrot sticks? Yup. Pancakes? Yes, please. Spoon? Sure, why not?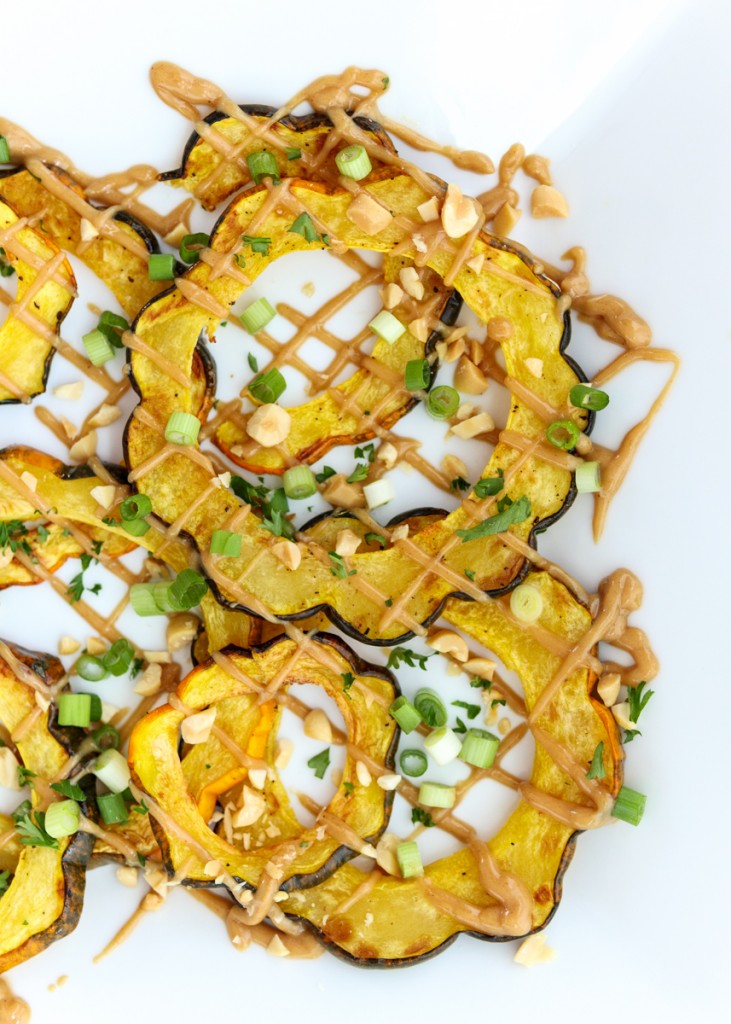 Sometimes when I'm coming up with recipes I think the same way. I quickly discovered that roasted acorn squash makes an excellent peanut butter vessel. Especially when the peanut butter is combined with coconut milk, lime juice, coconut aminos (or soy sauce) and maple syrup to make a rich, tangy, salty and slightly sweet sauce. Add some chopped crunchy peanuts and savory scallions and you have absolute veggie perfection.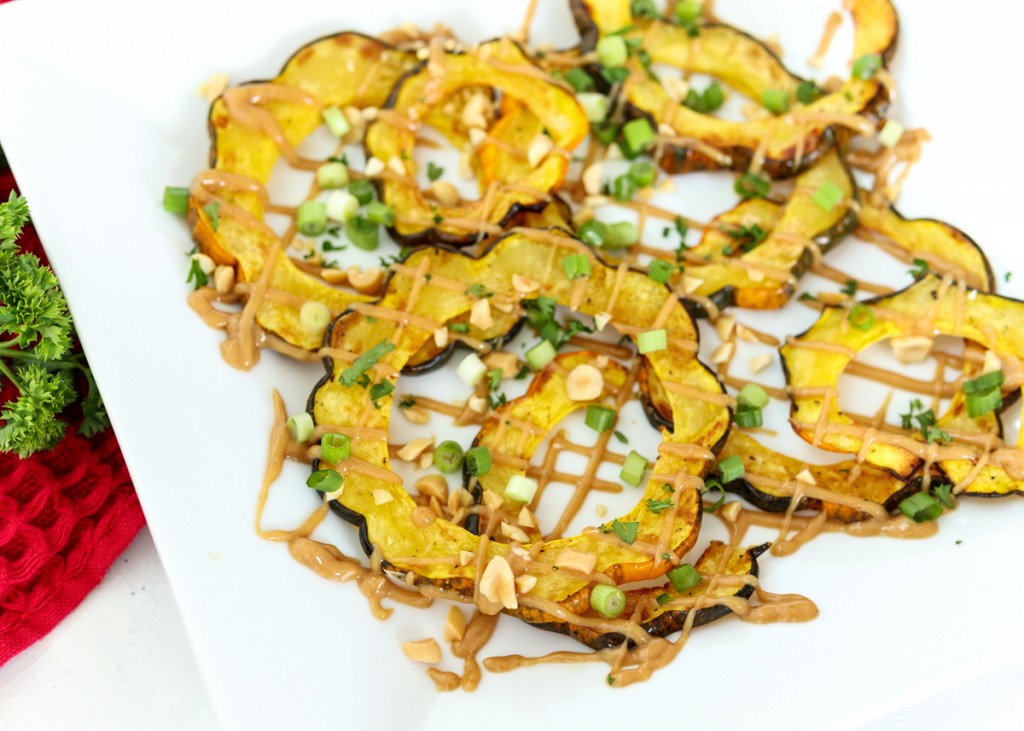 Have you ever used coconut aminos? I bought a bottle at Trader Joe's and this was my first time using it. Many people use it as a substitute for soy sauce since it tastes similar, although slightly sweeter. Coconut aminos is lower in sodium and contains no soy. If you would rather use low sodium soy sauce because that's what you already have in your fridge you might need to adjust the sauce to taste a little since it's not a direct substitution.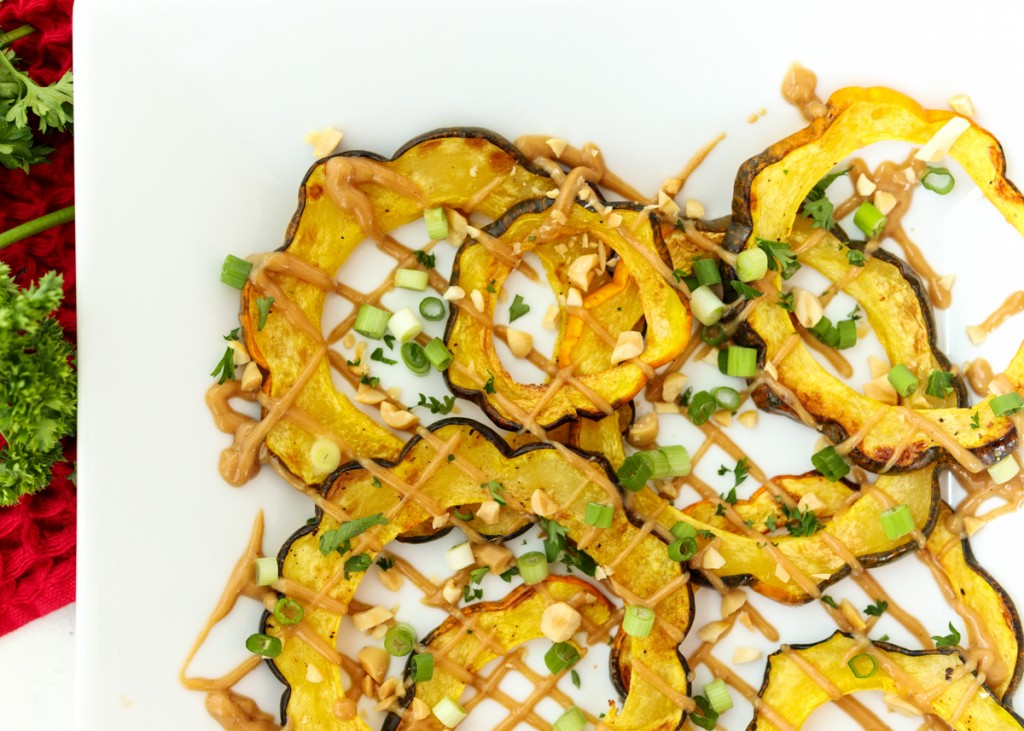 I love pretty much all roasted vegetables and acorn squash is no exception. The slices get tender, a little crispy and caramelized. Plus, how fancy do they look all laid out on the platter? You definitely need a very sharp knife to cut through the squash. If you're finding the squash too difficult to cut through, cut a few slits in the skin of the squash then microwave for three minutes to help soften the skin.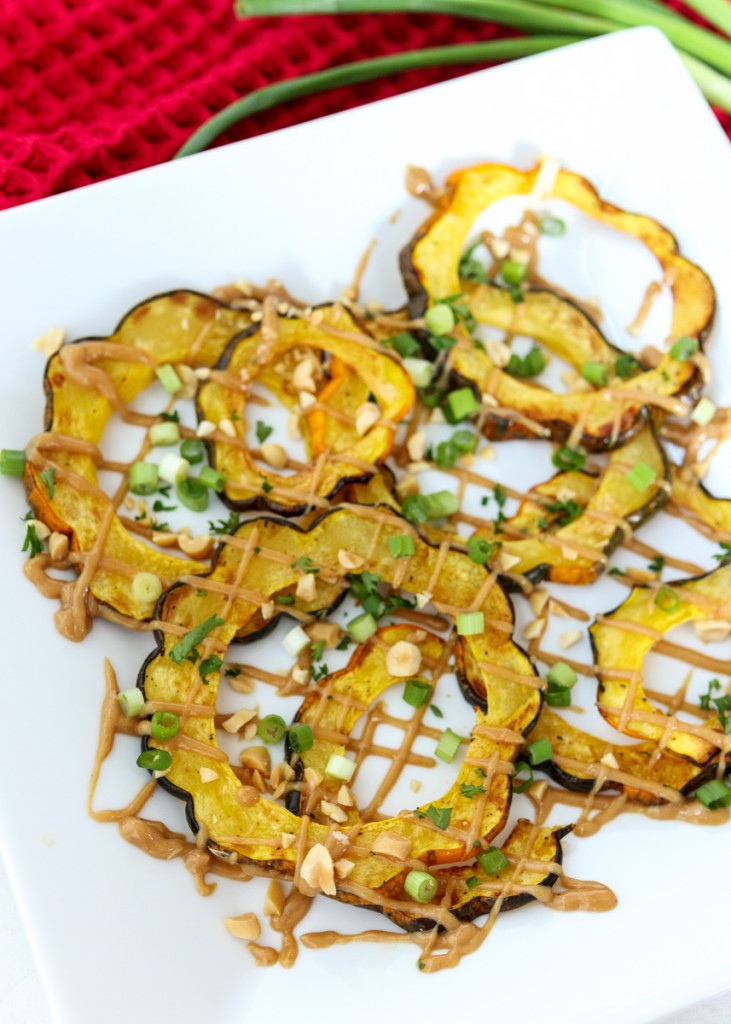 Looking for more peanut vessel inspiration? Check out my Thai Peanut Chicken Tacos, Sesame Peanut Noodles with Chicken or Apple Nachos. Or if you want something a little sweeter, the Chocolate Drizzled Peanut Butter Crunch Chocolate Brownies and the Peanut Butter Apple Bars are both loaded with peanut butter. Yum!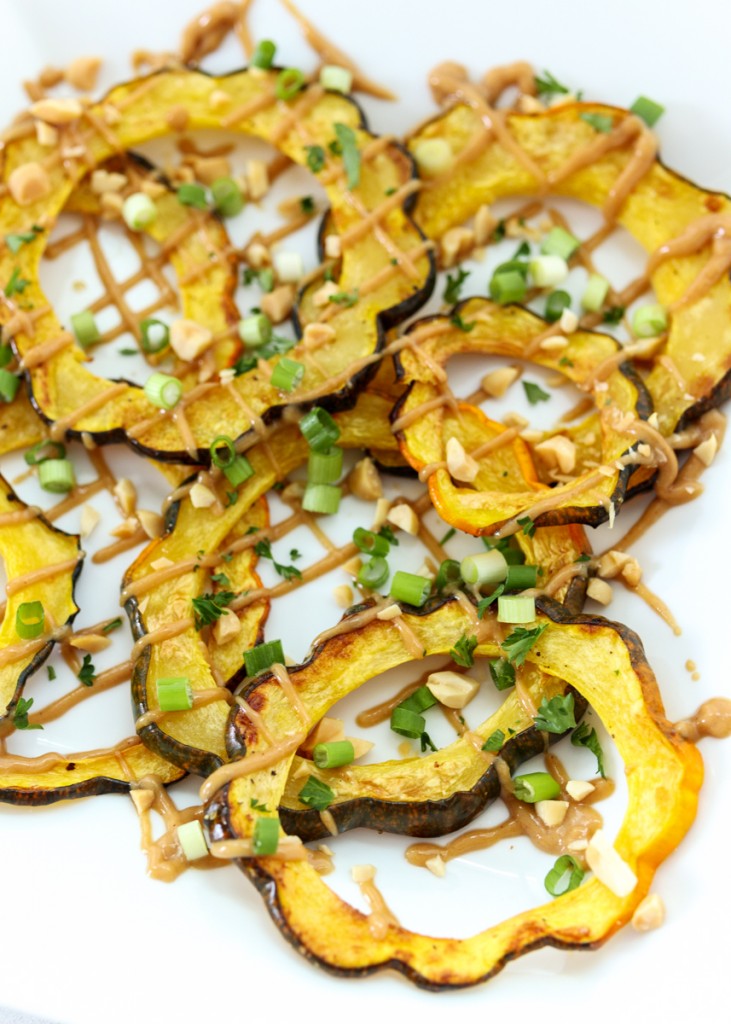 Roasted Acorn Squash with a Thai Peanut Sauce
Ingredients
2 acorn squash
¼ cup creamy peanut butter (I used Jif)
2 tablespoons coconut aminos
2 tablespoons light coconut milk
1 tablespoon maple syrup
1 tablespoon lime juice
¼ teaspoon ground ginger
⅛ teaspoon red pepper flakes, or more to taste
¼ cup chopped peanuts
¼ cup chopped scallions
Cooking spray
Salt and pepper
Directions
Preheat the oven to 400 degrees F. Line a baking sheet with aluminum foil or parchment paper and spray with cooking spray. Set aside.
Cut the acorn squashes into ½-inch slices. Use a small round biscuit cutter or a knife to remove the center of each slice to leave you with acorn squash rings. Lay the squash slices in a single layer on the prepared baking sheet. Spray with nonstick cooking spray then season with salt and pepper. Roast until tender, about 25 minutes.
While the squash is roasting, make the peanut sauce. Whisk the peanut butter, coconut aminos, light coconut milk, maple syrup, lime juice, ground ginger and red pepper flakes in a small mixing bowl until well combined.
When the squash is done, layer on a serving dish. Drizzle the peanut sauce over top then top with the chopped peanuts and scallions. Serve warm.
Notes
Substitutions: If you can't use coconut aminos, you can try swapping in low sodium soy sauce. You might need to increase the amount of maple syrup. If you can't use light coconut milk, substitute water.
Leave the acorn squash unpeeled. When you cut the slices you want the squash positioned so the stem end is facing your left hand and the bottom end of the squash is facing your right hand (if you are going to be cutting with your right hand).