Roasted Acorn Squash with a Thai Peanut Sauce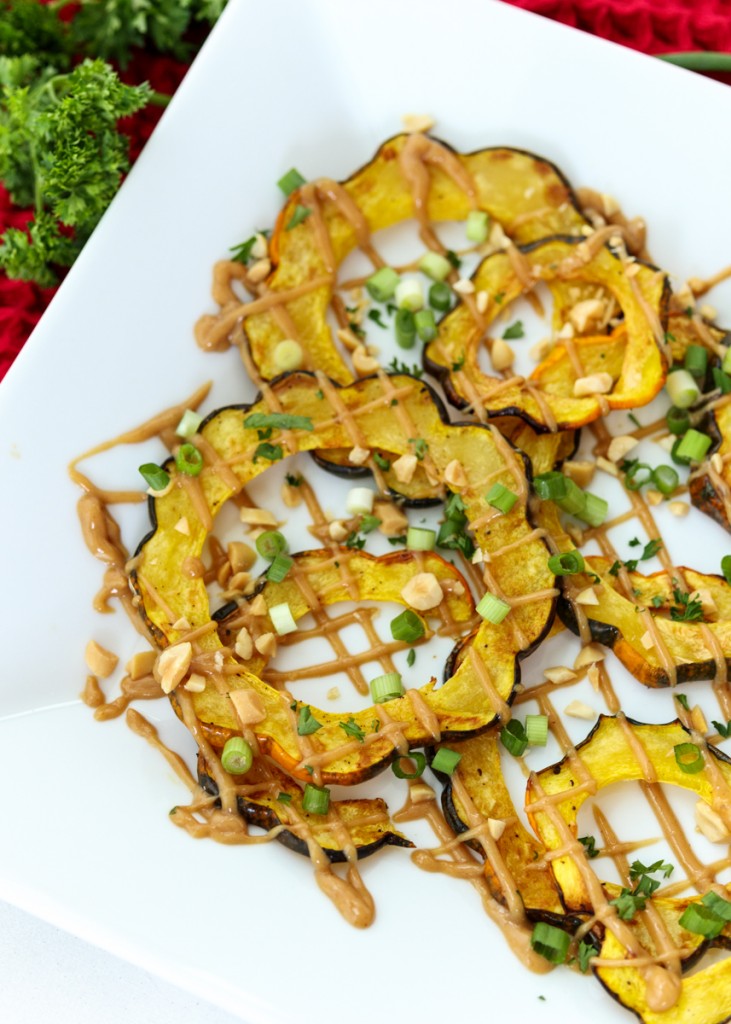 2 acorn squash
¼ cup creamy peanut butter (I used Jif)
2 tablespoons coconut aminos
2 tablespoons light coconut milk
1 tablespoon maple syrup
1 tablespoon lime juice
¼ teaspoon ground ginger
⅛ teaspoon red pepper flakes, or more to taste
¼ cup chopped peanuts
¼ cup chopped scallions
Cooking spray
Salt and pepper
Preheat the oven to 400 degrees F. Line a baking sheet with aluminum foil or parchment paper and spray with cooking spray. Set aside.
Cut the acorn squashes into ½-inch slices. Use a small round biscuit cutter or a knife to remove the center of each slice to leave you with acorn squash rings. Lay the squash slices in a single layer on the prepared baking sheet. Spray with nonstick cooking spray then season with salt and pepper. Roast until tender, about 25 minutes.
While the squash is roasting, make the peanut sauce. Whisk the peanut butter, coconut aminos, light coconut milk, maple syrup, lime juice, ground ginger and red pepper flakes in a small mixing bowl until well combined.
When the squash is done, layer on a serving dish. Drizzle the peanut sauce over top then top with the chopped peanuts and scallions. Serve warm.
Substitutions: If you can't use coconut aminos, you can try swapping in low sodium soy sauce. You might need to increase the amount of maple syrup. If you can't use light coconut milk, substitute water.
Leave the acorn squash unpeeled. When you cut the slices you want the squash positioned so the stem end is facing your left hand and the bottom end of the squash is facing your right hand (if you are going to be cutting with your right hand).
Recipe by
Lemon & Mocha
at http://www.lemonandmocha.com/2019/01/23/roasted-acorn-squash-with-a-thai-peanut-sauce/