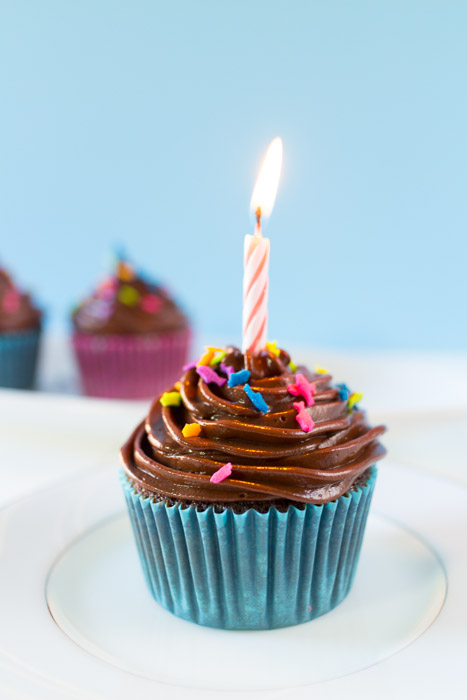 This recipe is so delicious, so chocolately and so perfect in every way that we need to start talking about it right now. No wasting time reading about my childhood breakfast memories or my typical New Englander obsession with fall or my confusion about why anyone would ever think smaller sizes of candy are "fun" (I just don't get it!). We need to be quick about this so you have time to run to your kitchen and start baking these cupcakes immediately. Your tastebuds will thank you. Your stomach, however, will curse you for eating three of them faster than someone can say, "Where did all the cupcakes go?" Or maybe you're a normal unusual human being with self control around moist chocolate baked goods, in which case maybe you can teach me someday.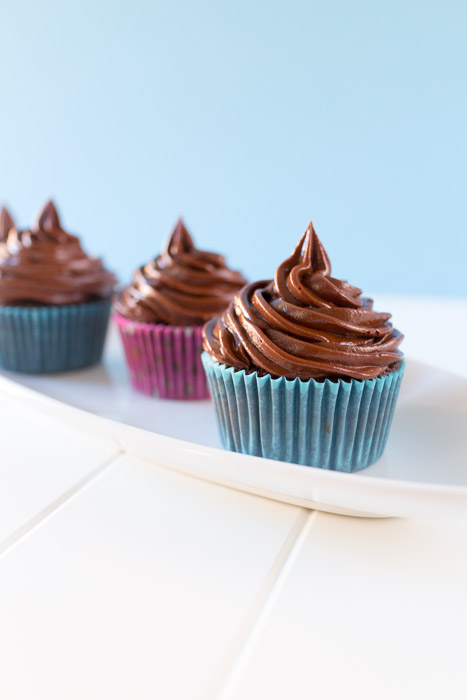 If you don't yet have a go-to chocolate cake recipe you can stop your search right now. And if you do have one it's time to make these cupcakes and reevaluate that statement. Over the last two years I have made this recipe dozens of times in the form of cupcakes, layer cakes and sheet cakes and it always comes out amazing. "Wow," "omg" and "mmm" are the three most common exclamations when people try these cupcakes, typically mumbled while still mid-bite. Who knew a one bowl cake would be so life-changing? Yes, you read that right folks, one bowl. No separate dry ingredient and wet ingredient bowls to dirty up your kitchen.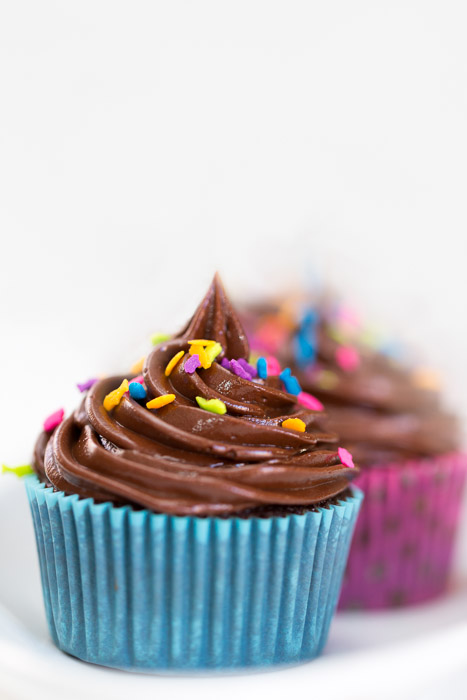 When a cupcake is this good you need to make sure you have a frosting that is equally drool-worthy. This chocolate frosting is creamy, rich and as the title states, perfect. The combination of melted chocolate and cocoa powder provides a pure melt-in-your-mouth chocolate taste, instead of the overwhelming sugary or buttery attributes that are often associated with buttercream frostings. I made it for the first time this past weekend and there's something so exhilarating about stumbling upon a recipe that you know you will return to time and time again. So go bake these cupcakes and get exhilarated.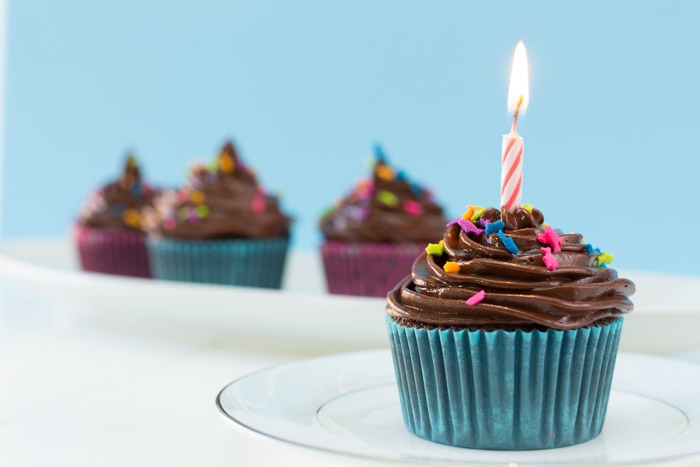 Perfect Chocolate Cupcakes & Perfect Chocolate Frosting
Ingredients
for the cupcakes
2 cups sugar
1¾ cups all-purpose flour
¾ cup unsweetened cocoa powder
1½ teaspoon baking powder
1½ teaspoon baking soda
1 teaspoon salt
2 large eggs
1 cup buttermilk
½ cup butter, melted
1 tablespoon vanilla extract
1 cup fresh hot coffee
for the frosting
2½ sticks of unsalted butter, softened
1 cup powdered sugar
¾ cup unsweetened cocoa powder
Pinch of salt
¾ cup light corn syrup
1 teaspoon vanilla extract
8 ounces semisweet chocolate
Directions
for the cupcakes
Preheat the oven to 350 degrees and line 2 cupcake pans with paper liners and set aside.
In the bowl of a stand mixer combine the sugar, flour, cocoa powder, baking powder, baking soda and salt.
Once the mixture is combined add the eggs, buttermilk, melted butter and vanilla extract. Beat the mixture on medium speed for 2 minutes.
Carefully stir in the hot coffee until well combined. The batter will be extremely liquidy.
Pour the batter evenly between the 24 paper liners. Bake on the middle rack of an oven for 18-22 minutes or until a toothpick inserted into the center of a cupcake comes out with no batter on it.
Completely cool cupcakes on a wire rack before frosting.
for the frosting
Set the chocolate over a double boiler on medium heat, stirring occasionally.
Meanwhile, combine the butter, powdered sugar, cocoa powder and salt in a food processor or in a large mixing bowl with an immersion blender. Pulse until mixture is smooth and well combined, making sure to scrape sides as needed.
Add the corn syrup and vanilla extract to the butter mixture. I like to lightly spray my measuring cup with cooking spray before measuring out the corn syrup because it helps the corn syrup from sticking to the measuring cup when you go to use it (this works well for honey, too).
Pulse the mixture until well combined, making sure to scrape sides as needed.
If the chocolate is completely melted and smooth, remove from the heat for a few minutes. Carefully pour the melted chocolate into the mixture and process until smooth.
Notes
*Although the original recipe calls for buttermilk, I always use the following substitute when baking these cupcakes since it is what I have in my fridge: Put 1 tablespoon of lemon juice in a liquid measuring cup. Fill the measuring cup with milk (I use skim) until it equals 1 cup. Let sit for 5 minutes before using in the recipe.
*The coffee at the end of the recipe is what makes the cupcakes so moist and chocolatey. The cupcakes do not, even slightly, taste like coffee. The coffee is used as a flavor enhancer to help bring out the richness of the cocoa.
Cake from

Foodess

.
Frosting from

Fun Foods on a Budget!