Carrot-Coconut Muffins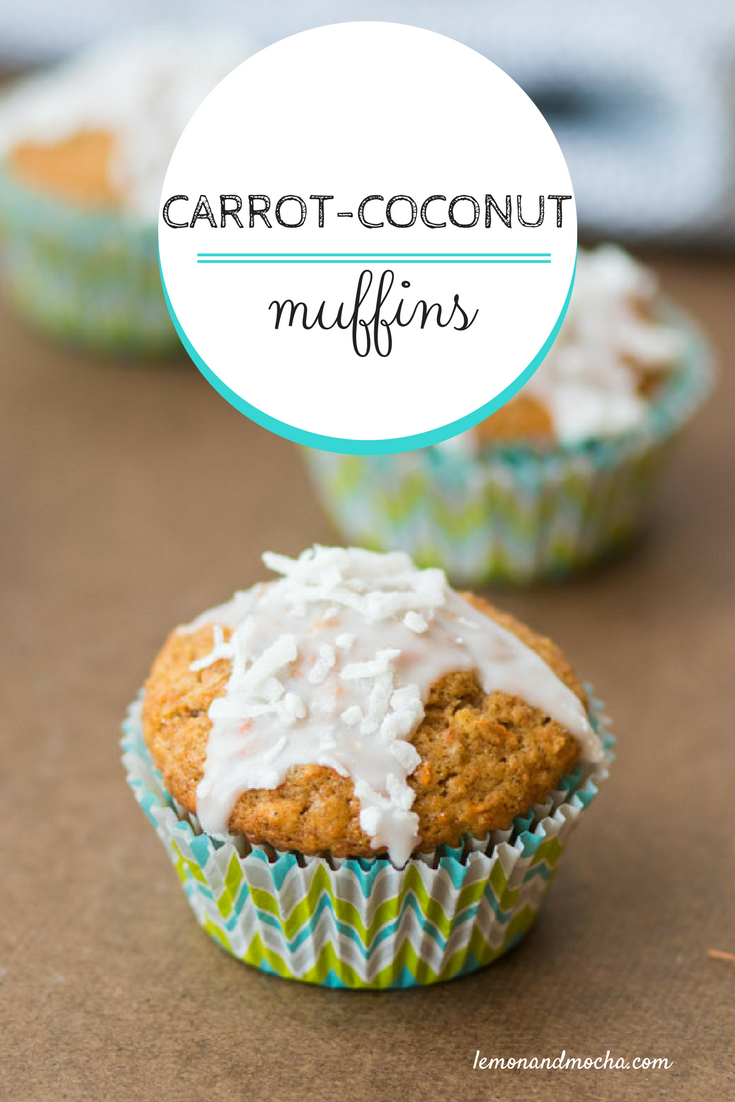 It's hard to believe we're already four muffins into the year! It seems like just the other day that I was making the Food Network's Pomegranate Orange January Muffins and here we are in April. Time flying by is fine by me until we start getting some nice summer weather in Boston. Then it better slow down!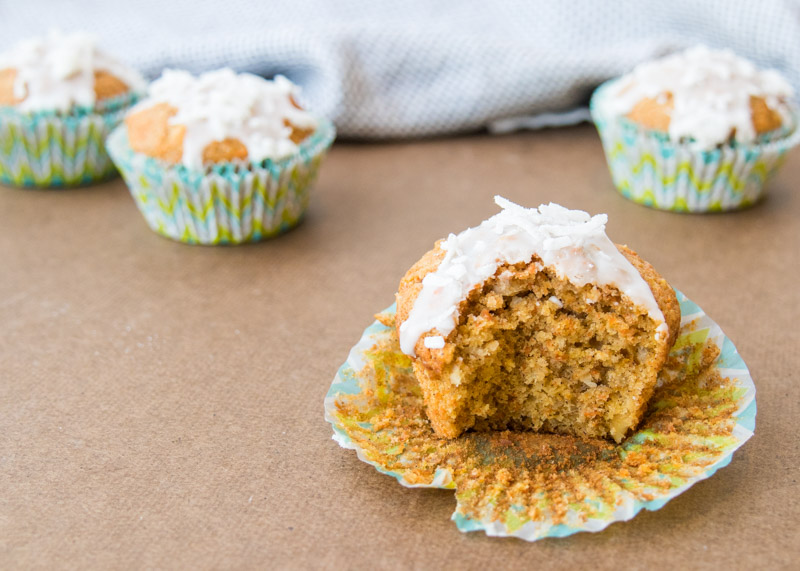 The muffins for April from the Food Network Magazine's Muffin of the Month are carrot muffins with a coconut twist. Very fitting since Easter was this month (just barely) and carrot cake seems to be the official dessert of the Easter Bunny.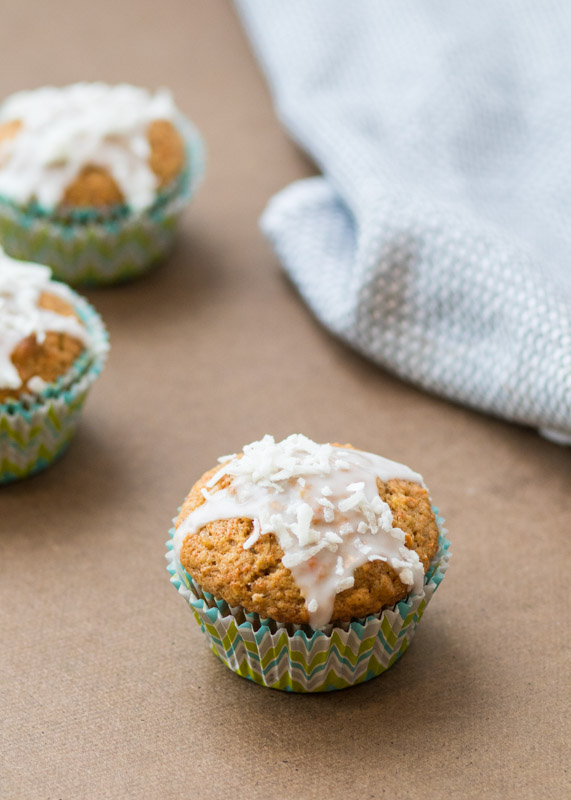 I'm going to be honest about these muffins since authenticity is very important to me here at Lemon & Mocha. They tasted like really good carrot cake muffins, but with all the specialty ingredients listed, from the coconut oil to the macadamia nuts to the crystallized ginger, I was expecting a wow factor. I wanted the coconut and ginger flavors to punch my taste buds! Unfortunately the coconut seemed to mostly be coming from the flakes sprinkled on top and the spicy ginger-ness was very mild.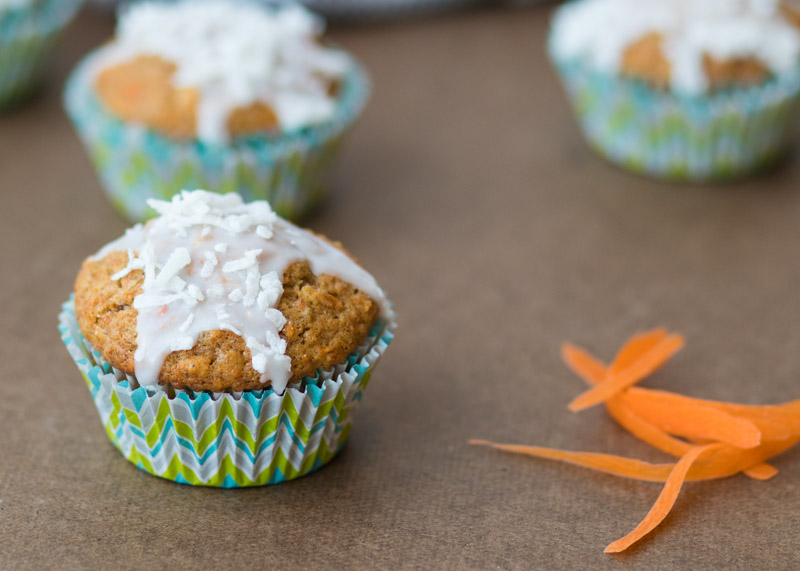 I am going to make these muffins again at some point, but I'm going to recipe-test and adapt them to make perfect muffins. Not just really good muffins. I'm thinking continuing with the island theme of the coconut and macadamia nuts, but adding more pronounced flavor and some pineapple. Yum!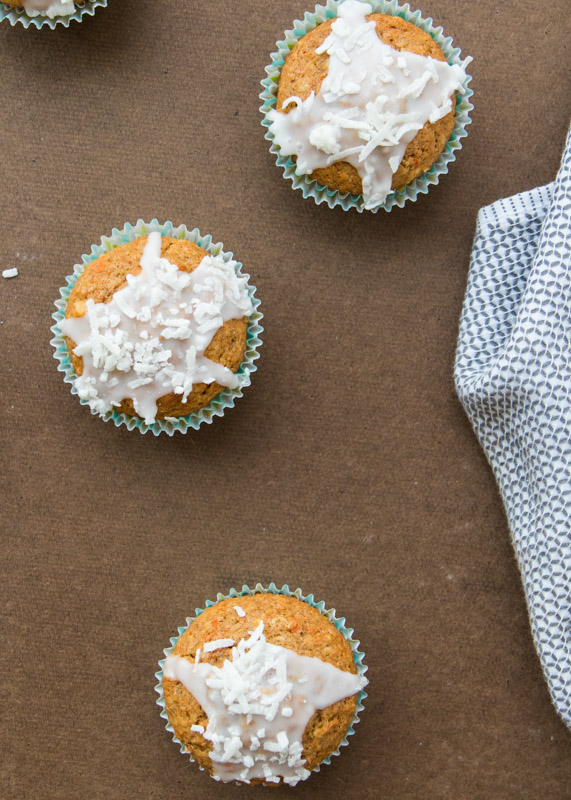 If you tried the April muffins, what did you think?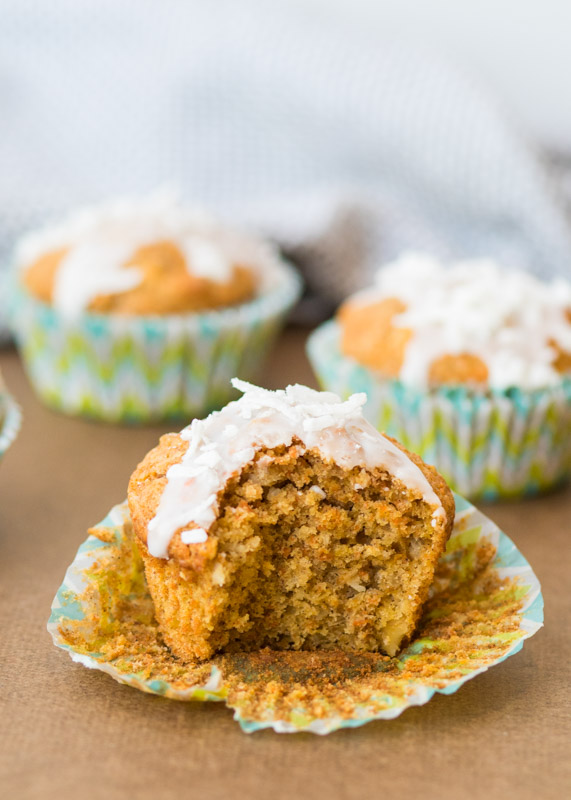 Carrot-Coconut Muffins
Ingredients
1½ cups all-purpose flour
1 teaspoon ground cinnamon
1 teaspoon baking powder
¼ teaspoon baking soda
½ teaspoon ground ginger
½ teaspoon salt
¾ cup packed light brown sugar
½ cup plain whole milk yogurt
⅓ cup coconut oil, melted
2 large eggs
1 teaspoon vanilla extract
1½ cups grated carrots (about 3 carrots)
½ cup sweetened shredded coconut, plus more for topping
½ cup chopped macadamia nuts
¼ cup finely chopped crystallized ginger
½ cup confectioners' sugar
2 teaspoons milk
Directions
Preheat the oven to 375 degrees F. Line a 12-cup cupcake pan with paper liners and set aside.
In a large bowl, sift together flour, cinnamon, baking powder, baking soda, ground ginger, and salt. Make a well in the center.
In a small bowl, whisk together the brown sugar, yogurt, melted coconut oil, eggs, and vanilla. Pour into the well of the flour mixture and stir until combined. Add the carrots, coconut, macadamia nuts, and crystallized ginger then fold until combined.
Evenly divide the batter between the prepared lined cups. They should each be about ¾ full. Bake for 20-25 minutes until the muffin is golden and a toothpick inserted into the center of the muffin comes out clean. Let cool in the pan for 5 minutes then move to a wire cooling rack to cool completely.
While the muffins are cooling, make the glaze. Sift the confectioners' sugar into a small bowl then add the milk. You want it to be thin enough to drizzle, but thick enough so it won't just run off the muffins. If it is too thin, add more powder sugar. If it is too thick, add more milk. When the muffins are completely cool, spoon a little glaze onto the top of each muffin and immediately sprinkle with the shredded coconut. The coconut will make the glaze spread out even more.
 Recipe from January/February 2018 issue of Food Network Magazine
.