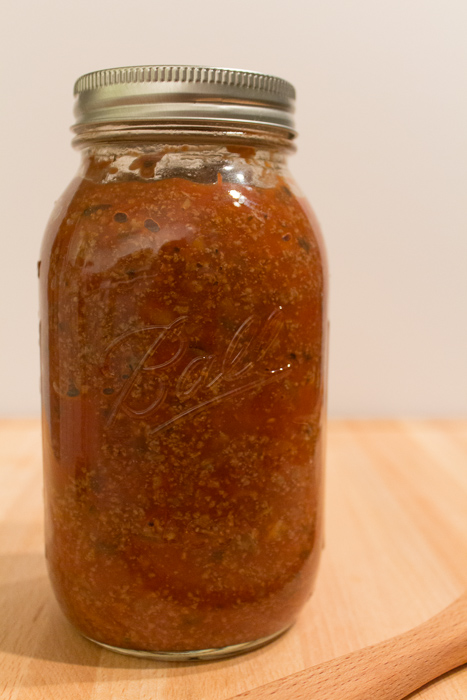 This is not your momma's meat sauce. Well it might be, but the possibility of that is highly unlikely. This is certainly not a marinara sauce with some meat casually tossed in. This is a rich, creamy and satisfying beef bolognese sauce. There are a couple differences between this deliciousness and your average meat sauce. The beef bolognese here before you includes rehydrated porcini mushrooms along with their soaking liquid, which becomes a light mushroom stock. We learned from the mushroom overload cheddar burgers posted earlier this week that these babies are mushroom gold when adding a decadent earthiness to beef.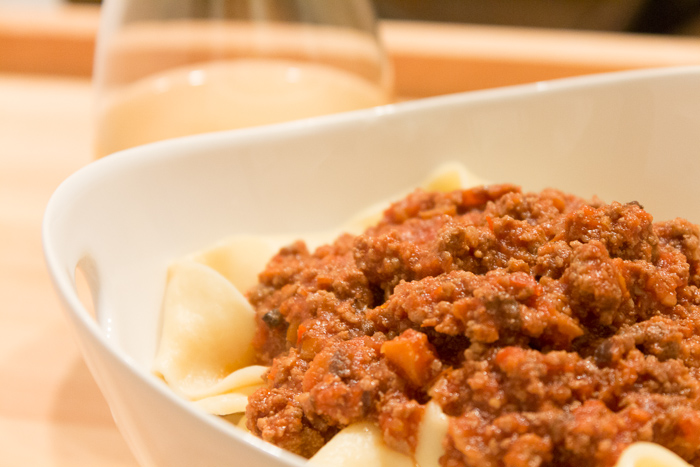 Second is that the milk added cuts the acid of the tomato base and brings a great creaminess to the sauce without overloading it with fat like a traditional cream sauce. Finally, all the different steps- the processing, the sauteing, the eating-with-a-spoon-but-someone-needs-to-taste-test-it-ing- may seem like a lot of work, but once you ravishingly start into that first bite of bolognese coated pasta it will all be worth it. The original recipe calls for using a meatball mixture, typically consisting of beef, pork and veal, but feel free to use whatever you prefer. Or is readily available in your grocery store as was my case.

Beef Bolognese Sauce
Ingredients
½ cup water
½ ounce dried porcini mushrooms
1¼ cups white wine
1 small carrot, peeled and cut into ½ inch pieces
⅓ cup finely chopped onion
1 tablespoon unsalted butter
1 teaspoon sugar
1 garlic clove, minced
1¼ pounds ground beef
1½ cups whole milk
2 tablespoons tomato paste
1 28-ounce can crushed tomatoes
Salt and pepper
Directions
Microwave the water until hot. Add the dried mushrooms and let rehydrate for 10 minutes. Using a fine mesh strainer set over a small bowl drain the mushrooms making sure to reserve the liquid. Set aside.
In a small skillet over medium heat cook the wine until it has reduced to about 2 tablespoons, about 20 minutes. Set aside.
While the wine is reducing use a food processor to finely grind the rehydrated porcini mushrooms. Add the carrot and pulse until the carrot pieces are smaller than a chop, but larger than a mince. Add the onion and pulse until combined.
Heat a large pot over medium high heat. Melt the butter then stir in the mushroom, carrot and onion mixture. Cook until the vegetables are soft.
Add the sugar and minced garlic and cook for 30 seconds. Add the ground beef and cook for 1 minute, making sure to break apart the meat with a wooden spoon. Stir in the milk and continue breaking apart the meat. Once the milk begins to bubble, reduce to medium low heat.
Continue to cook the ground meat, making sure to break up the meat often, for 20 minutes. Once the meat has begun to sizzle, stir in the tomato paste to combine. Add the can of crushed tomatoes, reserved mushroom liquid, ¼ teaspoon salt and ⅛ teaspoon pepper.
Cook for another 15 minutes then stir in the reduced wine. Cook for a couple more minutes then remove from the heat. Serve hot over pasta or store in the fridge for 2 days or the freezer for 2 months.