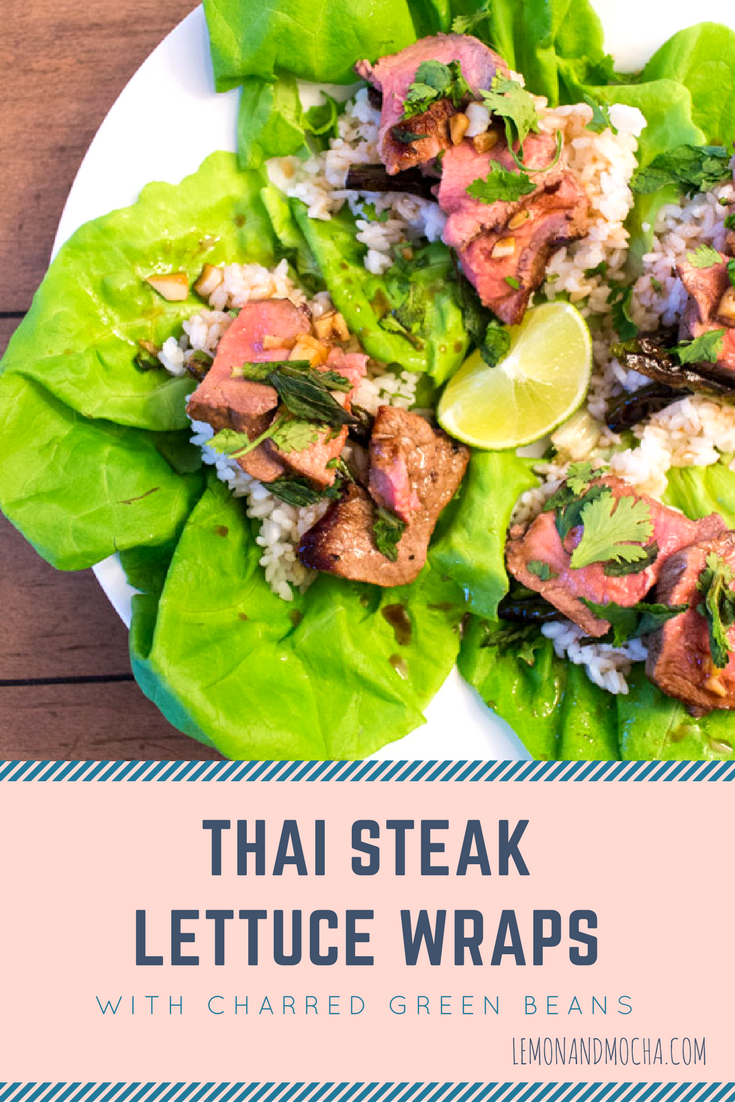 I am channeling some serious warm weather feels with these Thai Steak Lettuce Wraps with Charred Green Beans. Maybe it's the lettuce or maybe it's the lime, but they're definitely bringing me to fresh springtime. Matt learned how to ski a few years ago and ever since winter hasn't seemed so bad up here in Boston because we get to go skiing on the weekends. So we tough through the driveway shoveling and the messy commutes because we know there is a bright snow-covered mountain light at the end of the New England winter tunnel. However, now that we are solidly in mid-March I am ready for spring to emerge. Come on barbecues, flip-flops, grilling, and outside walks with no jacket on! Is there anything more exciting than being outside without a jacket on?! Ok, yes, but it's still pretty awesome.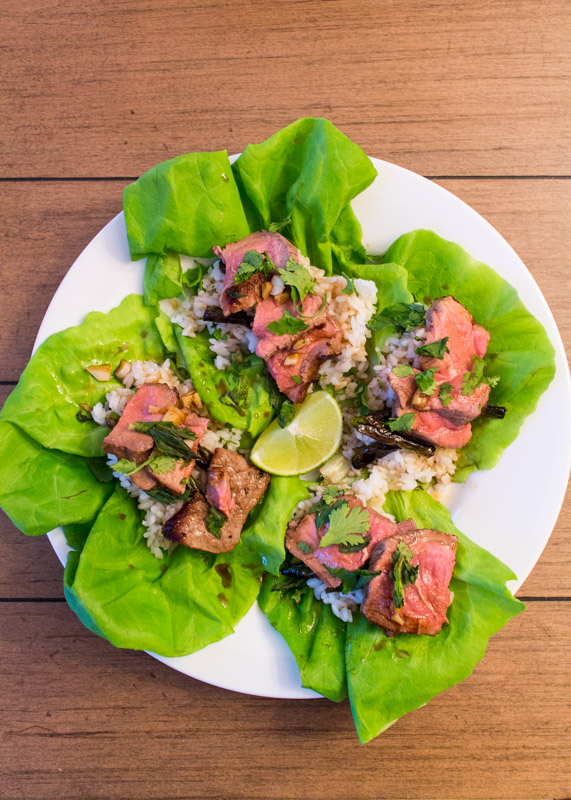 We first made this recipe as one of our Blue Apron meals. Have you tried Blue Apron? There are aspects I love about it, such as having all the ingredients sent without having to run back and forth across a grocery store. I'm also a big fan of the detailed photo instructions so other family members can jump in and help by picking some steps to follow on their own. And by that I mean Matt can help without asking me questions or what he should do next while I'm working on another part of the dish 😂.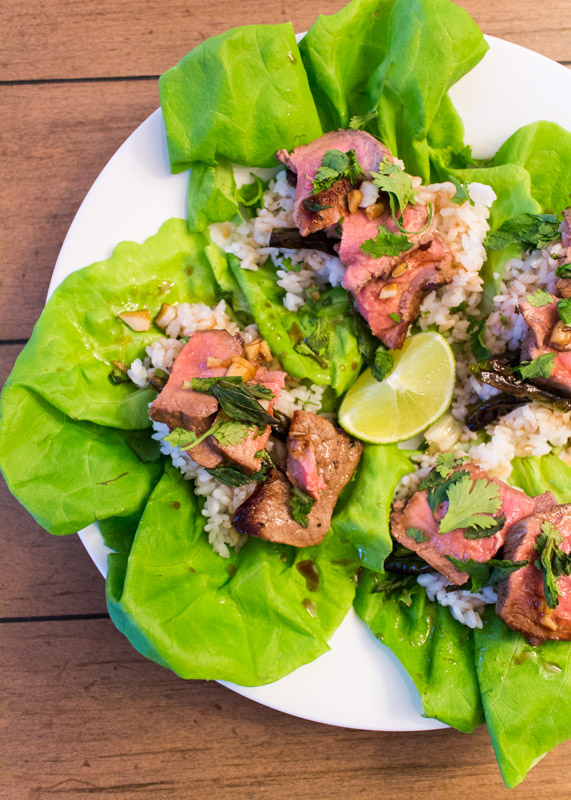 The main reason we don't order Blue Apron more (and why we order a different box now that I will share in another post) is the recipes seemed to be hit or miss for us. These Thai Steak Lettuce Wraps with Charred Green Beans were a definite hit. I've made steak lettuce wraps before, but I've never added sushi rice and green beans. The rice bulks them up a little and adds a balancing tenderness to the wraps. Charring the green beans brings some smokiness and crunchiness. Finally, the sauce is the perfect combination of zesty, sweet and umami for this springtime weeknight meal. Enjoy!

Thai Steak Lettuce Wraps with Charred Green Beans
Ingredients
¾ cup sushi rice
3 teaspoons olive oil
4 ounces green beans, trimmed
8 ounces sirloin steak
2 cloves garlic, minced
2 tablespoons ponzu sauce
1 tablespoon sugar
1 lime, quartered
1 head butter lettuce, washed and separated
A small handful of cilantro leaves, roughly torn
A small handful of mint leaves, roughly torn
Directions
In a small pot or a rice cooker, combine the sushi rice, 1½ cups of water, and a pinch of salt. Heat on high until boiling, then cover the pot and reduce the heat to low. Continue to cook for 15-17, or until the rice is tender and there is no more excess water. Remove from the heat and fluff with a fork.
While the rice is cooking, heat 2 teaspoons of the olive oil in a pan on medium-high heat. Add the green beans and season with salt and pepper. Cook the green beans until they are slightly charred and softened, about 4-5 minutes, stirring occasionally. Remove the green beans and wipe the pan with a paper towel.
Dry the steaks if needed then season generously on both sides with salt and pepper. Heat 1 teaspoon of the olive oil in the same pan over medium-high heat. Add the steaks and cook to your desired degree of doneness. For medium-rare steak, cook about 2-3 minutes per side for a 1" steak. Remove the steaks from the pan and let them rest before cutting them for at least 5 minutes.
With the browned bits from the steak still in the pan add the minced garlic, as well as a drizzle of olive oil if the pan is dry. Heat over medium-high heat for 30 seconds to 1 minute, stirring constantly. Add the ponzu sauce, sugar, the juice of 2 lime quarters, and 2 tablespoons of water. Continue to cook for 1-2 minutes or until the sauce has slightly thickened, continuing to stir. Remove the sauce from the heat.
Place the lettuce leaves on the plates. Top each lettuce wrap with some cooked rice and charred green beans. Slice the steak against the grain and place over the rice and green beans. Finish the lettuce wraps with the sauce, torn cilantro and mint leaves, as well as an extra squeeze of lime as desired.
 Recipe from Blue Apron
.