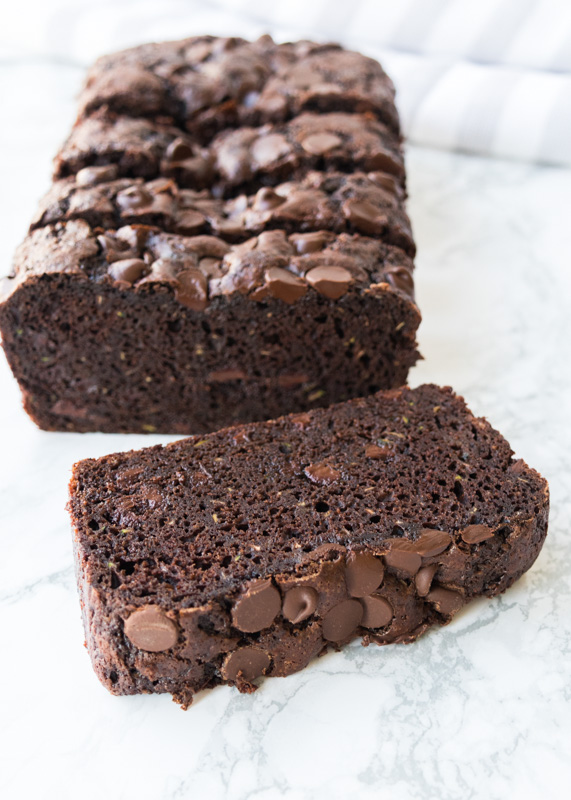 Before you run away thinking I'm a crazy person for putting vegetables in my chocolate I have to tell you that you cannot actually taste the zucchini in this bread. As anyone who has tried zucchini bread before knows, even though there may be a ton of it in the bread all the zucchini does is make the loaf incredibly moist. So take that soft and sweet loaf, add in chocolate chips and cocoa powder, and the chocolate-addict in me is absolutely hooked.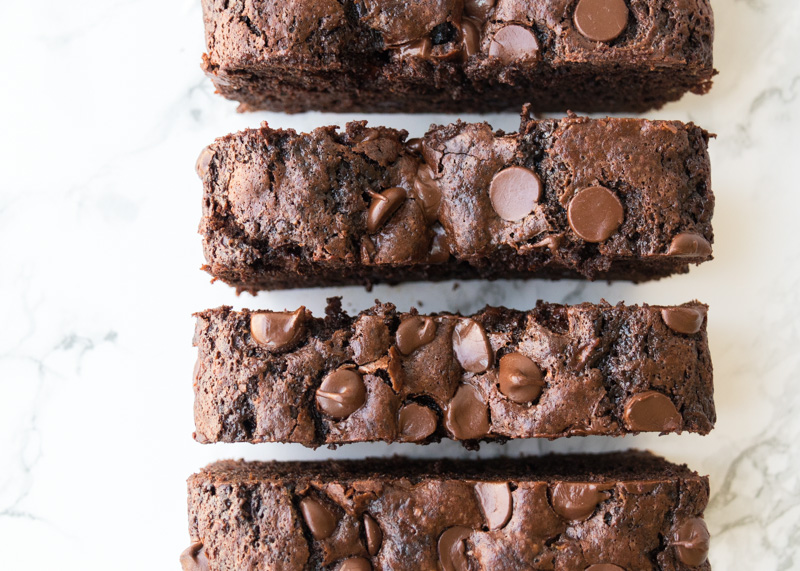 I was a little skeptical of this recipe when I first tried it, but all that went away when I tried my first slice. I found myself eating it for breakfast, snack, dessert – you name it – until the next thing I knew it was completely gone. Based on the ingredients and a note from the original recipe author I know this Double Chocolate Zucchini Bread will freeze well, but I have yet to have a loaf make it to that point. Although you could always make two loaves and freeze one to have on hand, which is an excellent idea.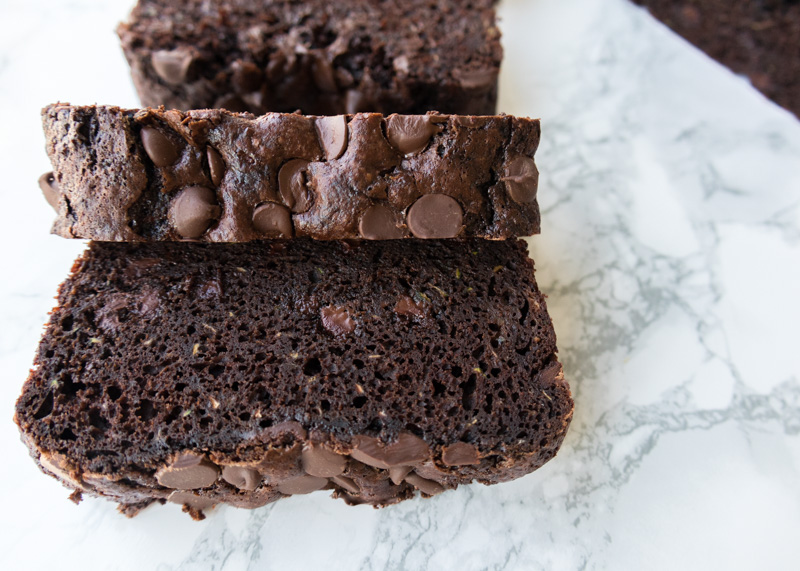 This recipe calls for instant coffee powder or espresso powder. As with my Perfect Chocolate Cupcakes, you cannot taste the coffee flavor; it just acts purely as an enhancer to the chocolate. You can certainly omit it, but I highly recommend to include it to help bring out that rich chocolate taste of the loaf.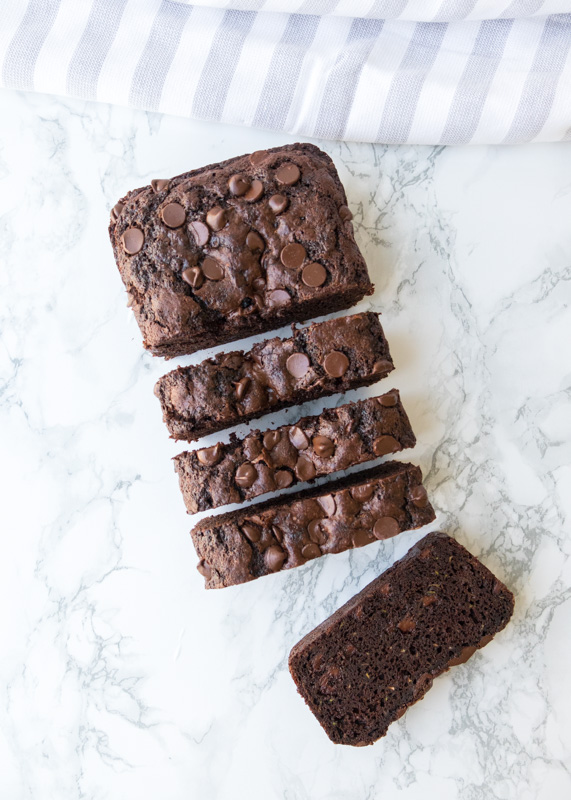 Matt is the only coffee drinker in our house and he drinks espresso every morning. Since I don't typically have instant coffee powder or espresso powder (which is not really for drinking, it's a specialty ingredient used in baking) in the house, I found this awesome hack by Bright Eyed Baker to DIY my own espresso powder. Lay used espresso grounds on a baking sheet then bake on your oven's lowest temperature for about 1 hour, or until they are toasted and crunchy. Then run through your coffee grinder to make a fine powder. Voila! Espresso powder and no wasted grounds!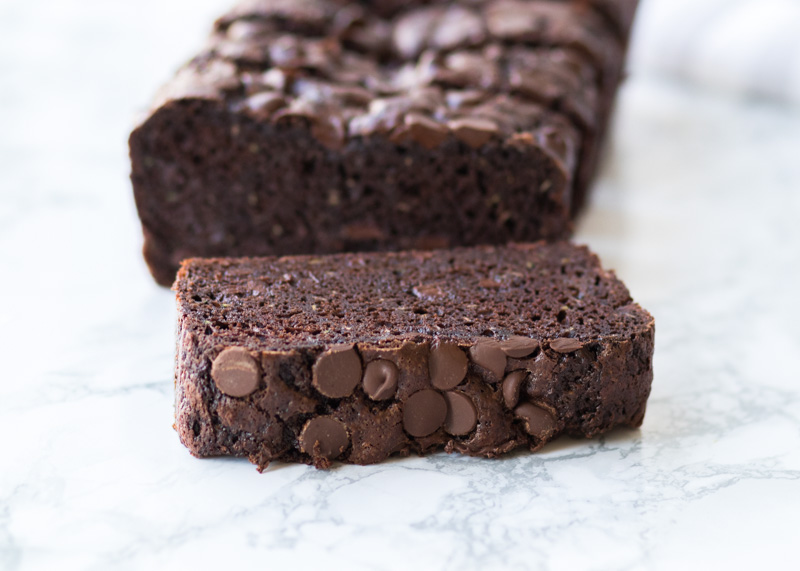 So espresso powder hacks aside, this Double Chocolate Zucchini bread is perfect for using up all those extra zucchinis everyone tends to have in the summer, but don't wait until then to try it!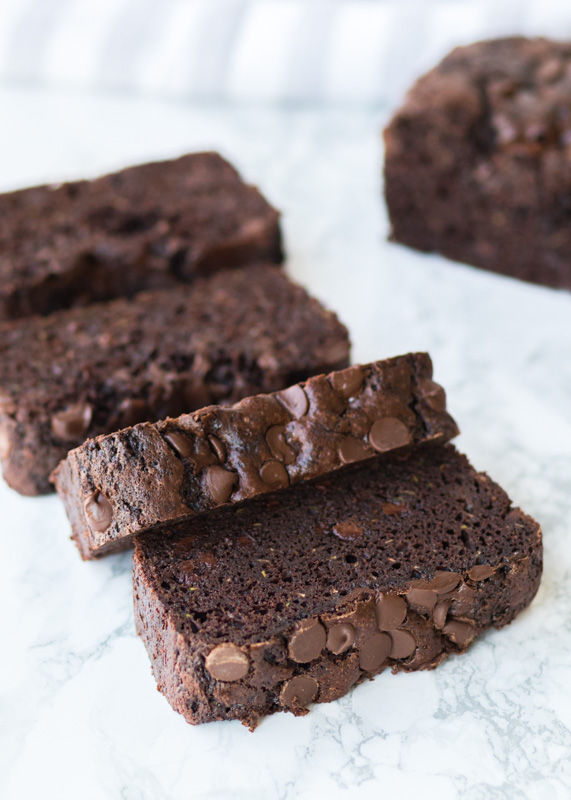 Double Chocolate Zucchini Bread
Ingredients
1½ cups shredded zucchini, about 2 zucchinis, lightly patted dry
1 cup all-purpose flour
½ cup cocoa powder
¾ teaspoon baking soda
¼ teaspoon baking powder
¼ teaspoon salt
½ teaspoon instant coffee powder, or ¼ teaspoon espresso powder
1 cup semi-sweet chocolate chips
2 large eggs
¼ cup vegetable oil
¼ cup plain nonfat Greek yogurt
½ cup granulated sugar
¼ cup brown sugar
1 teaspoon vanilla extract
Directions
Preheat the oven to 350 degrees F. Spray a 9x5 or 8x4 loaf pan with nonstick cooking spray and set aside.
In a large mixing bowl, sift together the flour, cocoa powder, baking soda, baking powder, salt, instant coffee and ¾ cup of the chocolate chips. Stir to combine and set aside.
Whisk together the eggs, vegetable oil, yogurt, sugar, brown sugar and vanilla in a medium bowl until combined. Pour into the flour mixture and whisk until just combined. Fold in the shredded zucchini. Pour the batter into the prepared baking pan. Top with the remaining ¼ cup of chocolate chips.
Bake for 45-55 minutes or until a toothpick inserted in the center comes out clean. Let bread cool completely in the pan on a wire cooling rack. Once cooled, removed from the pan. Store in an airtight container for 5 days or even longer in the fridge. Bread also freezes well and can be thawed in the fridge.
Notes
You can be flexible about the yogurt in this recipe. If you would prefer full or low-fat yogurt instead of the nonfat feel free to substitute. You could also use regular non-Greek yogurt or vanilla yogurt instead of plain.
Recipe slightly adapted from

Sally's Baking Addiction

.