Lemon Cheesecake with Cranberry Raspberry Compote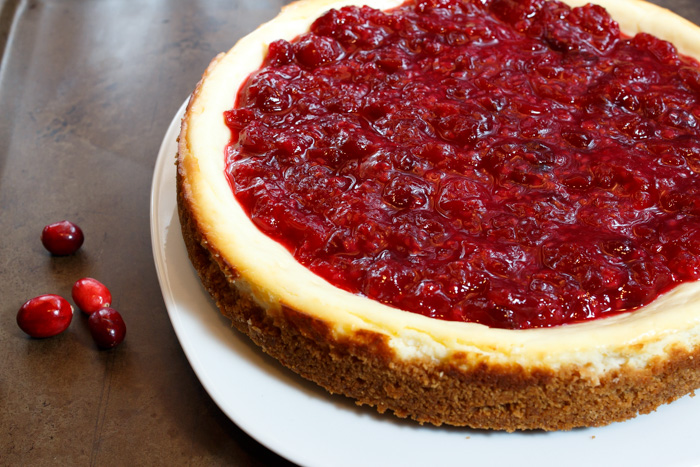 16 graham cracker squares
4 tablespoons unsalted butter, melted
3 8-ounce packages cream cheese, room temperature
3 eggs
1 cup sugar
¼ cup lemon juice
Zest of 1 lemon
½ cup orange juice
½ cup sugar
6 ounces fresh cranberries
1 cup fresh raspberries
Preheat oven to 350 degrees F. Line a 9" springform pan with parchment paper and set aside.
Pulse the graham crackers in a food processor to create crumbs. Add the melted butter and pulse until the graham cracker crumbs are coated. Evenly press into the bottom and ½" up the sides of the prepared pan. Bake the crust for 10 minutes. Remove and let cool.
Beat the cream cheese until very fluffy. It should almost have a satiny quality to it. Add the sugar then beat until smooth. Add 1 egg then beat for 30 seconds. Repeat with the remaining 2 eggs. Stir in the lemon juice and zest.
Pour the filling into the prepared crust. Bake for 45 minutes or until the top is set, except for the center which should look almost just set and glossy. Let cool to room temperature on a cooling rack then cover the pan and chill in the fridge overnight.
Combine the orange juice and sugar in a medium saucepan over medium heat, stirring occasionally. After 5 minutes, add the cranberries and bring to a boil, stirring occasionally.
Once the mixture comes to a boil and most of the cranberries have started to burst, add the raspberries then reduce the heat to low. Simmer for 10-15 minutes. Let cool in the fridge. Pour over the top of the cheesecake.
Recipe by
Lemon & Mocha
at http://www.lemonandmocha.com/2014/12/04/lemon-cheesecake-with-cranberry-raspberry-compote/